How many days is the perfect amount for your first Budapest itinerary? A tricky question with a certain answer. You will need 4 days in Budapest to fully appreciate how amazing this city is.
Budapest is one of those places you could visit 2, 3 or 4 times and you will still leave wishing you had booked a few more vacation days.
This enchanting city has an enormous amount of things to do, excellent dining options and a fantastically unique nightlife scene. But Best of all, Budapest will no break the bank.
Well, we are going to sell our 4 days in Budapest itinerary to you (don't worry it won't cost you anything!) and it will be easy because this is one awesome city.
Let's explore this perfect 4 days in Budapest itinerary!
Who Is Budapest For?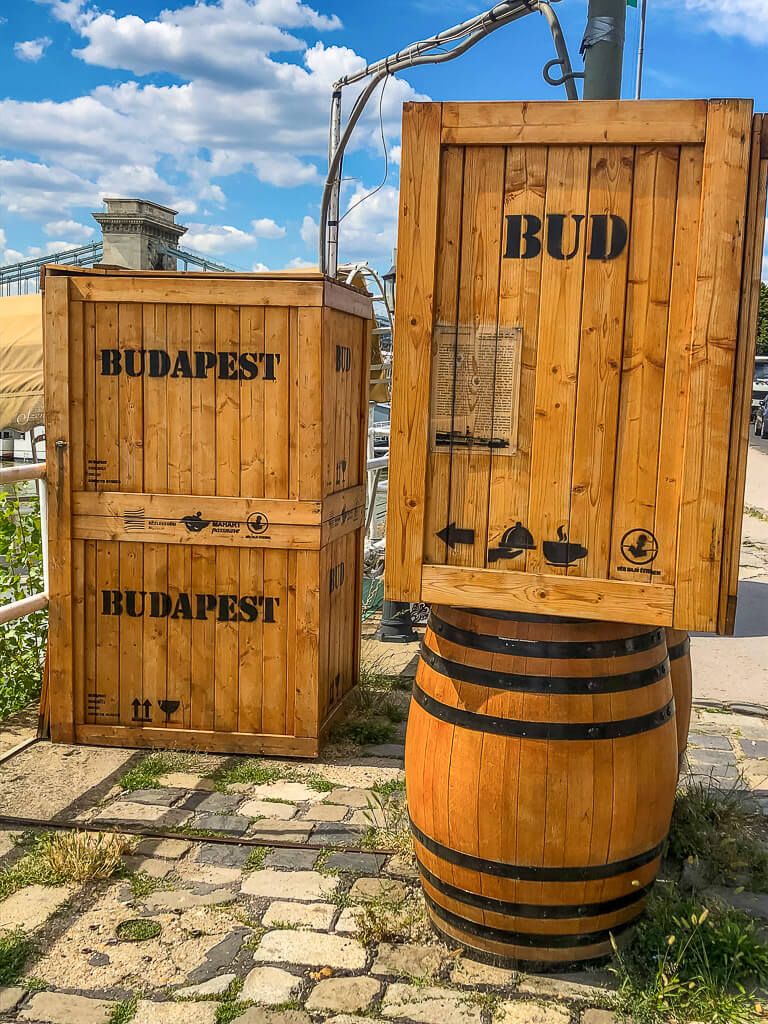 Personally, we consider Budapest to be one of the best cities Hungary and maybe even Europe to visit.
We always recommend Budapest to our friends and family because there is a little bit of something for everyone.
Looking for a romantic getaway? Sail on a romantic cruise down the Danube.
Searching for Neo-Gothic architecture? You can not miss the Parliament building or Fisherman's bastion.
Hunting Europe for an extra special night out? Party in the famous ruin bars.
Bringing the kids along? Visit all the animals in the zoo.
Did you know Budapest caters to around 30 million tourists each year? That's a lot of people! But the way we see it is 30 million truly satisfied people basking in the knowledge that they chose the right place to visit.
Whether you're a solo traveler, a couple, taking your kids or even your grandparents for a holiday, Budapest has something for you.
4 Days In Budapest Itinerary Map
Click into this interactive map, zoom in / out, scroll around and click on any icon to see details of attractions on each day.
We always find that spending just a few minutes working out where things are really helps when we arrive.
Ultimate 4 Days In Budapest Itinerary
There is so much to see and do in Budapest that you'll be rushing with only 3 days. You won't be able to relax and soak up the laid back atmosphere the city exudes.
Try to squeeze in that extra day to make it a long weekend of 4 full days in Budapest. You won't regret it!
The city of Budapest was established in 1873 when the previously separate towns of Buda, Obuda and Pest were united. Today the city is commonly split into Buda and Pest.
When you visit, you will need to spend 1 day in Buda and the remaining 3 days in Pest. We strongly advise booking accommodation in central Pest because this is where most of the action takes place.
Be sure to check out our accommodation recommendations and don't forget to use the Interactive Map at the end of this itinerary for orientation in the city.
This is the perfect 4 days in Budapest itinerary, the Pearl of the Danube.
Day 1 In Budapest: Buda
For day one of this Budapest itinerary, we recommend you spend the day in Buda.
1. Széchenyi Chain Bridge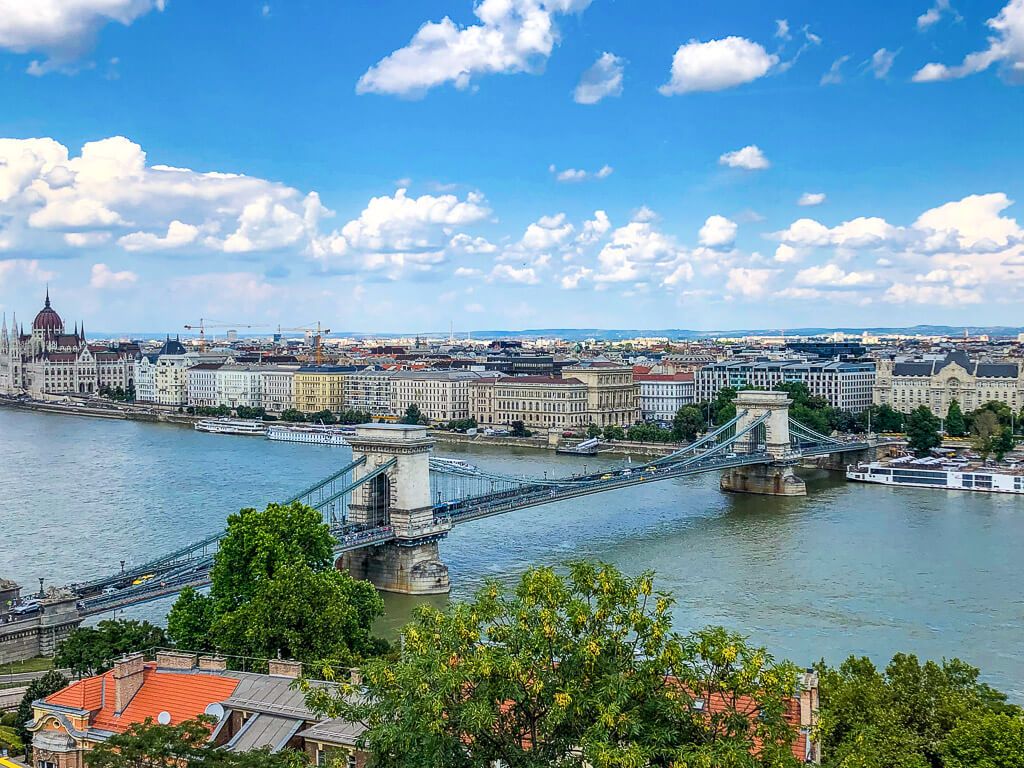 The perfect start to your 4 days is to visit Budapest's Castle District. In order to make your way up to Buda Castle, you will need to cross the legendary Danube River.
The best way to cross the river is to slowly walk over the iconic Széchenyi Chain Bridge, admiring its elegant design.
This bridge was designed and built by British engineers in 1849. It was the first permanent bridge crossing the Danube in Hungary.
Unfortunately, the bridge was blown up by German troops retreating following the siege of Budapest in 1945, but was later rebuilt in 1949.
Its economic impact has been likened to that of the Brooklyn Bridge in New York City.
The Széchenyi Chain Bridge draws you in like a gravitational force as the beating heart of Budapest, connecting the two halves of the city.
Make sure you not only cross during the day, but you also find a high vantage point to see the bridge lit up at night.
2. Buda Castle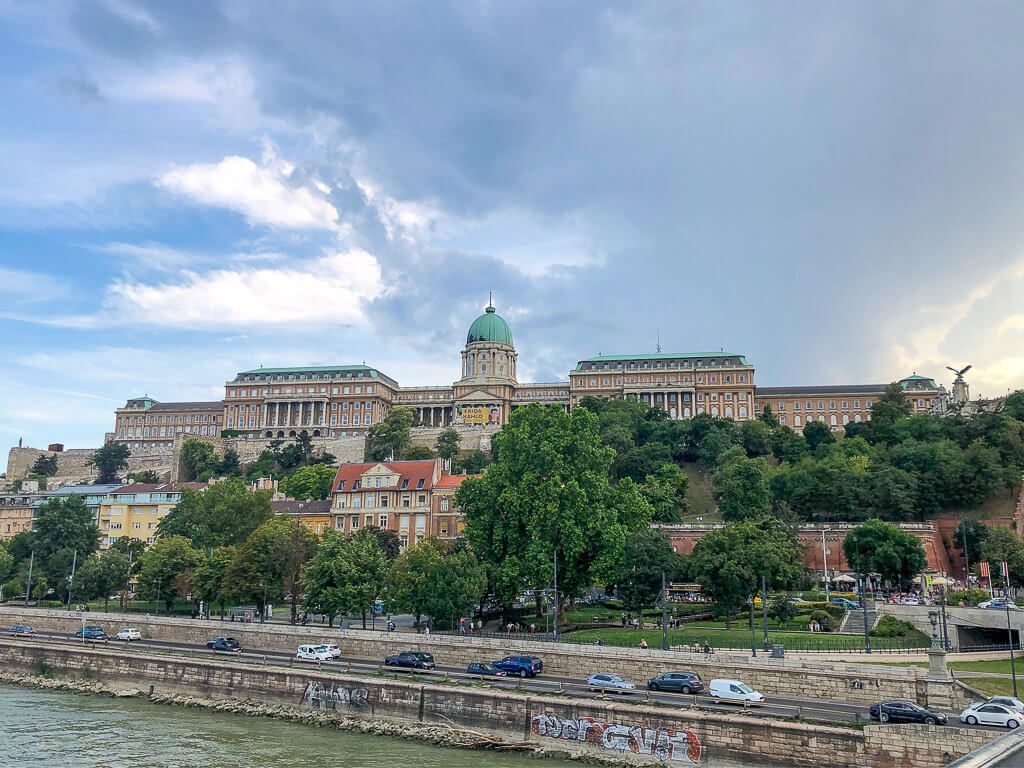 Cross the bridge and at the far side of the roundabout to the left of the tunnel, look for the footpath leading up to Buda Castle.
If walking up a hill doesn't sound like fun, you can pay a US$6 return fare to climb aboard a historic funicular running to the top every 10 minutes. The funicular runs from early morning until late at night.
Buda castle dominates the skyline as you look West over the Danube from the Széchényi chain bridge.
It was originally completed in 1265 but the eye catching Baroque style you will see today was built between 1749 and 1769.
The castle has a lively and intriguing history which you can learn about at the Budapest History Museum located inside Buda Castle.
If you're more of an art aficionado than a history buff, a visit to the Hungarian National Gallery is a must. Alternatively, you could check out the National Library of Hungary, also found inside the castle.
Castle opening times are 10:00am-6:00pm, Tuesday – Sunday.
From Nov – Feb, the history museum closes at 4pm.
Admission to history museum is 2,400 HUF (US$8) plus audio guide of 1,200 HUF (US$4) and admission for the art gallery is 2,600 HUF (US$8.50).
Both the history museum and art gallery is 2,600 HUF (US$8.50). Both the history museum and art gallery are closed on Monday's.
Travel Tip: Remember that Buda Castle is located to the West. If it looks like there's a good chance of an awesome sunset, head up a rooftop bar in Pest. There you can watch the sun setting near the castle.
3. Matthias Church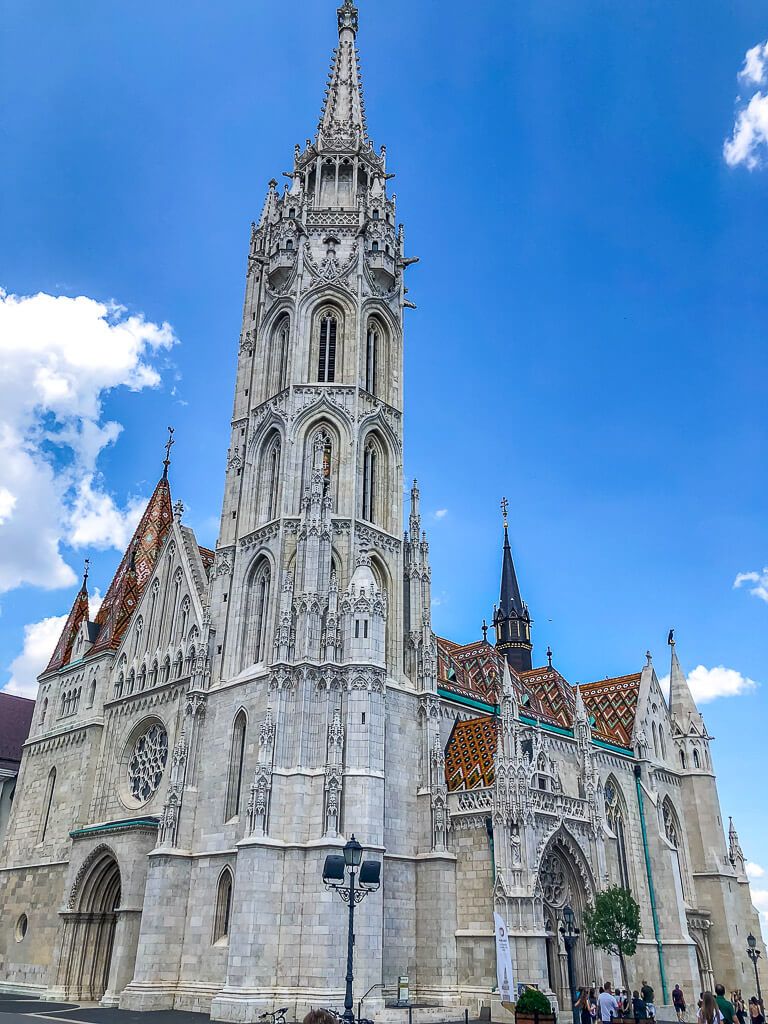 Head North keeping the river to your right. Or, simply follow the crowds and you will soon spot the stunning Matthias Church with its huge tower on one corner.
Matthias Church is located in Holy Trinity square right in front of the Fisherman's Bastion at the center of the Castle District.
The church is not named after a Saint, but after King Matthias who remodeled and expanded the building in Gothic style in the 15th century. It too has a very important historical significance in Hungary.
Both Franz Joseph I of Hungary and Charles IV of Hungary were crowned inside Matthias Church. The church was also once occupied by Ottoman Turks who turned it into a Mosque for 150 years.
Its captivating history and changing styles have left the interior of the church with a fascinating design that sets it apart from many other churches.
Opening hours for Matthias Church are Monday through Friday, 9:00am-5:00pm, Saturdays from 9:00am-1:00pm and Sundays from 1:00pm-5:00pm.
Admission is 1,800 HUF (US$6)
4. Fisherman's Bastion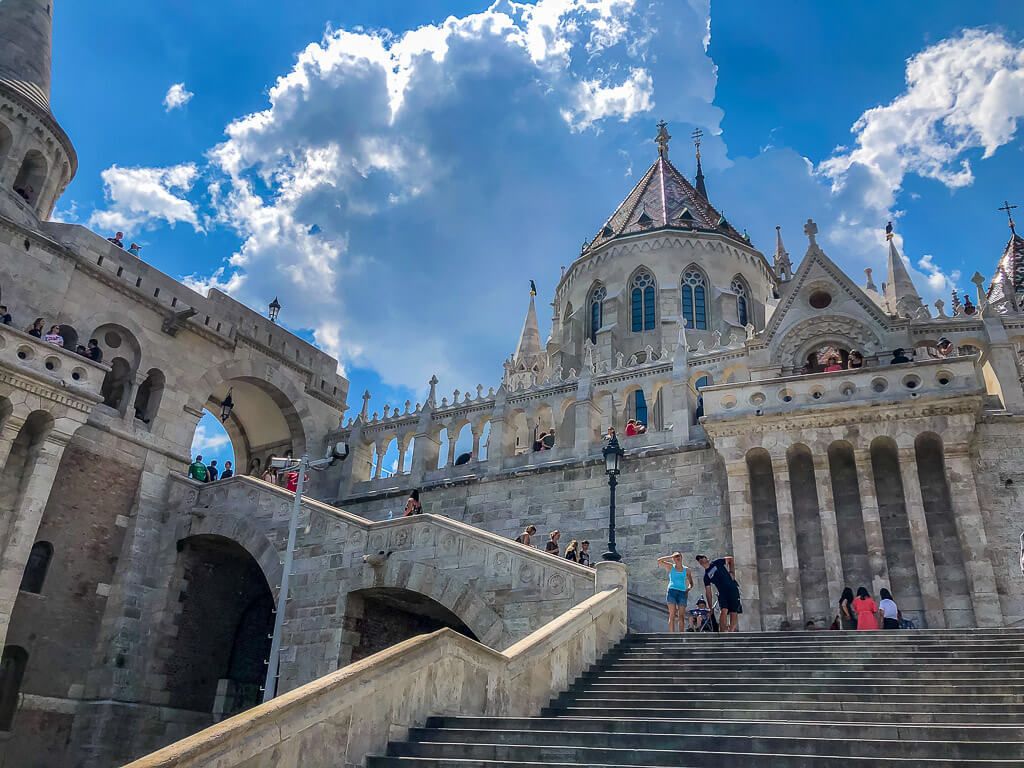 Right around the back of the church you will find excitable swarms of tourists at Fisherman's Bastion. It's easy to see why this landmark is extremely popular.
The uniqueness and fairy tale like architecture of Fisherman's Bastion are what make this monument one of Budapest's finest.
If you thought the Walt Disney-esque facade was enough, the best is yet to come!
Once you make your way into one of the lookout towers and feast your eyes upon the city, stretching from Margaret Island and Parliament, down to the chain bridge and beyond, you will know why Fisherman's Bastion is a must see on your 4 days in Budapest.
There are a total of 7 turrets with each turret representing one of the seven tribes who founded Hungary.
The name Fisherman's Bastion derives from the area being protected by the Fisherman's Guild during the Middle Ages. If you would like to read more about the history of Fisherman's Bastion, read this article.
If you are on a budget, the balconies are free to enter any time, but there is just a small fee (around US$3) to go up to some of the upper towers or turrets.
Don't expect to have this place to yourself. An option to give you the best chance of being alone at Fisherman's Bastion would be to arrive here for sunrise before continuing on to Buda Castle afterwards.
Plus you'd get sunrise views East over the Danube and Parliament building.
Travel Tip: Don't forget to walk down the stairs and look back up at the scene from below.
5. Check Out The Remaining Castle District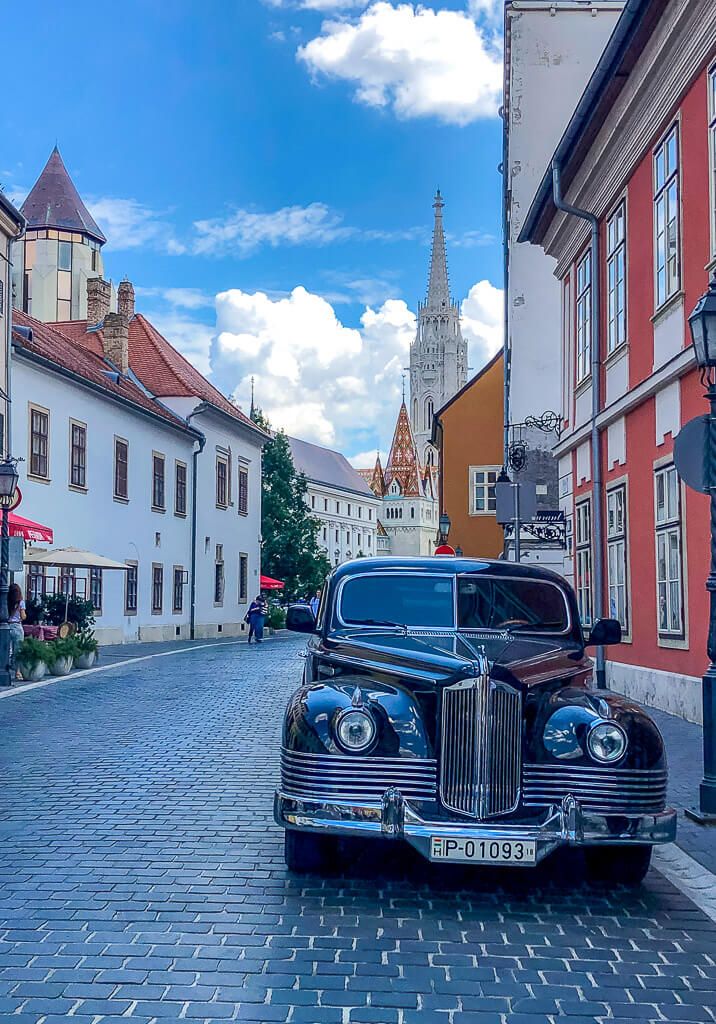 Please don't give up on Buda Castle District now that you've seen the most popular sites!
If you head North West from Matthias Church you will walk down cobbled roads filled with beautifully colorful houses and vintage cars.
There are loads of lovely little cafe's here to grab a coffee or hot chocolate.
If you are hungry Head to Pierrot Cafe and Restaurant for a classy meal. It's not a budget option so if you are on a tight budget, wait until you get back to the bottom of the funicular and go to Ildiko Konyhaja for a cheaper but still tasty Hungarian meal.
At the far side you will find Budapest's Military History Museum (Tues-Sun 9am-5pm, 1,500 HUF / US$5) and the Church of Saint Mary Magdalene, where you can climb 170 stairs to the top for outstanding views over the city (open every day 10am-6pm, 1,500 HUF / US$5).
One of the other popular tourist sites in the area is the Labyrinth underneath the castle. The labyrinth is a network of underground caves and chambers originally built as cellars and bomb shelters.
Today, the myth that Count Dracula was held prisoner in the labyrinth draws tourists into the dark depths.
Don't worry, Vlad the Impaler was prisoner in Visegrad Castle, 25 miles from Buda Castle but it's still quite fun to get lost in a pitch black maze. Opening hours Mon-Sun 10am-7pm, admission 3,000 or US$10.
The further from Fisherman's Bastion you walk, the quieter it will become. But remember it is still UNESCO land you are walking on.
6. Hospital In The Rock Nuclear Bunker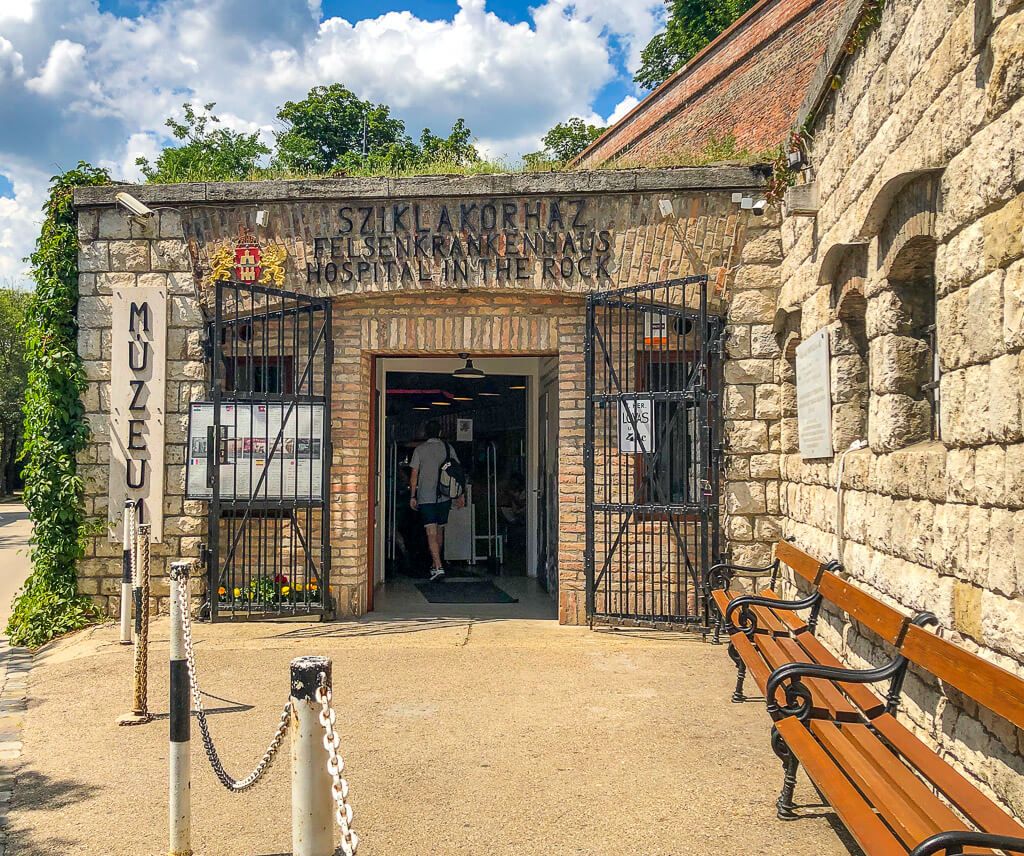 How intrigued are you by that?! Hospital and Nuclear Bunker inside a rock?
Well, let us tell you that it is fascinating and most certainly worth a visit. Outside of the 'main' tourist attractions this was one of our favorites.
What a diverse history this 10km cave system has had. It began back in WWII.
The halls and tunnels were used as refuges from warfare and eventually due to its protection from being bombed, a secret hospital was ordered to be built.
The Hospital in the Rock was completed by 1944. Just in time for the siege of Budapest, in which its operating theater and wards were in constant use.
After the end of the war, the hospital served as a prison for a short time before it was given a new facelift: A Nuclear Bunker designed to withstand any Chemical or Nuclear attack.
The tunnel network has poison gas filtering systems and the engines that powered the bunker still work today.
The Hospital in the Rock was opened as a museum in 2007 and contains the largest wax works in Hungary. Many rooms are set up brilliantly as exhibits detailing the colorful history of the site.
Please respect the fact that no photos are allowed inside the museum.
Open every day 10am-8pm, 4,000 HUF (US$13). Alternatively, you can book a guided tour of Hospital in the Rock and Castle below.
7. Gellert Hill
Once you're done with Buda Castle District, it's time to make your way to Gellert Hill.
You will have already seen the Statue of Liberty atop the hill and this is where you will find one of the best views over Budapest, called Panorama Terrace.
Ideally you will time your arrival at the viewpoint near the Citadel just before sunset. That way you can watch the sunset and also see the city lit up at night. It's always open and always free.
If you covered ground quickly and have arrived here way before sunset, then you have time to relax and unwind at Gellert Thermal Baths.
For those who are a little slower and arrive just before sunset but don't want to miss out on the thermal baths, this is the first of two thermal baths we recommend.
The next one (on the last of your 4 days) is the most popular in Budapest. Gellert baths offers thermal pools and a range of spa treatments are available – check their website here for prices.
If you are looking for somewhere to eat dinner around Gellert Hill, we recommend you try Busulo Juhasz for high end dining or Grill Mania for those on a budget.
---
Day 2 In Budapest: North Pest
The next day, you should plan to visit the North Pest area in Budapest.
8. Hungarian Parliament Building
The Hungarian Parliament Building is spectacular! In our opinion, it is the finest of all the architectural delights in Budapest.
This is the third largest Parliament Building in the world is our must see recommendation for your 4 days trip to Budapest. This is a perfect way to begin your second day.
When you are in Buda, by day or night, your eyes will automatically scan the far side of the Danube until they become transfixed when they fall upon the Parliament building.
If the Danube is calm at night, you will also be treated to an excellent reflection of Parliament's bright lights.
From Kossuth Lajos Square on the opposite facing side to the river, the building looks majestic and intricately detailed. The building was designed in Neo-Gothic style and was opened in 1902.
It has 691 rooms, 12.5 miles (20km) of stairs and stands at 96m tall – the same height as St. Stephen's Basilica.
A red star was added to the top of the building throughout the Communist era in Budapest until it fell in 1989.
Travel Tip: Are you interested in discovering historical artifacts, ceramics and textiles from life in Hungary? Right over the square from Parliament you will find the Museum of Ethnography.
9. Shoes On The Danube Memorial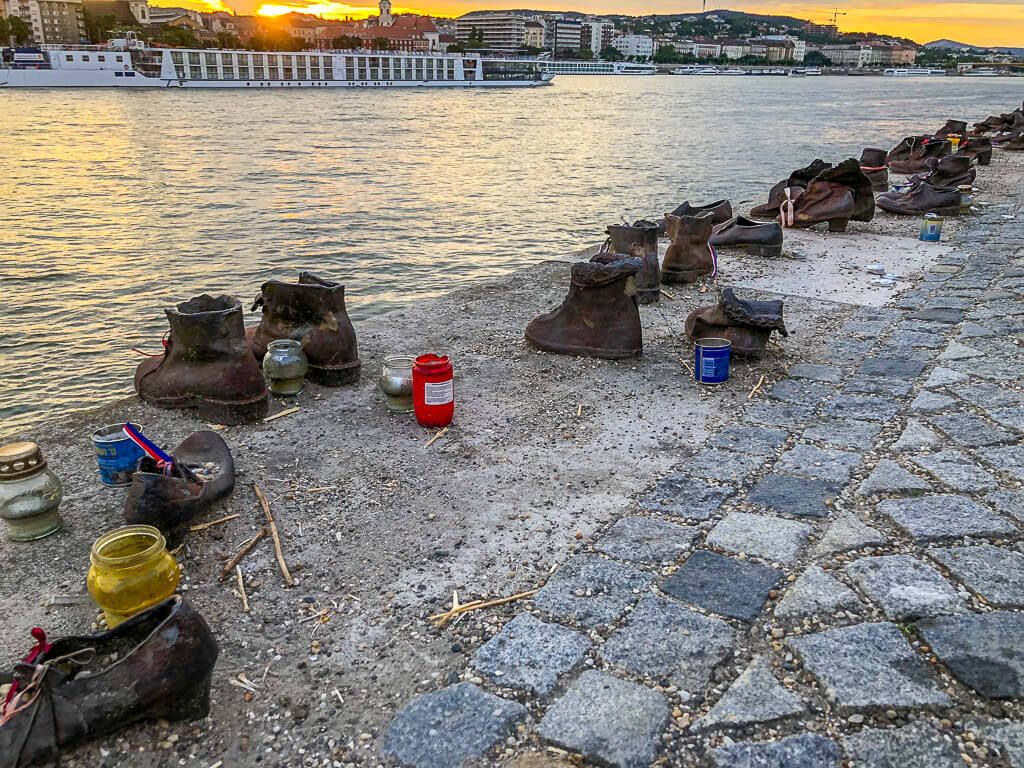 After the Parliament tour, head towards the river bank and walk 300m South.
In late 1944 and early 1945, during the time of the Holocaust, several Hungarian Jews were lined up along the bank where you now stand.
They were forced to take their shoes off and shot into the river, where the current carried them away.
The shoes on the Danube memorial is a moving tribute to remember those who lost their lives in Budapest during this unfathomable time.
The design of 60 old fashioned pairs of cast iron shoes of all sizes and styles is simple yet eerily effective. Everything is left to the imagination and the memorial makes it easy to imagine the atrocity when you stand on the banks of the river.
Three plaques can be found along the length of a bench just behind the memorial.
They read the following in Hungarian, English and Hebrew, "To the memory of the victim's shot into the Danube by Arrow Cross militiamen 1944-1945. Erected 16 April 2005."
10. Lunch At Mazi Greek Kitchen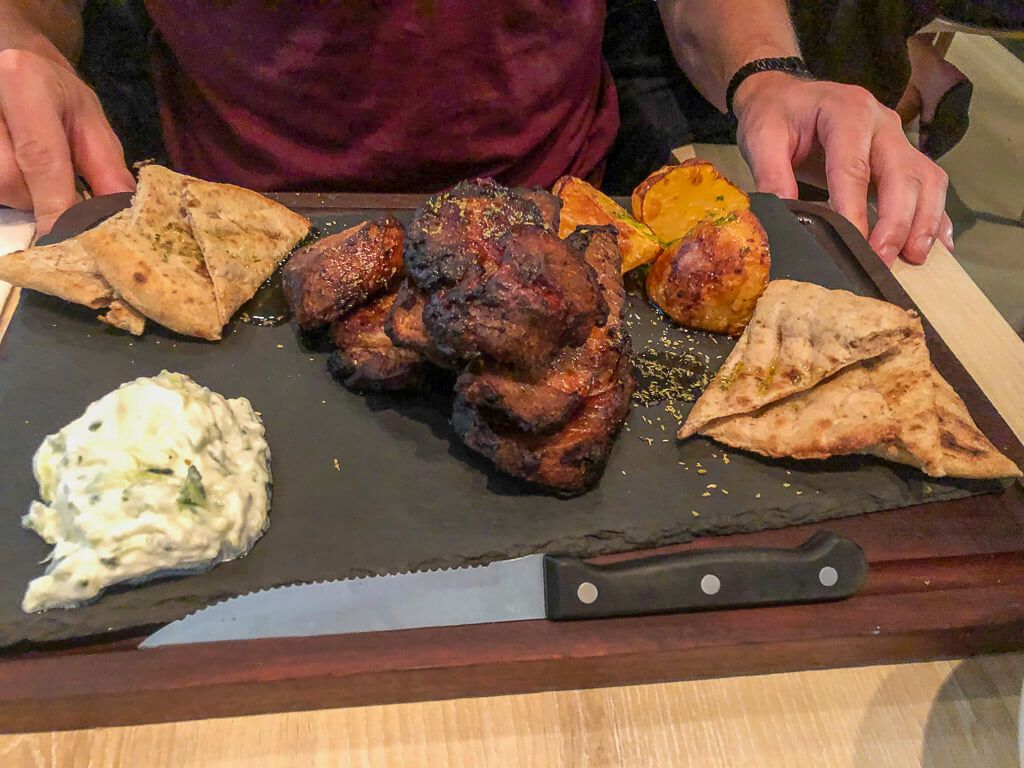 Budapest is brimming with affordable culinary wonders, but this place takes the biscuit. Trust us, if you like Greek food, you will love this place. It was one of our favorite restaurants in all of Europe.
Mazi opens for lunch at midday. Perfect for you to arrive after Parliament and shoes on the Danube. Guess what? It's only a 5 minute walk up Alkotmany Utca.
The food is to die for, the interior is chic, the ambience is relaxing and it's superb value for money. We've been both times we visited Budapest and can't recommend Mazi highly enough.
Of all the food recommendations we have for Budapest, this is the one you should try on your 4 days in the city. Interested in checking out the menu? Check them out on Tripadvisor.
11. Margaret Island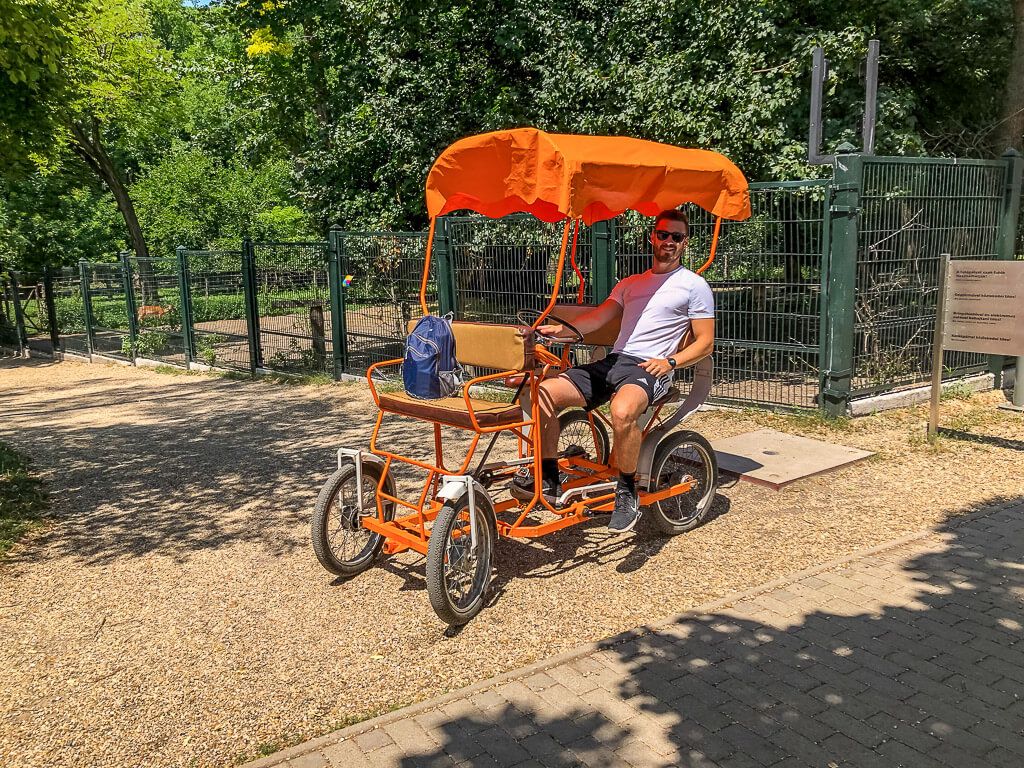 A 20 minute walk or 10 minute taxi/uber North West will lead you to Margaret Bridge. Walk half way over the bridge and you will find the entrance to Margaret Island.
Margaret Island is 1.5 miles long and 500m wide, chillin' bang in the middle of the Danube.
The island is a green oasis in this bustling city. Just after the entrance, you can hire a quad go-kart so the whole family can pedal under canopy around the tranquil parks. The bike company we used is Go Mobility.
We drove around on one of these babies for a few hours and we highly recommend you do the same to cover the sites on the island.
There's loads on offer from a mini zoo, big open grassy areas, a musical well, a Japanese garden, an aquatic center, a famous water tower, a Franciscan monastery and so much more to discover.
This quick adventure is a nice escape from the hustle and bustle of the city. Margaret Island is just below Hajogyari Island, otherwise known as Shipyard Island.
Margaret Island is also where the hugely popular annual Sziget Music Festival takes place.
12. Flippermuzeum
How can you go wrong with unlimited use of over 100 pinball machines and classic games spanning the ages of arcade advancement?!
Pacman, Mario, Terminator, Mortal Combat and Street Fighter. Come on, who isn't sold?! Did we mention the 100 pinball machines?!
A 3,000 HUF (US$10) entrance fee covers you for as long as you are entertained. Don't be put off by the idea of a pinball museum.
It's basically an arcade and if you look at the reviews you'll understand why the place is always packed.
Expect this place to be hot and loud but great childhood reminiscing fun! Make sure you try the Lord of the Rings and Rocky pinball machines. Check out their website and bring back all those memories!
13. Danube River Cruise
No trip to Budapest would be complete without taking a cruise along the Danube River. You simply have to admire all of the magnificent architecture in both Buda and Pest from the river.
The popularity of this tourist attraction is immense. Therefore, the cruise companies certainly aren't lacking in options.
You can take a budget daytime cruise, a high end private cruise, a cruise with dinner and music. They even have a classic booze cruise!
We suggest you walk 30 minutes or taxi/uber 5 minutes from the Flippermuzeum to Legenda city cruises, located very centrally in Pest.
An evening cruise is the perfect way to end your second day in Budapest. Plus, if you get a taste for the hooch and find your sea legs, you could always jump on the booze cruise that leaves at 11pm.
---
Day 3 In Budapest: South Pest
For your third day in Budapest, we recommend you visit South Pest.
14. Great Market Hall or Central Market Hall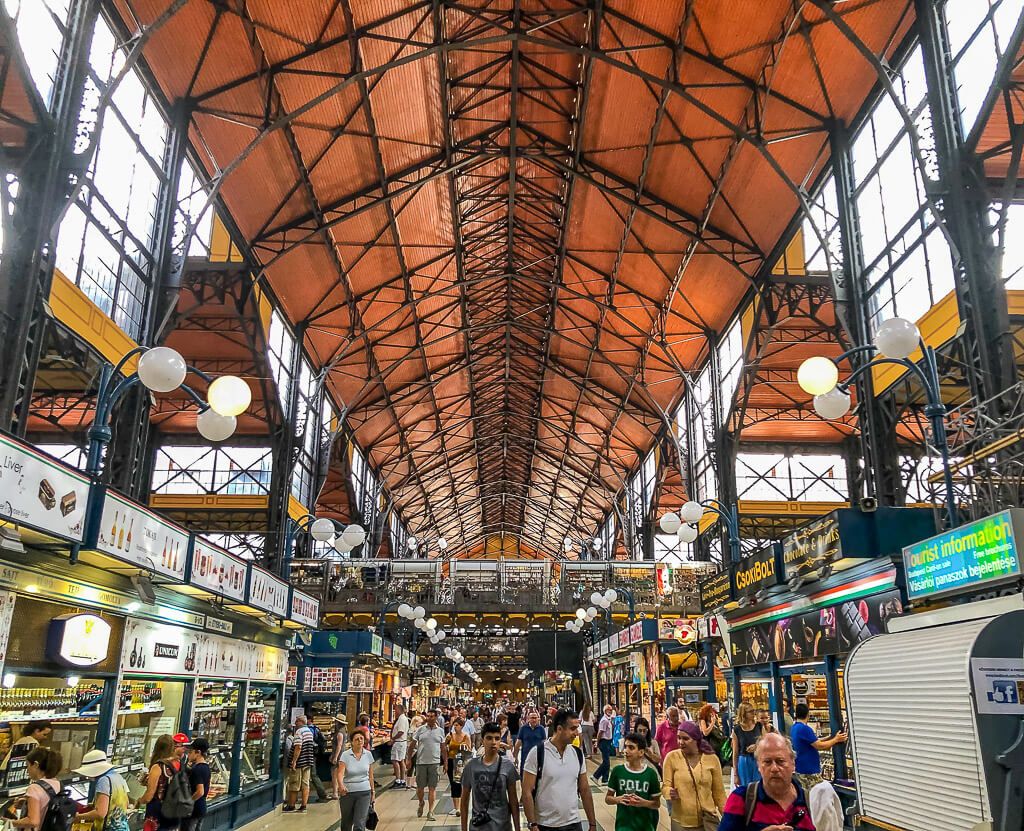 You will need an early start today to make your way down to Budapest's picturesque central market.
However, the market isn't exactly "central." It will take about 20-30 minutes to walk there heading South through town.
Alternatively, you can take the blue metro M3 from Deak Ferenc to Kalvin ter and walk 4 minutes South West.
The great market hall was built in 1897 and is pretty huge! There are 3 floors overflowing with fresh produce, dairy, meats, fish, Hungarian spices, souvenirs, clothes and more.
The market is well laid out, clean and spacious. It's a great place for people watching and picking up fresh ingredients for dinner.
While you could go to Budapest's central market on any of your 4 days, we think it works best (more geographically efficient) on the morning of day 3.
The market is open 6am-6pm weekdays, except Monday when it closes at 5pm. Weekend hours differ as the market is open 6am on Saturdays but closes at 3pm. The markets is closed on Sunday's.
The most authentic experience visiting hours are usually 6am-9am, as most locals do their shopping in the morning. Another option is to visit on a Saturday morning to experience the market at its busiest.
If you like to visit markets when you travel to cities around the world, you will love Budapest's great market hall.
The perfect option for those who would enjoy a guided food tasting tour of the great market is the tour we recommend below.
You would simply need to switch around the Basilica and Eye with the market on the itinerary as the tour meets at 10:50am.
15. St. Stephen's Basilica
You will need to take the M3 metro back to Deak Ferenc station and walk 5 minutes North. St Stephen's Basilica was named after Stephen, the first King of Hungary.
The Basilica is yet another beautifully designed building; complete with 2 bell towers, one of which weighs 9 tonnes.
It is best seen from the West in Szent István Ter square. This is where the Christmas markets can be found in December.
Standing 96m high, it equals the height of the Hungarian Parliament Building. No building can be higher than either of the two as they symbolize the balance between state and church.
The structure was originally built in a Neo-Classical style of architecture but was finished in Neo-renaissance. At one point in 1868 the dome collapsed completely.
Unfortunately, for the poor workers, the entire construction had to begin again from scratch.
The Basilica is filled with fine arts and sculptures, even hosting concerts from time to time. The Basilica is another one of Budapest's popular tourist spots so arriving early means you will beat the crowd.
There are 364 steps or an elevator leading to the dome's observation deck. The view will cost you 1000 HUF (US$3) but entrance to the church is free.
16. Budapest Eye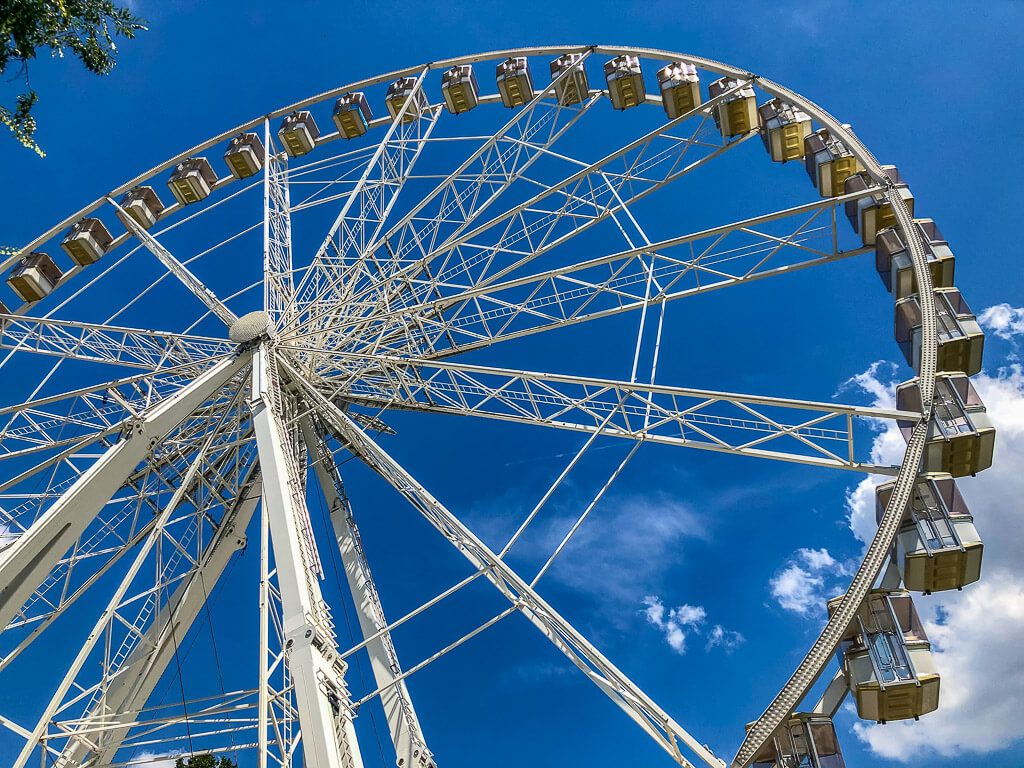 Okay, so a Ferris wheel might sound a bit gimmicky, but it's a great option if you have kids because it has some of the best views of the Basilica. The Budapest eye ferris wheel has a maximum height of a fairly lofty 65m.
There are around 40 carriages and it is open every single day of the year from 10am until late. Tickets are 3,000 HUF (US$10) and a session lasts approximately 10 minutes.
If you need more information, head to their website.
If heights aren't your thing and you don't have to entertain any little ones, you can just relax on the grass nearby and watch the huge wheel turn for a few minutes.
It's right in the middle of town, therefore one of the best spots for people watching with an ice cream!
17. Lunch At High Note Skybar
Enjoyed the view from up top the ferris wheel? Well once you're down, you're going straight back up again! A 2 minute walk up Hercegprimas utca will take you to High Note Skybar.
For a top rated rooftop bar, this place has an amazing value for money lunch menu. It's a seriously swanky joint featuring a landscaped rooftop garden with more of those awesome views over Budapest.
At 4,000 HUF ($US13) for each of the lunch mains, it's hard to pass up the opportunity. Depending on the time of year, it may be wise to reserve a table for lunch here.
The High Note Skybar has been mentioned in top 10 rooftop bars in the world conversations. Don't miss the chance for a luxury lunch at those prices! You can read more about the Sky Bar here.
And don't forget, you could visit again on another evening of your 4 days in Budapest for high-end cocktails.
18. Dohany Street Synagogue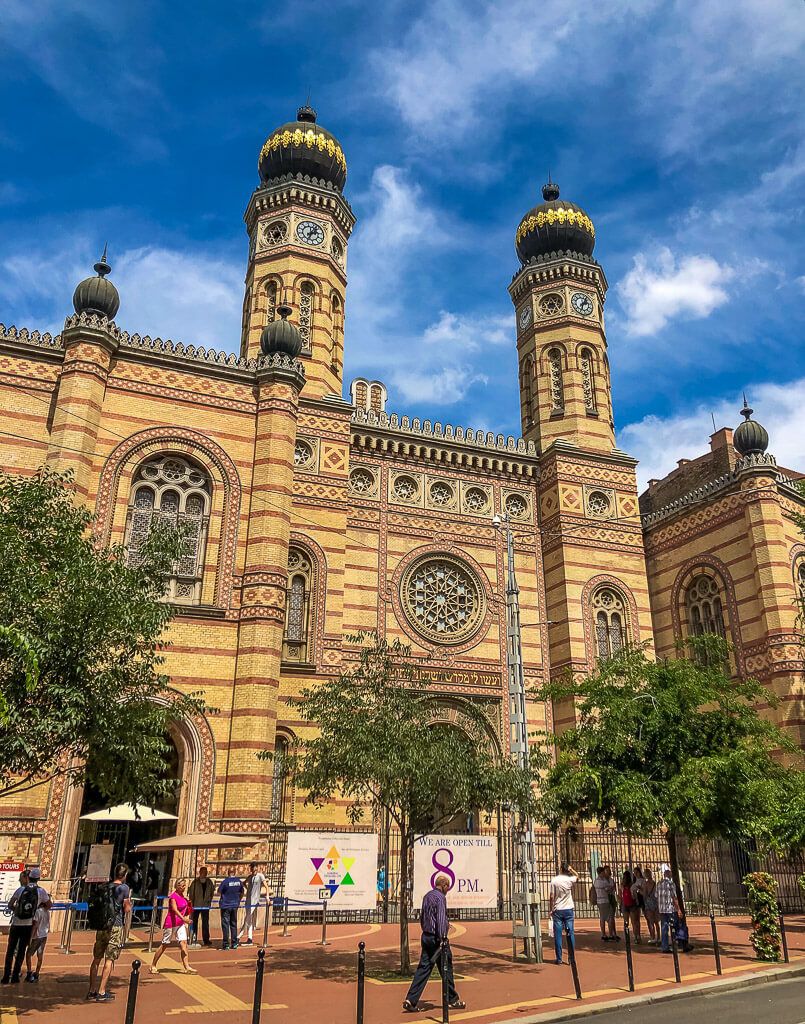 A short 10 minute walk South East will lead you to the Dohany Street Synagogue. This is the second largest synagogue in the world (after New York City) and the largest in Europe.
The Synagogue is truly worth a visit to discover the lives of Hungarian Jews before and after WWII. The Hungarian Jewish Museum is located in the same building.
The synagogue was built in the 1850's in a Moorish style similar to that of the Alhambra in Granada, Spain.
Once Hungary returned to democracy in the 1990's, renovation began on the building and the vast majority of the money was provided by American Jews Estee Lauder and Tony Curtis in 1996.
The synagogue has various opening times throughout the year, to check opening times click here. Once you are finished at the synagogue, it's time to explore Budapest's best neighborhood.
19. Walk The Jewish Quarter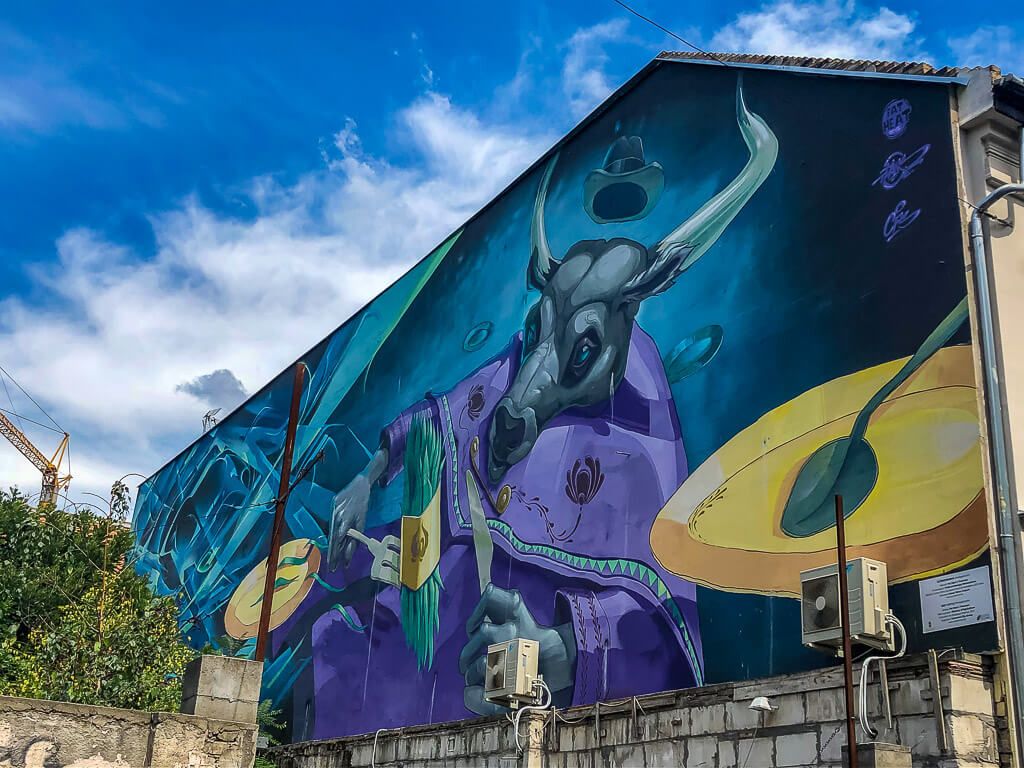 Budapest's cosmopolitan Jewish Quarter is our favorite neighborhood in the city. It has style, character and cool vibes in abundance by day or night.
It is the smallest neighborhood with the highest population density, overflowing with ruin pubs, quirky restaurants and street art.
You could easily spend your full 4 days in Budapest meandering around the narrow streets, passages and hidden courtyards drinking cheap beer and eating awesome street food.
There's a great mix of locals and expats, you just have to turn up and be friendly to fit right in around here. The street art scene is big here and is constantly changing.
Each year artists are brought in to create new art so there is always something new to discover.
We'll get to the ruin pubs in the next section, but you should try to see as much of the Jewish quarter as possible before hitting the boozers.
As well as the ruin pubs, you're in the right place for the best clubs in Budapest.
The variety of cuisines found in the Jewish quarter is on the rise and often you will stumble across the best places as you walk through a passageway to the next street in this maze of old derelict buildings.
The place we recommend for street food is Karavan. It's a small courtyard with fairy lights and food stalls built into old camper vans and shipping containers featuring a wide range of food to taste.
Bors Gastrobar is a very highly rated sandwich, soup and dessert cheap eats spot. It is conveniently located a few doors down from Szimpla Kert, the most popular ruin pub.
If you're looking for something high class, don't look any further than Konyvbar who offer cleverly themed tasting menus with wine pairings to suit.
20. Discover The Ruin Pub Craze At Szimpla Kert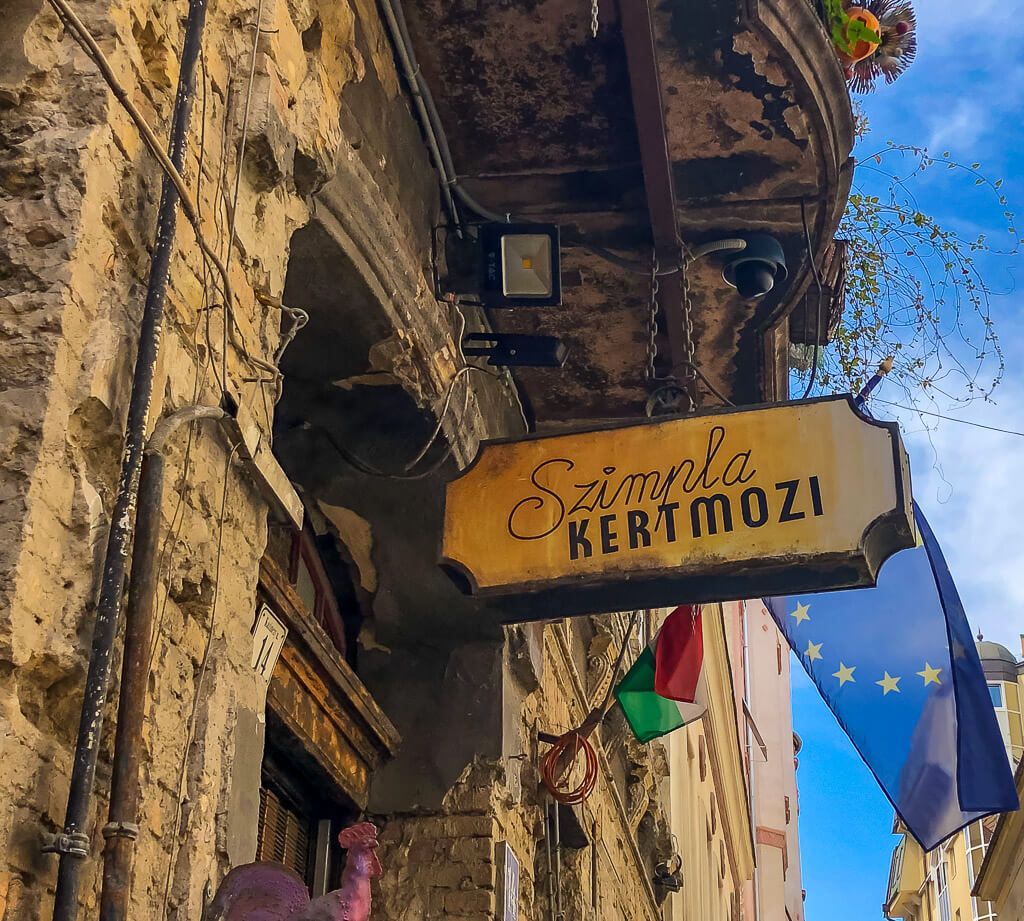 The Jewish Quarter is home to Budapest's famous ruin pubs. Try as many as you can find but when it get's a little later, head to the original and best of them all, Szimpla Kert.
Ruin pubs are derelict old buildings, remnants from Communist rule, that have been transformed into quirky bars.
Szimpla Kert is quite 'szimply' an incredible story of rejuvenation and gives new meaning to the phrase "a Phoenix out of the ashes".
The popularity of ruin pubs in Budapest has blown up over the last 15 years. These bars draw groups of friends from all over for big weekend benders.
History Of Szimpla Kert
Back in the early 2000's the owners of Szimpla Kert decided it would be a shame to let 14 Kazinczy Street be demolished.
They saw potential for a place that people could enjoy drinking cheap beer in a relaxing environment. Plus it had more space for a cinema in the courtyard.
The owners didn't just create a pub, they pioneered a change in culture and creativity. The interior is wild. They got hold of any unwanted furniture; bath tubs, sign posts and created a trippy, sensory overload, colorful, ingenious environment for people to relax.
Szimpla Kert is Budapest's flagship ruin pub and has developed into one of the city's major tourist attractions.
This is a place for partying into the early hours and it is popping every night of the week. It's open until 4am, can you make it to the end?
Not a big drinker? They offer community events such as a farmer's market on Sunday's from 9am-2pm, a bike flea market, cinema screenings and live music.
Want to learn more about Budapest's ruin bars? Book this tour here.
Related: Complete guide to visiting Szimpla Kert
---
Day 4 In Budapest: East Pest
The forth and final day on this Budapest itinerary will be spent in East Pest.
21. Széchenyi Thermal Baths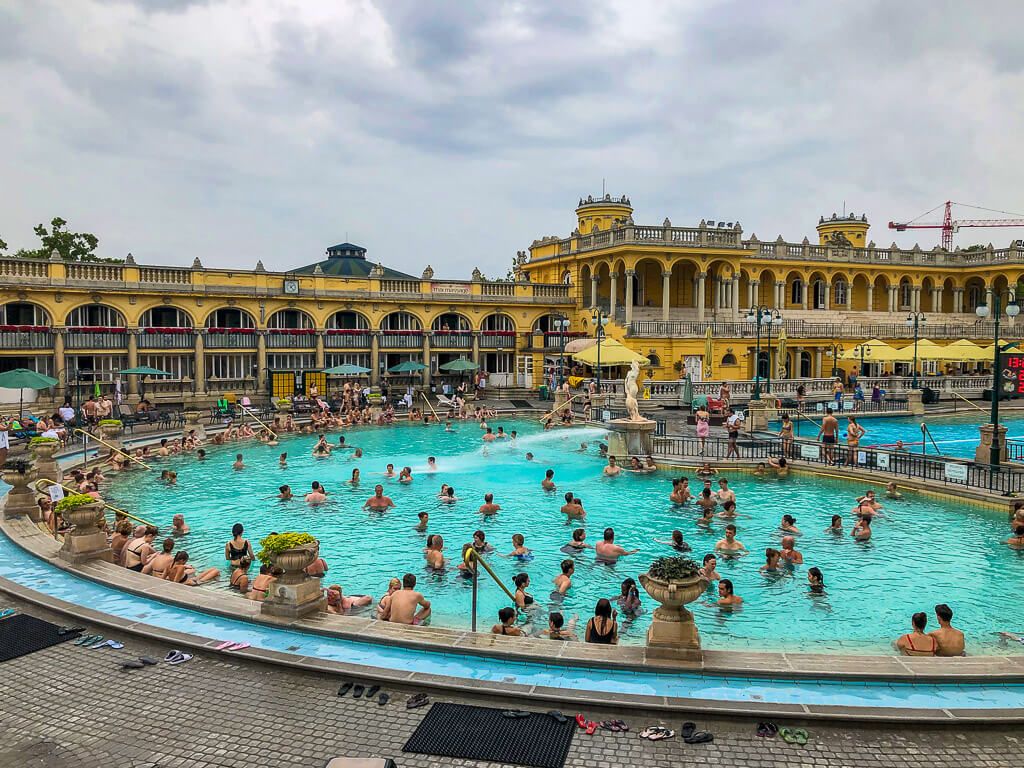 Where is the perfect place to alleviate that hangover from the ruin pubs? Szechenyi Thermal Baths, of course.
The largest medicinal bath in Europe is arguably Budapest's most visited attraction and in our opinion, the best of the many options for thermal baths in the city.
The baths are located in the city park. To get there, take the subway from Deak Ferenc to Szechenyi furdo on the M1 Yellow line.
You will walk back to downtown Budapest afterwards, stopping off at the rest of the places on the 4 days itinerary. Perfectly organized.
Water is supplied by two thermal springs with temperatures of 74°C (165°F) and 77C (171°F) offering a range of medicinal properties.
There are 15 indoor baths of varying temperatures – including one cold bath – and 3 grand outdoor heated pools.
In addition, there are 10 saunas and steam rooms, massage therapies and even a beer bath room!
Options At The Széchenyi Baths
Sun shining? Sunbathe around the outdoor pools and drink a few cocktails. Cold outside? The heated pools steam enticingly and add a romantic element in darkness.
Or you can choose to stay indoors in one of the several hot pools or saunas. The baths are full of tourists but also locals who go to socialize and even play chess in the outdoor pool.
We have to mention that on Saturday nights from 10:30pm to 3am, Szechenyi Baths turns into a nightclub event. The whole outdoor area becomes a club with lasers and booze, but it costs around 16,000 HUF (US$55).
Prices for standard entry vary. Opening hours are 6am – 10pm every day and you can pay on the day. The earlier you arrive, the less crowded it will be.
Want to know more about these baths? Don't miss our popular guide featuring the Széchenyi Thermal Baths.
22. Heroes Square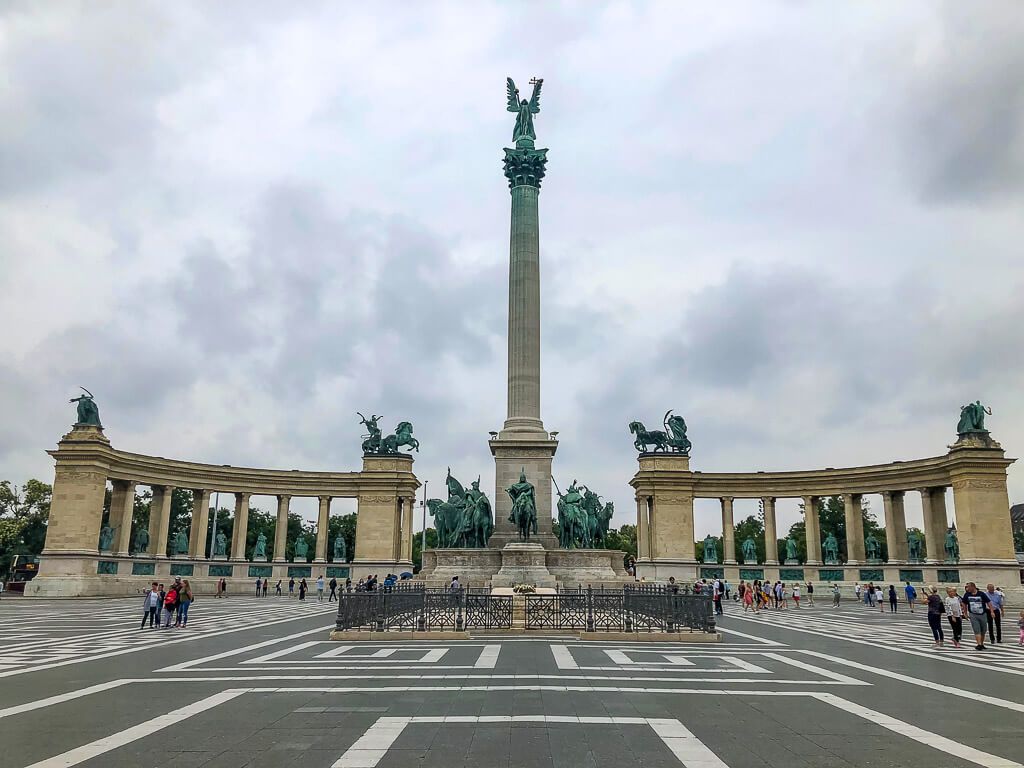 Have you recovered both physically and mentally in Szechenyi Baths? We hope so, but it's time to make your way back into town.
You could make a stop either at Budapest zoo which is right next door, educational Museum of Fine Arts next to Heroes Square or romantic Vajdahunyad Castle just a few minutes walk past the metro station.
All that relaxing in pools may have made you hungry? If so, head to Városliget Cafe on the far side of the lake next to Heroes Square for yet more excellent food.
Budapest really is full of top eateries, 4 days isn't enough time here. When you're ready to head down Andrassy Utca, make your stop at Heroes Square, the largest square in Budapest.
The square was constructed in 1896 to mark the 1000th anniversary of Hungary. The Millennium monument stands in the middle of the square with Archangel Gabriel standing atop the central pillar.
The seven chieftains who led the tribes to Hungary can be found on the foreground stand.
A crowd of 250,000 people gathered in the square in 1989 to watch the reburial of Hungary's former Prime Minister Imre Nagy.
23. House Of Terror Museum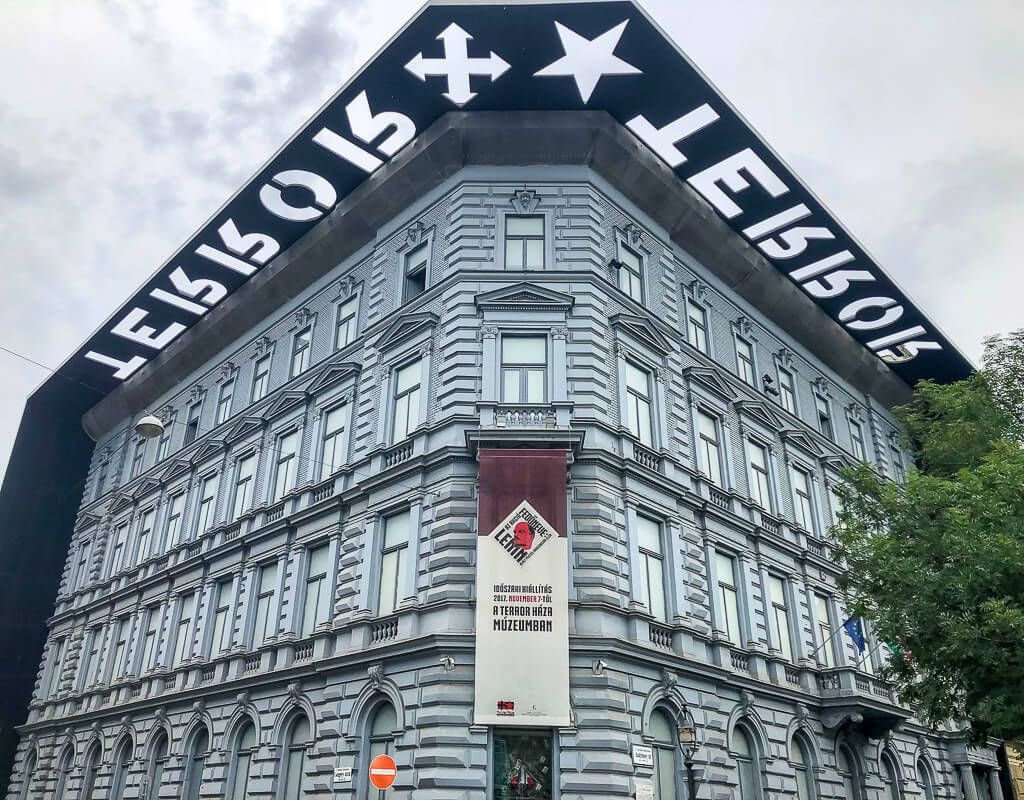 Half way back to town along Andrassy Utca you will see a tall building with a strange looking metal rim around the top and the word TERROR stenciled out of it on 2 sides.
This is the House of Terror Museum and it is absolutely worth a few hours of your mid afternoon time.
Towards the end of WWII, the Arrow Cross Party seized power over Budapest and made this building at number 60, Andrassy their headquarters.
This was the very building that their terror reigned from. In just a few short months they murdered countless Jews and sent thousands to concentration camps for extermination.
It was here the orders came to shoot the Jews on the banks of the Danube.
Following Budapest's liberation at the end of WWII, this building then served as the State Security Authority, effectively a Soviet puppet.
The cellars were extended so that anyone who rebelled could be imprisoned, tortured or executed right underneath the building itself.
The museum here was opened in 2002. It tells a thorough story of life in Hungary throughout Nazi and Communist rule.
It is heartbreaking but it showcases some amazing stories that make it one of the most important places to visit in Budapest.
Admission is 3,000 HUF (US$10) and it's open every day except Monday. Tickets unfortunately can't be booked in advance so there may be a line to get in, but trust us, it's worth the wait.
Travel Tip: The first Sunday of every month the museum is open for free to the public.
24. Andrassy Utca
Classy Andrassy Utca deserves its own mention as Budapest's hottest shopping area. For those among you who enjoy a bit of retail therapy, this is place to splash your cash.
Between the House of Terror and the Hungarian State Opera House, where your 4 days will end as your last stop in Budapest, you will find plenty of fine cafe's, restaurants and designer shopping.
This is the perfect place to have coffee, pick up any souvenirs or treat yourself to something nice.
The boulevard is lined with magnificent Neo-Renaissance mansions as you walk South West back towards town. Back up near Heroes Square, you will have discovered the sheer grandeur of some of the properties.
Did you notice the stunning facades as you passed by? This is certainly one avenue that will take some people much longer to navigate than others.
Travel Tip: The Miniversum museum displaying miniature models of Hungarian, Austrian and German locations and landscapes closed in January 2020.
25. Hungarian State Opera House
You will stumble across the Hungarian State Opera House towards the end of Andrassy avenue. This is the last stop on your 4 days in Budapest itinerary.
The opera house is certainly not the biggest, nor does it have the greatest capacity of all opera houses.
However, it is beautifully designed and is regarded as having some of the best acoustics of any opera house in the world.
This State Opera house building was completed in 1884 and attended by Emperor and King Franz Joseph on opening night.
The Grand staircase is exquisite and the horseshoe shaped auditorium seats people across 3 beautifully designed floors. Clapping eyes on the architects ceiling fresco is worth visiting alone.
Daily guided tours of the opera house are run in 6 languages at 3pm and 4pm for 2,900 HUF (US$10). This includes 10-15 minutes listening to arias or sopranos rehearsing at the end of the tour.
Better yet, book a show at the opera house.
As you can see, the opera house was under renovation when we visited, but it has since reopened.
Getting To And Around Budapest
Budapest is only a short flight away from most European countries due to its central location on the continent. So convenient! London to Budapest is a mere 2h 30m flight for example.
Hungary even has its own low cost airline called Wizz Air connecting Budapest to many European cities for incredibly low prices.
All you need to do is jump Skyscanner -the best flight booking search engine – and type your origin airport with Budapest as destination. If you can be flexible on dates, you can take the best price.
Need an airport transfer? Book a shared airport shuttle bus transfer with MiniBUD here.
Related: How to find and book cheap flights for travel
Other Transport Options
You can take a combination of Bus and Metro into the city center, or a less frequent bus from the airport directly into town (Deak Ferenc).
With the bus and metro combo, the bus drops you at Kobanya Kispest where you jump on the metro. It sounds complicated but it's really easy and well signposted.
There are improvements being made on M3 line in 2020, therefore on evenings and weekends a replacement bus will be provided in place of the metro connection.
If you live in Central Europe and plan to arrive by train, head over to thetrainline, our favorite European train booking engine, to book your tickets.
We highly recommend you walk as much as you can in Budapest, so you don't miss out on the beauty of the city. If you follow our 4 days in Budapest itinerary, you should only need to take a few metro's and a couple of Ubers.
The metro is cheap and easy to use if you would prefer to get around that way, use this metro map.
Accommodation For Your 4 Days In Budapest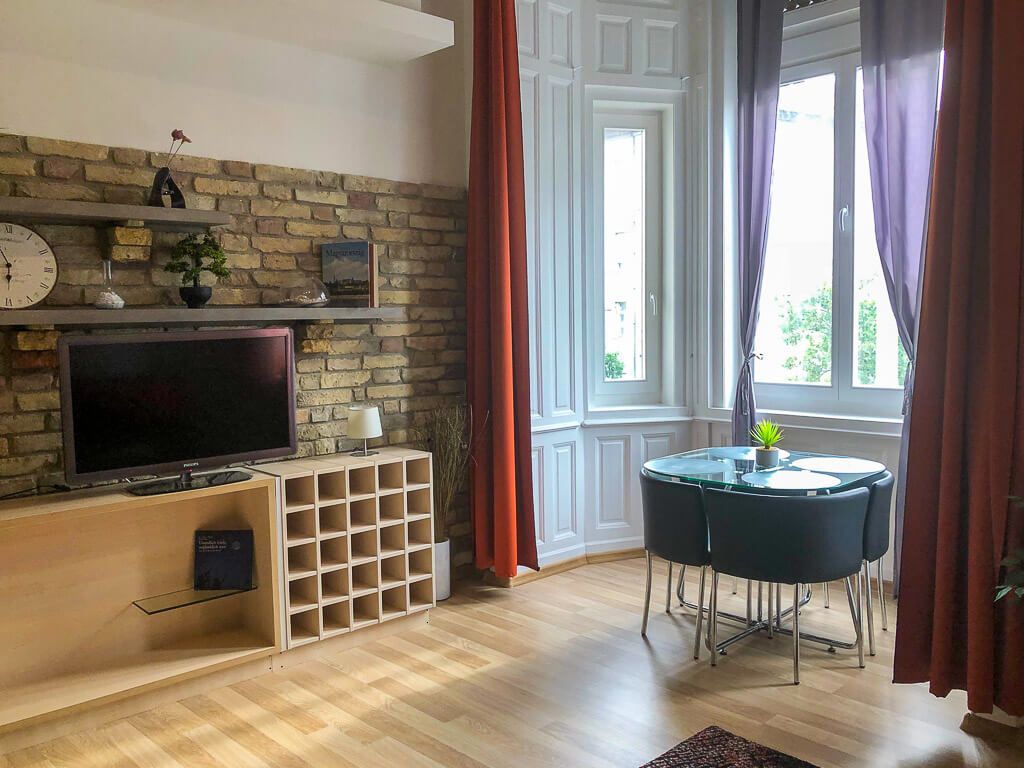 One of our favorite aspects of visiting Budapest is the quality of accommodation you get for the price you pay. It is truly unbelievable.
Budapest has an unusually high amount of premium quality apartments that you can stay in instead of hotels.
You can pick up a gorgeous mezzanine apartment with fully equipped kitchen, living room and bathroom for US$30-80 a night.
That means if you have a higher budget and go for something around the US$80-120 a night region, you're looking at some seriously swanky places.
Stretch the budget even further and you can find apartments that look like concept homes.
Where To Stay In Budapest
We highly recommend staying in pest, more specifically central Pest near the Basilica or in the Jewish Quarter. We stayed in each location and enjoyed both when we visited Budapest.
The Basilica is more central and slightly easier to get to each attraction in this 4 days in Budapest itinerary, but the Jewish Quarter is more lively.
Next time we are in Budapest, we will stay in the Jewish Quarter because we loved the lively atmosphere.
Travel Tip: If you travel in groups of couples or families, when you book an apartment with more than one room, you usually get even better value for money.
Check out some top rated hotels and apartments (per previous customer reviews on booking.com) below:
Hotels:
Apartments:
We could have easily listed hundreds of beautiful properties, but we tried to keep it short. If you didn't find what you were looking for, search more Budapest hotels and apartments here.
Related: How to book cheap hotels when traveling
Budapest Tours
Budapest is a sprawling city with so much to experience. This 4 days in Budapest Itinerary was created to help you see the best sites within this 4 day time frame.
But maybe you have some extra time or want to take a tour to one of the attractions listed on this Budapest itinerary?
Either way, a tour is a great way to see some of the best sites while letting someone else do the work for you so you can focus on enjoying your trip.
Check out some of Budapest's most popular tours below:
Tips For Your 4 Days In Budapest Itinerary
Here are a few tips to keep in mind for your trip to Budapest.
Hungary's currency is the Hungarian Forint (HUF) with an exchange rate of 364 HUF to US $1.
The best time to visit depends on whether you prefer good weather or fewer crowds. Sziget Festival in August brings around half a million people to Budapest so plan accordingly if you visit in August.
Budapest is a relatively safe city, we had no problems walking around, including at night.
If you would like any more information about any of the tourist attractions in the city, check out Budapest's official tourist information website.
Food and accommodation are way above average for price to quality ratio in Budapest so really try to make the most of it!
If you're visiting in Summer and you need to cool down, jump on a train at Deli station over in Buda that takes you to Balatonfured. This is the main resort town on Central Europe's largest lake, Balaton. Deli station is at the end of M2 metro.
If you are interrailing around Europe you will more than likely arrive and depart at Budapest Keleti station. It's about a 25 minute walk or 8 minute drive to the center of the Jewish quarter.
Be aware that many of Budapest's tourist attractions are closed on Monday's, check ahead and plan accordingly. In this case, we would suggest your 4 days in Budapest are either a Wednesday to Saturday or Thursday to Sunday.
Our Popular Budapest Guides
Want more Hungary content? Head to our Hungary Travel Guides to discover more about Budapest and beyond.
---
We hope this 4 days in Budapest itinerary helps you plan an amazing trip!
Please let us know if you need any help planning your trip to Budapest in the comments below.
Happy Travels,
Mark and Kristen
Enjoy This Budapest Guide? Pin It For Later!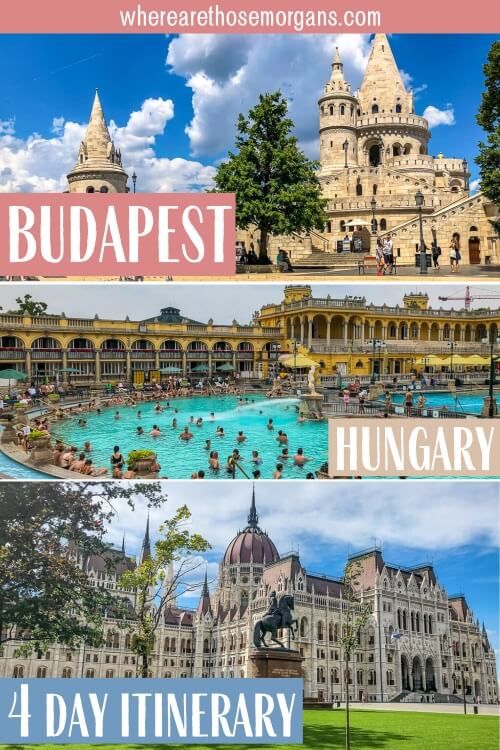 Note: This article contains affiliate links. When you make a purchase using one of these affiliate links, we may earn a small commission at no extra cost to you.
All Rights Reserved © Where Are Those Morgans, LLC. Republishing this article and/or any of its contents (text, photography, maps, graphics, etc.) in whole or in part is strictly prohibited.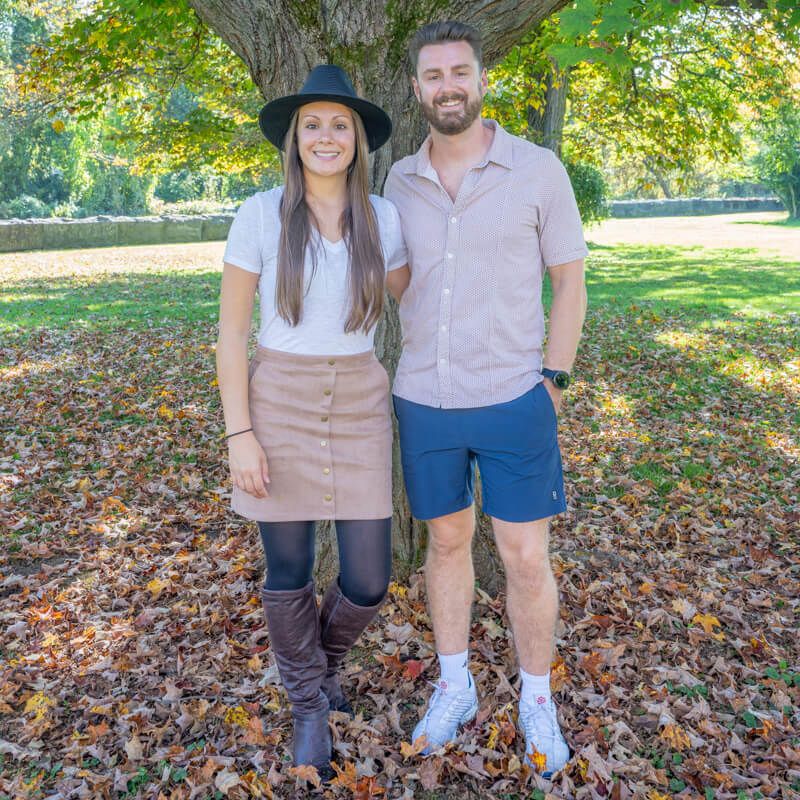 Mark and Kristen Morgan are travel, hiking and photography experts. Over the last 6 years traveling full time, they have explored more than 40 countries and 30 US states.
Their work has been featured in USA Today, Gestalten, Get Your Guide, CityPASS and Condé Nast Traveler along with various other publications.