You are about to enter a stunning Neo Baroque building complex containing 15 mineral rich indoor pools and 3 steaming grand outdoor thermal pools in the Hungarian capital of Budapest: welcome to Szechenyi Baths, Budapest's flagship thermal spa.
Budapest has a wide range of thermal baths, each is unique and oozes individual character. Some have wave pools, others have traditional Turkish octagonal pools. Szechenyi has a Beer Spa. Has it lost a part of its soul to over tourism? Absolutely. Yet it remains the most popular thermal bath in Budapest.
Budapest sits on a geological fault line from which 120 thermal springs have arisen, supplying the region with millions of liters of heated mineral water per day. Dig a big hole (like over 1,000 meters deep) in the countryside and who knows, you might hit a hot spring!
The city of Budapest has long been a city of baths, from the era of the Romans to that of the Turks and now its over to us. It is our time to 'take the waters'. So, what have we done? Started a thermal baths nightclub event, of course! Imagine if the Romans could see us now!
When you visit Budapest, you have to make time to visit a thermal bath. You could be visiting to treat an ailment? That ailment could even be a hangover. Or you could simply need to unwind after a hectic but awesome Budapest city break. We are taking you on a journey to the most popular thermal baths of all, Szechenyi.
Szechenyi Thermal Baths
Historically, Hungary was famous for being the country of baths and Budapest as the city of baths. However, it wasn't until natural medical trends promoting aqua therapy became prevalent in society that the Szechenyi Baths project began. It took a local engineer 10 years to find the hot spring that originally sourced the thermal pools!
Baroque revival architecture swept across Europe toward the end of the 19th century and one of its most prominent examples is Szechenyi thermal baths palace-like complex. Building work began in 1909 and was completed in 1913, but it wasn't until l927 that the current layout existed.
Szechenyi features 15 indoor pools of varying temperatures and medicinal properties, such as Magnesium, Calcium, Bicarbonate, with a significant amount of Fluoride and Metabolic Acid. There are also 10 saunas / steam cabins at temperatures ranging from 'comfortable' to 'shriveling up like a prune' to 'how are you alive in there'!
The baths at Szechenyi are supplied by 2 of the many hot springs in the area, one at 74 C (165 F) and the other 77 C (171 F). It could be argued that Szechenyi Baths major competitor is Gellert Baths just over the Danube in Buda. It is true that Gellert possibly edges it on the indoor pools, however, it is the outdoor pools that make Szechenyi champion in its weight category.
Think about this: Paris has 10 Eiffel Towers, each one of varying scale and splendor, but the Eiffel Tower we all know remains most impressive and therefore the busiest with tourists. Would you go to the original Eiffel Tower? Or would you go to one of the less splendid, smaller versions? Would you feel like you'd missed out?
Don't Miss: When you've soaked enough at the thermal spa, don't forget to check out the Jewish Quarter's famous ruin bars! Read our extensive guide all about Szimpla Kert, Budapest's fabled ruin bar!
Best Time to Visit Szechenyi Baths?
Scenario 1:
Imagine yourself on a freezing cold January day. Overcast sky, a bitter breeze in the air.
You have goosebumps but you're not shivering. You've been engulfed by a blanket of hot steam from your waist up. Your nervous system tells you that your legs aren't numb. They are, in fact, warming up, as your blood flows freely through your veins and arteries.
Dense steam clouds your vision until a break in the mist reveals the thermal pool you just waded into moments before and you relax, settling into a seated position to cover your shoulders completely. You feel the cold no more.
You just entered the 38 C (101 F) grand outdoor pool at Szechenyi thermal baths.
Scenario 2:
Now imagine yourself on a scorching hot July day.
You're relaxing on a sun lounger listening to music and fall asleep. When you wake up you see that the 2 outdoor pools for relaxing in are swarming with sun worshipping tourists.
You decide that's not for you, it's too hot and you need to cool down before you can join in. You head inside to the indoor pools searching for a way to dial down your internal temperature. That's the moment you stumble across the plunge pool.
With no hesitation you submerge your whole body and feel invigorated at last… Time to head to the bar and grab a beer with your friends!
Which of those contrasting experiences do you think would make the best time to visit?
Indoor Baths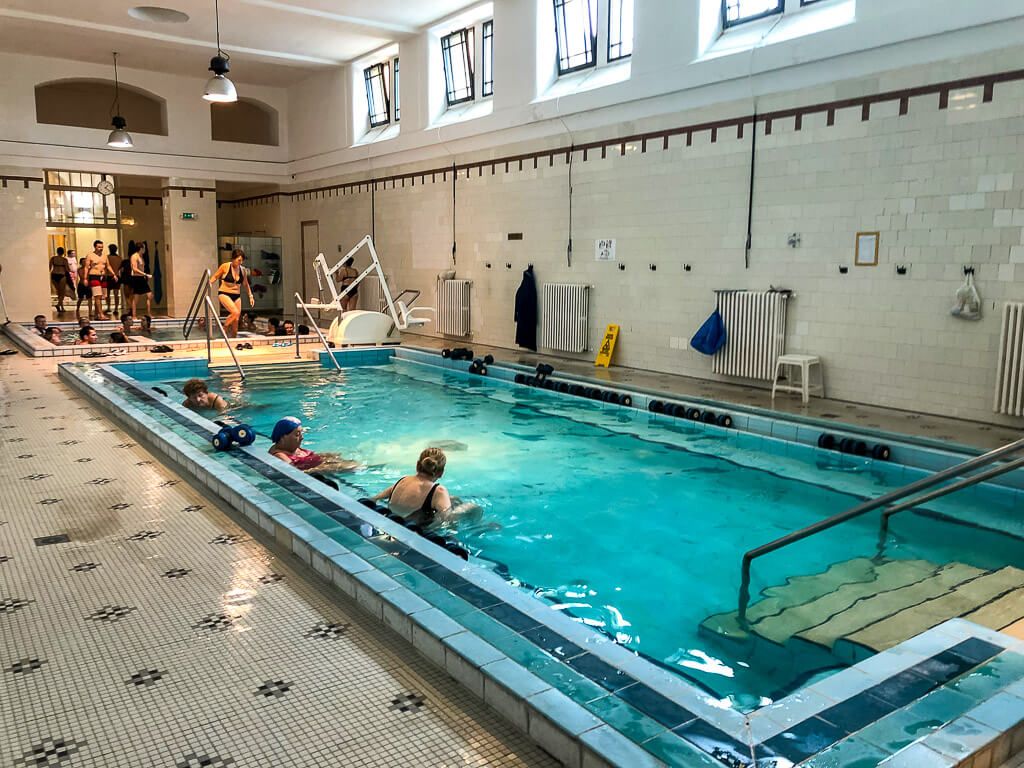 Szechenyi has 15 indoor pools ranging from 18 C (66 F) to 38 C (104 F). Once you've been in the warmer pools, it's tough getting into that 18 C so maybe try that before rewarding yourself with a nice warm dip!
The pools are in a long narrow horizontal line as you look at the map. Each pool has a different shape, temperature, purpose and mineral content.
The mineral rich water is said to be helpful to those suffering with arthritis and respiratory disease. Whether such natural treatments work is one thing, but there is no denying the improvement of your mental health when your mind and muscles relax.
Our favorite indoor pool is surrounded by brown columns and has a Roman feel to it. It's easy to forget to enjoy the design work and engineering achievements inside the baths. If craftsmanship is what you're looking for, the interiors of Gellert baths have a more eye catching design.
Depending on the time of year you visit, you could find you have a whole pool to yourself. Alternatively, you could be sharing with dozens of strangers.
Do you mind soaking in the same water as others? It's not for everyone.
If the pools are too busy, you can always try one of the 10 saunas / steam cabins situated throughout the inside. But they can also get pretty busy at peak times.
Don't Miss: Include a visit to Szechenyi Baths as part of a wider 4 Days In Budapest Itinerary, our in depth guide to the unforgettable city leaves no stone unturned!
Outdoor Baths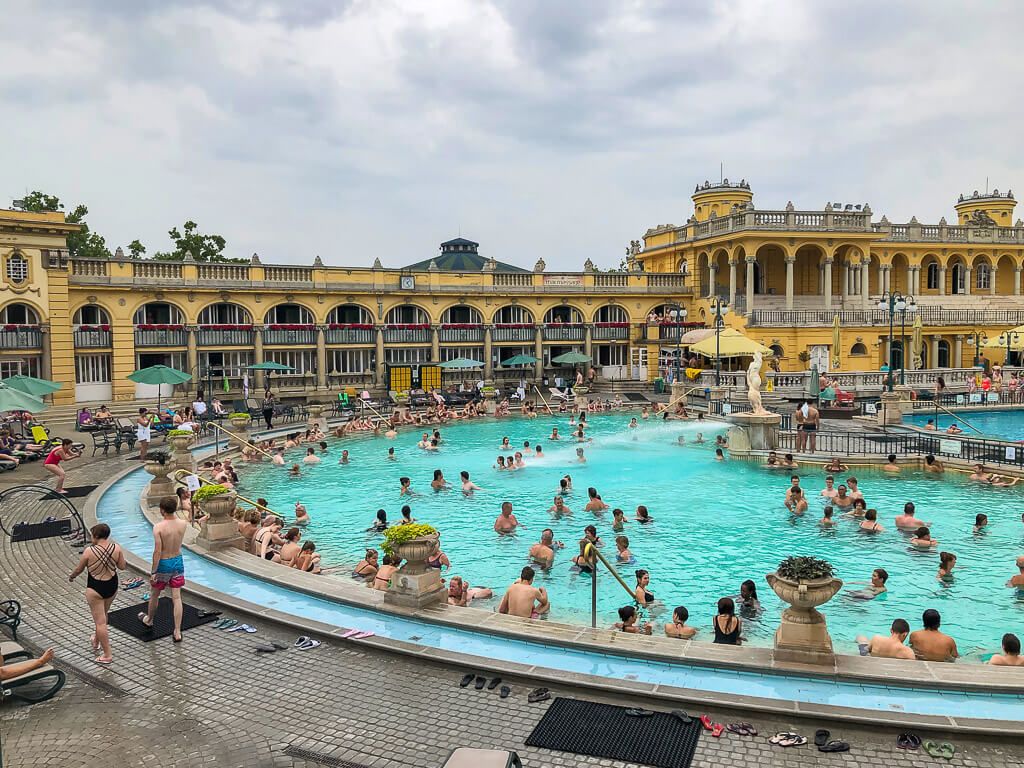 Szechenyi Baths' 3 grand outdoor pools serve as the jewels in their crown.
There's a pool for those who wish to swim at 27 C (80 F), an adventure pool at 38 C (100 F) featuring a whirlpool (it's really powerful so if you're alone it's like a lazy river!) and another pool just for relaxing at 38 C (100 F).
Swimmers remember your swimming caps (or rent one) otherwise you can't swim!
The outdoor pools are where the magic of Szechenyi Baths comes alive. With the charming yellow Neo Baroque building as your backdrop, you have access to sun loungers, a bar/cafe (yes, they serve beer!) and 3 magnificent pools.
The beauty of the concept is that come sunshine or snow, you are in for a treat.
In sunshine, you can sink a few beers around the pool (but not in the pool), sunbathe, not have to worry about jumping in a freezing cold pool (like your typical hotel pool!) and unwind.
In snow, you get the sheer pleasure of immersing yourself into blissful warmth as the cold air goes to battle with the warm water, creating a mesmerizing steam dance.
However, the best time does not matter whether it's Summer or Winter. The best time is at night. If you're visiting as a couple, the warm waters, dark sky and steam make for a romantic atmosphere.
Be prepared for crowds outdoors because this where the majority of tourists will be. Particularly the selfie crew. Arriving early morning is best.
The baths open at 6am. If you don't mind getting up, arrive at 6 and you might just be able to watch the sun rising while shrouded in a cloak of thermal steam.
Szechenyi Baths Cleanliness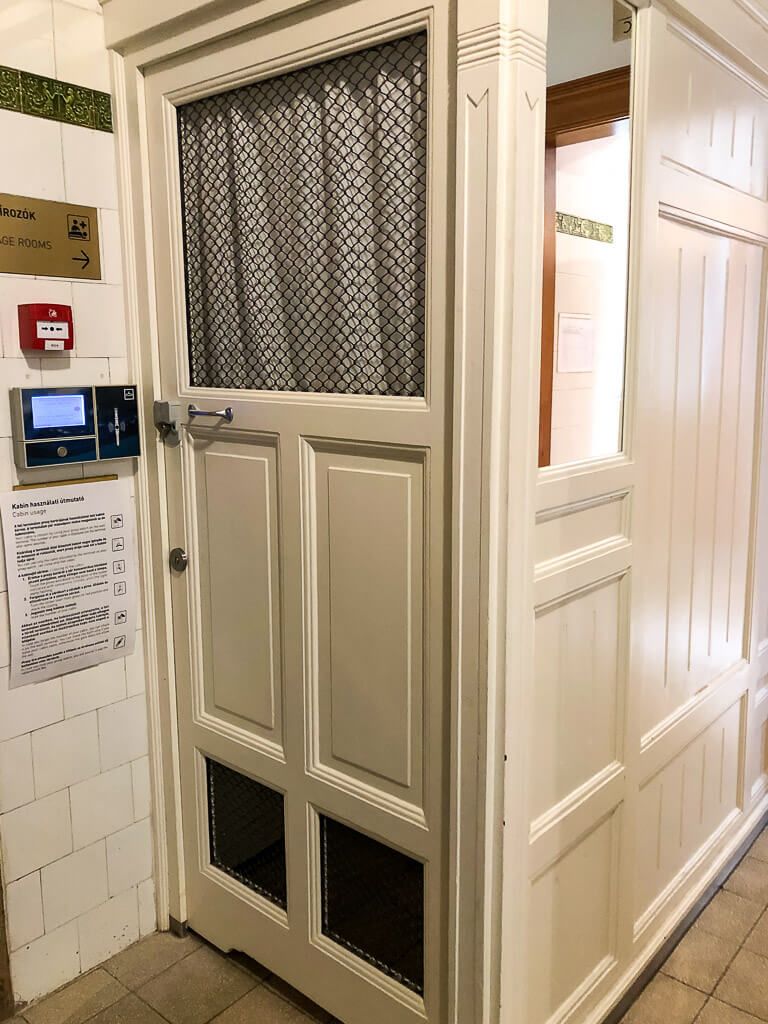 Cleanliness is not a huge bathing complexes strongest attribute. Perhaps not the fault of the establishment, but that of the thousands of locals and tourists who pass through every day.
They can't clean around and on top of us while we visit, can they? Anyway, it all boils down to your own interpretation of 'clean'.
As you can see, the cabins in the changing rooms are fine! However, the general cleanliness of the indoor pools leaves a little to be desired. There will be a few times when 'something' will float past and you'll need to hastily retreat out of its way.
We had to leave pools a couple of times because someone who clearly had no understanding of personal hygiene (or space for that matter) entered the pool.
The worst it got was a time we were relaxing in one of the indoor pools. Kristen almost had to call it a day when a huge thick black hair floated up and attached itself to her nose!
Mark spotted it early and knew he had to act.
Jaws theme music playing in his head, Mark launched himself towards the target but it was like a slow motion 'Nooooooooooooooo' and by the time he landed and splashed everyone within a 5 foot perimeter, the hair was firmly planted on the ridge of Kristens nose.
Not happy!
Have a look at trip advisor comments to gauge the general feeling towards Szechenyi Baths.
Szechenyi Baths Prices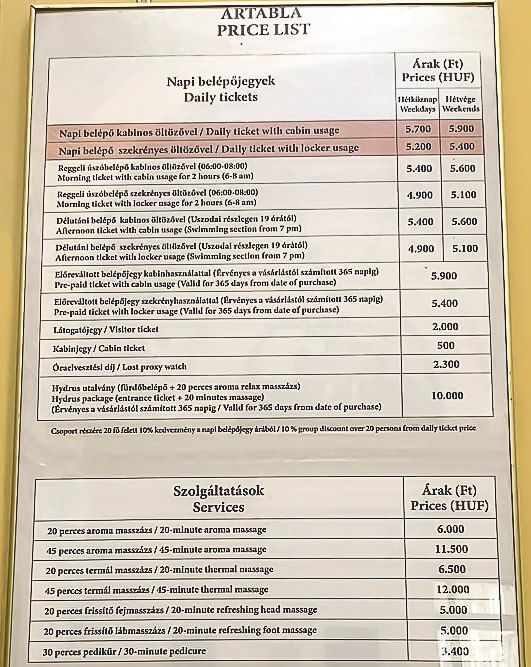 It's important to note that the prices in the photo above are from the time we visited. Updated prices are listed below.
On first glance, the prices at Szechenyi Baths aren't exorbitant. However, when you consider how affordable Budapest is in general, relatively speaking the prices are pretty inflated here.
In addition, the price list can be extremely confusing. They change all the time and have small discounts for certain times of day / doing things in pairs.
But the most important one to remember is weekdays are cheaper than weekends. We're not talking about substantial sums of money here but every little helps, right?
You can put the left overs towards a beer around the pool!
Weekdays:
General Entry Locker – 5,900 HUF (US$ 19)
General Entry Cabin – 6,400 HUF (US$ 21)
Fast Track Locker – 6,200 HUF (US$ 20)
Fast Track Cabin – 6,800 HUF
Weekends:
General Entry Locker – 6,200 HUF (US$ 20)
General Entry Cabin – 6,800 HUF (US$ 22)
Fast Track Locker – 6,500 HUF (US$ 21)
Fast Track Cabin – 7,200 HUF (US$ 23)]
Having visited a few times ourselves, we would recommend taking the option with cabin rather than locker. The cabin gives you privacy, enough room for 2 to change and you can leave valuables inside.
You are given a silicone wristband that locks and opens the door to the cabin, therefore security is not a concern.
Booking online is advisable if you are visiting on afternoons in peak season, on weekends and especially in August throughout Sziget music festival.
If you're visiting early morning, midweek in April for example – there's no need to book in advance or secure a fast track ticket.
For the full price list at Szechenyi Baths, click here.
Our Best Advice for Your Visit
Take your own flip-flops, towel, swimming cap (if you intend to swim lengths in lane pool), shower gel & shampoo … and everything else you might need.
You can rent on site, but be warned: they charge a small fortune for each item and that might ruin your whole experience. If all you turn up with is yourself, you can hire all items mentioned above for a whopping 8,600 HUF (US$28) which is more than the cost of the ticket itself.
Szechenyi Baths SParty
Any pool party fans? If so, Budapest has its very own, at Szechenyi thermal baths. We must admit, we have not attended the event! Come on, how can you go wrong with booze, music, lasers and water up to your waist?!
Almost every Saturday night from 10.30pm to 3am, Szechenyi Baths turns into a nightclub event. The whole outdoor area becomes a club equipped with lasers and alcohol. Just watch out for those floating … and that sinking …
It's worth mentioning that they come with a hefty price tag at around 16,000 HUF (US$55) per person.
Nevertheless, they are hugely popular nights and in fairness there aren't many pool party events in Europe, are there?
The Beer Spa at Szechenyi Baths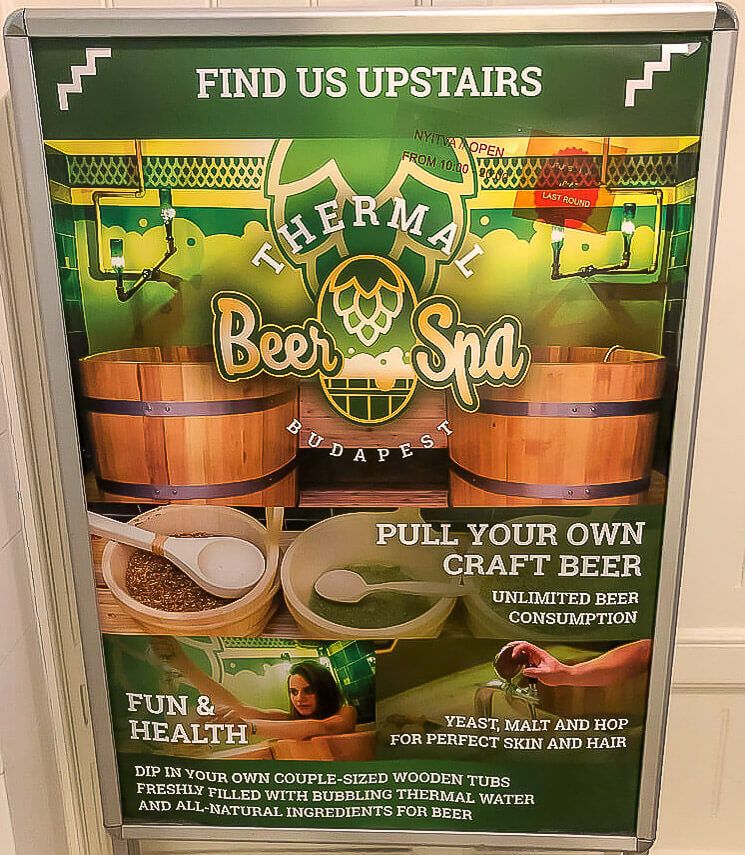 As much as it pains us to say it, we never did the beer spa.
Mark loves a beer, being British and all, but we just didn't have the budget for it. At 50 Euros for a couple (don't have to be an actual couple, just 2 people) it's a bit of a stretch when you're long term traveling.
If you're just on a long weekend break, definitely go for it! It's 30 Euros for each individual, so you're better off finding a friend.
You get 45 minutes of unlimited beer from your very own tap while you bathe in your own rustic thermal hot tub infused with hops, malt and yeast.
Imagine the people who view 45 minutes as a competition.
In truth, the beer spa has an awesome reputation, again check the trip advisor comments people have left and see for yourself!
Szechenyi Baths Spa Treatments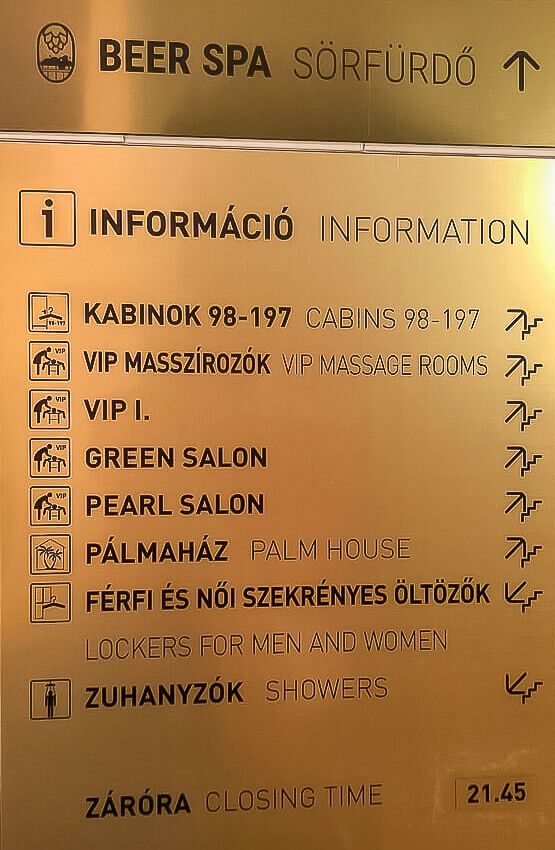 No trip to Europe's largest spa would be complete without getting a massage. The best way to save here is to do a couples massage, similar to the beer spa. If you'd like to find out prices and book a massage treatment, click here.
There are Thai, Swedish and Medical massages available at Szechenyi, which prides itself on being a complete Wellness center.
Also available are Aromatherapy massages and Balneotherapy, which is like a hot and cold water massage. If you're in need of a facial or even a fish pedicure, you can find them here too!
Szechenyi Baths Walkthrough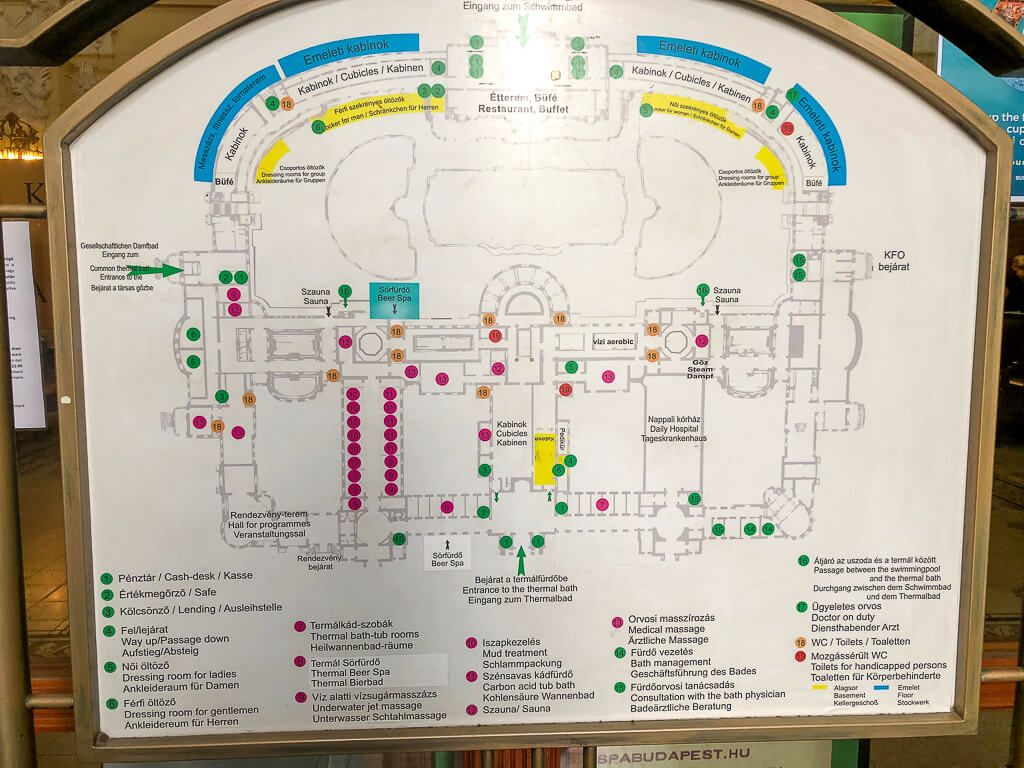 Let's assume you arrive at 4pm on an averagely busy day in shoulder season. You haven't pre booked tickets so when you arrive you will probably be around 3rd or 4th in line.
That will go quickly and you'll be met by a long price list written in both Hungarian and English, there will be too many options for you to absorb in a short timeframe so you'll just ask the ticket office worker.
Said worker will no doubt be grumpy, but make sure you get the ticket with cabin.
Once through the turnstile you need a crystal ball to work out where the changing rooms are within the labyrinthine halls of the building.
Don't worry, you'll find them, and it's all part of the experience. Find your cabin, use your silicone wristband to lock your gear up and you're good to hit the pools.
Remember to wear your flip-flops – more for protecting your feet than because its now compulsory – and your towel.
Take a dip in any of the pools that look enticing, or relatively empty. Don't forget the saunas and steam rooms.
But be warned, some of the saunas are hotter than the sun! Keep walking straight past the pools until come across what seems like a nondescript passageway, that has an almost hidden glass door.
That won't take you to Narnia, but it will open up the piece de resistance at Szechenyi Baths: the outdoor pools. Grab a beer, watch the sunset and stay out for a while in the darkness.
If you get lost, don't worry, everyone else has at some point too. Just follow the masses, or find a map. We stumbled across the beer spa by chance, because we were lost in the maze.
How to Get to Szechenyi Thermal Baths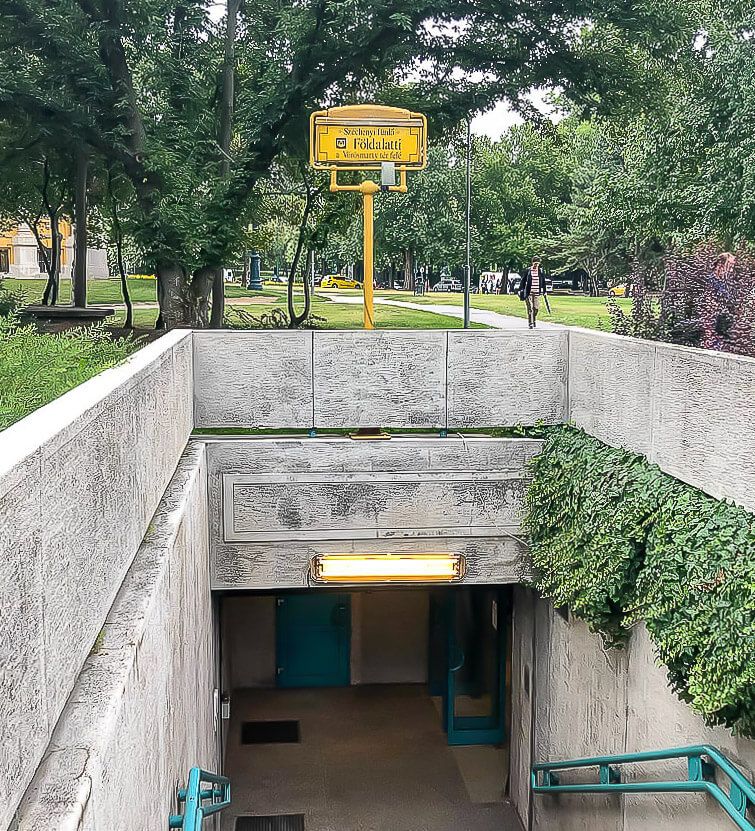 Szechenyi Baths is located in City Park in the North East of Budapest. You can either take the Yellow metro M1 from Deak Ferenc and get off at Szechenyi Ford, or you can walk the length of Andrassy Street.
It's a nice walk and only takes around 45 minutes from Deak Ferenc.
Plus, you can browse in Budapest's high end shopping district and end up at Heroes Square. Near Szechenyi Baths you can find Vajdahunyad Castle, Budapest Zoo and the Museum of Fine Arts.
Read More About Budapest …
---
We hope you enjoyed our the guide to Szechenyi Thermal Baths!
Did we miss anything? Or have you been and experienced any thick curly hairs attach to your face?!
If you need any help planning your trip to Budapest or the Szechenyi Thermal Baths, please just let us know in the comments below.
Happy Bathing,
Mark and Kristen
Like This Post? Pin It For Later!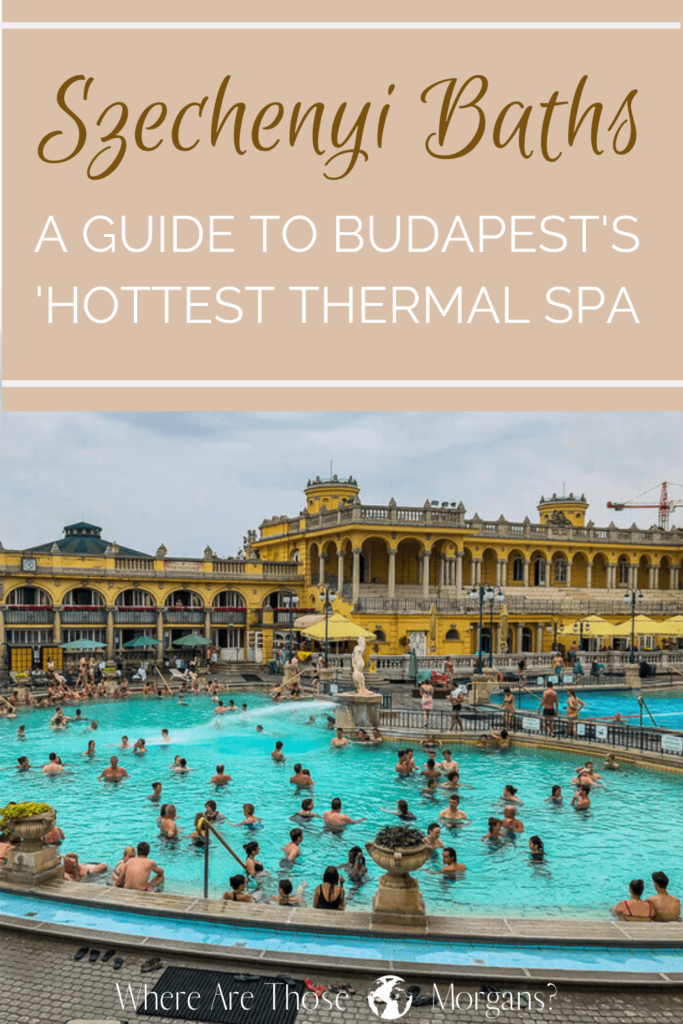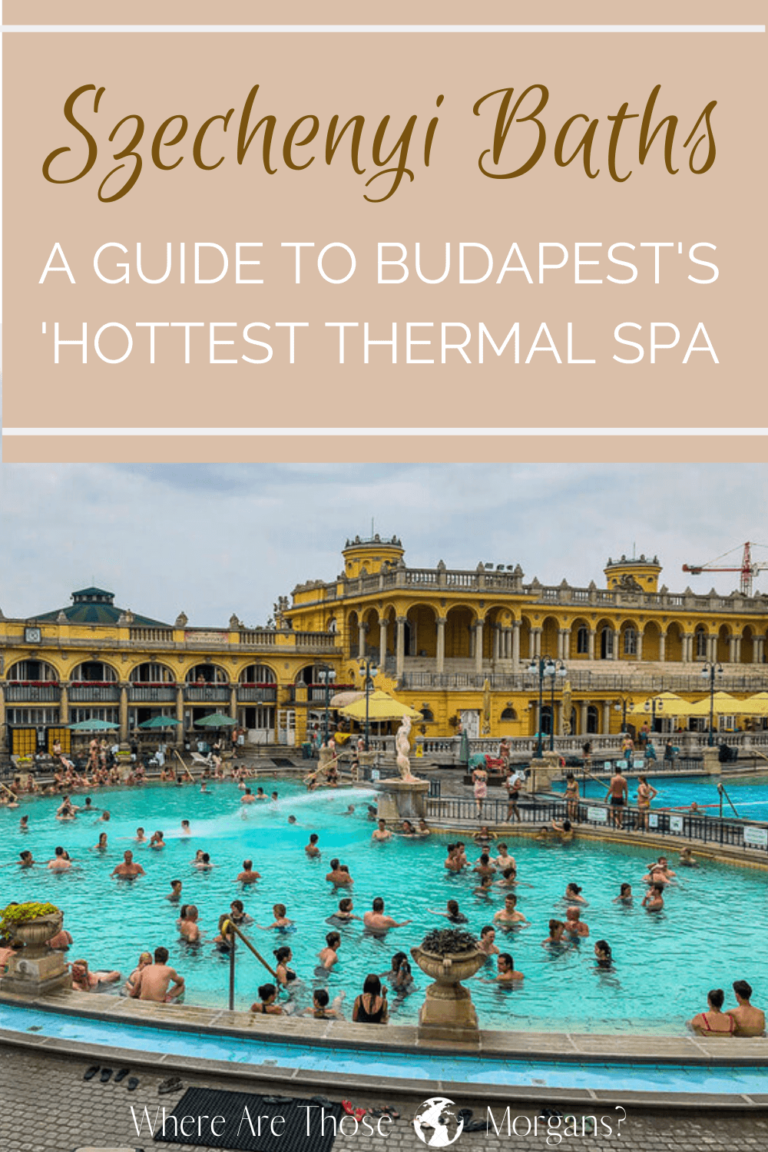 Note: This article contains affiliate links. When you make a purchase using one of these affiliate links, we may earn a small commission at no extra cost to you.
All Rights Reserved © Where Are Those Morgans, LLC. Republishing this article and/or any of its contents (text, photography, maps, graphics, etc.) in whole or in part is strictly prohibited.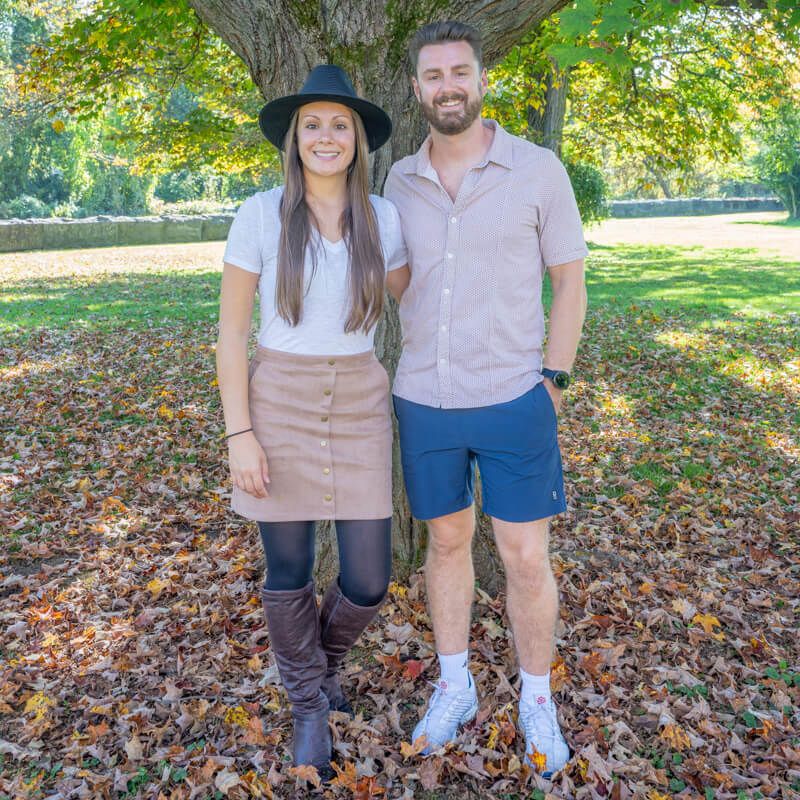 Mark and Kristen Morgan are travel, hiking and photography experts. Over the last 6 years traveling full time, they have explored more than 40 countries and 30 US states.
Their work has been featured in USA Today, Gestalten, Get Your Guide, CityPASS and Condé Nast Traveler along with various other publications.