Captivating, Wild, Artistic and Trippy are just the beginnings of all the descriptive words that come to mind when we think of Szimpla Kert: Budapest's pioneering flagship ruin bar. It is the place to party in Budapest.
Discovering unique places around the world is one of our favorite parts of traveling. And in the realm of drinking beer, Szimpla Kert is truly unique. Although the archetypal Szimpla Kert is no longer the only ruin bar in Budapest, it still reigns supreme to locals and tourists alike.
Szimpla Kert has grown from simply a place to socialize and drink in a post Nazi Ghetto and Communist era derelict building, to amassing a cult following, to cultivating a community and ending up a bona fide Budapest tourist hotspot.
Have they lost their soul in the process? Perhaps slightly, but places evolve, this couldn't stay a simple low key bar with just a cinema in the courtyard forever, could it?!
What is a Ruin Bar?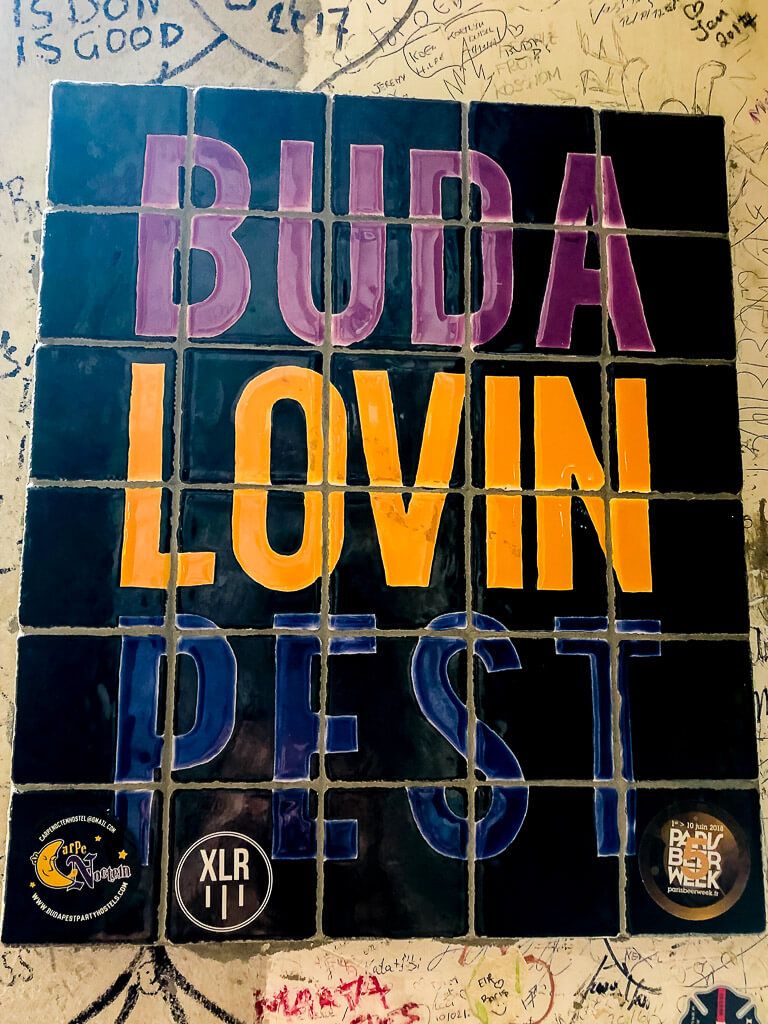 Imagine for a moment, how Budapest's Jewish Quarter would have looked at the end of WWII when the district was transformed into the Budapest Ghetto.
Follow that thought up with how it would look after the liberation of Budapest by the Soviets – Communist rule in Hungary forced many residents to flee the country, leaving the Jewish Quarter neighborhood to decay.
This post war neighborhood lined with derelict – or ruined – buildings was left vacant.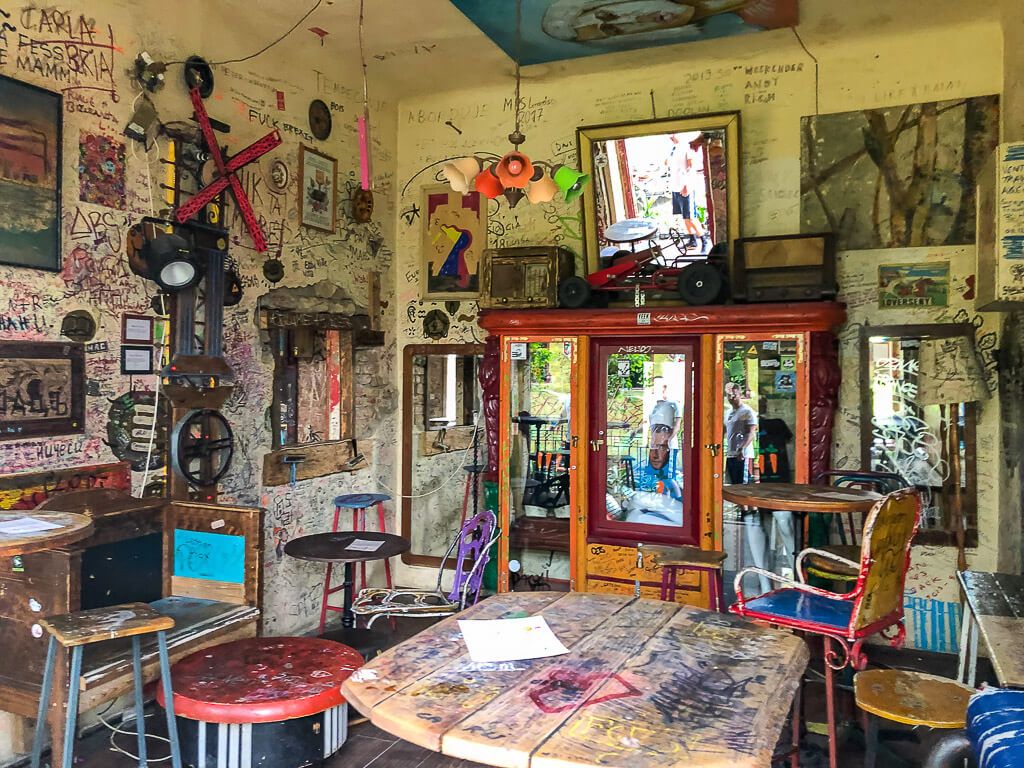 Ruin bars are the result of Hungarian culture being revitalized by entrepreneurs revolutionizing the forgotten spaces.
Run down and worn out buildings with a tragic history were morphed into quirky, artsy, trippy, weird and wonderful spaces for locals and tourists alike to drink and relax. And as a result, turn an area of devastation into an area of community and spirit.
Want to know how to make a ruin bar? First, furnish a dilapidated and labyrinthine building with anything and everything that can be found at a second hand jumble sale. Broken, fixed, colorful, dark – it doesn't matter.
Second, try to think like Tim Burton's wild imagination. A hundred paintbrushes and the entire color spectrum on your pallet, splattering a blank white canvas. Finally, the easy part – add a bar, grab some huge ass kegs of beer and a few bottles of Palinka. You have your ruin bar in Budapest.
Planning a trip to Budapest? Fantastic! But before you go, be sure to check out our (Extremely!) in depth Ultimate 4 Days Budapest Itinerary.
Szimpla Kert – The Birth of Ruin Bars in Budapest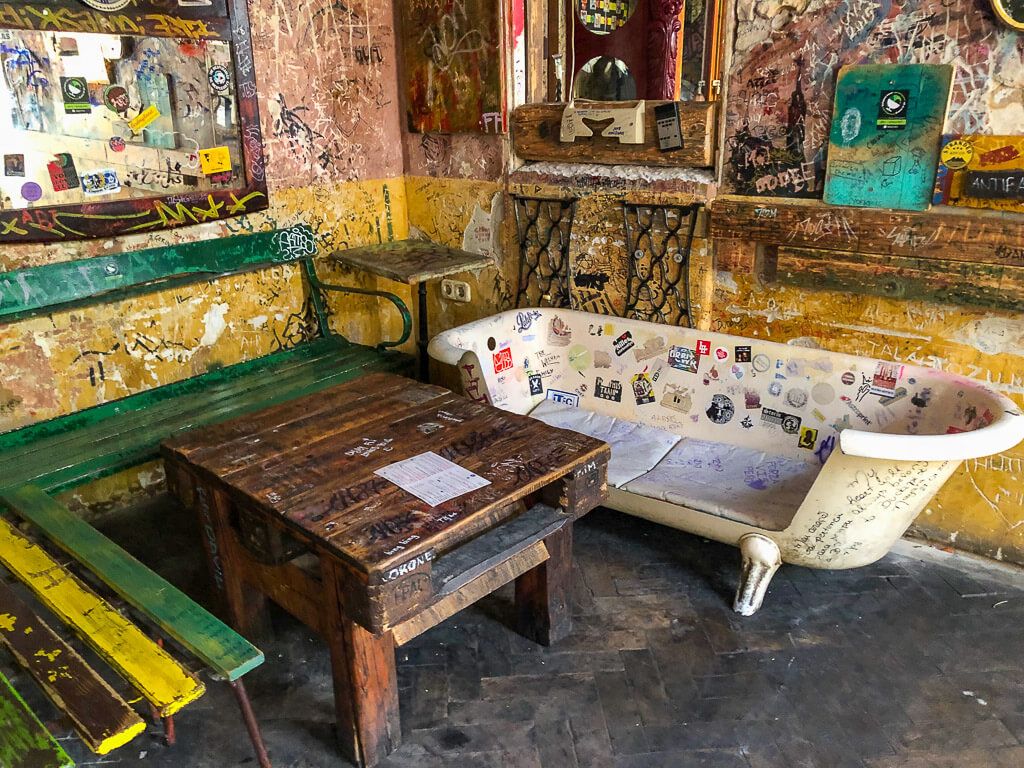 Szimpla Kert unintentionally set in motion what would become today's 'ruin bar' craze, way back in 2002. Four local owners of Szimpla Kert opened a place for relaxation and socializing with drinks. This was actually a few blocks away from where it can be found today.
But the owners wanted a larger space and an outdoor cinema in a courtyard. They heard that 14 Kazinczy Utca, an old stove factory, was to be demolished but instead rescued the ramshackle building.
Why? Because they had a vision. They saw potential for an improved version of Szimpla Kert. And it had the courtyard they wanted for the cinema!
In 2004, they named the new place Szimpla 'Kertmozi', which means 'open air cinema'.
The interior and partially covered courtyard were filled with an eclectic mix of bric-a-brac (never thought we'd get to use bric-a-brac in such an apt way!) and as its popularity grew, so did the sheer craziness of everything inside.
The inside is set over 2 maze-like floors with 8 themed bars. Or it might have been 9? Note to selves: We must remember to count the bars on arrival rather than count as we sink a drink at each one!
For seating you have a choice of bathtubs, 1960's televisions and even an old car. A pommel horse could be your table. Mirrors with psychedelic signs illuminate some of the darker spaces. All of your senses will come alive with intrigue as you try not to get lost.
Popularity and renown continued to grow rapidly, putting Szimpla Kert firmly on the tourist map for international visitors.
Today Szimpla Kert is a thriving community, but despite the guided walking tours and camera heavy tourists, Budapest's pioneering ruin bar still retains its cultural essence at the heart of post-Soviet Hungary.
Where is Szimpla Kert Ruin Bar?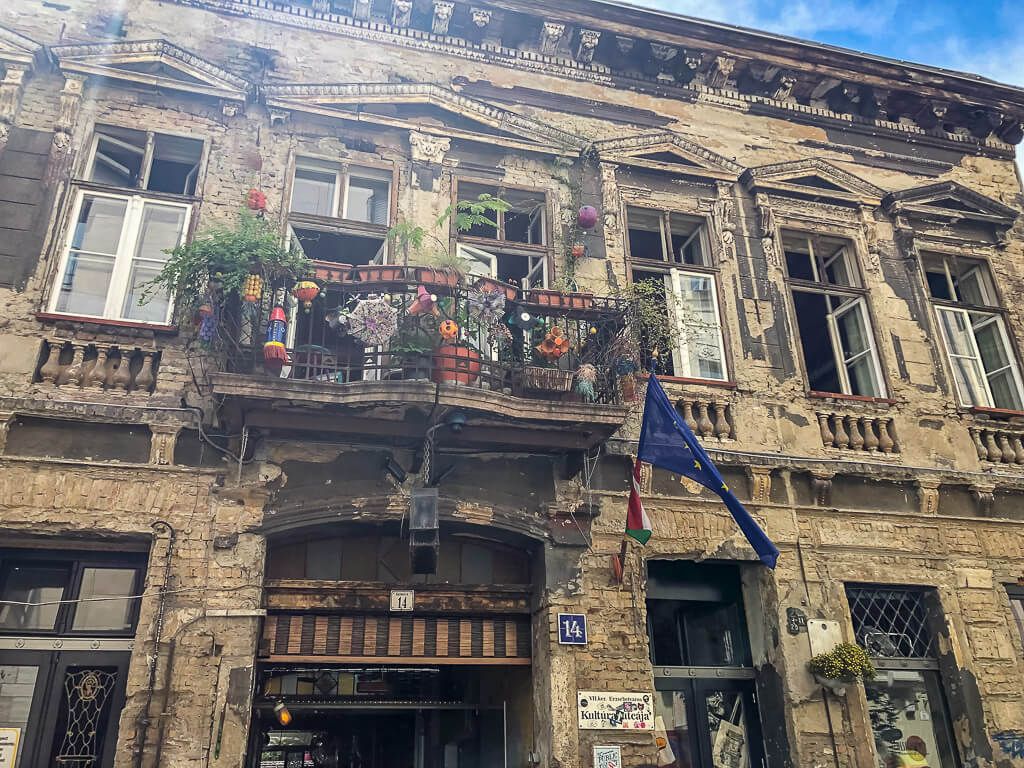 You will find Szimpla Kert at number 14 Kazinczy Utca in Budapest's Jewish Quarter (or District VII). It's easy to miss the entrance so pay attention and look for the sign 'Szimpla Kertmozi' hanging above the door.
Kazinczy Utca is becoming more pedestrian friendly and there is potential for it to soon be pedestrian only, watch this space.
A 20 meter walk away from the entrance will lead you to the awesome and cheap 'Karavan' street food courtyard. The street food stalls at Karavan are open until 11pm Sun-Weds and until 1am Thurs-Sat.
How perfectly convenient, right?!
The entire hip and artsy Jewish Quarter is an excellent neighborhood to walk around. Spend some time in the area and try a few other ruin bars along the way!
Szimpla Kert by Day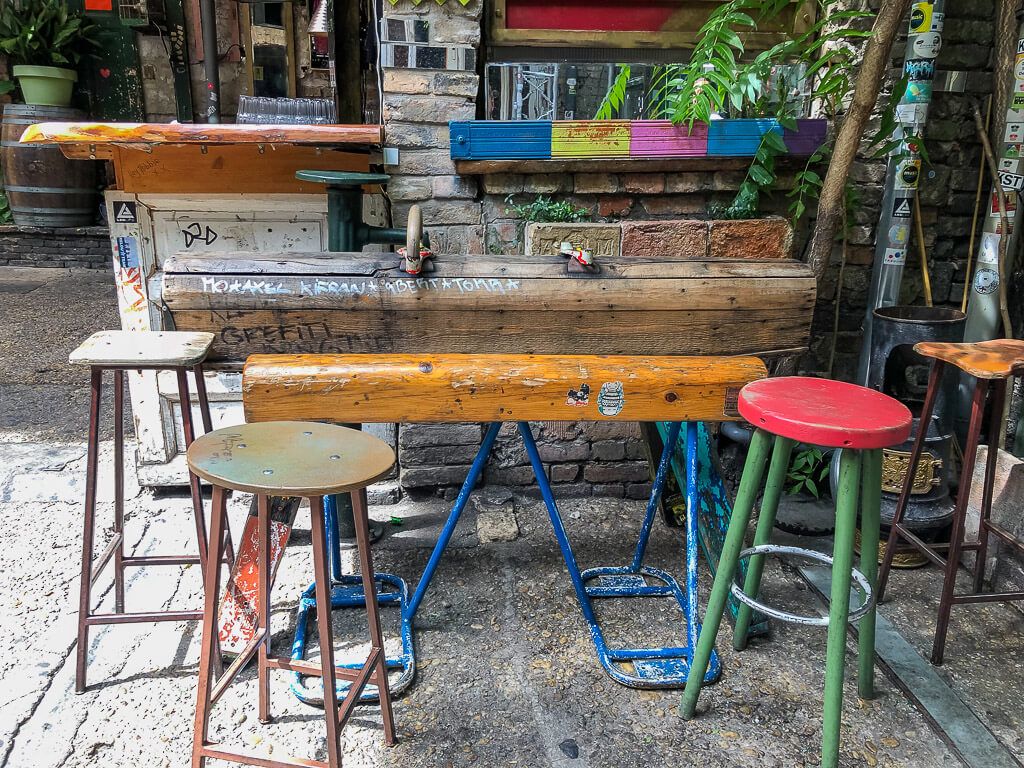 By day, you will find Szimpla Kert to be a quiet and relaxing environment. Groups will be eating and socializing. Organized tours will intermittently stream in through the thick plastic curtain at the entrance.
You'll be blinded by cameras flashing to combat the purposeful natural darkness. There will more than likely be a handyman fixing something, the building is rotting after all!
We recommend that you definitely visit during the day, even if you don't get a drink. Why? Because it's the perfect opportunity to explore the sensory overload maze alone, in daylight and most importantly … sober!
If you only go at night, you won't be able to appreciate its depth of detail. Plus, you can get your bearings and build a map of the interior in your mind before you inevitably get lost at night!
Daytime is also when you will find more middle aged tourists, who don't realize that Szimpla Kert is for everyone, at all times.
We implore you, you don't have to go earlier 'just to see it' before it gets busier later!
Be sure to check the Szimpla Facebook Page out to search for any events you might be interested in throughout your visit. There is live music on some weekdays.
They serve lunch and dinner if you find yourself hungry when checking the bar out before it gets out of control at night.
Szimpla Kert by Night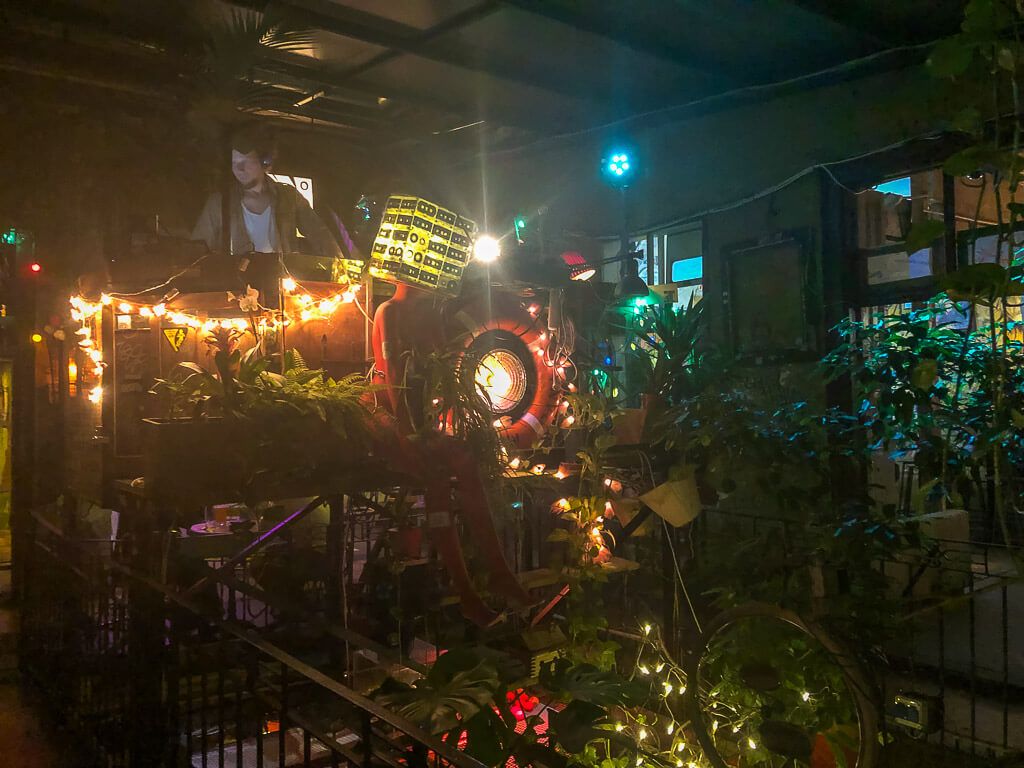 When darkness falls across Hungary, Szimpla Kert and Budapest's ruin bar craze burns bright. Alcohol hungry revelers will line the intriguing bars and the courtyard will soon be overflowing.
If you can find a seat, you've done well. A DJ will kick off the music on Szimpla's first floor DJ stand (if that's what you call it?!) behind the garden. Yes, there's a garden, or at least an area of vegetation, atop a grated floor visible from ground level.
As you sink a few beers, you'll really begin to appreciate the mind-boggling displays at the core of what makes Szimpla Kert special. Its atmosphere is unrivaled and like nothing you've seen before. Budapest is a party city and Szimpla Kert ruin bar stays open until 4am every single night of the week.
Featuring a wine bar, a cocktail bar and a craft beer bar, Szimpla Kert is a ruin bar catering to all. The craft beer is run by local Mad Scientist Brewery and Szimpla has cleverly designed that space as a laboratory.
The capacity of Szimpla Kert is 600, but don't be surprised if you find yourself one of 5,000. Around 80% of all the people inside will be international tourists, which is great for travelers who want to meet other like minded people.
Around 7-8pm you will find the place beginning to fill up pretty quickly and by 11pm-12am there will be a line. Especially at the weekend. And even more especially when it's high season in Summer. And just to put the cherry on top, during Sziget music festival in August, you better be getting in super early otherwise you'll be queueing outside all night!
The best hangover cure for the morning after Szimpla Kert? Thermal spa day! Check out our in-depth guide to Budapest's most popular (and Europe's biggest!) spa … Szechenyi Thermal Baths.
Szimpla Kert: 'Ruin-ed Bar'?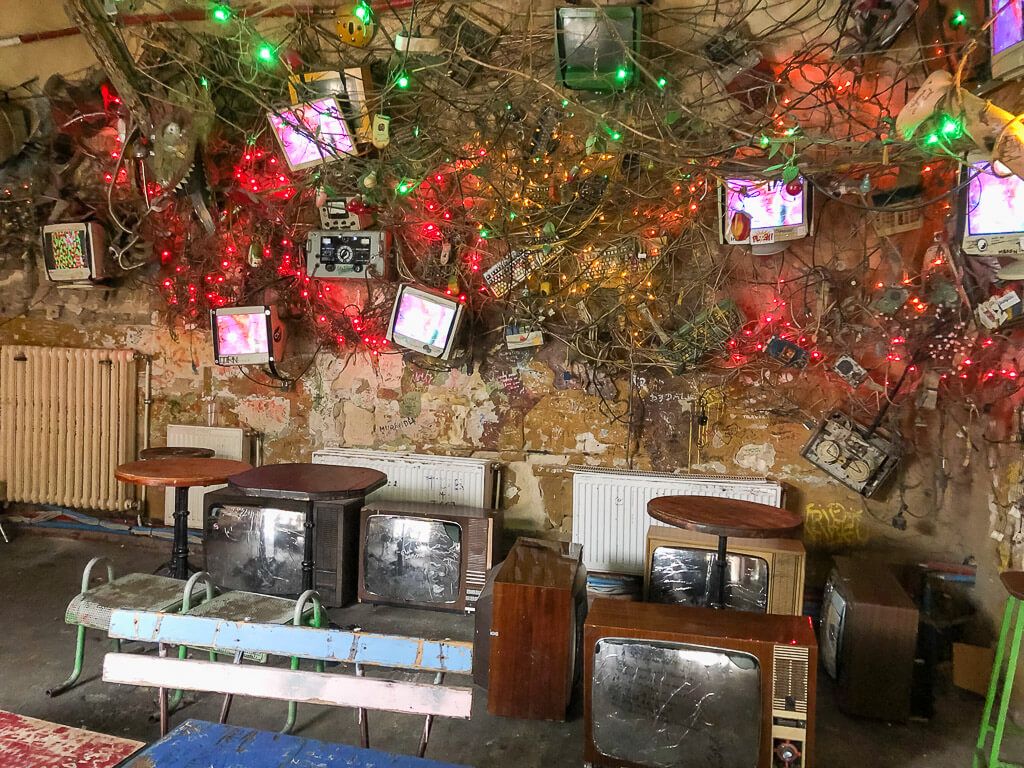 Does it seem like we've been a little positively biased thus far in our guide? That's because we've been saving this part for last. There are some things not to like about Szimpla Kert. Let's look at some of those, otherwise this would be an entirely imbalanced article:
Bartenders & bouncers being overtly unfriendly or rude
We had heard about this before visiting and must admit this hasn't been a problem for any of our many visits.
However, we did see it happening a couple of times. Is that down to the over-tourism aspect or is it all part of their act?
If you're friendly and polite to them, they should be fine in return. If not, just take your beer and don't go back to that particular bar.
Bartenders not giving back correct amounts of change
This one is a bit shitty of them, no one wants to have their money stolen. Try to pay in correct change if possible, or work out your total and change before you pay.
Szimpla Kert won't be the only place this kind of thing happens. It's just more publicized because of how touristy it is.
The toilets
There is no defense for the toilets at Szimpla Kert. They stink to high heaven, there's no toilet seats or toilet paper and they are hard to find! They are opposite each other in the middle of the room downstairs through old Western style saloon doors.
But, think about this. They know how bad the toilets are, there will be hundreds of people saying it. Have they done anything about it? Nope, because it's a part of the whole concept.
Have a look at trip advisor comments from the thousands of people who have been recently.
Szimpla Kert Community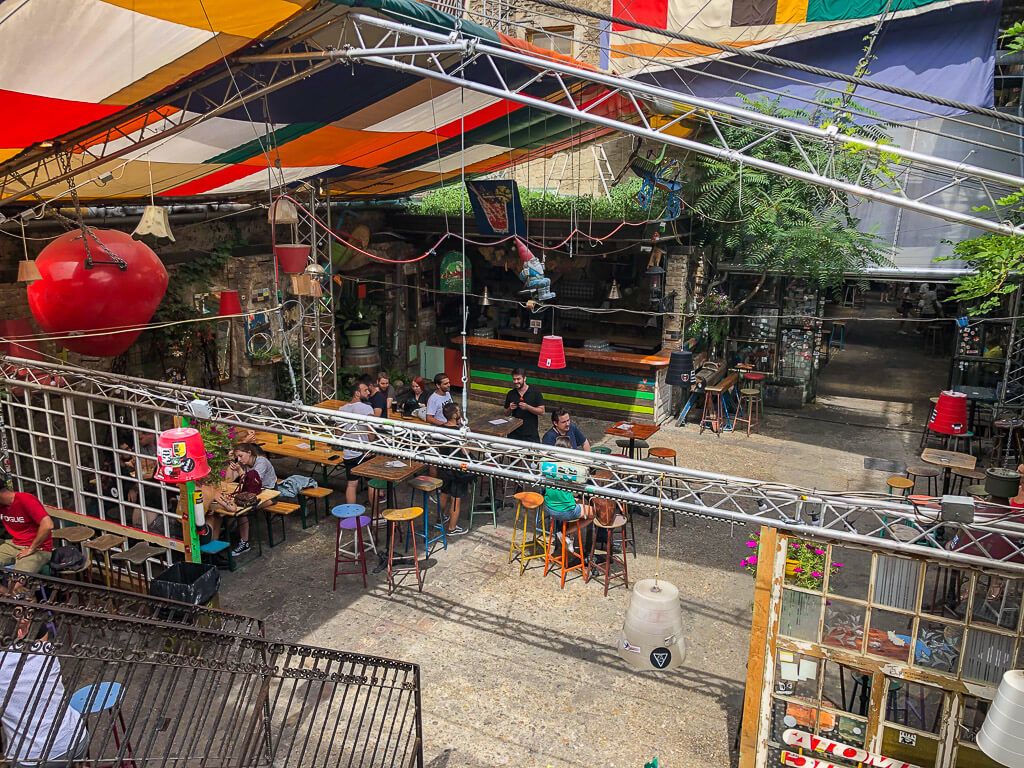 Szimpla Kert is more than just a ruin bar where tourists go to drink. There are a wide selection of events that entwine with each other creating a community spirit.
The owners are always looking for ways to engage with the local residents and the philosophy of a relaxed space for people to feel part of their community has not changed since the beginning.
The most famous of non drinking activities is a farmers market that runs every Sunday morning from 9am – 2pm. Local producers sell cheeses, meats, herbs, Hungarian spices, cakes, jams, coffee, beers and more at the market.
There is an all you can eat Sunday brunch available that morning, but it is a little pricey at US$ 17.50. Not sure how many of my fellow Brits you'll see that early on a Sunday for breakfast!
You can also find movie screenings, bring a bicycle flea market, various musical activities, Szimpla Studio, art workshops and even civic events in which Szimpla Kert plays a central role in improving the local area infrastructure and education.
Tips & Advice for Visiting Szimpla Kert
1 – Dress code is casual, come as you are, its a safe space to relax

2 – The bars open at different times throughout the day, wine bar may open different time to craft beer bar

3 – The nearest metro stop is Astoria, a 6 minute walk away (500 meters)

4 – Take cash and a range of denominations, currency is Hungarian Forint (HUF)

5 – The onsite ATM charges 5 Euros per transaction so re-read number 4!

6 – You can buy a Szimpla card that acts like a bracelet with 10,000 / 20,000 HUF – its not worth it

7 – There is a Shisha bar at Szimpla Kert

8 – One of the bars serves Prosecco on tap!

9 – A pint should cost you around £2.50 (US$ 3.20) – more expensive than average Budapest bar

10 – Open: Mon – Thu 12pm – 4am, Fri 10am – 4am, Sat 12pm – 4am, Sun 9am – 5am
Read More About Budapest …
---
We hope you enjoyed our guide to Szimpla Kert!
Did you stop in for a drink?!
If you need any help planning your trip to Budapest or Szimpla Kert, please just let us know in the comments below.
Happy Travels,
Mark and Kristen
Like This Post? Pin It For Later!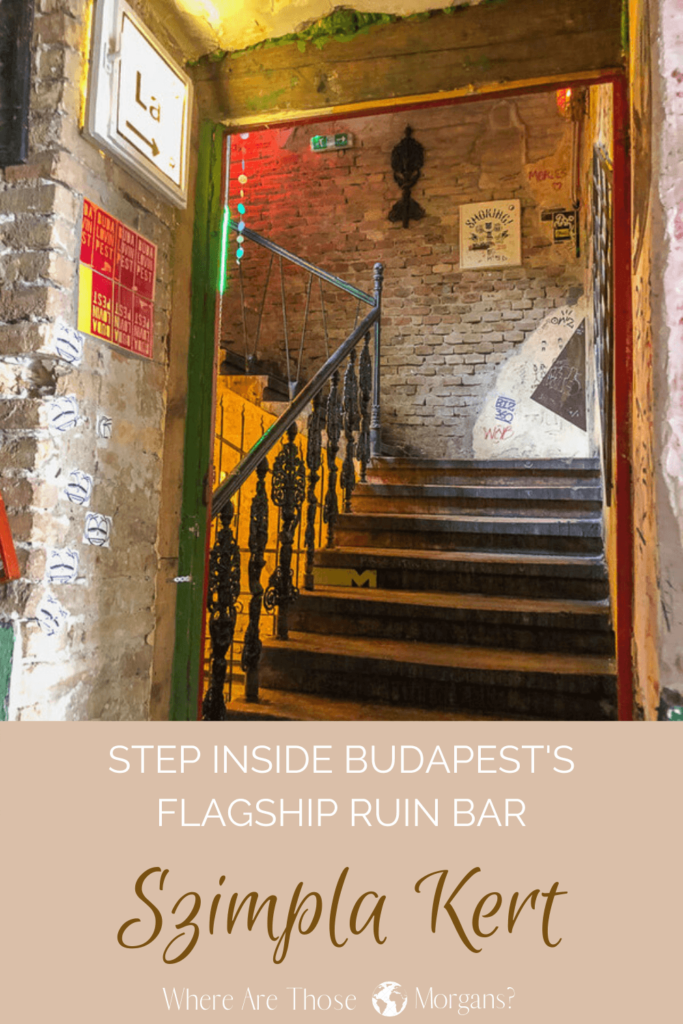 Note: This article contains affiliate links. When you make a purchase using one of these affiliate links, we may earn a small commission at no extra cost to you.
All Rights Reserved © Where Are Those Morgans, LLC. Republishing this article and/or any of its contents (text, photography, maps, graphics, etc.) in whole or in part is strictly prohibited.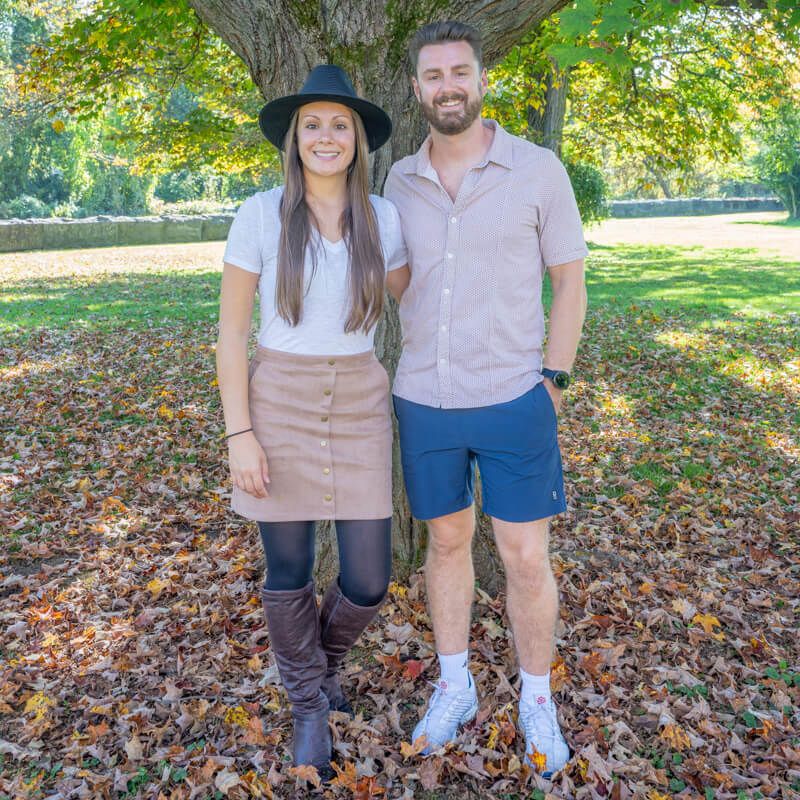 Mark and Kristen Morgan are travel, hiking and photography experts. Over the last 6 years traveling full time, they have explored more than 40 countries and 30 US states.
Their work has been featured in USA Today, Gestalten, Get Your Guide, CityPASS and Condé Nast Traveler along with various other publications.