Crab Cooker Hot Springs is aptly named. This extremely popular spring in Northern California is extremely hot but it offers a stunning backdrop featuring the Sierra Nevada mountain range.
We visited Crab Cooker as part of a west coast road trip in November 2021. This guide will tell you everything you need to know about the hot spring including tips for your visit.
Let's begin.
What Is Crab Cooker Hot Springs?
Location: About 20 miles east of Mammoth Lakes
Parking: Google map location
Price: Free
Open: Year round
Clothing: Optional
Features: One man made tub
Services: None
Temperature: 95°-110˚F (but usually on the hotter side)
Crab Cooker hot spring is a man made cement tub with water piped into it from a nearby geothermal mineral spring. If the name didn't give you a hint, the water in this spring is extremely hot.
The water at Crab Cooker hot spring ranges from 95°-110˚F. However, the source which feds Crab Cooker is sometimes well over 150˚F so this tub typically tends to be on the warmer side.
A few feet away from the hot spring, you will notice a cement well which often releases a large amount of hot steam. Try to stay away from the well because this is where the water is piped into to the tub.
This hot spring is fitted with a valve to control the temperature of the water inside the tub. If the valve is left open for too long, the water will be extremely hot and you won't be able get in.
But prior to getting into the tub, we recommend you dip your toe to test the water. Consider this your warning because you do not want to jump right into this spring incase its boiling.
At Crab Cooker hot spring, clothing is optional. During our visit, there were both nude and clothed bathers. If nudity makes you uncomfortable, you may want to skip this one.
Travel Tip: The water at Crab Cooker has been known to be over 150˚F (66˚C) so be very careful when entering the tub.
Is Crab Cooker Hot Springs Worth It?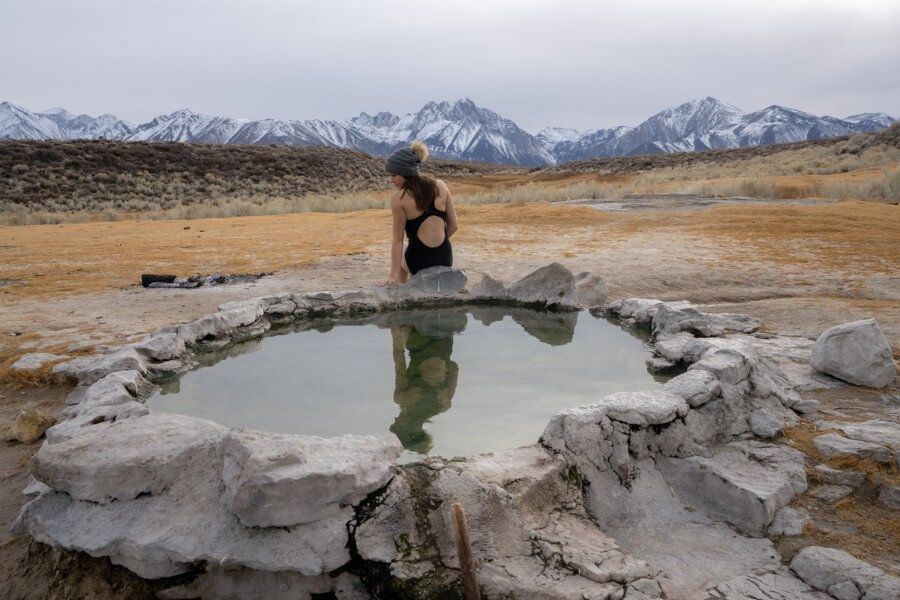 Before we get into the details, we want to tell you that visiting Crab Cooker Hot Springs is absolutely worth it!
We loved this pool because it was completely secluded unlike other popular hot springs nearby including Travertine, Hilltop and Wild Willy's.
If you can time it right to have this entire pool all to yourself, it's a magical experience. Sitting in the hot tub looking out at the Sierra Nevada mountain range is an epic travel memory we will never forget.
Most people visit Crab Cooker as part of a longer California road trip, after hiking in Yosemite National Park or exploring Death Valley. So don't miss this absolute gem!
Further Reading: How to spend one day in Death Valley
Best Time To Visit The Pool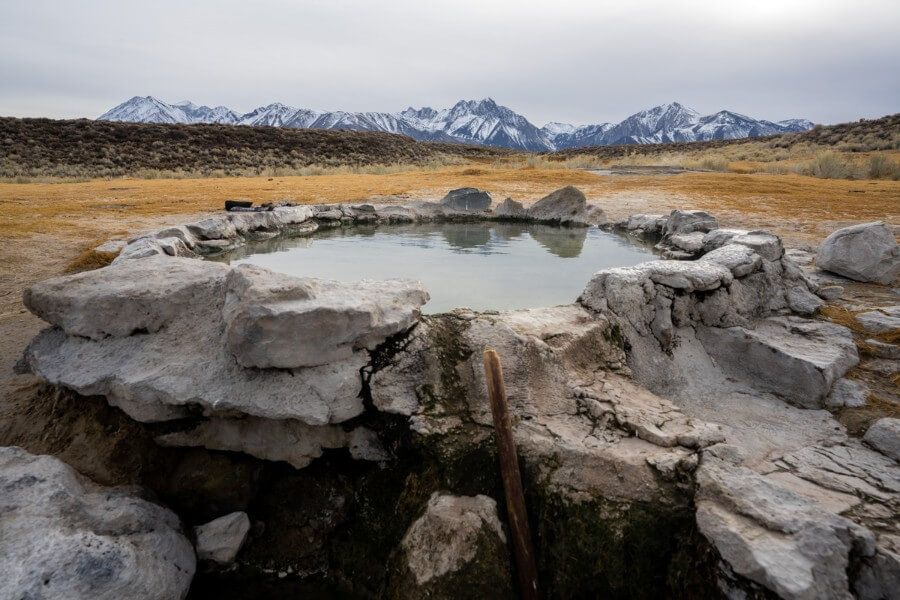 If we could pick the best time of year to visit Crab Cooker, it would be sunrise in the late spring or early fall because this time of year has the best weather conditions for soaking and safety.
Crab Cooker hot springs is open all year, but visiting in the summer and winter can bring additional challenges.
If you visit in summer, you run the chance of sharing the hot springs with many other people. The mosquitos can be quite bad this time of year and a warm sunny day might also make it difficult to fully enjoy a soak.
If you visit in winter, the roads may be impassable. US-395 is well maintained in the winter, but Benton Crossing Road is not maintained during the winter months.
Be sure to check weather conditions and have the appropriate vehicle if you plan to visit during the snow season.
Because Crab Cooker hot springs is easily accessible, it can be extremely crowded. For the best experience, you want to plan your trip when the crowds are minimal.
We believe sunrise is a better time to visit compared to sunset because there will be fewer crowds and you can watch the sun rise over the mountain.
However, the secret is out about this hot spring and it is very rare to get this pool to yourself even if you visit at sunrise.
Travel Tip: Try to visit midweek rather than during a weekend because there will be smaller crowds.
Crab Cooker Hot Springs Directions
Crab Cooker hot springs is about 20 miles east of Mammoth Lakes and about 40 miles north of Bishop. Mammoth Yosemite Airport is a very small airport nearby but we would recommend a bigger hub.
For the sake of this guide, we are going to assume you are coming from nearby Mammoth Lakes or Bishop, California for these driving directions.
From Mammoth lakes follow US-395 S for about 12 miles and turn left onto Benton Crossing Rd.
From Bishop follow US-395 N for about 35 miles and turn right onto Benton Crossing Rd.
Benton Crossing Road has a green church on the corner and you will make a turn onto a dirt road. Follow this dirt road for about 2.5 miles.
Before the first cattle grate, take the first left turn and follow an unsigned dirt road for another 1.0 mile. You will reach the parking lot for Crab Cooker at the end of this road.
Airports such as Las Vegas (5 hour drive), Los Angeles (4 hour 40 minute drive) or San Francisco (5 hour drive) would be a great option as part of a longer road trip. We drove to Las Vegas after visiting Mammoth Lakes.
Further Reading: Best things to do on the Las Vegas Strip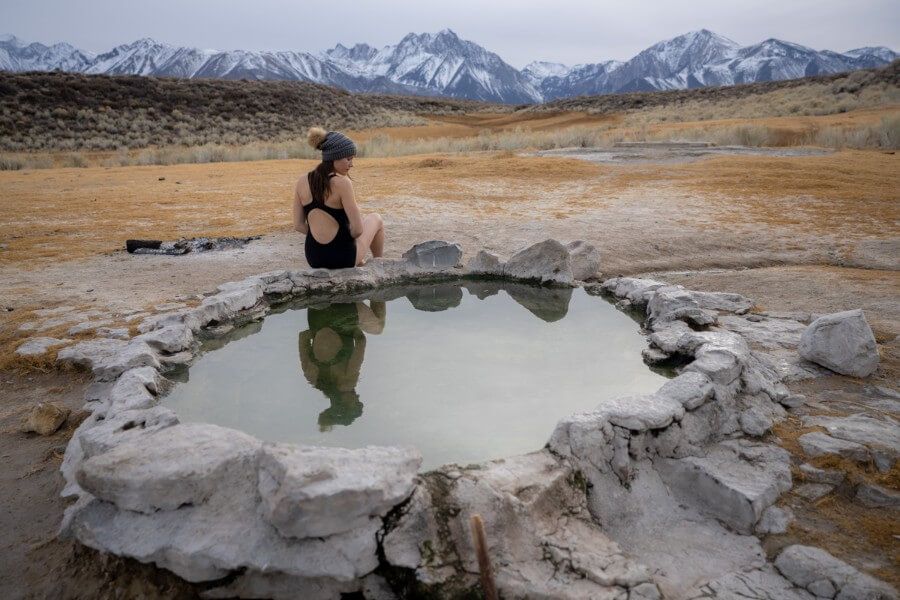 Benton Crossing is a dirt road with many potholes and the unsigned road (where you make the last left turn) is a very rough unpaved road. It is by far the worst road in the area and the potholes are very deep.
We made it in our Ford Escape SUV, but we saw a few sedans struggling to make it to the parking lot. If you are renting a car, keep in mind some rental car policies have restrictions against driving on dirt roads.
Parking at Crab Cooker hot springs is free. There are many parking spaces available with ample room for campervans and RVs if you can make it down the dirt road.
There are no toilets or services in the parking lot. After you parked, there is a 0.2 mile walk down a rutted track to reach the hot spring.
Travel Tip: If you are worried about your vehicle, another way to reach Crab Cooker hot springs is to drive to Shepard hot springs (parking lot located here) and walk about 0.3 miles southeast along a footpath.
The Solo Tub At Crab Cooker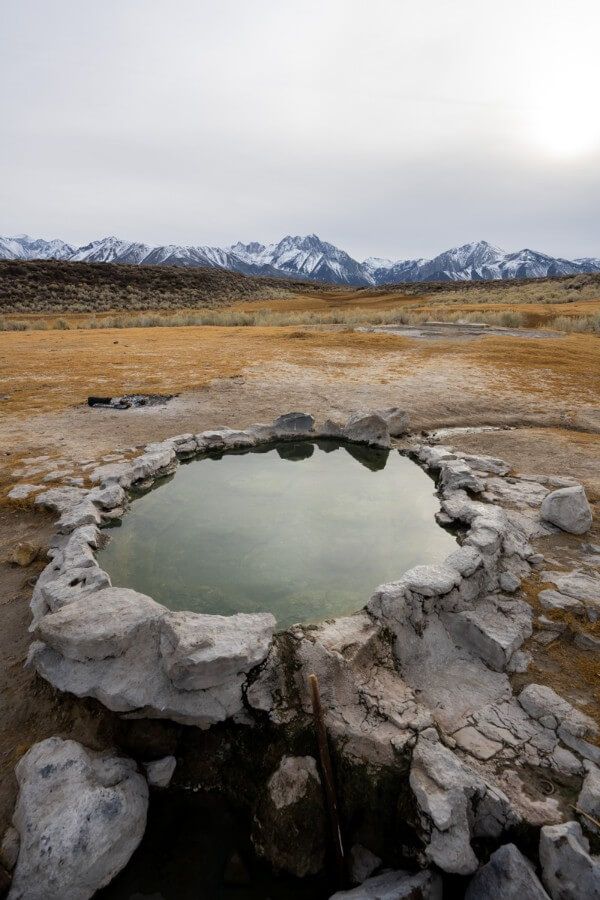 There is one hot spring pool at Crab Cooker. In our opinion, this is one of the best reasons to visit Crab Cooker because it is completely secluded with one single tub.
As we said earlier in this guide, be sure to try the temperature before heading straight in. When we first arrived, the water was so hot we couldn't get in the pool.
Unfortunately, the valve was left open so the temperature was boiling. We had to leave the valve closed to allow the temperature of the pool to cool down.
We estimate the tub will fit about 5-7 adults comfortably and the pool is only about two feet deep.
Pros and Cons To Visiting Crab Cooker Hot Spring
We certainly recommend you add Crab Cooker hot springs to your California itinerary, but here are a few pros and cons to sway your decision:
Pros:
Stunning scenic views
Soaking in the pool is extremely relaxing
The single pool is a highlight
Relatively easy to access
Cons:
Pool may be crowded and busy
Soaking for long periods may cause dehydration
The pool might be extremely hot
The dirt road is difficult to drive down
Where Should You Stay When Visiting Crab Cooker?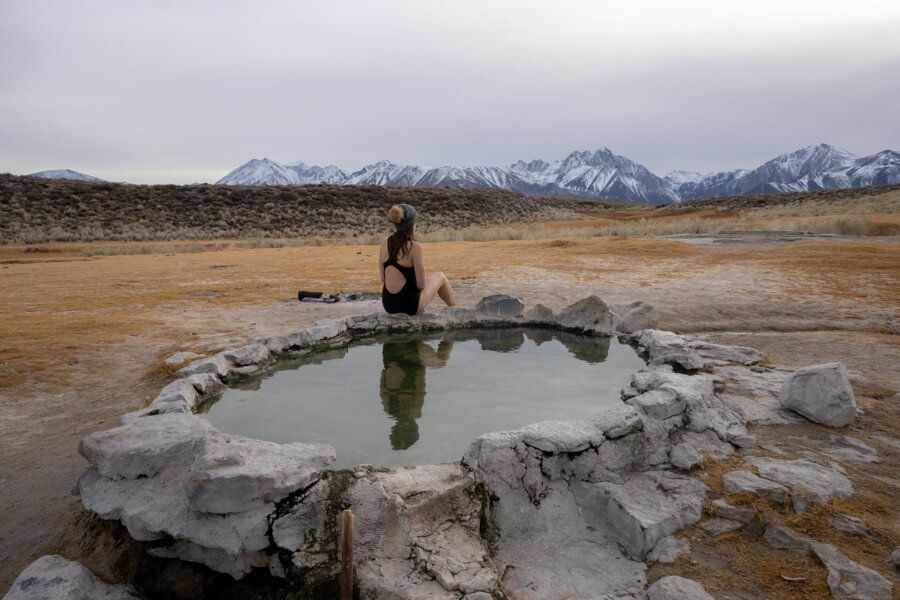 The land surrounding the Mammoth hot springs area is managed by the Bureau of Land Management or National Forest Service and dispersed camping is allowed in the certain areas.
There are no services and there is only one drop toilet in the nearby Wild Willy's parking lot. Since these are public lands, you are expected to pack out all waste.
Be sure to pay attention to the signs indicating where camping is allowed. Do not camp in the meadows to help preserve the environments and maintain the wild setting for others.
The closest developed camp option is Brown's Owens River Campground. You can also check out the Dyrt PRO for more information and reviews from previous campers around this area.
Hotel Options
If you aren't camping, the best place to find accommodation when visiting Crab Cooker hot springs is Mammoth Lakes.
Mammoth Lakes is a beautiful ski resort town about 20 miles from the hot springs. The town is filled with traditional Alpine Lodges and we have stayed in the town ourselves several times now.
We recommend staying in Mammoth Lakes if you are driving to Yosemite National Park from Las Vegas, Death Valley or anywhere else Southeast of the park.
Here are the best hotels by guest rating, price and location in Mammoth Lakes:
Want more in depth hotel options?

Read our comprehensive guide on the 10 best hotels in Mammoth Lakes CA on our hotels site, Best Hotels Anywhere.
Tips For Visiting This Remote Spring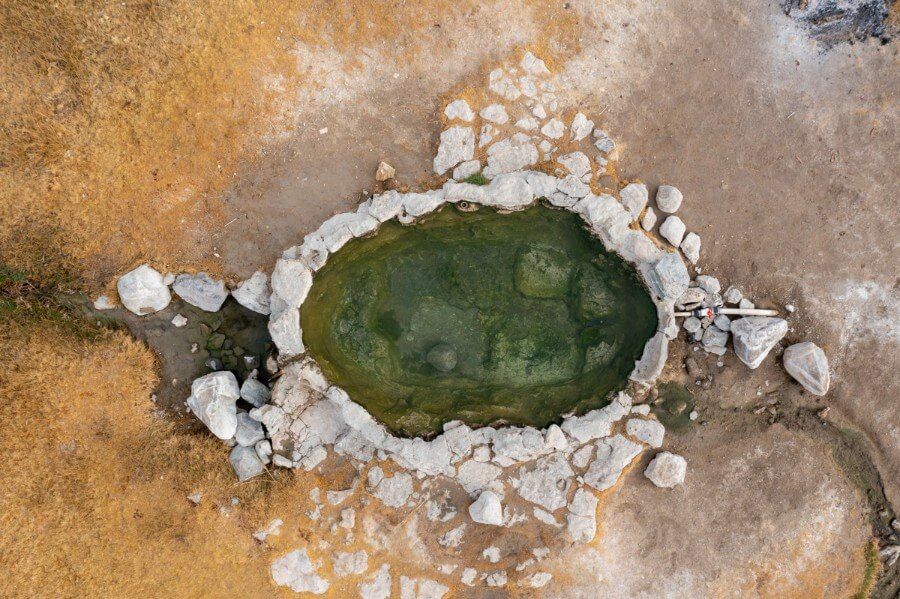 It's important that every visitor practice the seven principles of Leave No Trace so everyone else can enjoy this amazing hot spring.
Here are a few important things to consider before your trip:
Pack any trash out. It's our responsibility to keep these natural places beautiful and you should always leave the place better than you found it.
Be respectful of others. People visit hot springs to reduce stress and relax. This is not the place to play loud music or host a party.
Sharing is caring. Be considerate of others and invite them to soak if there is room. Just because you arrive first does not mean you hog the hot springs for hours.
Avoid bath products. Keep in mind natural hot springs do not drain. Bath products can be harmful to the hot springs because they disrupt the balance of minerals.
Close the valve when you leave. If you leave the valve open, the water will become so hot the group after you won't be able to use the tub.
Arrive Early. Try to visit early in the day to maximize your chance of enjoying this beautiful place to yourself.
Dogs are allowed at Crab Cooker hot springs, but must be kept on a leash at all times. Please pick up after your pet and be considerate of other people in the area.
Need a campground in Northern California? Take advantage of our exclusive 30 day free trial of The Dyrt PRO to find a spot nearby or snag a reservation at sold out campgrounds with Dyrt Alerts.
Essentials For Your Visit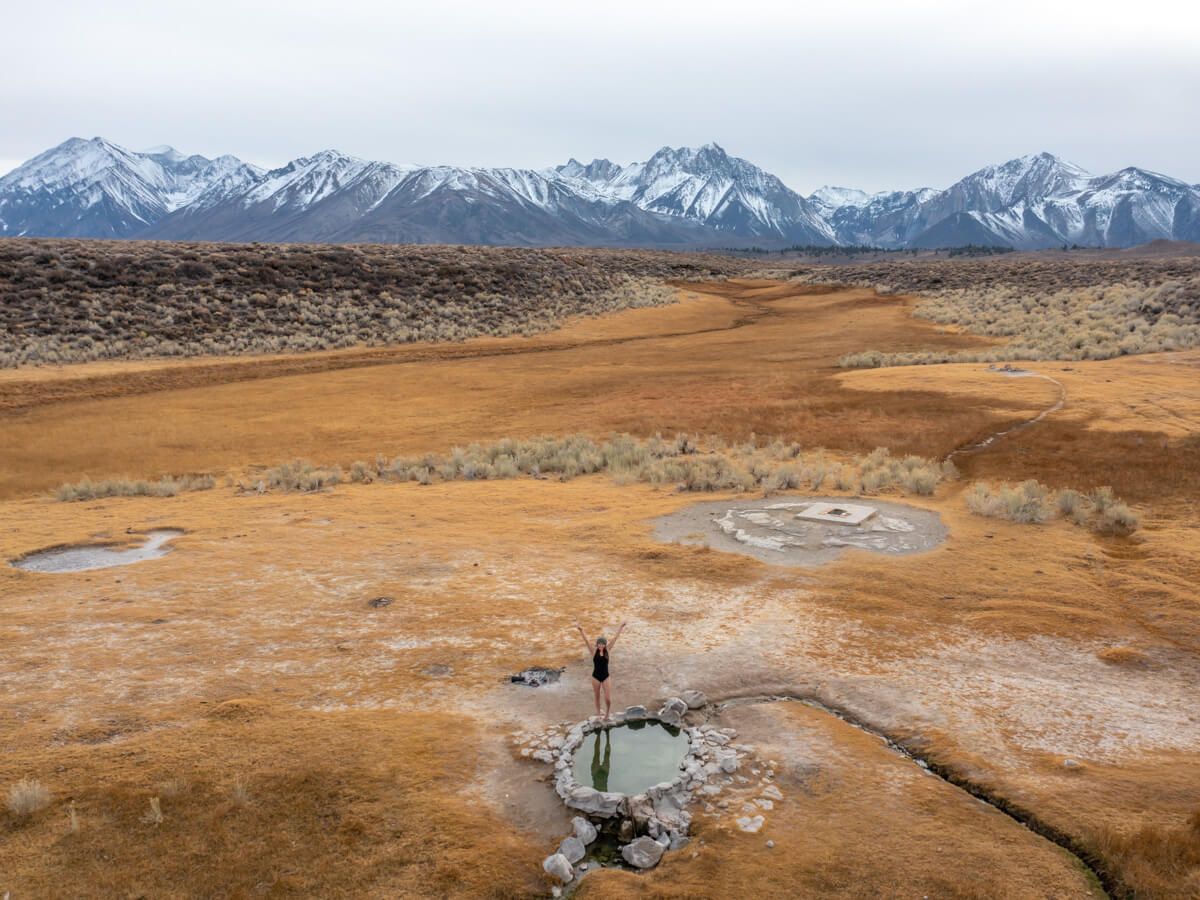 You won't need much when visiting Crab Cooker but here are a few essentials for your visit:
Swimsuit – If you don't want to bathe in your birthday suit, be sure to bring a suit.
Wallaroo Hat – This area sits at a high elevation and the sun will be strong, you may want a hat to help protect you from the UV rays.
Robe – We used robes when we visited crab cooker and received so many positive comments. For us, this was a necessity because it kept us warm and helped to protect us from the wind.
Towels – A big fluffy towel is just what you need for the ultimate spa experience.
Trash bag – Be sure to carry out everything you carry in which includes dog poop.
Water, beer and snacks – And don't forget please pack out all trash. Unfortunately, we found trash when we visited and carried it out with us.
Keep in mind you can wear whatever you want when visiting Crab Cooker hot spring because clothing is optional and there may be nude bathers.
If nude bathers make you uncomfortable or you are visiting with kids, you may want to consider skipping this area.
More From Mammoth Lakes
Want more California content? Head to our California Travel Guides to explore National Parks, popular road trips and things to do in major cities of the sunshine state.
---
We hope this guide to Crab Cooker Hot Springs helps with planning your visit to this beautiful area!
Please let us know if you have any questions about Crab Cooker hot springs in Mammoth or any northern California hot springs in the comments below.
Happy Soaking,
Mark and Kristen
Enjoy This Crab Cooker Guide? Pin It For Your Soak!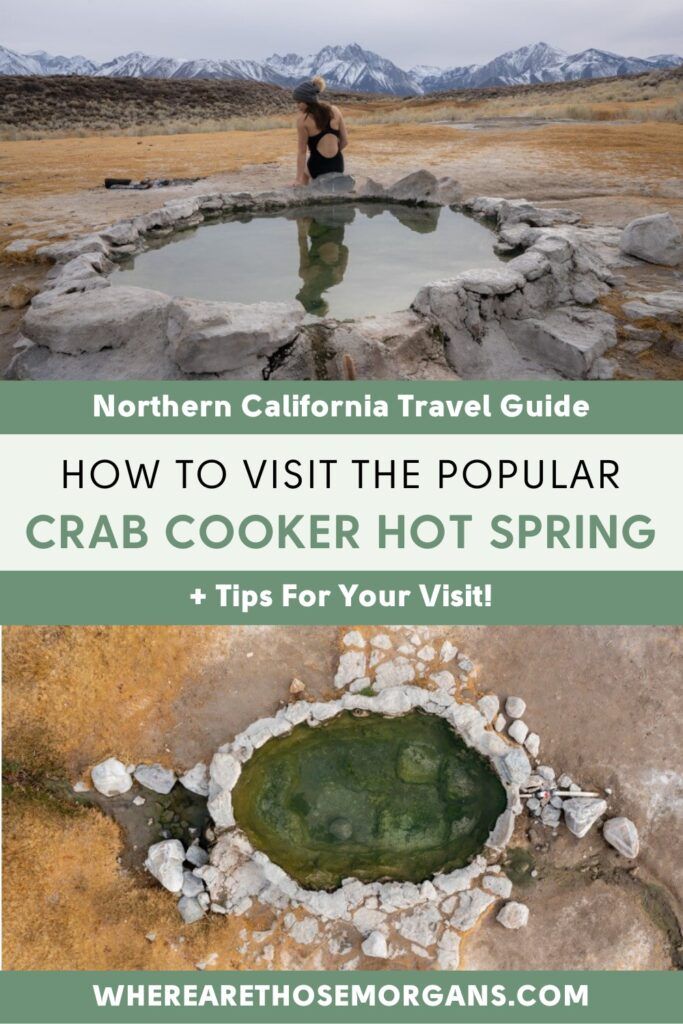 Note: This article contains affiliate links. When you make a purchase using one of these affiliate links, we may earn a small commission at no extra cost to you.
All Rights Reserved © Where Are Those Morgans, LLC. Republishing this article and/or any of its contents (text, photography, maps, graphics, etc.) in whole or in part is strictly prohibited.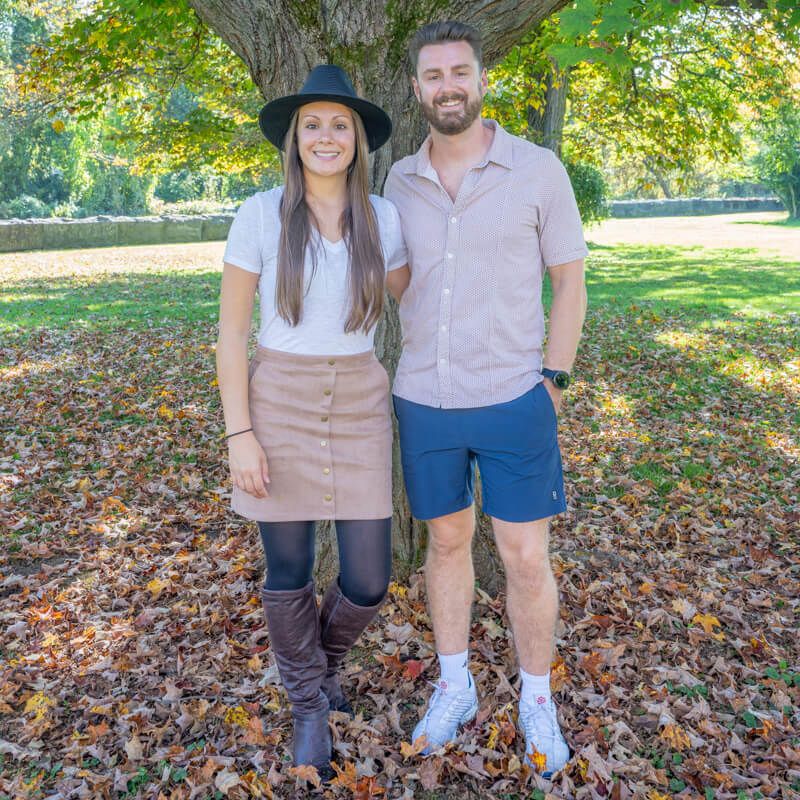 Mark and Kristen Morgan are travel, hiking and photography experts. Over the last 6 years traveling full time, they have explored more than 40 countries and 30 US states.
Their work has been featured in USA Today, Gestalten, Get Your Guide, CityPASS and Condé Nast Traveler along with various other publications.