Travertine hot springs is one of the most popular natural hot spring areas found along scenic US highway 395. These natural springs boast amazing views of the surrounding region which are sure to leave you breathless.
So what are the Travertine hot springs and why should you visit?
This is exactly what we will discuss in this comprehensive guide to bathing in Travertine hot springs.
We will show you:
What you can expect when visiting the hot springs
Best time to visit by season and time of day
Specific driving directions
All pools explained and how to find them
Tips for visiting the hot springs
What you should bring when you visit
Let's explore Travertine hot springs!
*Please note this post may contain affiliate links. If you click on one, we may earn a small commission at no extra cost to you. Thank you for supporting the free content we provide! Read more in our disclosure policy.*
What Are Travertine Hot Springs?
Travertine hot springs are a collection of primitive rock pools featuring epic views of the surrounding Sierra Nevada mountain range.
What makes this area unique is the large travertine terraces which guide warm mineral water through deep channels into the surrounding pools.
The springs have been popular with locals for years and now have also become extremely popular with tourists.
Most people visit the springs as part of a larger California road trip or after visiting Yosemite National Park.
Is Travertine Hot Springs Clothing Optional?
Yes, clothing is optional at Travertine hot springs, but this is not mandatory. You can choose to bathe in your birthday suit or bathe in a swimsuit if you prefer.
When we visited the hot springs, there were nude bathers while others wore swimsuits. So if you are uncomfortable with nudity, you may want to skip this one.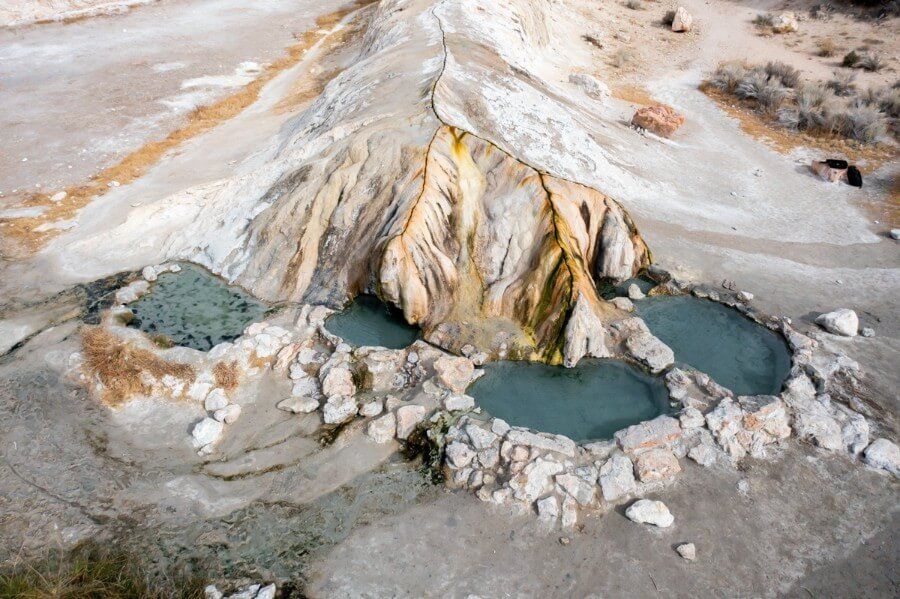 Why Visit Travertine Hot Springs?
A fleeting visit to Travertine hot springs is one of the best road trip stops you could make in northern California. Unlike some of the other popular naturally occurring hot springs in the region, Travertine hot springs are relatively easy to find and there are multiple pools you can enjoy.
One man-made tub is ADA-accessible and located directly next to the parking lot. All other pools in the area are within a half mile walk from the parking area.
Travertine is a great place for several groups to visit without feeling as if they are on top of one another because there are pools in separate pockets of land.
Can You Swim At Travertine Hot Springs?
Yes, you can swim (or soak) at Travertine hot springs. This is what makes these natural pools so special. Not only can you soak in the warm pools but you are surrounded by amazing views of the eastern Sierra Nevada mountain range.
We can say from experience the views and the vibes here are even better in person. There is something truly magical about these hot springs.
It is the perfect place to sit back and enjoy all that mother nature has to offer.
Best Time To Visit Travertine Hot Springs
The best time to visit the Travertine hot springs is at sunrise in the spring or fall. These hot springs are open year-round, but there is certainly a better time of the year and day to visit to maximize your experience.
Best Season To Visit
The best season to visit the Travertine hot springs is in late spring or early fall. The weather during this time of year will be cool enough to enjoy the warm thermal water at any time of the day.
Another benefit to this time of year is less people which means you may even get this magical place all to yourself.
There is also a high chance of a snow capped mountains in the distance which makes for a remarkable scene.
The summer months of June, July and August will bring more crowds and warm temperatures. It can be pretty uncomfortable soaking in the warm pools on a scorching day with many other people.
The winter months of December, January and February may make it difficult to reach the hot springs. Unfortunately, the road which provides access to the hot springs is not well maintained during the winter.
This can make the roads impassable if they are covered with snow and ice. However, visiting the hot springs when they are covered in snow can make for an enchanting experience.
If you plan to visit in the winter, be sure to check road conditions and make sure your vehicle is well equipped to handle the drive.
Best Time Of Day To Visit
The best time of day to visit the hot springs is early morning around sunrise. Try to visit a little before sunrise so you can get situated in a pool while you watch the sun come up above the mountains.
During the early morning, the air will be crisp and cool while the surrounding area will still be very quiet. This is easily the most peaceful time of day and the best chance to experience the springs alone.
Another great time to visit would be during the night after the sun has set and the stars are on full display. A night soak would is definitely on our bucket list next time we are in this area.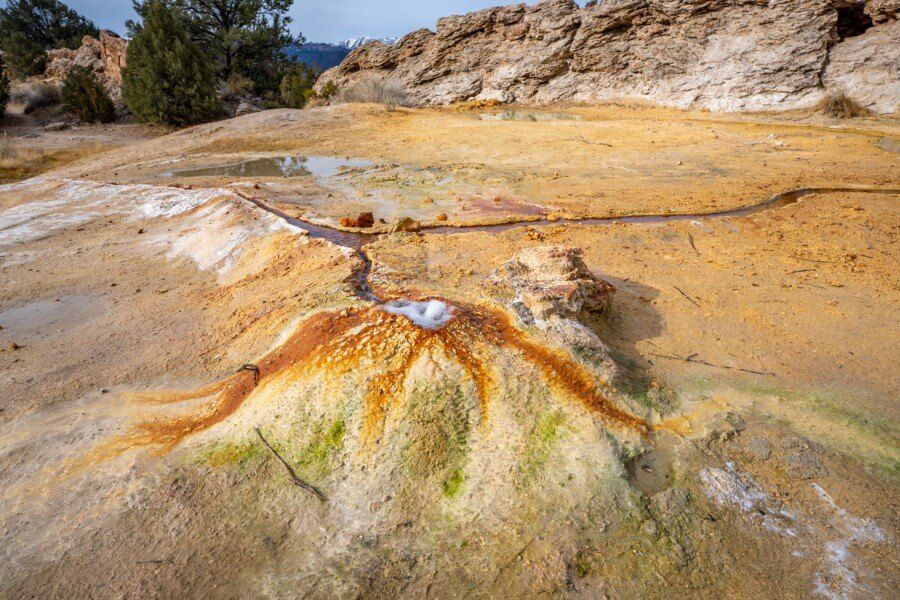 Travertine Hot Spring Statistics
Location: About 2.0 miles southeast of Bridgeport (off Jack Sawyer Road)
Parking: Google map location
Price: Free
Open: Year-round
Clothing: Optional
Features: Many different pools, closest hot springs to Yosemite National Park
Services: Drop toilet
Temperature: Varies depending on pool
Where Are The Travertine Hot Springs?
The Travertine hot springs are located about two miles from Bridgeport, California. This is about an hour north of Mammoth Lakes and about an hour north of Yosemite National Park if you leave from Tioga Road.
Most of the drive to Travertine will follow a well maintained highway, but the last mile on Jack Sawyer Road will be along an unpaved road.
This does not require a high clearance vehicle but you may experience some potholes.
Driving Directions
We are going to assume you are coming from nearby Mammoth Lakes or Bridgeport, California for these driving directions.
From Bridgeport follow US-395 S (about 1.0 mile) and from Mammoth Lakes follow US-395 N (about 50.0 miles).
If coming from Bridgeport, turn left onto Jack Sawyer Rd. If coming from Mammoth Lakes, turn right onto Jack Sawyer Rd.
After about 0.2 miles, the road will interest with Travertine Rd. Look for a wooden sign saying 'Travertine Hot Springs' and take the left to continue along Jack Sawyer Rd.
Follow Jack Sawyer Rd for another 1.1 miles and the road will end directly in the parking lot.
You should be able to see the ADA-accessible pool to your immediate left and then follow the wash just a short way to the main triple pool.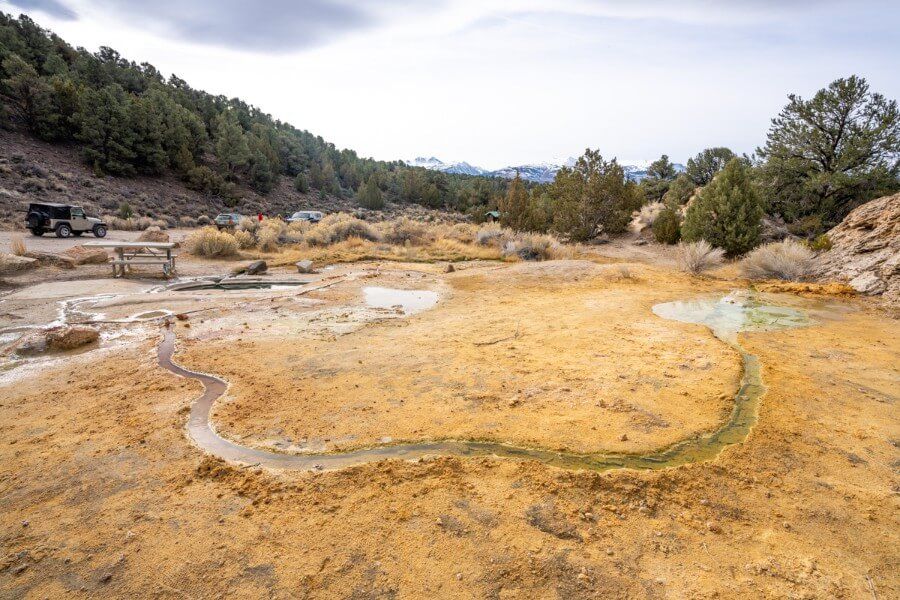 Parking At Travertine Hot Springs
Parking at Travertine hot springs is free. There are many spaces available at the end of Jack Sawyer Road. A drop toilet is also located right near the parking lot.
The Pools Of Travertine Hot Springs
Travertine hot springs is great because there are many pools in the area. If several groups are visiting, you all may be able to find a pool which is not always the case when visiting a hot spring.
The main triple pool is the highlight of the area but the other pools are worth checking out if you have additional time.
How Many Pools Does Travertine Hot Springs Have?
Depending on your source, there are up to seven different pools at Travertine hot springs. So in conclusion, there are many hot springs to explore in this beautiful area.
However, the best hot spring pools are located very close to the parking lot. These include the hot spring ADA-accessible tub as well as the main triple pool located just a short walk from the parking lot.
In our opinion, the best pool at Travertine is the main triple pool. This is the hottest and most popular pool. But this also means it is the busiest pool.
If this main pool is occupied when your first arrive, there are a few other smaller pools located in the close vicinity of the area. Look for well-trodden paths leading to other single pools.
Keep in mind these other pools will not be as warm as the main pool and some of them have very gritty bottoms.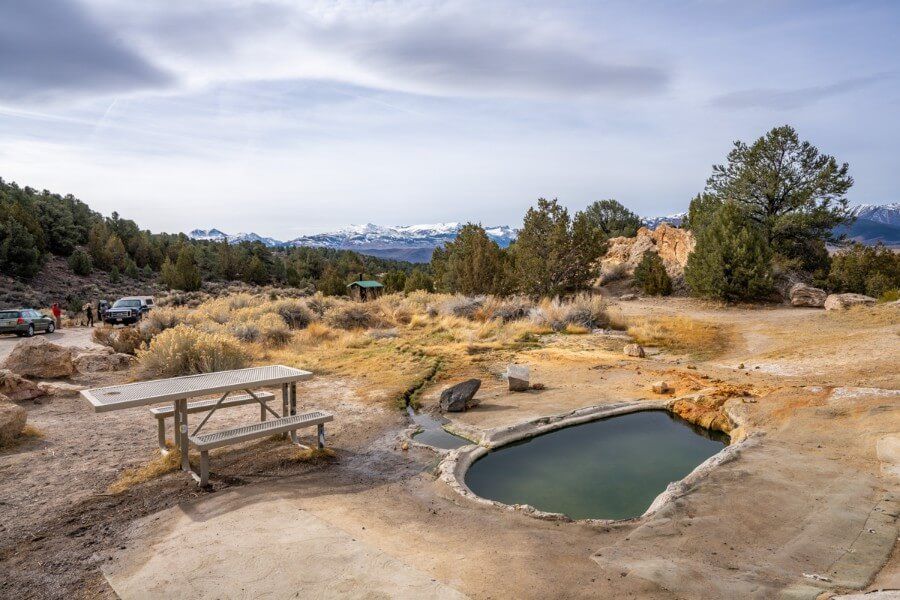 Parking Lot Hot Spring
The very first pool you will see is located next to the parking lot. This hot spring features a man-made cement tub which is ADA-accessible with a picnic table nearby.
However, be sure to check the temperature before getting right in because this tub can be extremely hot! It is one of the hottest springs in the area.
This tub is great because it is often the cleanest but unfortunately it does not have the great natural setting like many of the other pools.
If the parking lot is busy, this can definitely ruin the serene setting.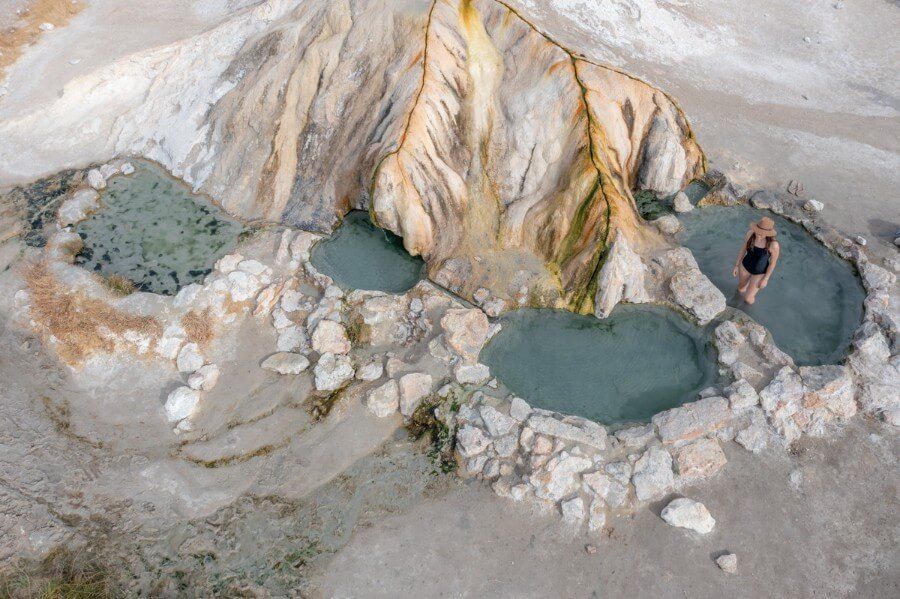 Main Triple Pool
The main triple pool is without a doubt, the star of the show. This section is actually comprised of four pools, but the forth pool is not deep enough to sit in comfortably.
If you like your hot spring warm, the first pool on the right will be the one you want. Most of the heated mineral water runs down from the travertine terrace into the first pool. This pool could fit about 6 people.
The second pool fits about 4 people and the third pool could fit about 3 people. The pools also get decreasingly cooler the farther you get from the main terrace run off.
All the hot springs in this section have man-made rock walls with a travertine mud bottom. If you plan to wear a lighter colored bathing suit, keep in mind the mud may stain it.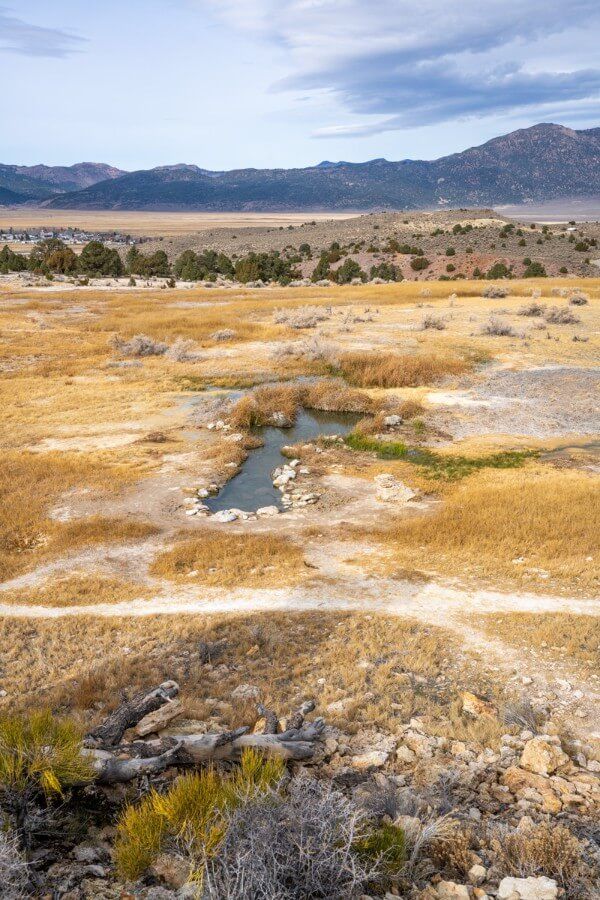 Additional Pools Near The Main Triple Pool
After we soaked in the main triple pool for some time, we wanted to explore more of the area.
We found a few additional pools located past the main triple pool which would probably fit about 2 people comfortably.
These pools were smaller compared to the main triple pool. However, they did offer some amazing views and were relatively secluded.
The first pool is much hotter than the second pool in this section.
We estimate these two additional pools are about 700 ft away from the main section. Even if you don't take a dip in these pools, it is worth the short hike to see more of the area.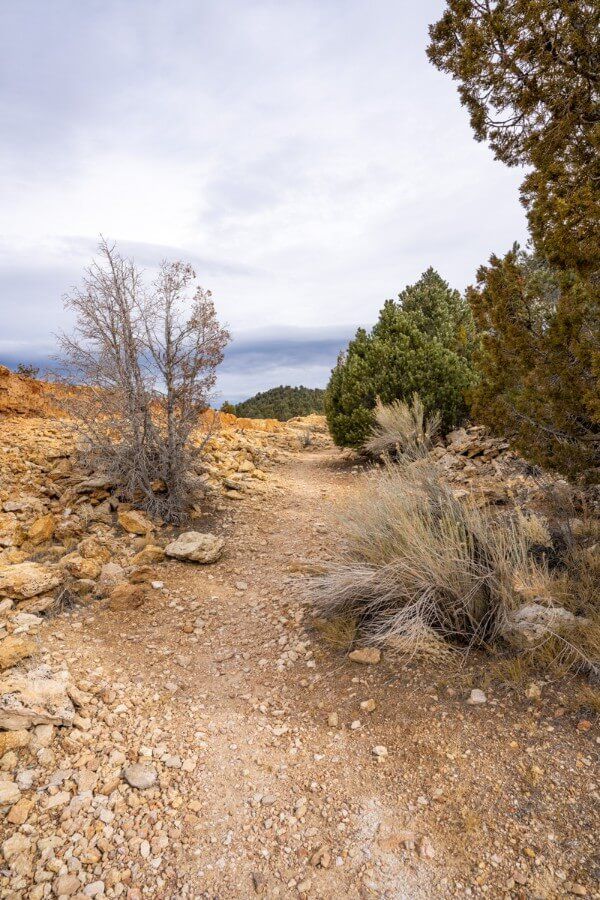 Even More Pools
We found even more pools walking a bit further and these ranged in temperature from cool to scalding hot. They were located off the main wash and pretty easy to find.
As a tip, just look for steam right above the ground surface.
However, some of these other pools had a lot of bugs either swimming in the pool or flying around over your head. This certainly ruined the ambiance.
What Is The Best Hot Spring At Travertine?
The best pool at Travertine is the main triple pool. We would recommend you make a beeline for this pool when you first arrive.
But if this pool is full, there are many other options so take some time to explore some of the other pools. We tried to keep these locations hidden because half the fun is searching for a new pool!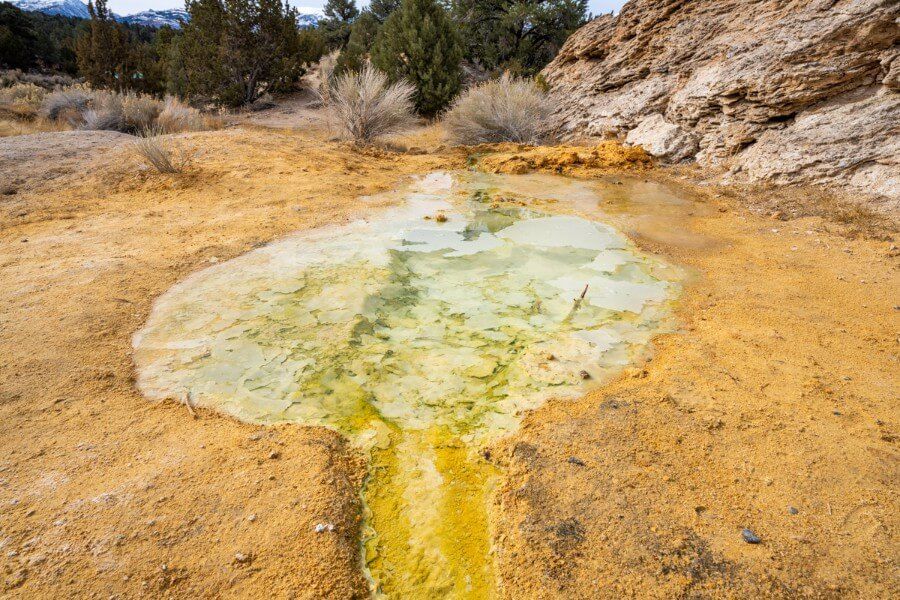 Pros and Cons To Visiting
Travertine hot springs should be on your bucket list. These springs are the perfect way to relax after hiking some of the popular trails in Yosemite National Park like the Yosemite Mist Trail.
Pros:
Amazing scenic views
Sulfur from springs is said to relieve pain
Soaking in the springs can naturally detox your skin
Springs are easy to access
Cons:
Pools may be crowded and busy
Soaking for long periods can cause dehydration
Springs can be extremely warm
Bugs can be a problem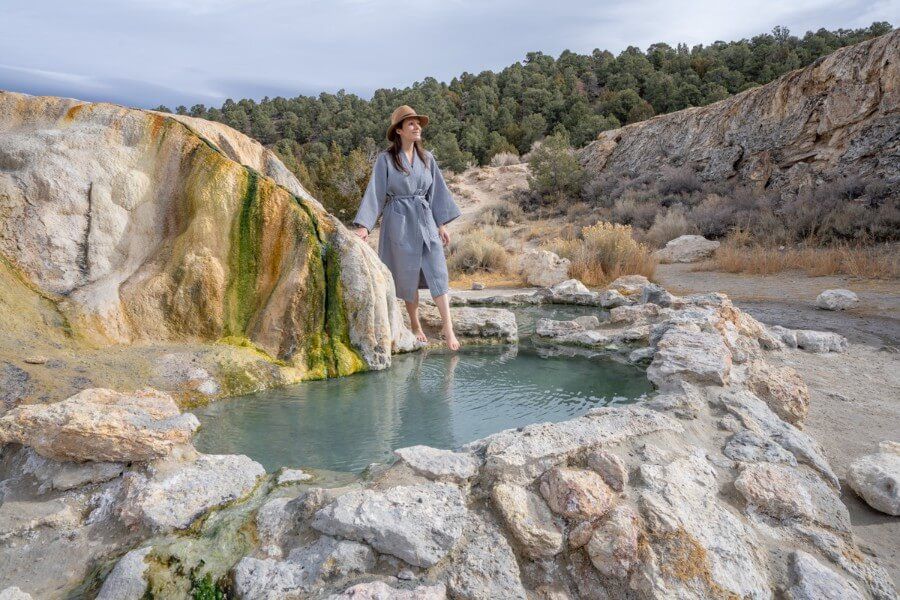 Tips For Visiting This Popular Area
If you plan to wear a swimsuit, avoid light colors. While the sulfur water does not typically affect swimsuits, unfortunately the mud may stain your suit.
Many people come here with a beer to soak and enjoy the views. This is okay but keep in mind sitting in a hot spring will dehydrate you so be sure to drink enough water as well.
Travertine sits at a high elevation. Consider a hat to keep you partially protected from the sun. We love Wallaroo for sun protection, check out the many styles here.
Watch your noise level. Soaking in a hot spring is meant to be a relaxing experience and not ruined by loud voices or someone blasting music.
Our Top Tip For Visiting Travertine Hot Springs:
Travertine hot springs is one of the busiest hot springs near Bridgeport, CA. It is also easily accessible so it is a popular spot for both locals and tourists.
The best chance of having the hot spring to yourself is to visit during the week and not during the weekend.
We visited the hot springs mid-morning around 11am and we had some of the pools to ourselves for a short period.
But if your itinerary or schedule allows, try to visit at sunrise during the week for the best chance of having these precious pools all to yourself.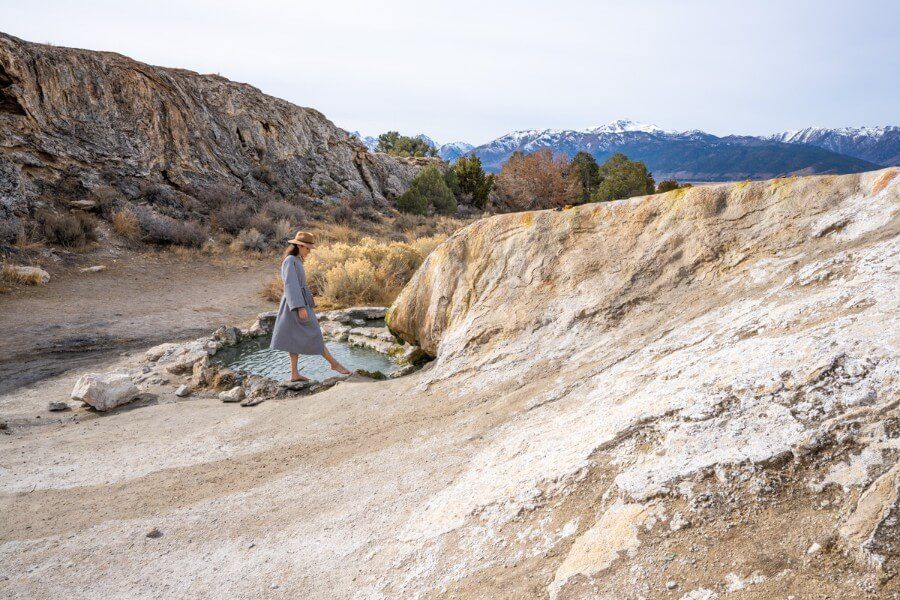 What Should You Bring For Your Visit?
Swimsuit – Don't forget to pack a cute swimsuit! Bring a darker color so it won't get stained.
Wallaroo Hat – If you plan to soak for a long time, don't forget you will be at a higher elevation so sun protection is a must. We love Wallaroo Hats for protect against UV rays.
Robe (dressing gown) – These were just what the doctor ordered after a long soak.
Towels – Normally we would recommend a microfiber towel, but bring some oversized fluffy bath towels for the ultimate spa experience.
Trash Bag – Carry out everything you carry in. We are all responsible for these beautiful resources.
Water, Beer and / or Snacks – Last but not least, the most important supplies for a soak.
Travertine Hot Spring FAQ's
Let's take a look at some frequently asked questions regarding Travertine hot springs.
What Should You Wear For Your Visit?
You can wear whatever you please when you visit travertine hot springs. Some people choose to wear their birthday suit while others choose to wear a swimsuit.
Can You Camp Near Travertine Hot Springs?
Yes, you can camp near Travertine hot springs. There are a few dispersed camping spots off the road that leads to the springs before you reach the sign saying no camping.
Please be respectful and do not camp where camping is prohibited. Check the Dyrt PRO for more information and reviews from campers who have stayed in the area.
How Is Travertine Hot Spring Rated?
Travertine hot springs has consistent four star reviews across many platforms like as Google, Tripadvisor and Yelp. It is clear to see this is a popular spot for locals, solo travelers, couples and families.
Is Travertine Hot Springs Good For Kids?
Yes, travertine hot springs is great for kids. Most pools are only a few feet deep making them perfect for kids. However, we would recommend you check the temperature of the pools before allowing kids to enter.
But keep in mind clothing is optional so if this makes you uncomfortable, bringing kids may not be the best idea.
More Northern California Hot Springs
More From Near Mammoth Lakes
Want more California content? Head to our California Travel Guides to explore National Parks, popular road trips and things to do in major cities of the sunshine state.
---
We hope this guide to Travertine Hot Springs helps with planning your visit to this beautiful area!
Please let us know if you have any questions about Travertine hot springs or any northern California hot springs in the comments below.
Happy Soaking,
Mark and Kristen
Was This Post Helpful? Pin It For Your Soak!