A weekend in Barcelona is the perfect idea for a fleeting European getaway. Beach lover, hill walker, city dweller, bar hopper, art aficionado or history buff – Barcelona has you covered.
This complete guide to visiting Barcelona for a weekend covers many of the city's major tourist attractions. But our goal is to give you a comfortable amount to achieve in just 2 or 3 days.
We spent a fantastic weekend in Barcelona ourselves in the summer of 2018 and we can't wait to go back for another visit in the near future. As always, this itinerary is tried and tested by us first.
Let's begin.
Welcome To Barcelona
Bienvenido a Barcelona, the capital of Catalonia and Spain's second largest city. Barcelona is nestled on the sunny Mediterranean coastline not far from the Pyrenees Mountains and a host of popular tourist resorts.
Famous for spectacular Gaudi architecture, the 1992 Summer Olympics, excellent food, modern art and of course football; Barcelona is the most visited city in Spain.
Barcelona is also home to Spain's second most visited site overall, The Basilica i Temple Expiatori de la Sagrada Familia. Only The Alhambra in Granada is visited more.
Best Things To Do In Barcelona
Before we get into the perfect Barcelona weekend itinerary, let's take a summarized look at the top attractions and most popular ways you can spend your time in the city.
The Sagrada Familia, Casa Batllo and Barcelona's Gothic Quarter are the top 3 things to do in Barcelona according to Tripadvisor. And we can't argue with that!
Here are the places we recommend visiting during your weekend in Barcelona if it is your first visit:
Sagrada Familia
Casa Batllo and Casa Mila (Gaudi)
Park Guell
Barceloneta Beach
Gothic Quarter
Montjuic Hilltop Park
La Rambla
Montserrat (day trip)
There are so many more things you can add into your weekend itinerary for Barcelona, but we highly recommend using the attractions listed above as the major points of interest your trip.
Barcelona Weekend Itinerary Map
Let's look at a map you can use to see the locations of each stop in this 2 day Barcelona itinerary.
Click or touch the map to activate, scroll around and zoom in to orientate yourself with the city.
Map key:
Blue – Day 1 stops
Red – Day 2 stops
Orange – Alternative day trip option
Weekend In Barcelona Itinerary
Let's say you land in Barcelona late on Friday and you will be flying out early Monday morning. That means you have full days on Saturday and Sunday to explore the city.
Here's a summary of how we would suggest planning your 2 days in Barcelona.
Day 1
Bike or walking tour
Gaudi architecture
Sagrada Familia
Gothic Quarter
Day 2
Montjuic Hilltop Park
Barceloneta Beach
La Rambla
Alternative
Let's take a closer look at how this Barcelona weekend itinerary works!
Day 1 – Saturday
Free Bike Or Walking Tour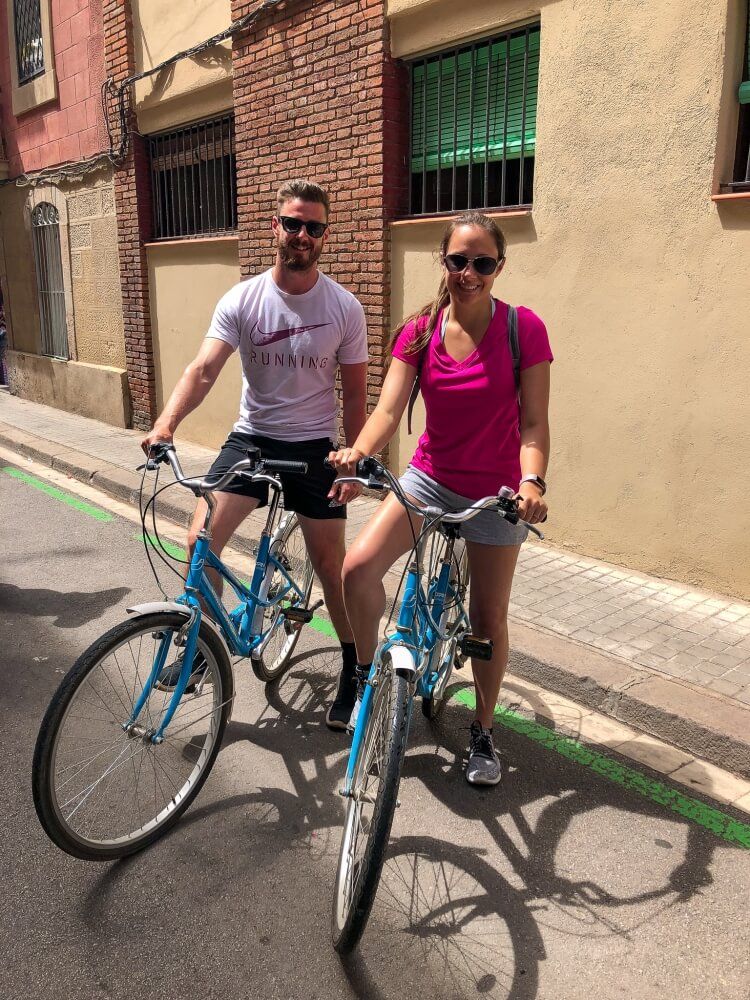 Enjoy a relaxing morning with delicious croissants, a Spanish omelette and plenty of cafe con leche to wash it all down. Once you have ramped up your energy levels for the mornings activities, join a free walking or bike tour first thing on Saturday morning.
A weekend is not a lot of time to see the best of Barcelona, but a free walking or bike tour is the perfect way to orientate yourself in the city and tick off some of the lesser known sights before moving onto the big guns.
We went with a bike tour to cover more ground but both options will do the job. Our group had loads of fun people from around the world and we tore around the streets of Barcelona on old school bikes learning about it's colorful history.
What Is A Free Walking Or Bike Tour?
A free walking or bike tour is a guided tour around a city by locals who share their knowledge with you and at the end of the tour you pay your guide what you think the tour was worth.
If you've never done a free city tour before, we highly recommend you give it a go. As long as you're genuinely interested in learning about Barcelona, you will thoroughly enjoy a bike tour around the city.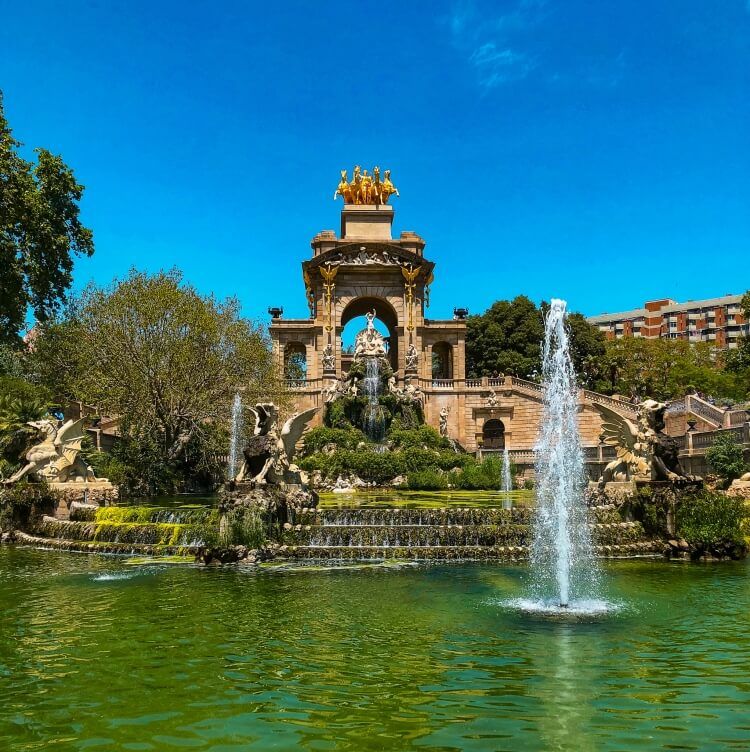 Barcelona Bike Tour Information
The bike tour takes you past the Cathedral de Barcelona, Port Vell, the Columbus Monument, Arc de Triumph Barcelona, Parc Ciutadella, Sagrada Familia and the Olympic legacy among many other attractions.
Ticket: Choose any tour but we went with free bike tour Barcelona.
Location: This specific bike tour starts next to Barceloneta metro stop.
When: Bike tours begin at 10:30am and last for 3 hours.
Sometimes bike tours fill up so we highly recommend booking in for your desired time. Keep in mind there may also be a small rental fee for the bicycle as well.
Travel Tip: There are many different bike tours you can join in Barcelona. We highly recommend you take a look at this long list of bike tours with various themes such as Gaudi, tapas and photo shoots.
Gaudi Architecture
Antoni Gaudi's architectural genius is one of the biggest pulling powers of Barcelona. People flock from all over the world to visit the truly unique buildings he designed.
For reference, you might be interested to know that seven of these buildings have been given UNESCO world heritage designation.
After the bike tour, grab a light lunch with another coffee or perhaps slip into a tavern for a swift half pint. Once you're feeling refreshed, it's time to spend the afternoon enjoying a self guided Gaudi tour.
Our suggested starting point for a self guided walk is Placa de Catalunya. From there, walk northwest along Passeig de Gracia.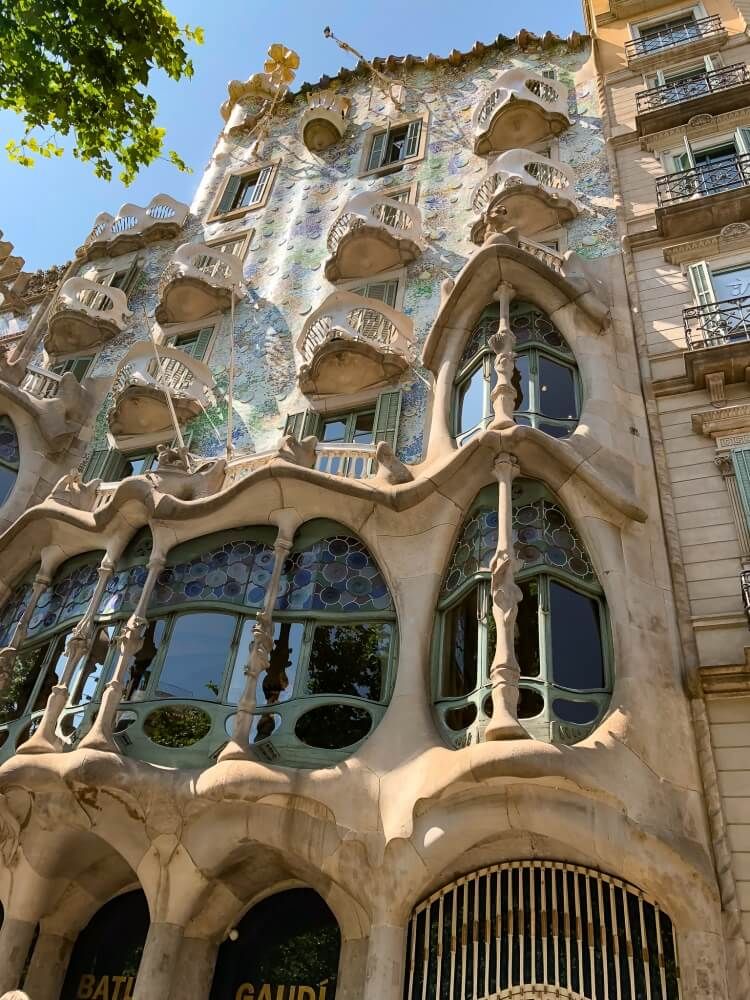 There are over 20 Gaudi sites scattered across Barcelona in various parts of the city. However, unless you're a huge Gaudi fan or you have a few extra days to spare, we recommend taking in just 3-5 sites during your weekend in Barcelona.
The metro is the best way to get around if you want to reach the further out sites. Alternatively, you could just pick some Gaudi spots that are located close together and walk between them like we did.
Casa Batllo (our favorite, pictured above) and Casa Mila (a close second, pictured below) can be found on Passeig de Gracia, which is known as Spain's most expensive street.
If you have more time, we also suggest visiting Park Guell which is were Gaudi lived for a time.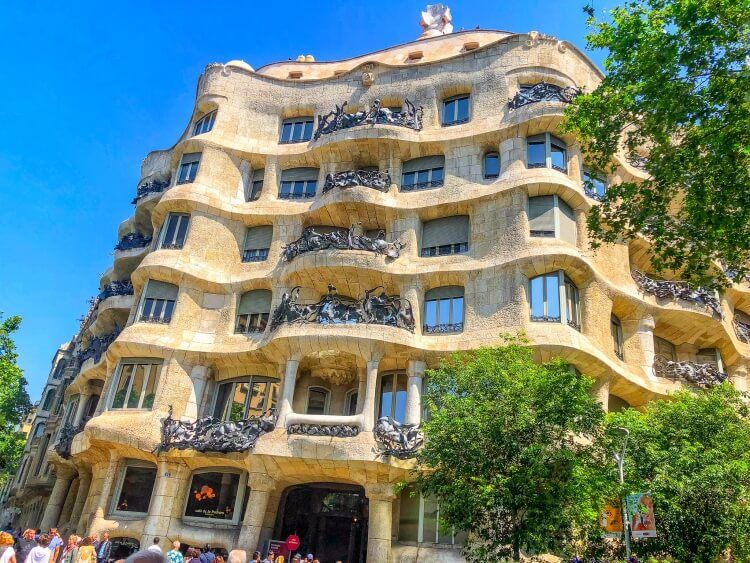 How Much Do Gaudi Sites Cost?
You can see the exterior facades of Gaudi's architecture for free. Here are the prices if you want to go inside the most famous sites:
You can buy advanced tickets online to save a small amount and skip the line for each site.
Sagrada Familia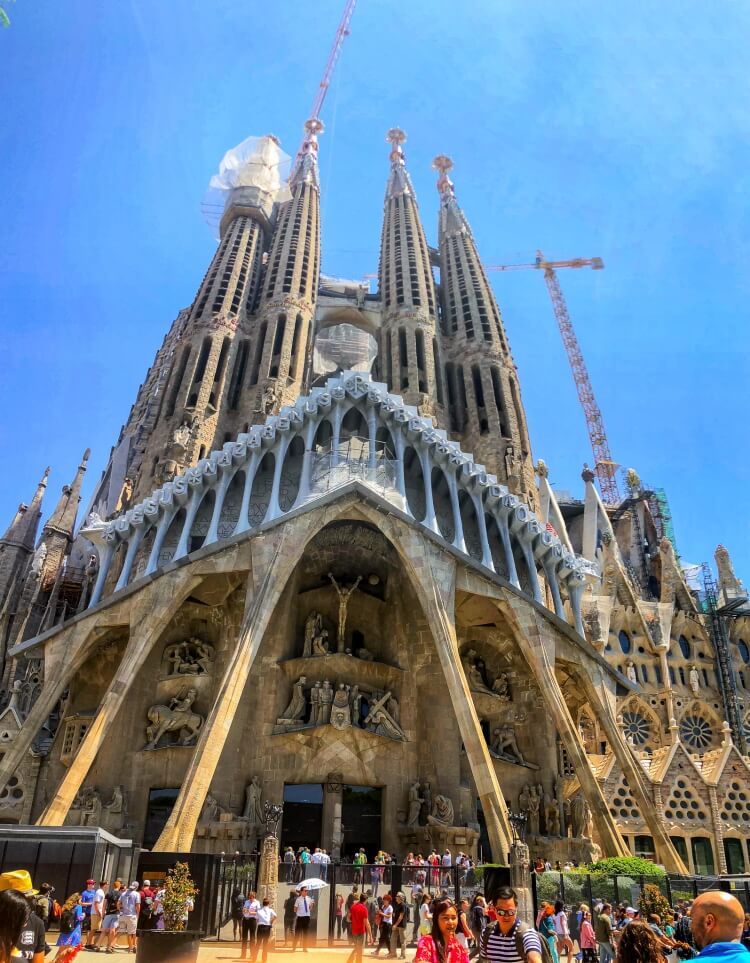 Gaudi's undoubted magnum opus is the world famous Sagrada Familia. When you're finished at Casa Mila, take a 20 minute walk up Carrer de Provenca to be wowed by Barcelona's centerpiece.
The Sagrada Familia showcases Gaudi's architectural evolution. It is a sight to behold and without question it has to be visited at some stage throughout your weekend in Barcelona.
It isn't even complete yet (there are towers to add to the top) but the uniqueness of the Sagrada Familia is astounding.
Gaudi didn't like straight lines or edges and he based his designs on the swirling curves of nature. Less than a quarter of the project was complete at the time of Gaudi's death in 1926.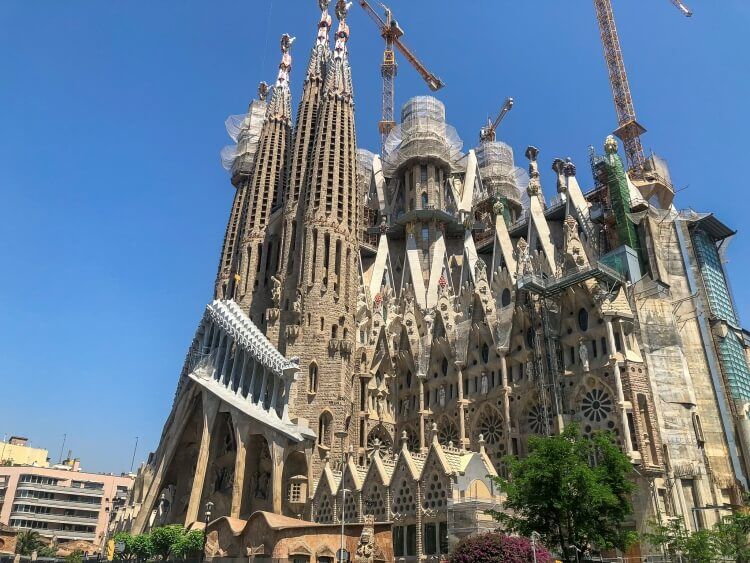 Scaffolding and cranes cover the exterior, so you might have to get creative with photoshop for your instagram account!
The building had an estimated completion date of 2026, which would have been the centennial of Gaudi's death. However, due to coronavirus, the date has been pushed back by several years.
Sagrada Familia Tickets
Here's what you need to know about visiting Sagrada Familia:
Tickets: €26 will get you a basic entry ticket. If you want audio guides, guided tours, tower entry or Gaudi house museum it will cost more. Click here for ticket price guides.
Hours: 9.00am – 6.00pm / 7.00pm / 8.00pm depending on time of year.
Metro: Sagrada Familia
Are you visiting Barcelona on a budget? Check this website out to take a virtual tour of the exterior and interior of Sagrada Familia.
There are various top rated tours you can take of the Sagrada Familia, including fast track, skip the line, audio guides, tower access and bundling with other Gaudi sites in Barcelona. We highly recommend you look at all options available.
Did you know? The intended height of the Sagrada Familia was 170m, 1m less than Montjuic Hill. In a testament to Gaudi's faith, he believed that no man made structure should be higher than that of God's creation.
Gothic Quarter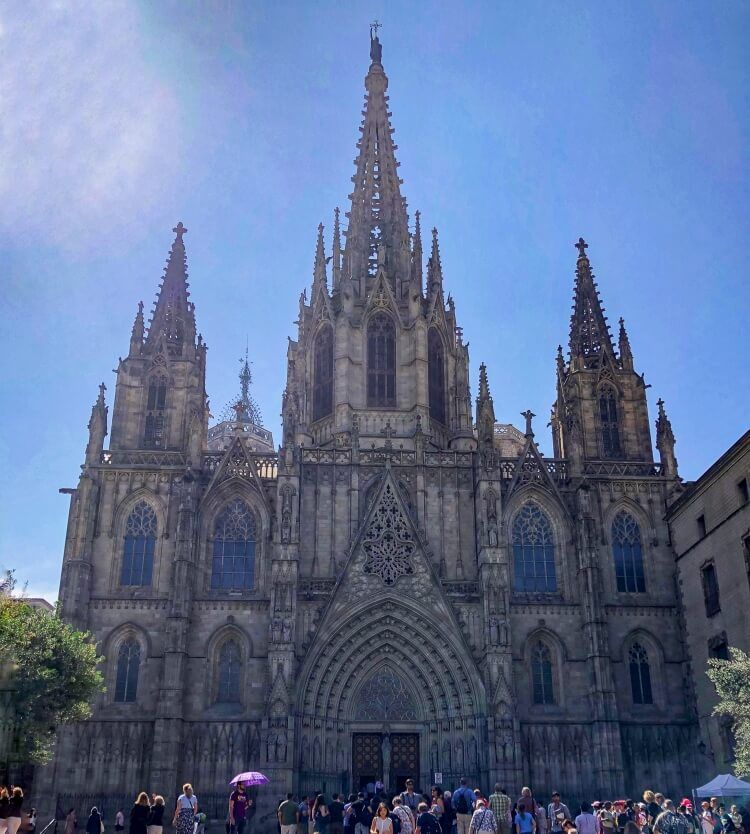 After a long day exploring, you'll be more than ready to take it down a gear or two and really get into the Spanish way of life. Take a metro back to Jaume 1 and spend the rest of your evening (and night?!) eating, drinking and dancing in the Gothic Quarter.
The Gothic Quarter or El Gotic is the center of the old city of Barcelona. It is truly a remarkable area, full of quaint restaurants, shops, medieval reminders of the Roman settlement and picturesque labyrinthine cobbled streets.
Tourist sites such as the Jewish Quarter, Barcelona's gothic cathedral and the remains of the Roman wall are all located in the Gothic quarter.
If you covered some of these on a walking or bike tour, no problem! There is always another mysterious alleyway to stumble across, which will more than likely emerge into another enchanting square.
Along the way you can eat at some of the oldest restaurants, drink at dive bars or upmarket cocktail bars and dance the night away as it ramps up into the early hours. Just remember the authentic Spanish tapas bars don't get started until 8.30pm at the earliest, so bear in mind you'll be eating late!
Did you know? Many of the famous buildings in the Gothic quarter do not actually date back to the middle ages. In fact, a restoration project in the 19th and early 20th centuries transformed the neighborhood into a tourist attraction. The project deadline was the 1929 International Exhibition, hosted by Barcelona.
Day 2 – Sunday
Montjuic Hilltop Park
Sunday should be spent at a much slower pace, enjoying the other side of Barcelona.
After a hearty bread heavy breakfast to soak up the previous night's wine, jump on a metro and head to Paral-lel where you can switch to the funicular included in your metro ticket.
At the top you'll find the likes of Montjuic castle, several botanical gardens and the Olympic arenas with outdoor pool for swimming in summer. But it's all about the views over Barcelona city from the top.
We had planned to make it up Sunday morning, but we were slightly worse for wear and could only make it to the beach. Damn Gothic Quarter!
Note: If you'd rather go up to Montjuic Park the fun way (with the best views) there are cable cars from next to the funicular and directly from Barceloneta Beach. Each cable car arrives at different parts of Montjuic so be sure to check before heading out.
Barceloneta Beach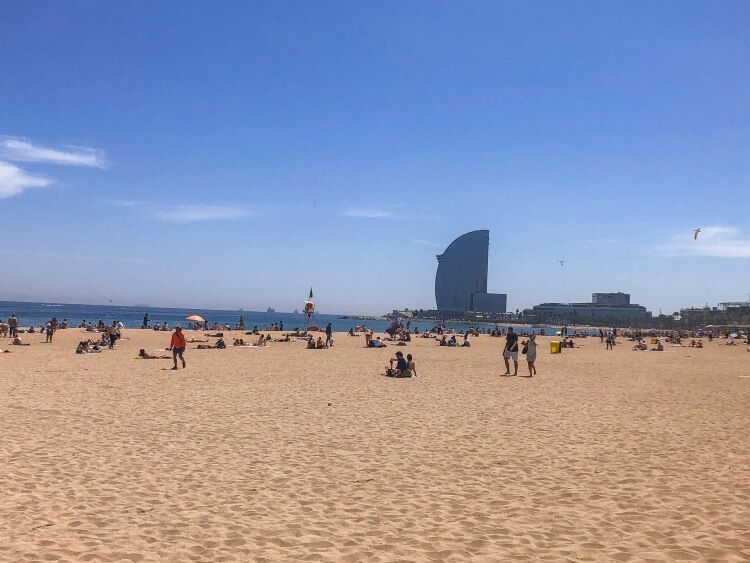 When you think of European beach resorts, Barcelona is not one that would spring to mind, right?
But we have included Barceloneta beach in this weekend itinerary for Barcelona because it's rare to have a huge and popular tourist city that also has a decent (albeit artificial) beach with easy access.
We had a scorching hot Sunday and a bit of a hangover so we decided to hit the sand for a few hours. There are also plenty of restaurants and bars on the promenade running behind the beach to pick up drinks and snacks.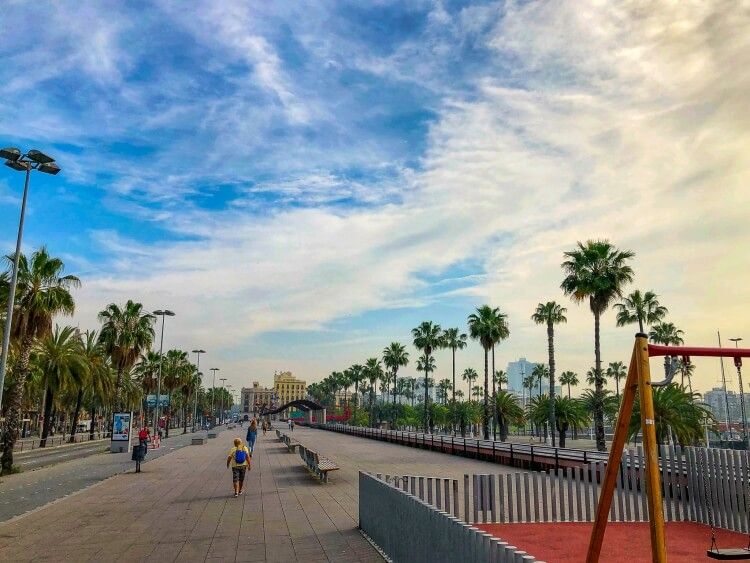 If the beach isn't for you, we recommend you explore another of Barcelona's neighborhoods such as Eixample or Gracia, tick off some more Gaudi or maybe there's a Barça football match on?
Fun-fact: Barceloneta Beach consists of a 2 mile stretch of imported sand from Egypt for the 1992 Summer Olympic Games. The palm trees were rented from the USA but are now officially Spanish palm trees!
La Rambla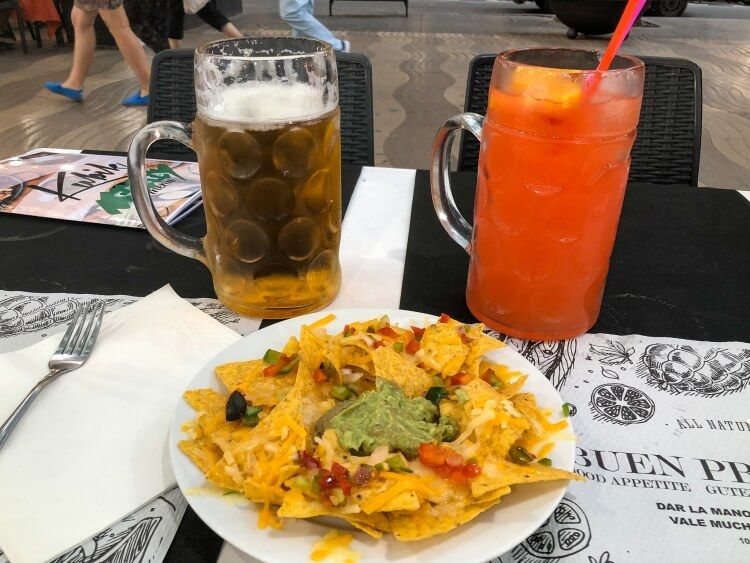 La Rambla is a 1.2km long vibrant and lively promenade connecting Plaça de Catalunya (the center of Barcelona) and Port Vell on the coastline.
Until 1440, La Rambla was a sewage-filled stream and rainwater drain. But after the city walls were extended, the stream was diverted away from what is now the tree lined promenade.
La Rambla is the notorious tourist trap in Barcelona but you have to see it on your weekend itinerary. It's an interesting place to visit, but just once is enough.
It is packed full with tourists day and night, shopping or eating and drinking into the early hours. La Rambla become synonymous with pickpocketing but can still be fun to people watch with an expensive beer.
Even if you just walk down La Rambla before heading back to the more upscale Gothic Quarter for dinner, we still think it is worth seeing.
Alternative Option
Montserrat Day Trip
Montserrat is the most popular day trip from Barcelona. We strongly recommend you consider this if you really don't care to see the beach or La Rambla.
We will definitely take a day trip to Montserrat the next time we are in Barcelona.
To do it yourself:
Head northwest on the train, then a rack railway or cable car will take you up to the Benedictine Abbey known as Santa Maria de Montserrat. From there a funicular railway takes you to the top of the mountain.
Take a tour:
There are plenty of tour options from Barcelona to Montserrat. However, some are better than others and this top rated tour has thousands of positive reviews.
It's a popular place so plan carefully for the crowds if you're heading up by public transport. Spending half a day at Montserrat is also perfect if you have longer than just a weekend in Barcelona.
What To Eat Throughout Your Weekend In Barcelona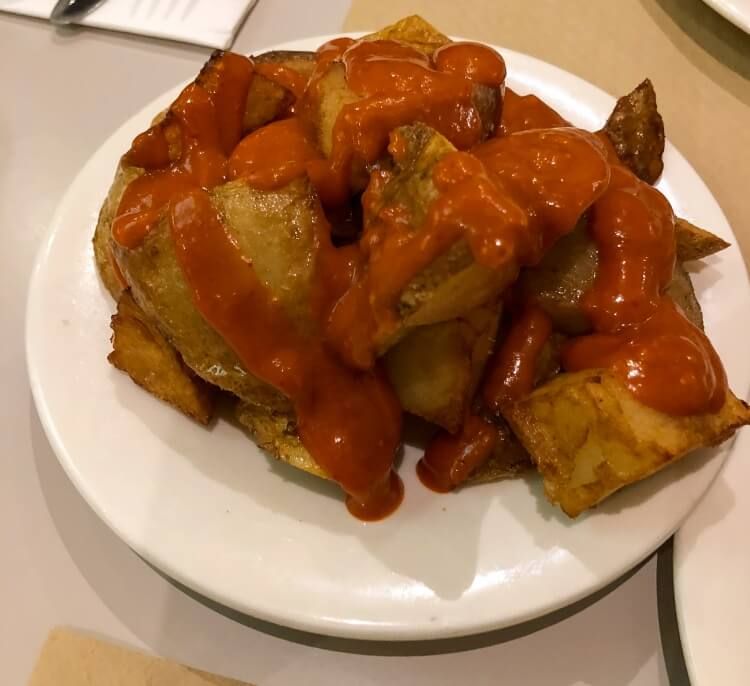 Barcelona locals take their food and wine very seriously. Many refer to the jewel of Catalonia as one of the best food cities in the world.
Of course, there's paella that you should definitely try in Barcelona. But let's face it, it's all about the tapas. You can't avoid it in Barcelona – and you shouldn't.
There are almost too many options!
We discovered that instead of trying to research best tapas in Barcelona or looking on Tripadvisor, just wandering around and stumbling into a tapas joint was the way forward.
Eliminate the time you'd lose on trying to get to the absolute perfect place. Instead see one you like the look of and take the chance.
We recommend patatas bravas and jamon iberico as favorites of Barcelona. Most tapas bars or restaurants will usually have a relaxed and enjoyable atmosphere where you're encouraged to try new dishes and share all with your fellow diners.
Keep your eyes peeled for the busy places with locals and you can't go wrong!
Did you know? In Spain, dinner is usually served between 9-11pm, which leaves a lot of time between finishing work and eating. Spaniards will often go to a bar and drink beer or wine with tapas until later when they go home for dinner.
Travel To Barcelona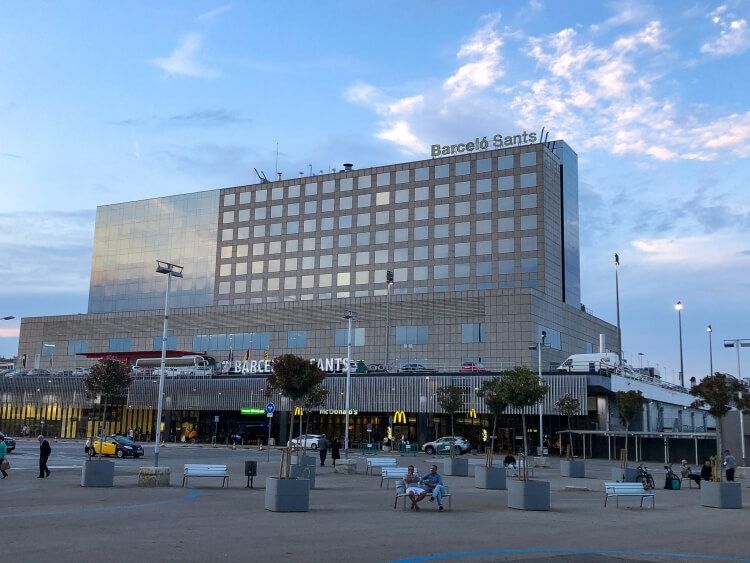 Barcelona has a huge international airport located just 20-25 minutes drive from central Barcelona around La Rambla and the Gothic Quarter. There are direct flights from all over Europe and various major airports in the US.
Barcelona Sants train station is easily accessible from most of Spain, sometimes with a change in Madrid. Another option is to travel down on a 6 hour direct train from Paris. The station is around 15-20 minutes drive from central Barcelona.
Where To Stay For Your Weekend In Barcelona
Barcelona is split into 10 districts or barrios, broken down into 73 different neighborhoods. Accommodation is reasonably priced compared to other major European cities like Paris and London.
We stayed at a great mid-range hotel in the Gothic Quarter and highly recommend the area. The Gothic Quarter has a superb location for accessing attractions, plenty of hotel options and a wide range of excellent places to eat out.
Here are five top rated hotels in the Gothic Quarter:
Note: If you are visiting Barcelona on a low budget, look for pensions which you will find located all around the city.
Our Popular Spain Guides
Want more Spain content? Head to our Spain Travel Guides to explore more popular tourist destinations around Andalusia.
---
We hope this weekend in Barcelona itinerary helps with planning your visit to northeastern Spain!
Let us know if you have any questions about Barcelona or this itinerary in the comments below.
Happy Travels,
Mark and Kristen
Enjoy This Barcelona Weekend Guide? Pin It For Later!
Note: This article contains affiliate links. When you make a purchase using one of these affiliate links, we may earn a small commission at no extra cost to you.
All Rights Reserved © Where Are Those Morgans, LLC. Republishing this article and/or any of its contents (text, photography, maps, graphics, etc.) in whole or in part is strictly prohibited.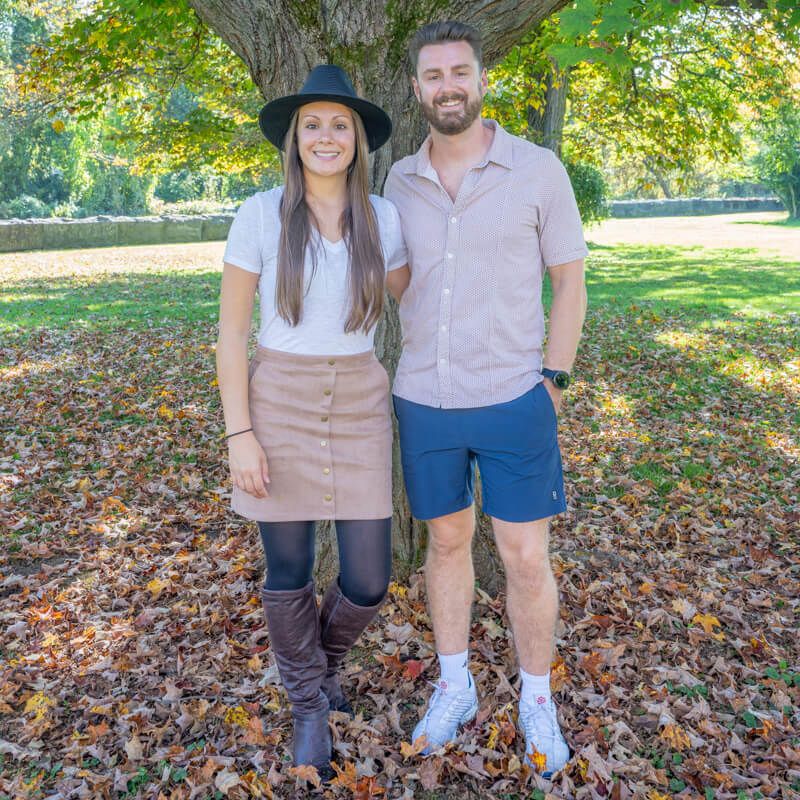 Mark and Kristen Morgan are travel, hiking and photography experts. Over the last 6 years traveling full time, they have explored more than 40 countries and 30 US states.
Their work has been featured in USA Today, Gestalten, Get Your Guide, CityPASS and Condé Nast Traveler along with various other publications.