If you're planning a trip to Southern Spain, you should definitely consider visiting the stunning city of Ronda. In this guide you will discover the best things to do in the relaxing city of Ronda, Spain.
This quaint Andalusian gem is easily accessible from the Costa Del Sol holiday resorts, Seville or Malaga for a day trip.
Although Ronda is the third most visited city in Andalusia, it doesn't have the same tourist conveyor belt feel like the Alhambra in Granada, Spain. It's a much more laid back and easy going alternative.
We spent 2 fantastic weeks touring Andalusia in May 2018. Our time in Ronda was one of the highlights of the trip. The small town feel gives it a nice vibe and is perfect if you're short on time.
We will explain why you should visit the beautiful mountaintop city of Ronda when you are in Southern Spain. If you want to get a real feel for the city, stay for a night.
Now, let's start planning your one day in Ronda itinerary!
How To Get To Ronda
If you plan to put some days in sunbathing on the beach before heading up to Ronda for a city day trip, fly into Malaga.
It's the closest airport to Ronda and is the main airport servicing Spain's famous Costa del Sol. Many budget airlines fly into Malaga, perfect for cheap flight from most of Europe.
Or if you're more about culture and cities, your other option is to fly into the ever popular city of Seville. Once you've explored Seville, you can then take an easy day trip to Ronda.
Unfortunately, traveling to Ronda, Spain isn't the easiest thanks to slow winding roads and inconsistent rail connections, let's check out how you can get to Ronda.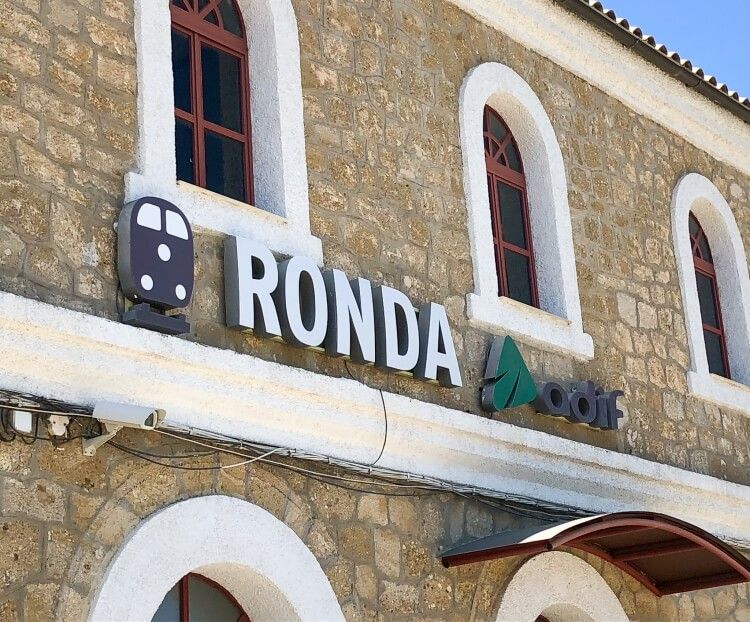 Train To Ronda
We recommend taking the train only for those who have interrail passes. There are multiple trains leaving per day but try to book ahead with interrail passes as there are only a certain amount available per train.
The train from Seville or Malaga takes a long time as you have to change either at Cordoba, Bobadilla, Antequera Santa Ana etc and is way more expensive. Take the bus instead.
If you're visiting Cordoba and traveling down to Ronda for a day, the train only takes 1h 50m each way. Check out renfe and/or thetrainline for more information on trains.
Drive To Ronda With Rental Car
Another option is to hire a car in either Seville or whichever part of the Costa del Sol you are staying in. You can reach Ronda from both areas in under 2 hours.
Make sure you check to see if you need an international drivers license to drive in Spain. Always remember to check local traffic before setting off.
You can check prices of rental cars here.
Bus To Ronda
The bus is the best option for those on a budget. You'll need to book with Damas, who run several buses each day from Malaga to Seville or Seville to Malaga, via Ronda.
It should only cost around 11 euros and is direct into Ronda, taking just over 2 hours. Here's the Damas website to search for bus prices, it's in Spanish but can be translated to English.
Book A Ronda Tour
If you want to sit back and relax while local experts take care of organizing everything, booking an organized tour would be your best choice.
Most excursions take care of transport, give you skip the line tickets and sometimes even guided tours of top attractions.
Here are some of the top rated Ronda tour options:
What To Do In Ronda Spain With One Day
The secret is out. A little while back Ronda was relatively unknown, but a place of such beauty can never stay a secret for long. However, it's not yet saturated, so now is a good time to visit.
Because it is so small, it's easy to see everything in a day trip to Ronda. You won't feel like you've missed anything.
The city is split in two by a deep canyon that the River Guadelevin has carved out over the years.
Ronda's centerpiece is the magnificent Puente Nuevo bridge that spans the gap over the El Tajo canyon. At roughly 100m above the canyon floor, the bridge is a truly marvelous spectacle.
It is the reason most people will visit Ronda and rightly so because it's awesome. Ronda just seemed to have a positive, happy and fun feel to it.
1. Marvel At The Awesome Puente Nuevo Bridge
What else could we start with?! You can see from the photos, it's special! The best part is that the bridge can be viewed from so many different areas and it's free to visit.
Construction of the 66m wide bridge we see today began in 1759 and finished in 1793. A total of only 34 years. The remarkable design has made it the most photographed bridge in Spain.
Everything centers around the bridge. You won't need a map because you'll naturally be sucked in the right direction by the crowds and atmosphere as you get closer to the area.
We highly recommend you take the walk down to the bottom of the El Tajo Gorge. There are several look out points between the river bed and the top of the bridge.
The hike should take around 2 hours, which also includes some time for photos. The hardest part is the wide steps in the beginning of the trail (which seem much steeper on the way back up)!
Travel Tip: Get up early or stay out late to get sunrise and sunset photos of the bridge, it's worth it for some great shots of an awesome spectacle.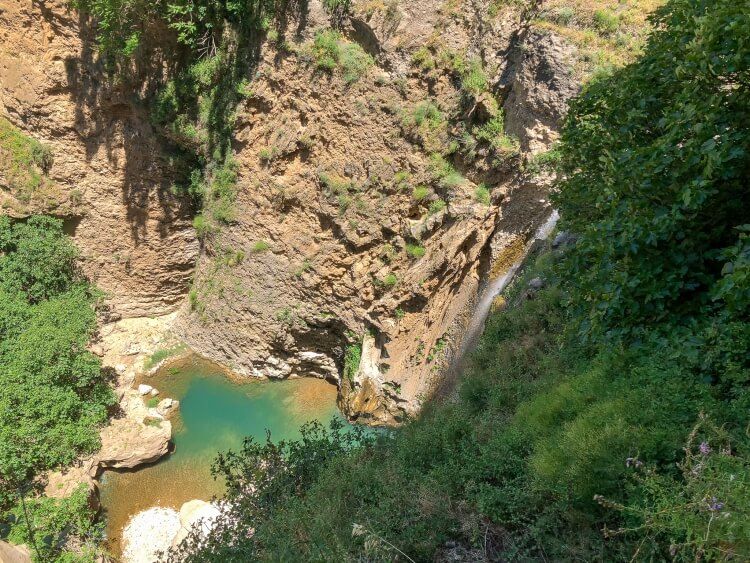 Want some interesting facts from the history of the bridge?
The original bridge collapsed in 1741 and 50 people plummeted 100m to their deaths.
On the North side of the bridge near plaza Espana now sits the interpretation museum for the bridge, but the museum used to serve as prison for bandits and dangerous criminals in the 19th century.
Ready for an unconfirmed myth?
It has been said that prisoners of the Spanish civil war were thrown to their deaths from off the Puente Nuevo bridge. Now, these are rumors but does it sound so unlikely?
You can find out more about the bridge on this website.
2. Enjoy A Picnic With A View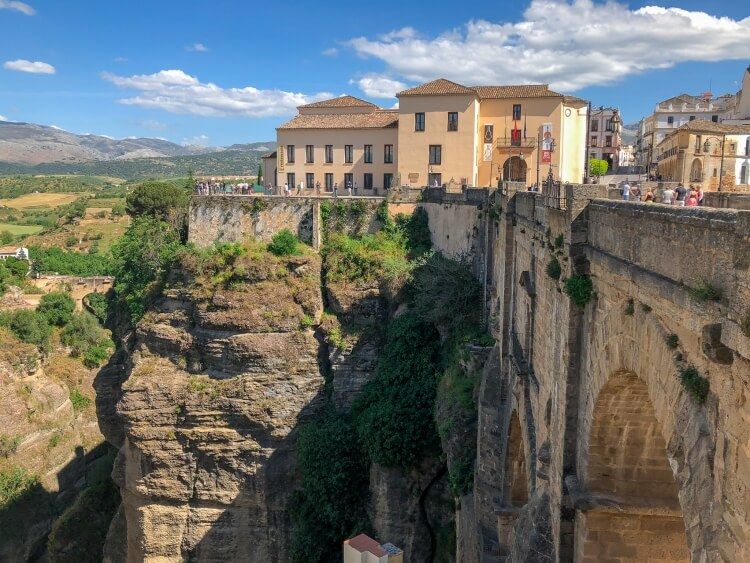 How about this for a picnic spot? The perfect plan is to pick up some treats from town and set up your picnic with a view half way down the canyon looking back up at the mighty bridge.
Grab a bottle of local wine, cheese and chorizo for your baguette. But remember, it will be hot so leave room for an ice cream.
Walk South over the bridge, take the first right onto Calle Tenorio and follow that until you see some footpaths to the right, leading down into the Tajo gorge.
You will find the best viewpoints of the bridge and a place to set up your picnic.
Travel Tip: If if is forecast to be a hot day, try an early or late picnic, avoiding 12-4pm. This way you can beat both the heat and the crowds.
3. Plaza De Toros De Ronda
The Plaza de Toros in Ronda was completed in 1784 and is made entirely of stone. It is the birth place of the style of bullfighting known as Rondeño.
This bullring has a fascinating history, including being home to Spain's most notable and oldest order of horsemanship: Real Maestranza de Caballeria de Ronda.
The Plaza de Toros has been called the biggest bullring in Spain. Let's clear that up.
It is not the largest bullring in Spain, in fact, it only has a 5,000 spectator capacity. Compared to 23,798 at the Plaza de Toros de Las Ventas in Madrid, it's actually quite small.
But it does have the largest round circle of sand in the world at 66m, which is equally as impressive.
The spectator seats have two levels. 136 gorgeous Tuscan sandstone columns support the roof and there are 68 beautifully crafted arches encircling the inside frame.
If you'd like to read more about the history of the bullring, check out this website.
Opening Times: every day 10am – 6pm, 7pm or 8pm depending on time of year.
Price: €6.50 adult, €8.00 with audio guide
4. Museum Del Bandolero (Bandit Museum)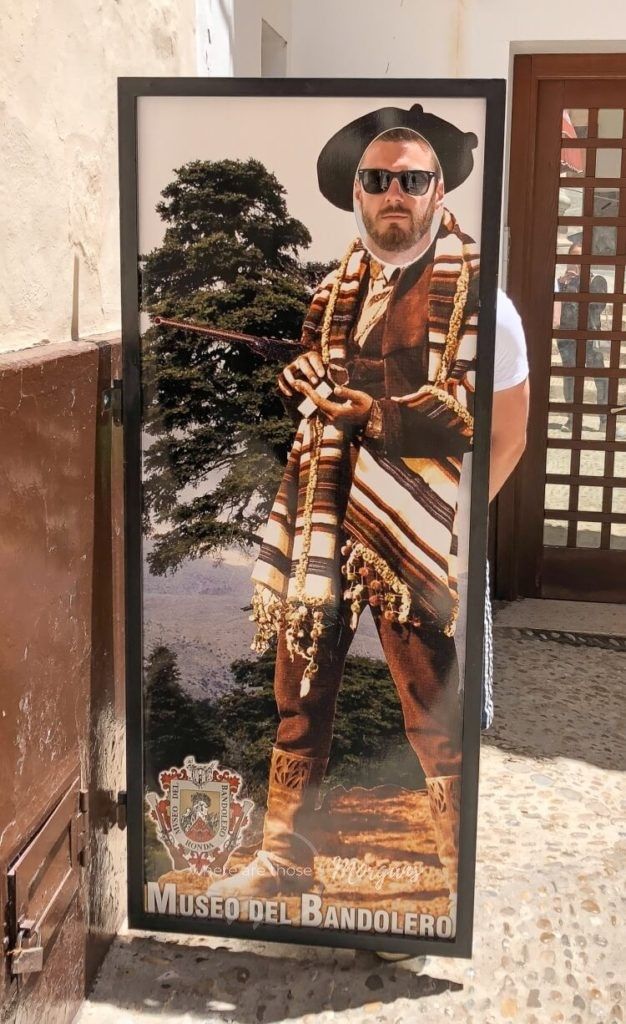 This museum gives an insight into the lives of the local people in Ronda in the 19th and early 20th centuries. But with a twist. The museum puts an emphasis on some of the most notorious bandits in Spain's history.
Throughout the museum are various official documents like arrest warrants, newspaper articles and exhibits. They build up profiles on the bandits to allow visitors to delve into their interesting lives.
A friend recommended the bandit museum and we found it really interesting! Bandits are a popular and sometimes romanticized topic from the history of Spain.
The museum is about a 5 minute walk away from the bridge heading South.
Interesting in the Bandit Museum? See what other people are saying on TripAdvisor here.
Opening Times: every day 11am – 7.30pm except Saturday open until 8pm.
Price: €3.75 adult.
5. Visit The Arab Baths
The top place in town to see Moorish architecture is the Arab Baths or Baños Arabes. The baths, built in the 13th century, are now widely regarded as the best preserved Arabic hammams in Iberia.
You will find the baños in the old Arab quarter (now San Miguel quarter) about a 10 minute walk from the Puente Nuevo.
The hammam is split into three distinct areas following the Roman model
Fires would heat water in the furnace room, then steam would heat the warm and hot baths but exit through chimneys before reaching the cold bath.
More information about the history and design of the baths can be found here.
Opening Times:
Autumn and Winter Monday to Friday 10am to 6pm and Saturdays, Sundays or public holidays 10:00am to 3:00pm.
Spring and Summer Monday to Friday 10am to 7pm and Saturdays, Sundays or public holidays 10:00am to 3:00pm.
Price: €3 adult
6. Explore The Intricate Street Of Ronda
If you have any time left you can explore the pedestrian friendly town center around Carrera Espinel. Ronda's streets and Plazas are filled with clothes shops, gift shops, restaurants, churreria's and cafes.
There are also plenty of bars with seating outside in the sun if you fancy slipping into a tavern for a cold beer.
Want to have a guided tour of Ronda so you don't miss anything?
Check out this sightseeing walking tour of Ronda with Get Your Guide
Or if you are on a budget, check availability for a free walking tour of Ronda with GuruWalk.
Where To Eat In Ronda During A One Day Trip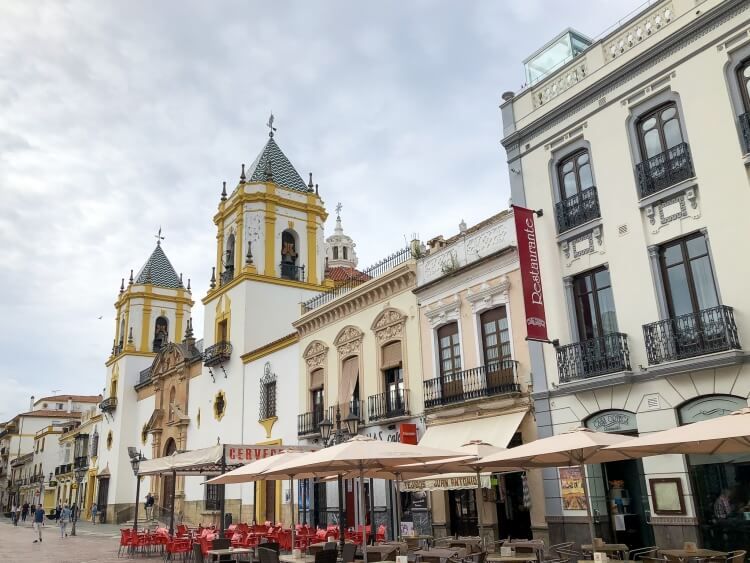 There are tons of great places to eat in Ronda featuring both high end restaurants and simple tapas bars.
Calle Nueva is a street filled with eateries, as it Plaza del Socorro which is about a 5 minute walk away.
However, there are also some restaurants located on the south side of the bridge. So you are really spoiled for choice and you have several options depending on what you are in the mood for.
Below are some popular restaurant options based on high ratings:
Ronda Accommodation Options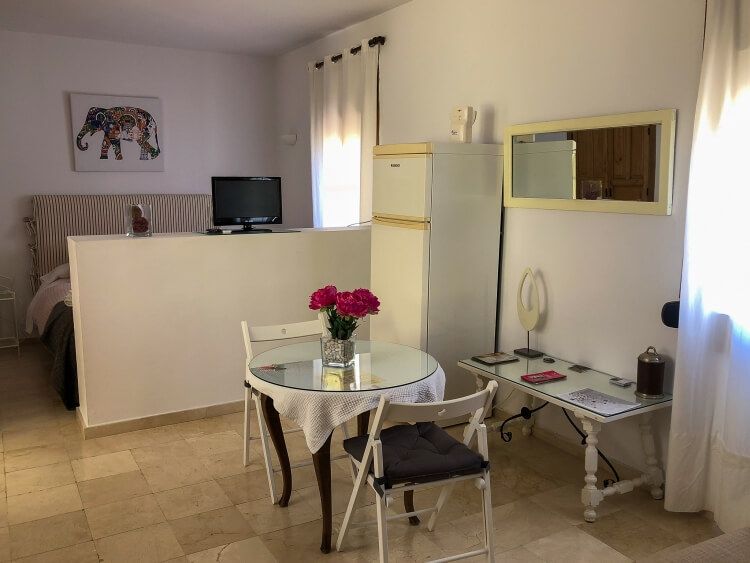 You could use Ronda as the perfect stop-off point between Seville and Malaga, or as a round trip from either city. But why not stay a night to enjoy the atmosphere once the crowds diminish?
When we visited Ronda, we stayed a night to be able to experience the city at its fullest. There are many top rated hotels and apartments available in Ronda making you spoilt for choice.
However, our biggest recommendation for booking accommodation in Spain is to book early especially if you plan to visit during the summer months.
If you wait to book until last minute during the summer, there may be extremely limited availability and you may pay over the odds for any rooms still available.
Check out some popular hotel and apartment options below (with previous guest ratings as per booking.com):
Hotels In Ronda
Apartments In Ronda
Best Things To Do With One Day In Ronda, Spain Interactive Map
Our Popular Spain Guides
Want more Spain content? Head to our Spain Travel Guides to explore more popular tourist destinations around Andalusia.
---
We hope this Ronda day trip guide helps with planning your visit to northeastern Spain!
Please let us know if you need any help planning your Spain route or have any questions about Granada in the comments below.
Happy Travels,
Mark and Kristen
Enjoy This Granada Day Trip Guide? Pin It For Later!
Note: This article contains affiliate links. When you make a purchase using one of these affiliate links, we may earn a small commission at no extra cost to you.
All Rights Reserved © Where Are Those Morgans, LLC. Republishing this article and/or any of its contents (text, photography, maps, graphics, etc.) in whole or in part is strictly prohibited.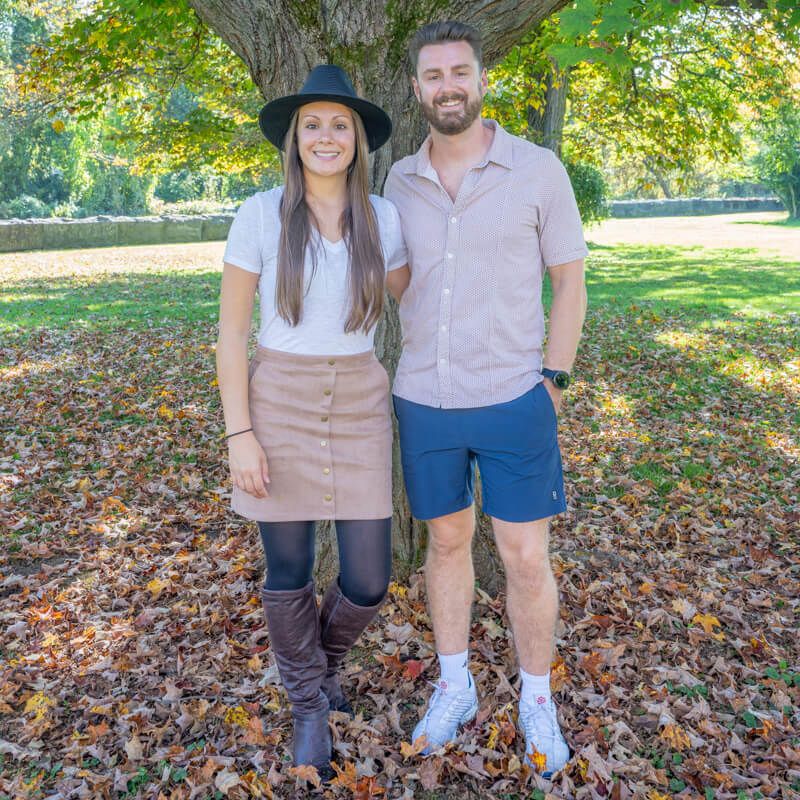 Mark and Kristen Morgan are travel, hiking and photography experts. Over the last 6 years traveling full time, they have explored more than 40 countries and 30 US states.
Their work has been featured in USA Today, Gestalten, Get Your Guide, CityPASS and Condé Nast Traveler along with various other publications.