The stunning city of Toledo is a hugely popular day trip from Madrid, with tourists searching for some medieval history. If you're looking at excursion options from Madrid, we highly recommend green lighting a day trip to Toledo.
If a day doesn't sound long enough for you, stay a night like we did! Alternatively, why not combine Toledo with another fantastic day trip from Madrid in Segovia?!
Located roughly 42 miles South West of Spain's capital city Madrid, you will discover that Toledo is picturesque and rich with a culturally diverse history. The old city sits atop a hill, surrounded on 3 sides by the River Tagus and it's awesome Alcazar dominates the skyline.
Toledo is like a lightweight boxer packing a right jab of charm and a left hook of character. It is small but graceful. You'll see from the pictures below just how striking Toledo is.
The captivating and quaint old city of Toledo is easily one of the most attractive places we visited in Europe.
This guide will help you plan the perfect day trip to Toledo. Plus, there are extras for those who decide to stay a night.
*Please note this post may contain affiliate links. If you click on one, we may earn a small commission at no extra cost to you. Thank you for supporting the free content we provide! Read more in our disclosure policy.*
Brief History of Toledo
Toledo played an important role in the history of Spain. The Roman empire conquered Toledo under General Marcus Nobilior in 193BC. The Visigoths then ruled from Toledo before the Moors invaded in 712 and ruled for over 350 years.
Christianity came to Toledo in 1085 under Alfonso VI and Toledo thrived until 1561 when King Philip II moved his court to Madrid.
The co-existence of Jewish, Muslim and Christian cultures earned Toledo the nickname 'the city of three cultures' and it was declared a UNESCO world heritage site in 1986.
Getting To Toledo

From Madrid
Train Madrid To Toledo
Toledo is just a 33 minute train ride from Madrid. With 13 trains daily, Toledo is no stranger to those on a Madrid day trip. The train departs Madrid Atocha station, Southeast of the city center.
If you're heading to Toledo from other cities such as Cordoba or Barcelona, you'll have to change in Madrid on the way.
We'd recommend arriving into Toledo train station as early as possible because there's a lot to cram into one day. The 8:50am train from Madrid gives you plenty of time to grab breakfast and get to Atocha station. Arrival at 9:23am gives you more freedom to slow the pace down in Toledo.
Prices should be around €14 ($16) but be sure to check out thetrainline for all times and prices.
Bus Madrid to Toledo
The other option is to take the bus from Madrid Plaza Eliptica to Toledo bus station. The bus is cheaper at $7 but takes longer at between 50 minutes to 1 hour 30 minutes depending on time of departure.
The bus station in Toledo is 1km or a 10 minute walk from the train station, but both are in a similar area and you have to make your way up to Toledo old town.
Getting To Toledo Old Town
Either way, there's no metro system in Toledo and it's a fairly strenuous walk up to the old city. Remember, there are taxi's and buses around the station.
You may be happy to hear that there are public escalators running most of the way up to the old city – but only if you go the right way…
You have 2 options to get to the old city from the train station. If you take the first left at the roundabout and go over the stone bridge, you're in for a bit of a climb.
Your better option is to go straight over the roundabout and over the bridge. Take the first left after the bridge – you will see the escalators and feel a sense of relief!
Madrid To Toledo Day Trip Tours
A quick day trip to Toledo from Madrid is a great way to explore this beautiful city if you are short on time. Some day trip tours will also combine nearby places such as Segovia as well.
Compare popular tours originating in Madrid below:
Get Your Guide: Toledo Full Day Tour | Segovia and Toledo with Alcazar + Cathedral
Viator: Full Day Tour To Toledo & Segovia | Toledo Half Day Tour
The Best Things To Do On Your Toledo Day Trip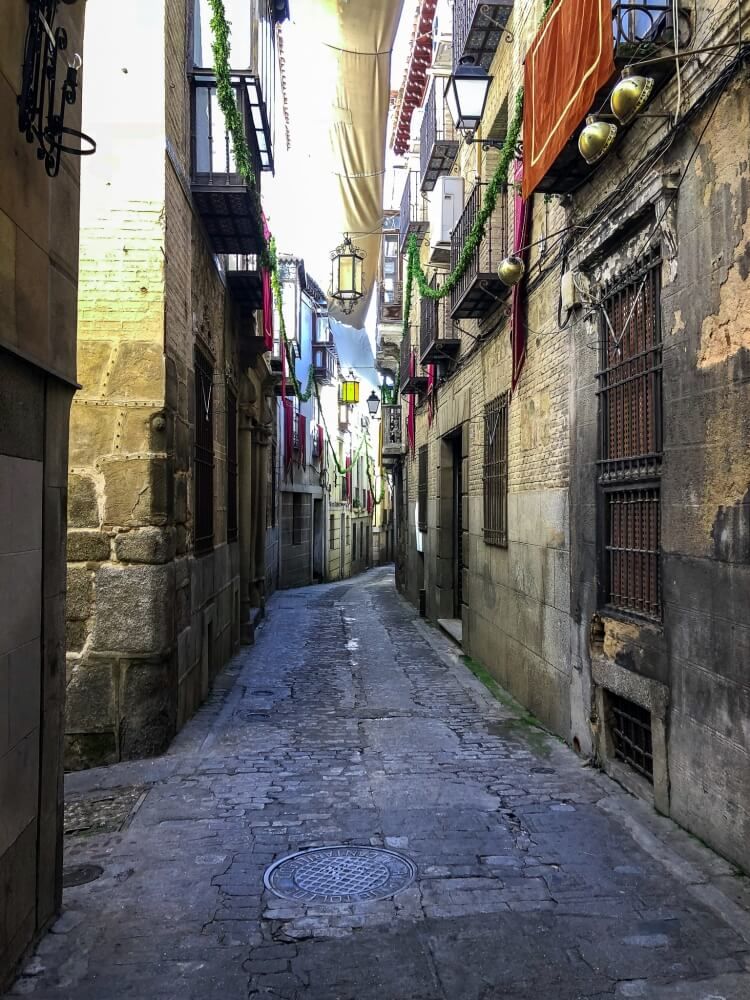 Lose Track of Time in the Labyrinthine Streets
…but not too much, unless you decided to stay a night!
Wander around the beautifully intricate streets and admire the buildings around you. Taking things slowly is the best way to see Toledo.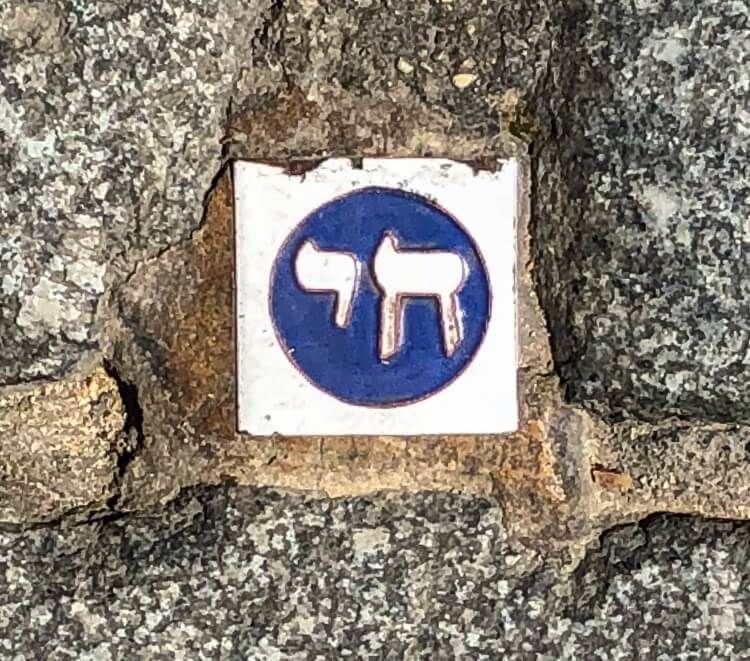 The main tourist walkways from Plaza de Zocodover to the Cathedral are packed full of souvenir shops and restaurants. We would suggest giving them a once over and then heading to the quieter parts like the Jewish Quarter, where you will find more of Toledo's medieval history.
You'll know you're in the Jewish Quarter when you spot tiles with Jewish symbols on the ground.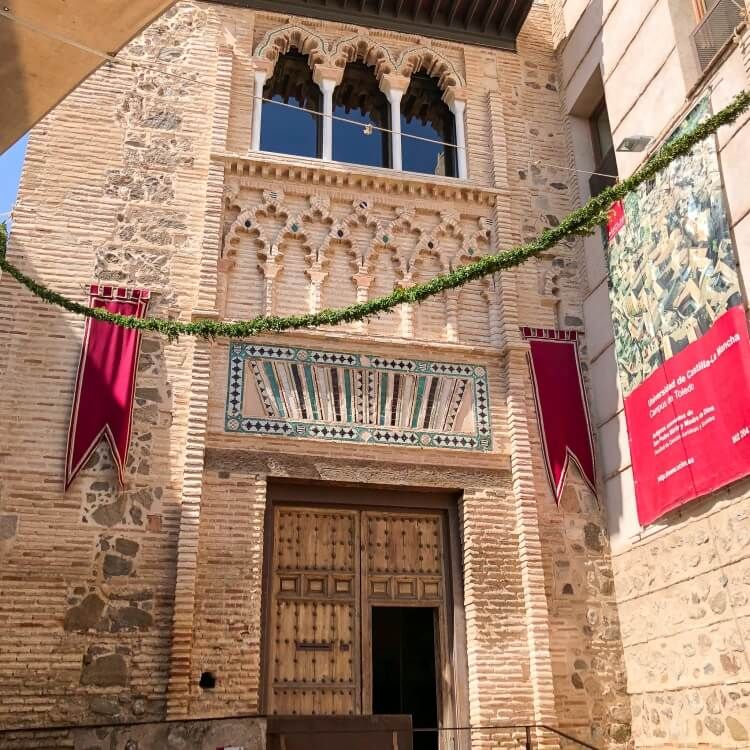 Appreciate the Diversity of Toledo's Architecture
Toledo's architecture is as diverse as it is picturesque. There are churches, synagogues and mosques to discover, showcasing influences from Christianity, Judaism and Islam.
Many of the important buildings are spread out across Toledo. Fortunately, it's small enough to cover them all! Use the list below to work out which you're interested in and plot a route.
Christianity
San Juan de los Reyes
Church of Santo Tome
Santiago del Arrabal
Judaism
El Transito Synagogue
Santa Maria la Blanca Synagogue
Islam
Mezquita del Cristo de la Luz
The old Bisagra Gate
Mosque of las Tornerias
Want to learn about Toledo from a local guide? Book a Toledo Walking Tour here.
Santa Iglesia Cathedral Primada de Toledo
Wow. Located exactly in the center of the city in Plaza del Ayuntamiento is Toledo's stunning 13th century High Gothic cathedral … and it's the must see on your itinerary.
Originally a Visigothic church, it became the site of the Great Mosque of Toledo before work on the new church began in 1226.
The cathedral is considered by some to be the best of Spain's Gothic style. It houses masterpieces by local legend El Greco and a wonderful baroque high altar.
There are more than 750 artistic stained glass windows which absorb the light and illuminate the interior of the cathedral.
Bonus: Be sure to check out the Toledo El Greco museum (separate from Cathedral) if you're a fan of art.
Hours: Mon to Sat 10am – 6.30pm, Sun 4pm – 6.30pm.
Tickets: €5.50 adult, students/over 65/groups €4.85, under 14 free.
Pro-tip: Free entrance to the Cathedral Wednesdays between 4.30pm to 6.30pm.
Looking to have a guided tour of the Cathedral? Book this 1 hour guided tour.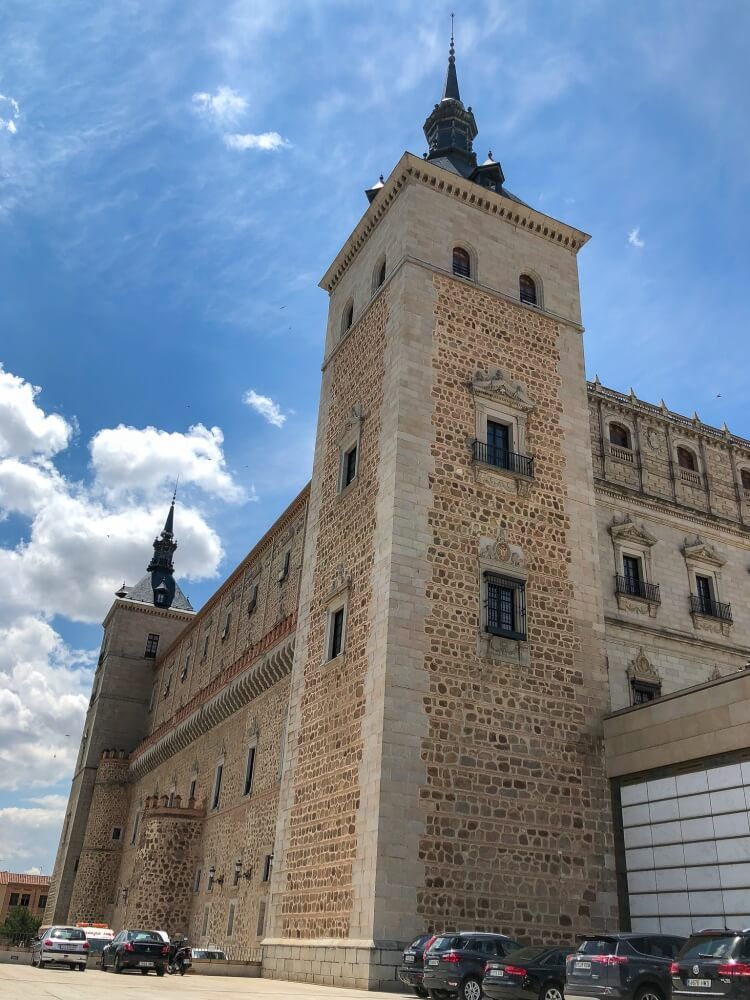 Army Museum at the Alcazar Fortress
The Alcazar of Toledo is an easy on the eye fort found at the highest point of Toledo. It was rebuilt after the Spanish Civil War and the siege of the Alcazar, between 1939 and 1957. Seen from afar, the fort is prominent in the Toledo skyline and makes for the best photo opportunities in town.
The Alcazar now houses a library and the army museum because it is no longer required for military purposes.
Firearms, swords, knives, uniforms, artillery and flags are just some of the exhibits in the museum. We spent 2 hours in the museum but could have easily spent longer.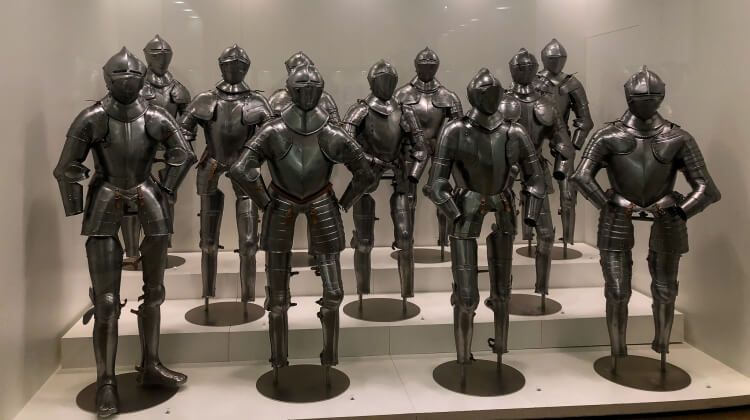 Tickets: €5 entry plus €4 per audio guide, reduced €2.50, children free.
Hours: Tuesday to Sunday 10am – 5pm, closed Mondays.
Pro-tip: Entrance on Sunday is free for all … yay for Sundays!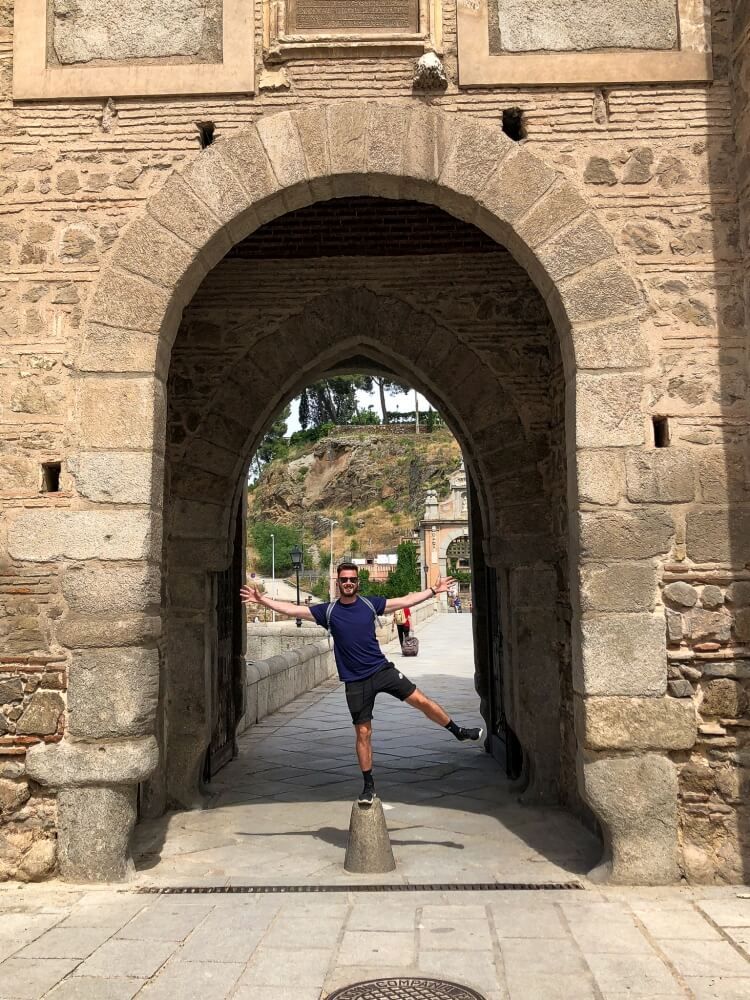 Walk the River Tagus / Discover Toledo's Gates & Bridges
If you are just on a day trip to Toledo, you might not have time enough time to walk the river, but you should try to check out the 2 main bridge entrances to the city.
The River Tagus runs around three quarters of the city. There are tons of picnic spots along the way to eat a cheap lunch and perhaps a cheeky glass of wine, which is exactly what we did on our first day!
Toledo's gates; Puerta Bisagra, Puerta del Cambron and Puerta del Sol each have their own story to tell of historical importance and of sieges in days gone by.
The bridges; Puente de San Martin and Puente de Alcantara have some amazing photo opportunities. If you stand in the calmness and tranquility around the bridges, can you imagine what a siege would have been like a thousand years ago?
Extra Things To Do In Toledo If Staying A Night
Drink Beers & Eat Tapas in a Local Tavern
We really hope you decide to stay a night, Toledo is so peaceful in the evening. It's a lovely place to stroll around after a late dinner but there is pretty much no nightlife scene, so if that's what you're looking for, staying over may not suit you.
However, there are some quiet local taverns run by friendly residents who are more than happy to have you in. They serve up super tasty tapas for free for as long as you keep ordering drinks.
Beers are cheap and the atmosphere is relaxed. A perfect place to catch up on work or read a book.
We had a bit of a one-off situation in Toledo. Real Madrid played Liverpool in the champions league final that night and being only 40 miles away from Madrid, we knew we couldn't miss it.
At first the locals assumed we were Liverpool fans but little did they know we're actually Manchester United fans, therefore weren't too fussed about a Los Blancos win. Once the locals discovered this, we were everyone's best friends and damn, the beers flowed that night!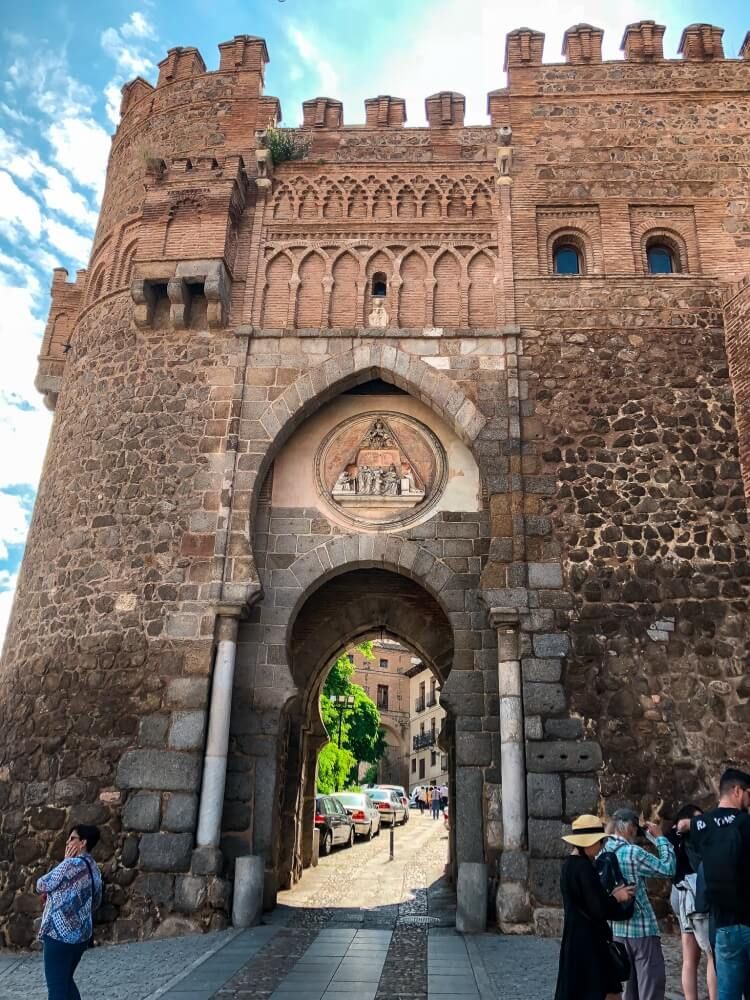 Learn from a Local on a Free Walking Tour
A good way to spend your second morning is to fill up on cafe con leche and then take a free walking tour starting at 11am in Plaza del Zocodover. Better yet you could get up for an early morning run and watch the sun rise over Toledo before the tour begins!
The tour will cover all the most important historical areas of Toledo and you pay only what you think the tour was worth at the end. Our guide was genuinely interested in Toledo and its history and her passion led to our gain in knowledge!
You will walk past places you visited on day 1 but this time you learn all the facts from a local about the history. And you'll definitely see things you missed on your first day, just as we missed the Peurta del Sol pictured above. Toledo's small size means that the tour covers the whole area of the old town and ends at the cathedral.
You could of course do the free walking tour on just a day trip to Toledo, but it will eat up a good chunk of your day.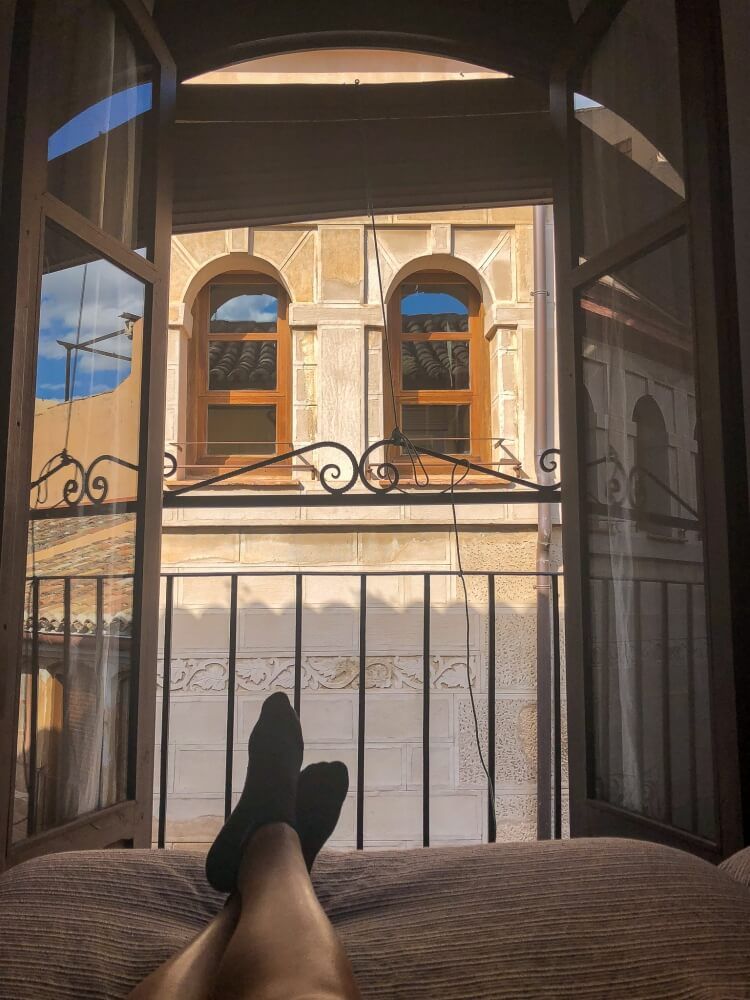 Where To Stay In Toledo
Toledo is actually split into the old city and the new city. Truth be told, we didn't venture over to the new city because it was just too cozy and attractive in the old city! Almost all tourists will stay in the old city.
B&B's and pensions (similar to hostels) can be found in tall and narrow buildings throughout Toledo. They are very affordable in the old city. It doesn't matter where you base yourself in the old city as it's so small, it only depends on your budget.
Our budget was low to mid-level and we try to book private double rooms when possible. We stayed in Pension Reina Isabel, it was small and had squeaky beds but it was cheap and only 3 minutes walk from the cathedral.
We use Booking for most hotels when traveling. It has the easiest hotel booking engine to use and almost always has the cheapest rates.
Check availability and prices for hotels in Toledo, Spain.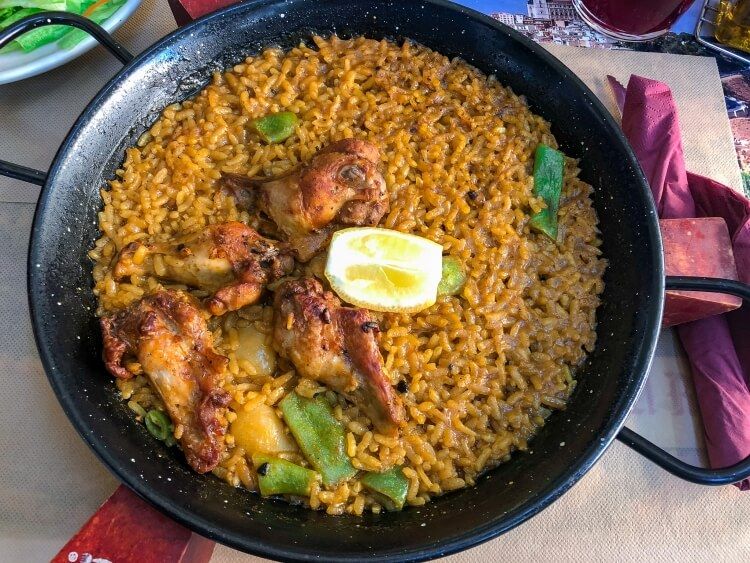 What To Eat On Your Toledo Day Trip
During the day when walking the streets, stop off at cafes, drink plenty of great coffee and eat some of Spain's famous churros!
Try to stay away from the tourist hot spots for a more authentic experience. It does get busy in Toledo so it can be hard to escape the crowds. Head towards the Jewish quarter for quieter restaurants.
In the evening, try some local food. Toledo was Spain's capital of gastronomy in 2016 after all!
Their most famous dishes are hearty meat stews and marzipan. If you love cheese (like we do) you have to try locally produced manchego cheese. But if you want something more substantial, try the manchego lamb or partridge casserole.
Confession: We were deep into a paella phase and couldn't pass up the opportunity for more. In hindsight we should have had manchego lamb but it's easy to look back and regret a craving!
Interactive Map Toledo Day Trip Itinerary
Read More About Spain …
If you're planning a Spain itinerary, be sure to check out some of our other posts:
---
We hope our day trip to Toledo guide helps you plan for your visit!
Please let us know if you have any questions about Toledo or Spain in the comments below.
Happy Travels,
Mark and Kristen
Was This Post Helpful? Pin It For Your Visit!