Picturesque cobble stoned Cordoba old town is the perfect place to spend one day when traveling between Madrid and Seville or Granada.
Armed with a metric ton of old world charm and on the main train line from Madrid to Seville, Cordoba possesses all the attributes for a perfect day trip.
Cordoba has a fascinating history and is overflowing with stunning architecture, including famed Mosque-Cathedral La Mezquita. We're confident the UNESCO historical town center will knock your socks off.
One day is not enough time to fully appreciate the beauty and soul of Cordoba. But we also know that time is priceless, and one day is enough time to hit old town's major sights.
We stayed in Cordoba for 3 days and took things slowly. We've condensed all the best bits into one action packed day, with extras for those who plan to stay another day in Cordoba.
Cordoba, Spain will always hold an extra special place in our hearts. It was the birth place of Where Are Those Morgans travel blog!
*Please note this post may contain affiliate links. If you click on one, we may earn a small commission at no extra cost to you. Thank you for supporting the free content we provide! Read more in our disclosure policy.*
Brief History Of Cordoba
Roman consul Claudio Marcelo founded Cordoba between the years of 169 and 152 BC. The Romans used the city as their base in the war against Variathus and the Lusitanian people.
Variathus was the most successful leader to ever oppose the Romans in the Iberian Peninsula, until his death in 139 BC. The Romans called the walled settlement Corduba and named it capital of the region Hispania Ulterior.
A basic Roman Forum is known to have been built during the time of the Roman settlement as the city flourished under their rule.
Julius Caesar sacked the city in 45 BC and unfortunately 20,000 inhabitants were massacred because they supported Pompey.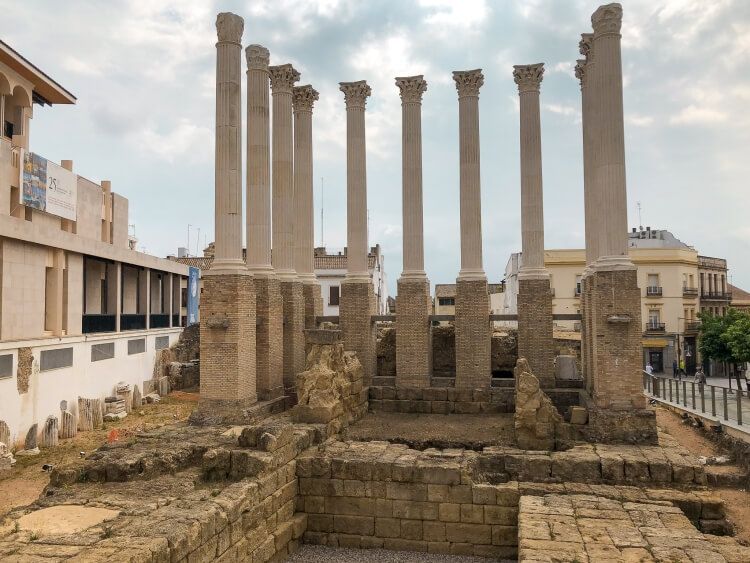 Under Emperor Augustus, Cordoba became the capital of Hispania Baetica and was given the status of Colonia Patricia, which signaled a change in fortune for the city.
The walled perimeter extended to the River Guadalquivir and the forum was remodeled. It followed the template of the Forum of Augustus in Rome.
Cordoba's story goes quiet until the 6th century AD when the Visigoths and Byzantines (Eastern Roman Empire) waged war to rule over Cordoba. The Visigoths ruled for 150 years and the city declined.
The Moors Invade

Cordoba
The year 711 AD marked the beginning of a new rule in Cordoba and much of Southern Spain. The Muslims captured and largely destroyed much of Cordoba.
The city wasn't recovered until Abd Al-Rahman of the Umayyad family took leadership of the Muslims in Spain in 756 AD.
The Emirate of Cordoba would eventually become the Caliphate of Al-Andalus. It was Al-Rahman who founded the great Mosque of Cordoba.
However, the Mosque would not be completed by his successors until 976 AD. The construction of the Alcázar began in 785 AD. The great Mosque in the year after in 786 AD.
The city of Cordoba prospered under Umayyad rule with a prolific economy and became one of the most advanced city in Europe. It is estimated that Cordoba had in the region of half a million inhabitants in the year 1000 AD at the pinnacle of the caliphate.
This is the period known as the Golden Age, where Jews, Christians and Muslims lived together, for the most part in peace, although under Muslim law.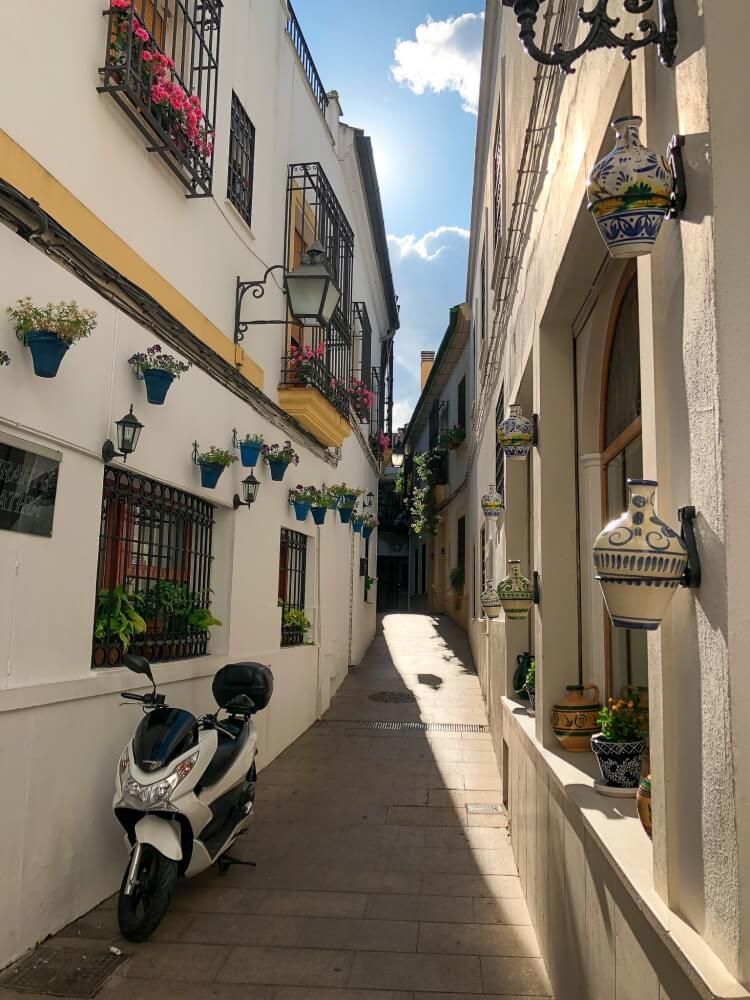 The 11th and 12th centuries AD brought the Christian uprising. Finally, 200 years of vying for power ended when the Castilian King Ferdinand III captured Cordoba as part of the Spanish Reconquista in 1236 AD.
The great Mosque was converted to a Roman Catholic church and reform work began on the Alcázar.
The city declined under Christian rule. Throughout the Renaissance period, Cordoba's inhabitants decreased to just 20,000. In 1808, Cordoba was sacked by the French for instigating the rebellion against Napoleonic rule.
The Spanish Civil War led to Cordoba becoming one of the first cities in Spain to be occupied by Francoist forces.
Travel To Cordoba
If you're flying into Spain internationally, you have 3 airport options with good access to Cordoba: Seville, Malaga and Madrid. We'll list below your options from each of those cities in 'distance from Cordoba' order.
Cordoba's location on the main train line between Madrid and Seville makes it the perfect place for a relaxing one day visit in between the two tourist giants.
If you plan to travel from Madrid to Seville or Seville to Madrid, our advice is to get an early train and spend the majority of the day in Cordoba, then grab another train in the evening.
You can leave your baggage in a locker in the bus station (if they're full they usually put bags in their office) and pick them up when you return.
Important information: If you decide to spend the day in Cordoba in between Seville and Madrid, remember you need one seat reservation for the first train and another individual seat reservation for the second train you'd take later in the day.
Seville to Cordoba Transport Options
The good news is you have many transport choices when it comes to Cordoba. These are some of your options:
By Road/Hire Car – 141km
It should take around 1h 40m by car via the A-4 and E-5 roads. Remember to always check live traffic updates before setting off to avoid any traffic jams. There are much better ways to be spending your holiday!
By Train – 119km
The average travel time between Seville and Cordoba is 44 minutes. The first train leaving Seville is at 06:45 and the last departs at 21:35.
On average, 25 trains per day travel from Seville to Cordoba, leaving approximately every 50 minutes. Trains depart from Sevilla Santa Justa station.
Prices vary from a low price of €12.70 for the slow train taking around 1h 15m, to the highest price for next day travel at €27.59, with many in between.
Note: There are no changes on this service and the train operator is renfe. Take a look at the trainline for more information.
By Bus – 141km
The bus company you'll need to look for is ALSA. There are usually 7 services per day, first one leaving at 08:30 and last one leaving at 22:00 from the Plaza de Armas. Buses take between 1h 45m and 2h 05m.
Prices are fairly consistent at €14. Check out Omio for more information.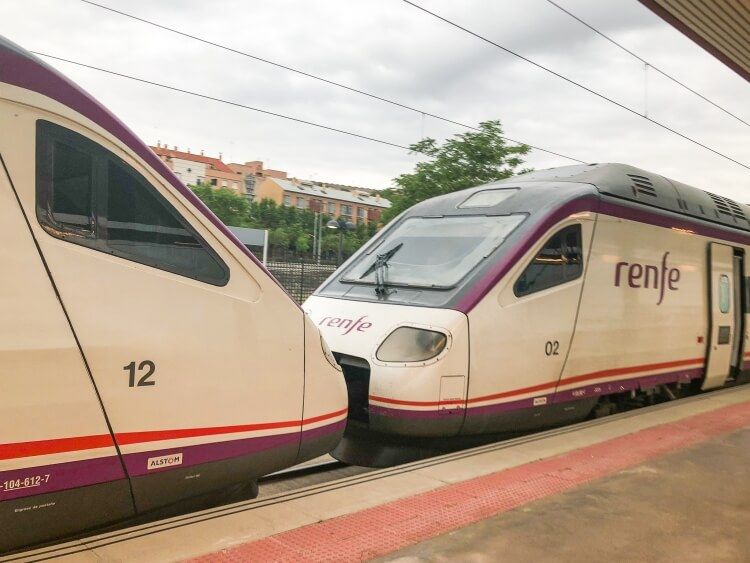 Malaga to Cordoba Transport Options
By Road/Hire Car – 159km
An easy straight shot up the A-45 for 1h 45m by car will take you to Cordoba. Remember to always check live traffic updates before setting off to avoid any traffic jams.
By Train – 119km
The average travel time between Malaga and Cordoba is 58 minutes. The first train leaving Malaga is at 06:20 and the last departs at 20:15.
On average, 17 trains per day travel from Malaga to Cordoba. Trains depart from Malaga Maria Zambrano station.
Prices vary from €26.40 to €37.75 and take between 48m and 1h 05m.
Note: There are no changes on this service and the train operator is renfe. Check out the trainline for more information.
By Bus – 159km
The bus company you'll need to look for is ALSA. There are usually 6 services per day, first one leaving at 08:55 and last one leaving at 19:30 from the estacion de autobuses.
Buses take between 2h 15m and 4h 20m, which is quite some time difference so plan your timings well.
Prices are either €13 or €16 depending on which service you take.
Check out Omio for more information.
Madrid to Cordoba Transport Options
By Road/Hire Car – 394km
It's a pretty hefty journey down the E-5 for 4h 00m to Cordoba. It's not really an option if you're looking to only spend one day in Cordoba, unless you set off at the crack of dawn and leave late in the day!
Remember to always check live traffic updates before setting off to avoid any traffic jams.
By Train – 296km
The average travel time between Madrid and Cordoba is 1h 50m minutes (which is pretty damn fast!). The first train leaving Madrid is at 06:20 and the last departs at 21:25.
On average, 27 trains per day travel from Madrid to Cordoba. Trains depart from Madrid Atocha station.
Prices vary from €48.00 to €62.70 and take between 1h 42m and 2h 07m.
Note: There are no changes on this service and the train operator is renfe. Check out trainline for more information.
By Bus – 394km
The bus company you'll need to look for is Socibus. There are around 10 services per day, first one leaving at 01:00 and last one leaving at 22:30 from the estacion sur. Buses take between 4h 15m and 5h 35m.
Prices are either €18 or €25 depending on which service you take.
Check out busbud for more information.
Book A Cordoba Tour
We always recommend public transport, especially for those on a budget. But if you'd rather put your feet up and let others do the work for you, why not book a tour?
Most tours will handle transport and sightseeing for you.
Check out two of the most popular tours of Cordoba below which originate in Seville:
Alternatively, here are some of the best tours within Cordoba, Spain.
The Best Things To Do With One Day In Cordoba
What is the best way to begin your one day in Cordoba? Make sure you arrive as early as possible.
Arriving early means beating both crowds and heat. It get's seriously hot in summer. Phew!
This step-by-step itinerary will ensure you see Cordoba's highlights efficiently. The interactive map at the end of this section will help you orientate in the city.
Visit The Celebrated Mosque-Cathedral Mezquita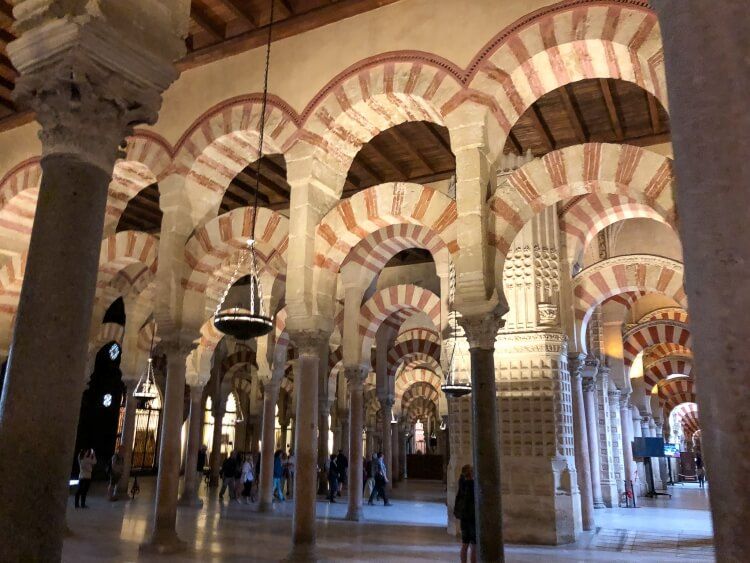 First up on the agenda, make a beeline straight for Cordoba's centerpiece; the Mosque-Cathedral Mezquita. Don't worry, you'll have plenty of time to see the rest of the city afterwards!
For many, visiting the Mezquita will be the reason for making the trip to Cordoba. Once you've been, you'll know why. One of the world's greatest examples of Islamic architecture, the Mezquita has had a turbulent story throughout history.
Its original shell was built by the Visigoths, before work began on the Great Mosque under Umayyad Abd al-Rahman's Muslim rule.
Eventually the Christians seized Cordoba and converted the Mosque into a Roman Catholic church.
Inside, you will discover astounding arches and columns in a design known as an arcaded hypostyle hall. The 856 columns are made from Granite, Marble, Onyx and Jasper.
Interestingly, some of those were sent to Cordoba as gifts.
It truly is a magnificent spectacle. You can almost feel the tumultuous past in the air as the sunlight bursts into the hall through small windows, creating arch like shadows as far as the eye can see.
If you prefer to explore without a guide, begin your self-guided tour in the Patio de los Naranjos. The picturesque patio is where you will find the ticket office.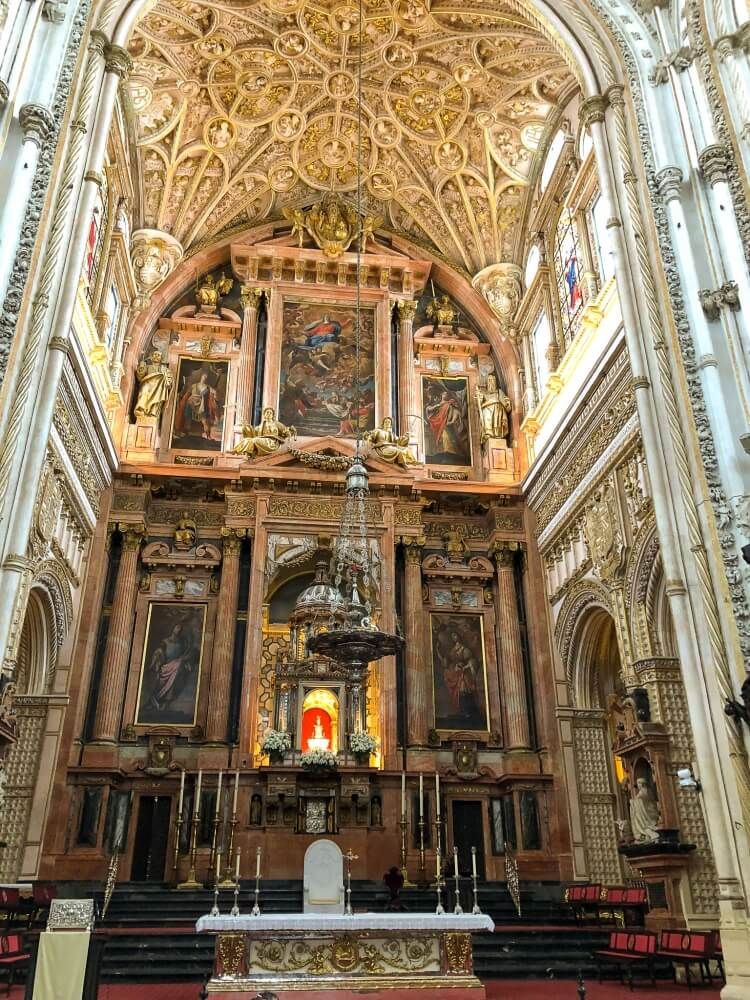 Visiting Information
Prices: Adult tickets are €10 and audio guides €4 / Children aged 10 – 14 and disabled tickets are €5 / Children under 10 tickets are free
Opening Times: The Mosque-Cathedral is open from 10:00 to 19:00 Mon – Sat / 08:30 to 09:30 and 15:00 to 19:00 Sun
Pro-Tip: The Mezquita is free to enter between 08:30 and 09:30 Monday to Saturday. Of course, we only discovered this after we'd paid €10 each! If you can get there early enough, enjoy your free entrance!
But if you would prefer a guided tour with a skip the line option, check out this tour here.
Alternatively, just input your travel dates to Cordoba below to see availability for this popular attraction.
Walk Over The Puente Romano (Roman Bridge)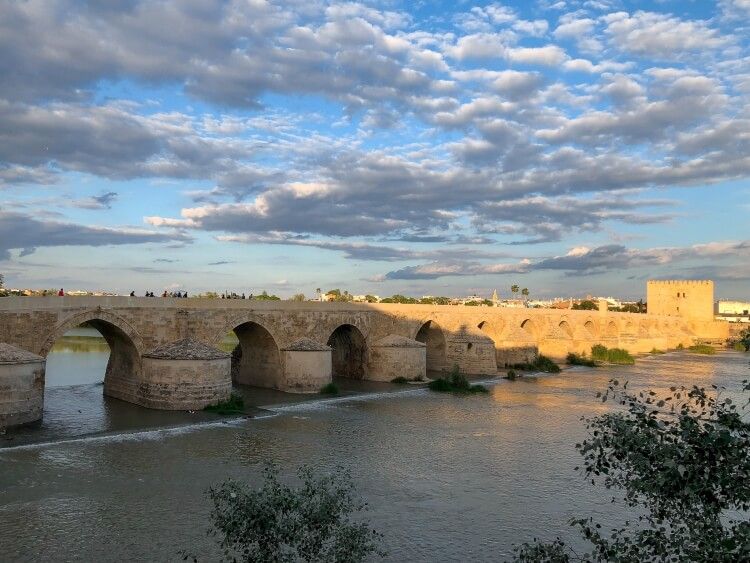 Once you leave the Mezquita, walk 2 minutes to the South towards the river and the Puente Romano. The Roman bridge was originally built in the 1st century BC and spans the River Guadalquivir.
Some of what you see today was reconstructed in the 8th century by the Moors, including 16 arcades at a total length of 247m. Since then it has undergone several reconstructions, including an extensive restoration in 2006.
It is an impressive bridge and a brilliant spot to capture some great photos. It's even better in the evening when everything is lit up.
Take a walk to the other side of the bridge. Inside the tower of La Calahorra, you will find the Museo Vivo de al-Andaluz. This museum depicts life in Cordoba in the 10th century AD when Muslims, Jews and Christians lived side by side.
Visit The Alcázar De Los Reyes Cristianos
Head back over the bridge. The Alcázar is just a 2 minute walk to the West.
Like many other sites in Cordoba, the Visigoths first laid the foundations of this fortress, until the Umayyad conquest led to a rebuilding.
This rebuilding became the Alcázar and palace of the independent Caliphate of Cordoba.
The Alcázar housed the largest library in the West and flourished as a political and cultural center. After the Reconquista period, in 1328 Alfonso XI of Castile had work begin on what is the present day structure.
Alfonso preferred the Mudejar style and thus the building appears Islamic.
The Alcázar was used as headquarters for Isabella and Ferdinand to lead their campaign against the final remaining Moorish kingdom in Granada.
The old orchard outside has been converted into a magnificent garden. Boasting stylish water features surrounded by cypress, orange and lemon trees, this triple tiered garden is not to be missed.
Did you Know These Three Interesting Stories?
One – the Alcázar Arab baths were converted into torture chambers for use throughout the Spanish Inquisition.
Two – Isabella and Ferdinand met Christopher Columbus in the Alcázar during his preparations to set sail for the Americas.
Three – the Alcázar served as a garrison for Napoleon Bonaparte's troops in 1810.
Visiting Information
Opening Hours:
From September 16 to June 15 – Tuesday to Friday from 8:30 am. to 8:45 pm / Saturday from 8:30 am. to 4:30 pm / Sunday and bank holidays from 8:30 am. to 3 pm.
From June 16 to September 15 – Tuesday to Saturday from 8:30 am. to 2:30 pm / Sunday and bank holidays from 9:30 am. to 2.30 pm.
Prices: Adult: € 4.5 / Students: € 2.25 / Children under 14: Free. From Tuesday to Friday from 8:30 to 9:30 am admission is free.
If you'd prefer to have a guided tour of the Alcázar, you can check availability and prices here.
Tapas Lunch At Bodega Mezquita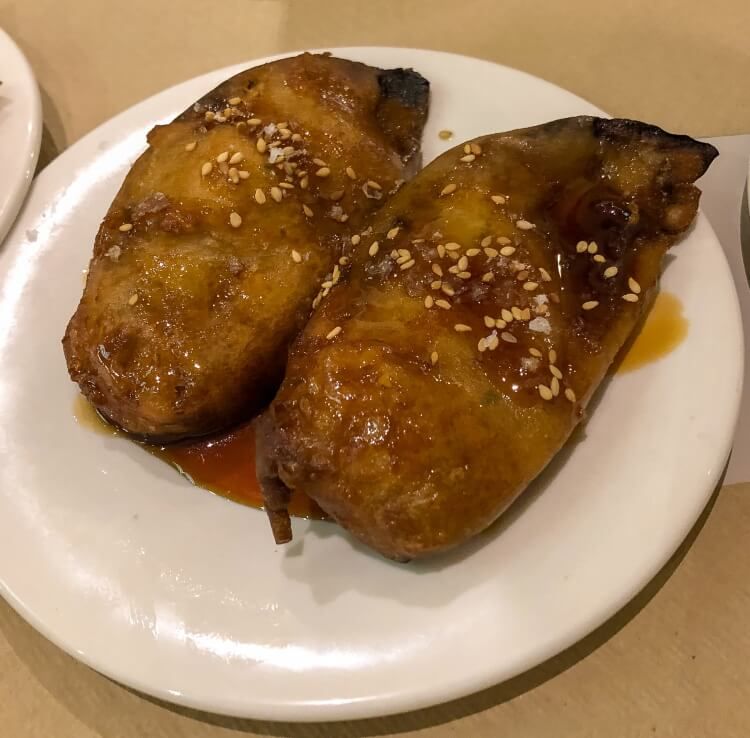 Is there anything else that develops an appetite as much as sightseeing?! They come hand in hand for us, so we imagine you're about ready to eat by now!
Now that the major sites are crossed off the list, it's time to relax for a while. For some excellent tapas, head to Bodega Mezquita.
There are actually four locations within a stone's throw of the Mezquita. We chose the spot on Calle Cespedes, number 12.
When you're in Spain, there's nothing better than tapas and a glass of wine for lunch. Cordoba is no exception. The food is excellent and we highly recommend this place.
It opens at 12:30pm, so this should tie in perfectly with your itinerary if you've followed us so far.
Check Out The Most Photographed Street In Cordoba
Calleja De Los Flores or "flower alley." This street perfectly captures the charm and charisma of a classic Andalusian alleyway.
Hundreds of flowers in little blue buckets hang from the white washed walls of the surrounding buildings. The street narrows to fit just one person comfortably, giving the illusion of being completely surrounded by flowers.
You can find this extremely romantic street with a 2 minute walk from the tapas lunch restaurant. Head back towards the Mezquita, turn left onto Cardenal Herrero and left again onto Velázquez Bosco (first picture below).
Take the first right and you're at the start of flower alley. The best time to visit is in late spring when the geranium flowers are in full bloom displaying their best colors.
Be aware that this is another popular spot for tourists so the best way to get your photo is to arrive early or later in the day.
If you walk to the end of the alley, you will find a small courtyard. You can also see the famous number 2 house decorated to the nines! While the alley is not very long, you will still be able to take some wonderful photos.
Pro-Tip: Be sure to snap a photo of flower alley with the Mezquita bell tower in the background.
Explore The UNESCO Historic Center And Jewish Quarter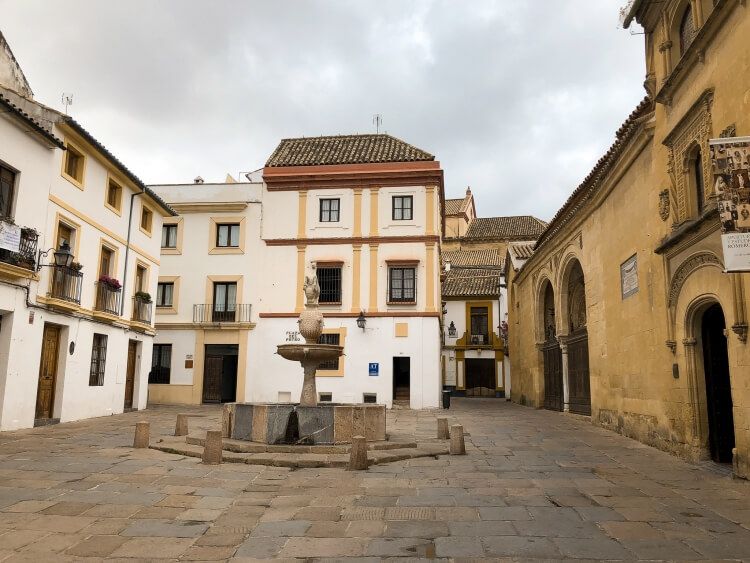 It's easy to use words such as picturesque and winding charming cobbled streets on a whim, but the historic center of Cordoba really is a captivating place to walk around.
Once you're finished with flower alley back near the Mezquita, head West towards the Jewish quarter. On the way, make sure you turn down every street in between to fully appreciate the splendor of the area.
The Jewish quarter is a lovely place to walk around. The place not to miss is the Cordoba Synagogue. Alternatively, you could visit La Casa Andalusi to see what it would have been like to live in Cordoba in the 10th Century AD.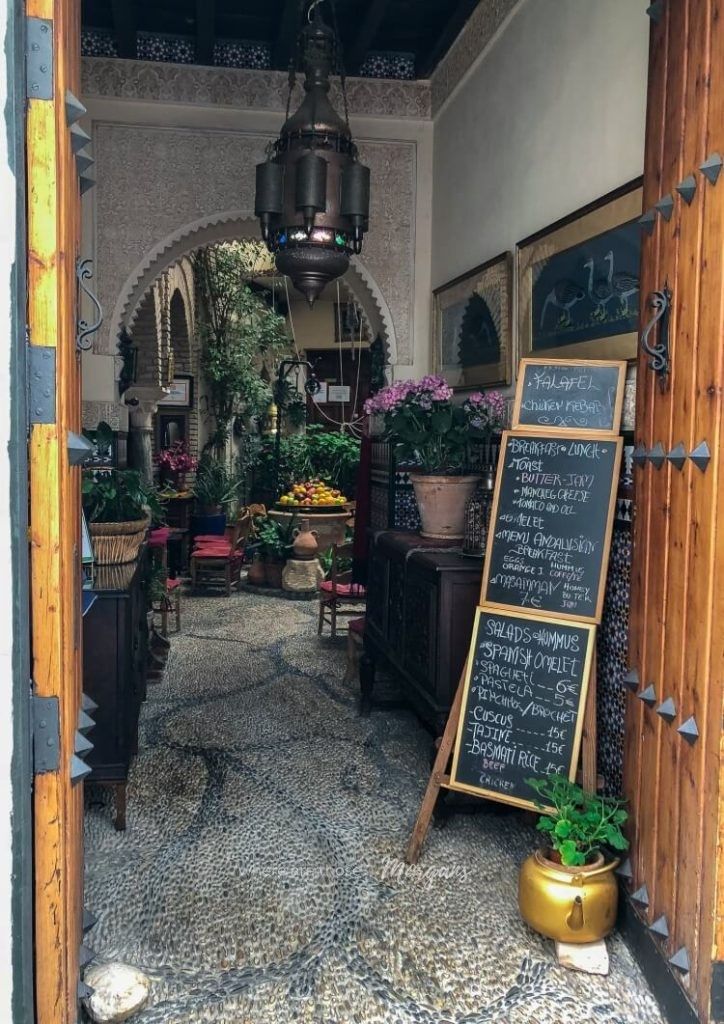 Next on the list depends on the time of your visit.
If you're lucky enough (or savvy enough!) to be in Cordoba in the second and/or third week of May each year, you've stumbled across it's best kept secret – La Fiesta de los Patios.
In spring as the flowers bloom in Andalusia, local residents open up their doors to the public for visitors to marvel at the beauty of their interior courtyards. They are filled with flowers, trees, fountains and mosaics.
There are around 50 patios in the competition and it is free for everyone to enter. The crowds will be out of control so be aware of that when booking accommodation.
This interactive map shows the locations of the 50 patios. The pictures we've seen of the festival look great.
In Spain at a different time of year? No problem!
If you are in Cordoba before or after the festival, you can still see some of the famed patios in the San Basilio district (not far from the Alcázar) as they are open year round. Head there after the Jewish quarter and continue with the route.
In among all the alleys of the historic center there are doorways that open up into beautiful courtyards.
Want some help finding these beautiful patios? Book a guided tour of the patios here.
Leave The Historic Center*
*This is where we split the late afternoon into two options.
Option 1 is to remain in the old city, take it down a notch and really enjoy the laid back atmosphere before heading back to your home base. If you're tired of walking and sightseeing, now is the time to put your feet up and grab a well deserved glass of wine.
There are plenty of restaurants and bars to choose between around the center. Try to find a place with an outdoor seating area if the weather is right.
If you are spending 2 days in Cordoba, this is also the time you can chill for the rest of day one, then pick up the rest of this itinerary on your second day.
Option 2 is to take a walk North East for 10 to 15 minutes. This may sound ludicrous because it's so nice in the historic center, but you've seen that area now. There's more on offer.
After all, you only have one day in Cordoba and we did say it would be action packed!
Option 2 For One Day Visit OR Day 2 For 2 Day Visit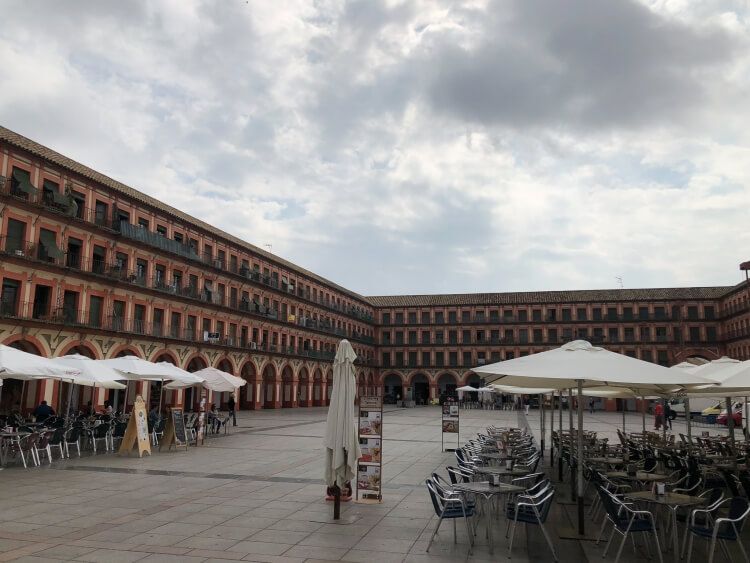 If you decide to take option 2, head for La Plaza de la Corredera; the old bullfighting ring of Cordoba.
The Plaza now hosts the Sanchez Pena market. It was named after the businessman that bought the building back in 1846 and fitted it with steam engines for the production of hats.
The Plaza covers a large area. In the past, it has been used historically as a town hall and prison.
From the plaza, it's a 1 minute walk North West to Templo Romano. The Roman Temple of Cordoba was constructed in 41 AD during the reign of Emperor Claudius but not finished until the late 1st century AD.
All that remain are the foundation, stairs and some columns, but it is still worth a visit!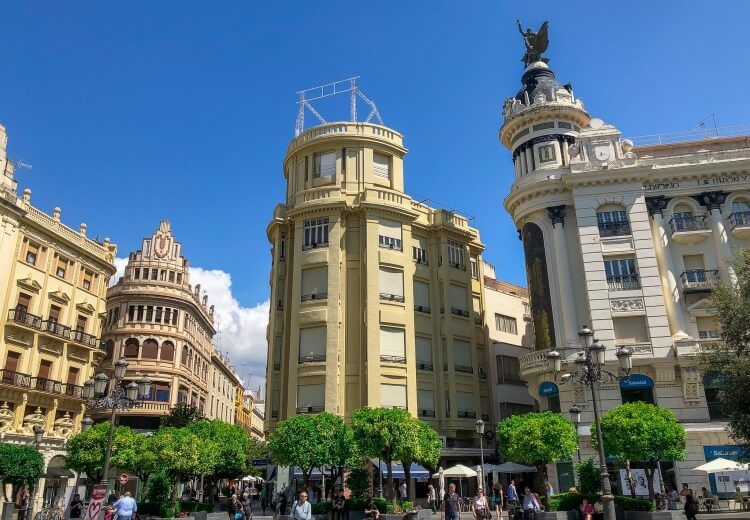 Plaza de las Tendillas is the main cosmopolitan area of Cordoba. You will find high-street stores, bars and restaurants where you can mix with the locals.
A free walking tour with Guru Walk is another option if you have more time or opted out of the other tours we mentioned. We did this walking tour on one of our days with Carmen and it was great!
The tour starts at 10:30 am and meets right in the square.
Before heading back to the city, you'll need to grab dinner, right? We have the place and it's right nearby the Plaza.
Restaurante La Tagliatella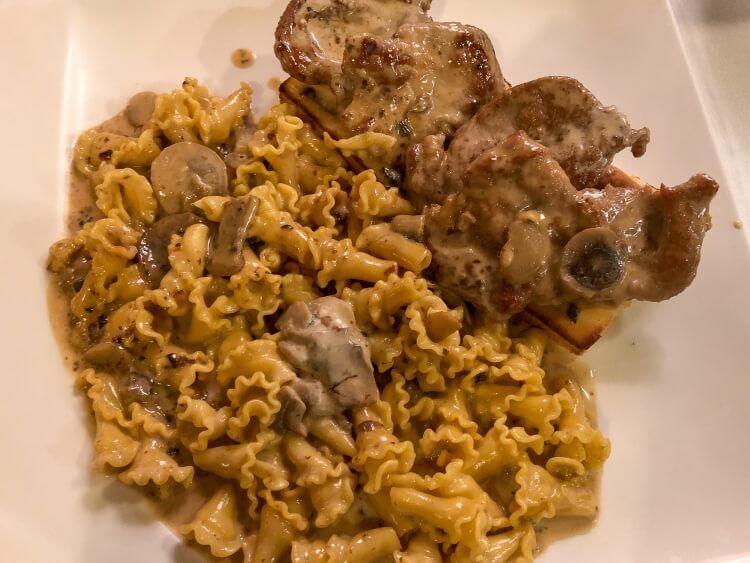 We still dream about the food at Resurante La Tagliatella found on Calle Jesus Maria 6. Prior to Cordoba, we have just extensively traveled through Italy so there was some tough competition.
But we definitely found the perfect combination with the chef and meals we ordered. Sorry tapas, but this might have been our favorite meal in Spain.
Mmmmm! We'd go back just for this place!
The best part of option 2? You'er already half way back to the train / bus station.
Interactive Map One Day Itinerary Cordoba Spain
Where To Stay In Cordoba
The best way to make the most of your one action packed day in Cordoba is to stay over the night before or the night after. Enjoy the evening's ambience as tourist numbers dwindle.
We stayed a few nights in Cordoba and enjoyed the relaxed vibe. We prefer to stay in hotels and we travel on a low to mid range budget. So, we always research to find the best value for money double rooms where possible.
We stayed in Pensions for the majority of our trip through Spain. Anyone who has traveled Spain on a budget will know about them!
They offer a double room and sometimes a private bathroom but surprisingly they don't always offer the best quality rooms.
However, in Cordoba we found our favorite accommodation of the 2 weeks we spent in Spain.
Our hotel was Conde de Cardenas. It's located on Calle Conde de Cardenas, less than ten minutes walk from the Mezquita.
We paid €35 per night. The room was great and the staff were friendly. Our room had 2 huge double beds, which was one too many, but it provided plenty of storage space!
It's got an 8.9 on booking.com and we'd have to agree with that rating, it was a steal. But Cordoba has plenty of alternative hotel options. Be sure to shop around.
Check availability and Prices at Conde de Cardenas and all hotels in Cordoba.
The Best Time To Visit Cordoba
Weather In Cordoba
We visited at the end of May. WOW! It was baking hot and dry as a bone! In July and August you can expect temperatures of around 35C/95F during the day (sometimes even higher).
Don't forget your sun block and try to get a room with a fan or air conditioning. The heat makes it tough to get through the day without dipping into a tavern for a cold pint of beer!
April-May and September-October are slightly cooler and less busy so you'll have more chance picking up a good deal on accommodation. It depends on how hot you like it and what your budget is.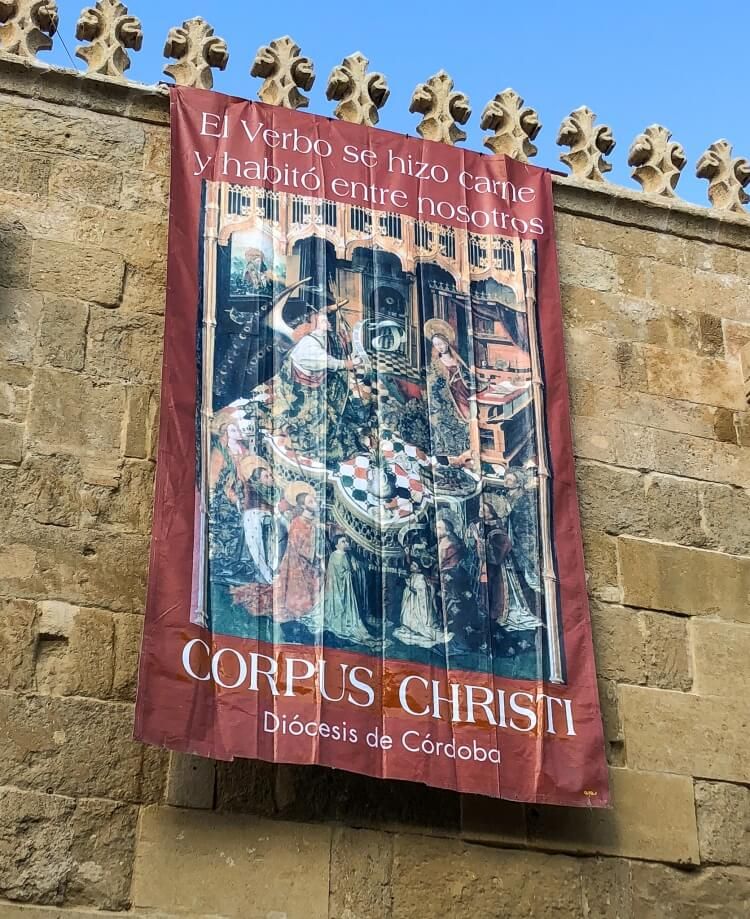 Events In Cordoba
Cordoba has an annual carnival, usually towards the end of February or beginning of March.
The Andalusian's celebrate Corpus Christi on the first Thursday after Trinity Sunday each year. We were lucky enough to be there in 2018 and the photo above shows a banner hanging from the walls of the Mezquita.
Semana Santa is the biggest event of the year in Cordoba, it takes place annually in the week leading up to Easter Sunday. This is something the whole city gets involved in.
Cruces de Mayo takes place in the first few days of May each year. Locals make large crosses made from flowers and hoist them up in many of the squares in Cordoba. Partying is inevitable.
The Patio Festival in Cordoba draws people from all over the world to admire the local's beautiful courtyards filled with flowers. The contest begins immediately after the Crosses of May.
Sadly the festival only lasts for a few weeks, but this interactive map shows the areas of the patios.
Read More About Spain …
If you're planning a Spain itinerary, be sure to check out some of our other posts:
---
We hope this One Day in Cordoba guide helps with planning your visit to Spain!
Please let us know if you have any questions about traveling through beautiful Andalusia.
Happy Travels,
Mark and Kristen
Was This Post Helpful? Pin It For Your Visit!