A day trip to Nara is perfect for families, couples and solo travelers alike to experience Japan's ancient history. You will find a charming city bursting with Buddhist temples, Shinto shrines and friendly wild deer.
Nara is an increasingly popular destination on the typical Japanese tourist trail and can easily be reached from both Osaka and Kyoto.
We highly recommend a fleeting visit, or better yet, staying a night. Let's dive right into Nara and the 4 things you can't miss on your day trip.
*Please note this post may contain affiliate links. If you click on one, we may earn a small commission at no extra cost to you!*
History of Nara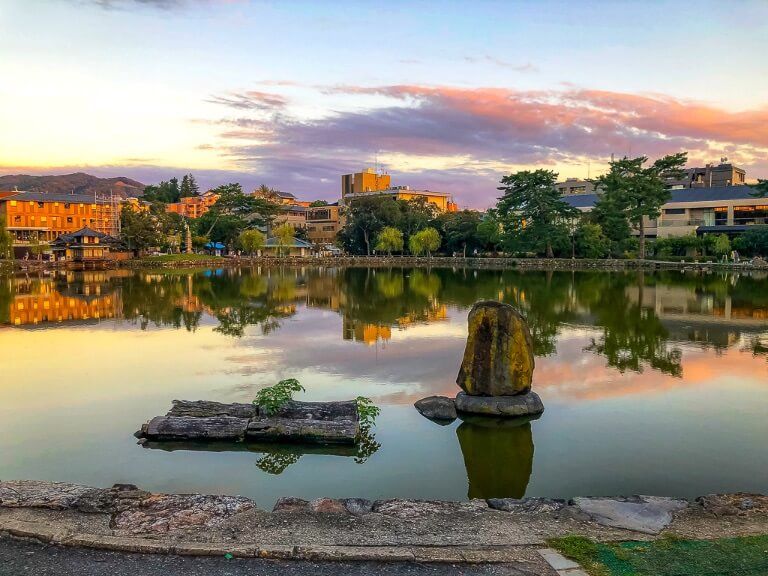 Nara is the capital city of the Nara prefecture, located in the Kansai region of Japan. It was Japan's first permanent capital from 710-794AD, ending when Kyoto became capital for the next 1,100 years.
Many of Nara's cultural and technological influences were adopted from neighboring China in the 8th century. Nara became Japan's center of religion, modernity and innovation when aspects of Chinese culture were woven into Japanese society.
Buddhism was introduced to Japan throughout this period. A defining era for the future of the country. Buddhist influences and borrowing ideals from the Tang dynasty in China shaped the important historical temples and shrines we see in Japan today.
Nara has long been a tourist destination within Japan. However, since it was designated a UNESCO world heritage site in 1998, the area has become more well known internationally and tourism has increased rapidly.
Why Is Nara Such A Popular Day Trip Destination From Osaka and Kyoto?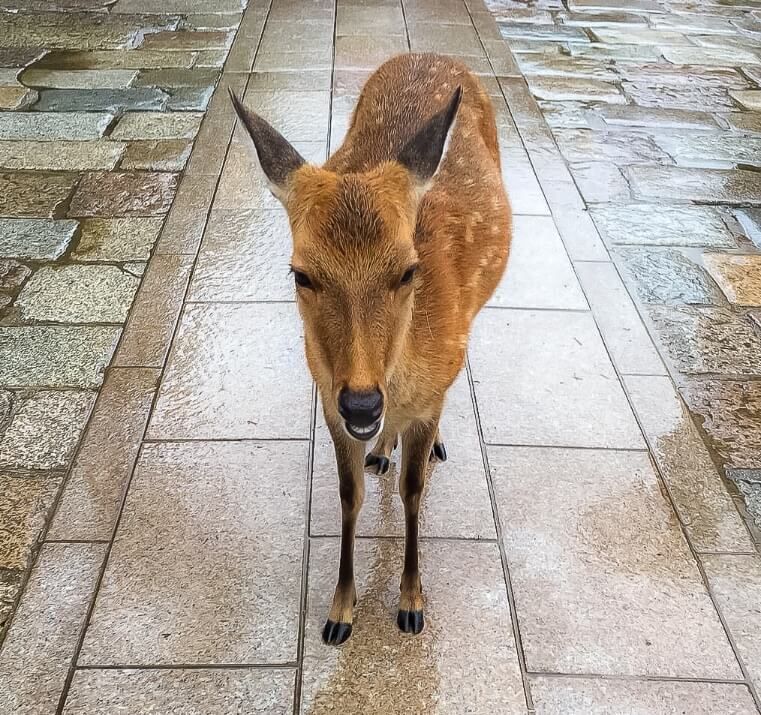 The beauty of visiting Nara on a day trip lies within its ease of access from nearby cities Kyoto and Osaka. Nara has a countryside escape feel, which many from the bustling city will enjoy.
An added bonus is being able to see all the highlights in a half day visit, so you can leave content that you haven't missed anything.
Nara houses a number of important Buddhist temples and Shinto shrines, including one of the world's largest wooden structures. But nowadays these temples only account for a fraction of Nara's popularity.
Nara's major draw comes from something that can seldom be experienced anywhere else – over a thousand friendly and freely roaming deer.
Yes, you read that correctly! As of 2018 there were roughly 1,200 deer in Nara! You can find them wandering all over Nara park, across roads and along footpaths on the way to temples.
How To Get To Nara
Japan has one of the best rail networks in the world. Trains are almost always on time to the exact second! Your best bet if you plan to take a lot of trains and cover some serious distance in Japan is to buy a Japan Rail (JR) Pass before you arrive.
Have a look at prices for each individual train you plan to take. Compare your total to the cost of a 7, 14 or 21 day JR Pass to see which is the most economical for you.
Check availability and prices for JR Passes.
Osaka and Kyoto have excellent links to Nara. Take either the JR Nara line or Kintetsu limited express train.
There are 2 stations in Nara. The JR Nara Station is west of the deer park/temples and city. Nara Kintetsu station is much closer to the deer park and to the north of the city.
Osaka To Nara
The JR Nara line connects Osaka JR Station to Nara JR Station. It takes 45 minutes and is covered by the JR Pass.
Alternatively, the Kintetsu railway connects Osaka-Namba station with Nara Kintetsu Station. It takes 40 minutes but is not covered by the JR pass.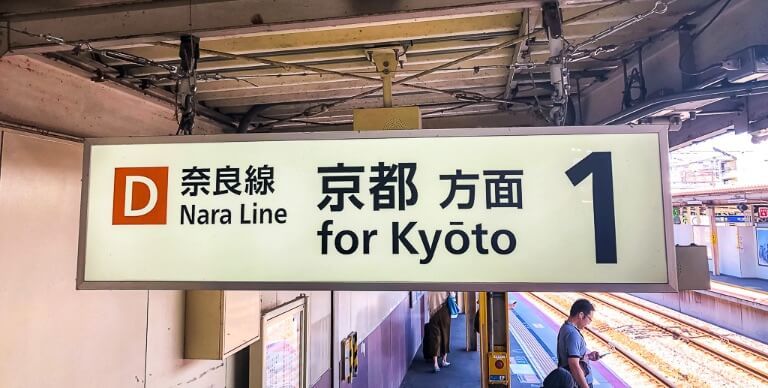 Kyoto to Nara
The JR Nara line connects Kyoto JR Station to Nara JR Station. It takes 45 minutes and is covered by the JR Pass.
Alternatively, the Kintetsu railway connects Kyoto station with Nara Kintetsu Station. It takes 45 minutes but is not covered by the JR pass.
Here's the important part
Use the Kintetsu station if you're traveling to Nara for a day trip only. Take the JR line if you plan to stay a night because this station is more central to the city.
Check the excellent japan-guide website for more information about getting to Nara. There's no need to worry about getting around once you reach Nara. The city is very small and easily accessible by walking.
To get to some of the further out temples, there are public buses that run frequently from/to train stations.
Where To Stay In Nara
If you have the time and decide to stay over, firstly, good decision and secondly, we highly recommend you book into Onyado Nono Nara.
It was the best place we stayed at in Japan and we hope it fits into your budget. We were on a low to mid-range budget and this place just about crept into the top bracket. Trust us, it's completely worth it!
They've found a niche at Onyado Nono Nara. It's got natural hot spring public baths onsite (onsen), has all the traditional features of Japanese accommodation (ryokan) like tatami floors and is a stone's throw from the JR station.
Onyado Nono Nara Onsen has a whopping 9.2 on Booking and we can't argue with its high rating.
Check availability and prices for Nara Onsen Ryokan.
Pro-tip: You can get great shots of the temples and deer at dusk or dawn if you decide to stay the night.
If you're going to try an onsen, this is the place to do it. Read our Japanese Onsen Guide to find out our take on revealing it all in a public bath.
Our Experience: Dodging A Typhoon!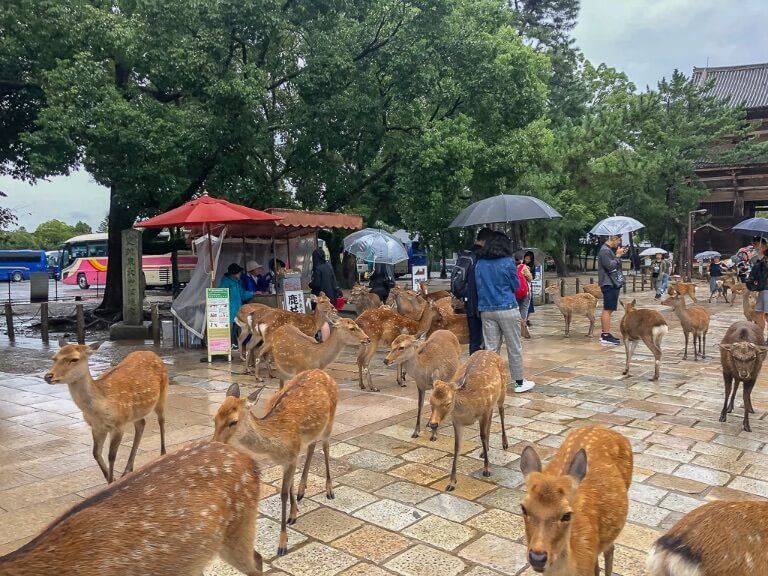 We were hit with a heavy rain storm as typhoon Tami (yep, we had a typhoon!) passed through Japan. However, the weather gods would have to do more than that to stop us from exploring Nara!
Our route was Osaka-Nara-Kyoto. We decided to book a night in Nara to give us ample time to wander around the ancient city. We left Osaka mid-day, arriving to Nara in the late afternoon.
After checking in at Onyado Nono Nara, we bee lined for the deer park and temples. Luckily, we just about made it in time for sunset and amazing views of the temples.
The next morning we shot out of bed excited to explore Nara. Arghh, crap. We heard the rain before we saw it!
After spending about 3 hours shielding ourselves under an umbrella (trying to imagine how awesome these temples must look against a bright blue background) … and being chased by hungry deer, that was enough soaking for us.
Day Trip to Nara: 4 Things You Can't Miss
1. Temple Hunting
Nara has significant temples and artwork dating all the way back to the 8th century AD when it was the capital of Japan. The city is home to some of Japan's oldest temples.
One of the best parts of a day trip to Nara?
Many of the notable temples and shrines can be found within walking distance of each other. Much easier in comparison to Kyoto, for example, where the main attractions are spread out across the city.
Nara deer park is spacious, green and pedestrian friendly. Visiting the ancient sites is safe, stress free and perfect for families. As long as you can avoid being bitten by a deer!
There are tons of temples and shrines to discover. We recommend the following if you're on a tight time frame:
Todai-ji Temple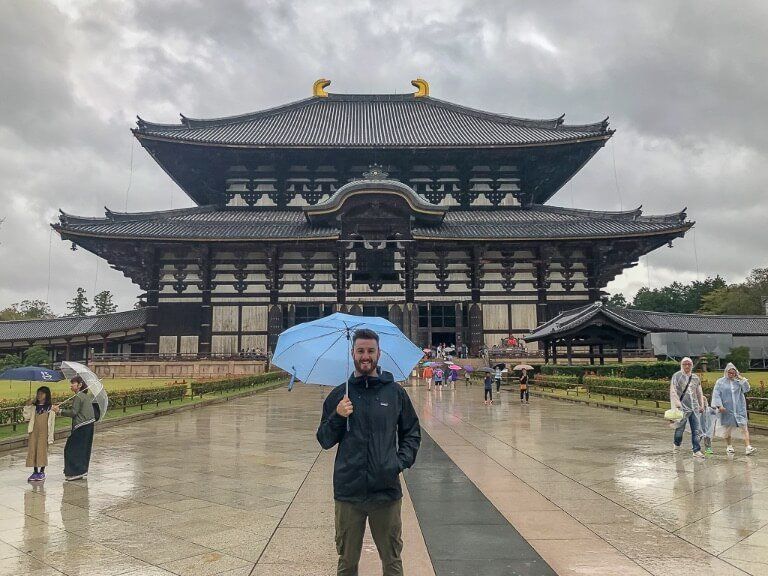 Nara's centerpiece is one of the world's largest wooden buildings; Todai-ji Temple. If it's gigantic and impressively detailed exterior isn't enough to wow you, it get's better once you step inside.
Another world's largest awaits! An imposing figure greets you in the form of the world's largest bronze statue of Buddha.
Todai-ji is one of Japans most famous and historically important temples, it is the must see on your Nara Day Trip itinerary. The impressive bronze statue of Buddha (or Daibutsu), stands at 15 meters high.
Admission prices are 600 yen adult and 300 yen child.
Kasuga Taisha Shrine
Kasuga Taisha is Nara's most celebrated Shinto shrine and is most famous for the stone and bronze lanterns that have been donated by worshippers. It was originally built in 768 and holds religious significance in Nara.
Each February 3 and August 14-15, three thousand lanterns are lit in unison to signal the beginnings of Spring and Fall respectively.
Its walkway is lined with trees that will bloom with gorgeous pink cherry blossom in the Spring.
The offering hall can be viewed free of charge but admission to the inner areas are 500 yen adult and 250 yen child.
Kofuku-ji Temple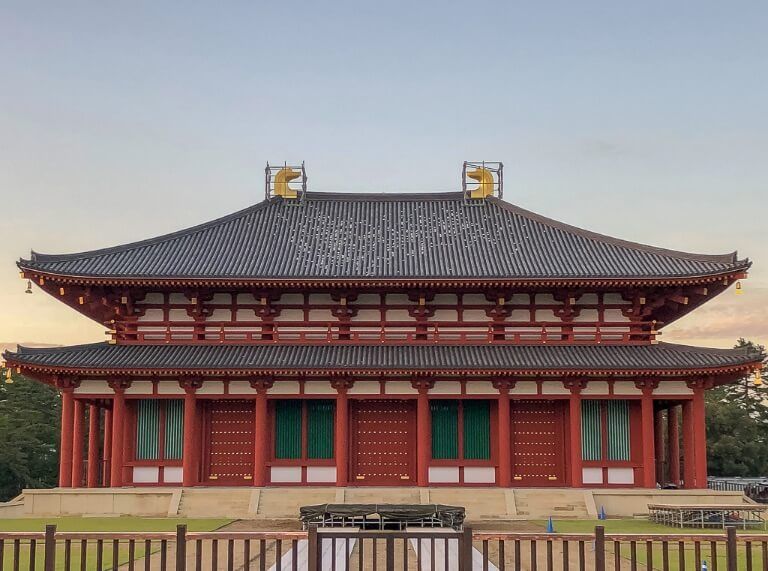 Kofuku-ji temple is a complex of 7 buildings and grounds located just inside Nara park next to the city.
It is most famous for it's 5 story pagoda (the second tallest in Japan) and priceless Buddhist statues. However, you can also visit the National Treasure museum and central golden hall.
Our top recommendation is to snap some photos of Nan'en-do as the sun is setting.
Grounds are free to enter and are open around the clock. There are entrance fees to some of the various buildings, such as 800 yen adult for access to the Eastern Golden Hall and National Treasure Hall.
Horyu-ji Temple
Horyu-ji temple is 12 kilometers outside Nara but if you have time it's certainly worth the trip. We didn't because it was raining heavily but would have otherwise.
Horyu-ji is split into two precincts: West and East. The West precinct is home to some of the world's oldest wooden buildings.
Check this website out for all the information on how to get there.
2. Feed the Sika Deer of Nara Park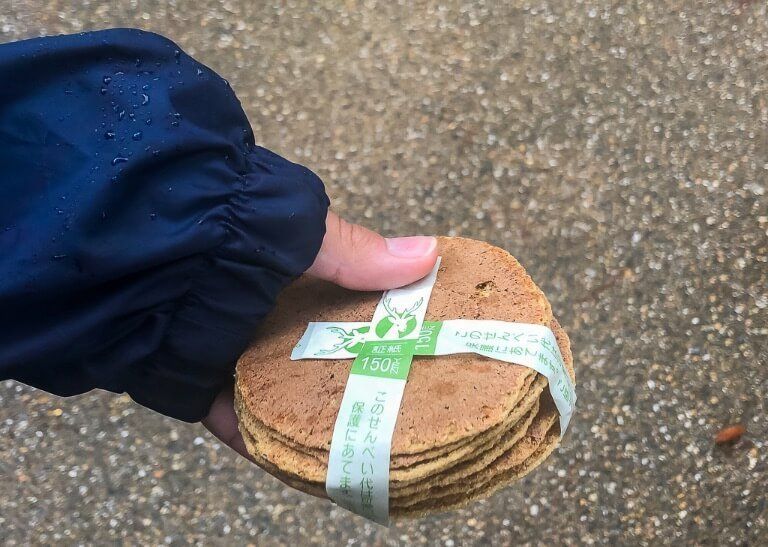 Deer are considered messengers of God in Buddhism and therefore, are allowed to roam freely around all areas of Nara.
The park is home to a reported 1,200 deer that approach humans and cross the roads like it's their turf everyone else is impeding on. You have to see the laissez-faire attitude of these deer to believe it!
One question you may be asking yourself is well how do all these deer eat in a city park?
The answer is: you feed them, of course!
That's right, you can buy a special cracker type snacks called shika senbei from vendors around the park to feed the deer with.
Pro-tip: Once you have run out of food, place your palms facing the deer with your fingers spread out. This lets the deer know you have no more food.
But Follow Instructions!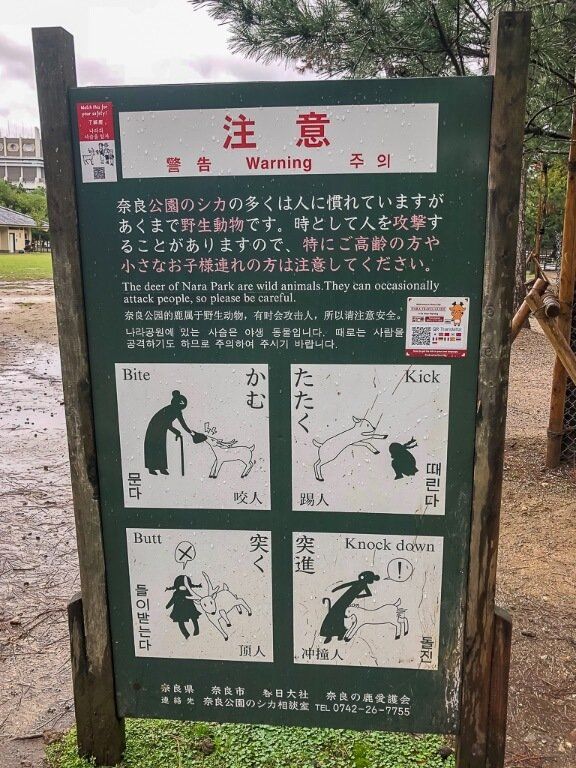 Signs depicting what deer will do to you are not there for show.
The sign in the photo above is like a Pokemon's moves, right?! Bite, Kick, Butt and Take Down. Don't be the person who needs taking to the Pokemon Center to revive.
Deer here are so used to humans feeding them now that they can get rather pushy…or bitey! We happened to discover that for ourselves so before you head over to Nara don't forget to read all about how to avoid being bitten by a deer in Nara park.
If you are confident enough, the deer have apparently been 'trained' to bow before feeding them. If you hold the cracker above its head, the deer will bow. Then hold the cracker behind your back for another bow.
Personally, we just gave the crackers straight to them. We only fed them briefly from our package of 10 crackers. The whole thing seemed like it was getting a bit out of control with deer effectively chasing tourists for food.
Don't say we didn't warn you!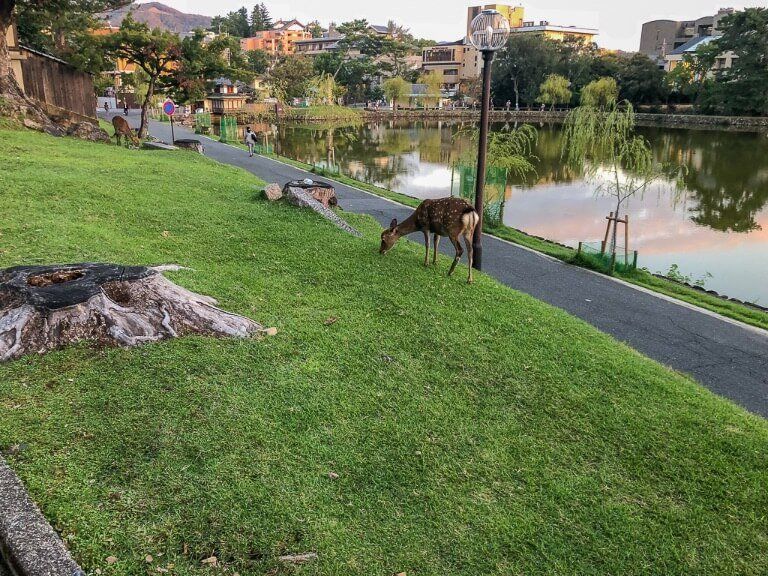 Unfortunately, we saw many tourists behaving in ways they shouldn't with the deer. Please have respect for these sacred animals which means no teasing them with food, running after them or shoving cell phones in their faces for selfies.
3. Explore the City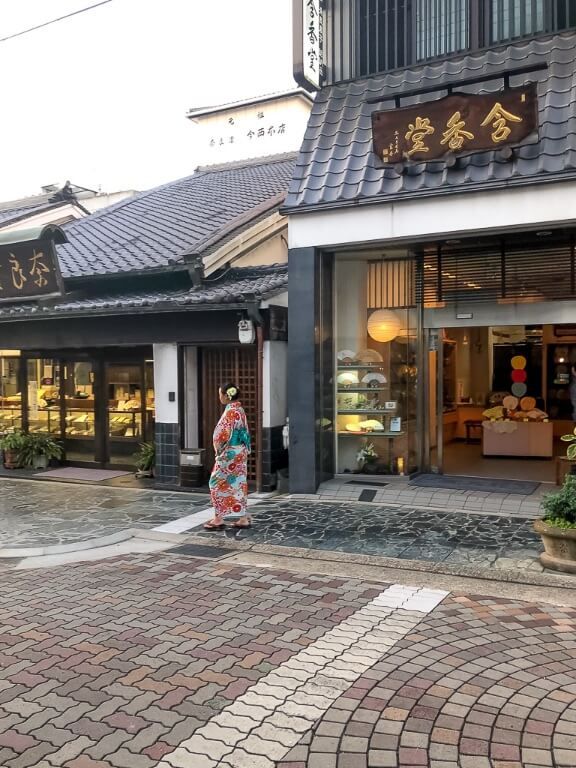 The city of Nara gets overshadowed by the temples and deer in the park. However, the city itself is fun to walk around. It has a relaxed vibe and the locals are really friendly (it is Japan, after all).
Don't forget to check out the shops and restaurants in Naramachi to discover how it retains much of the old world charm of Japan.
Nara has a collection of arcades like most Japanese cities today. It's an interesting contrast to the obvious ancient charm appeal in town.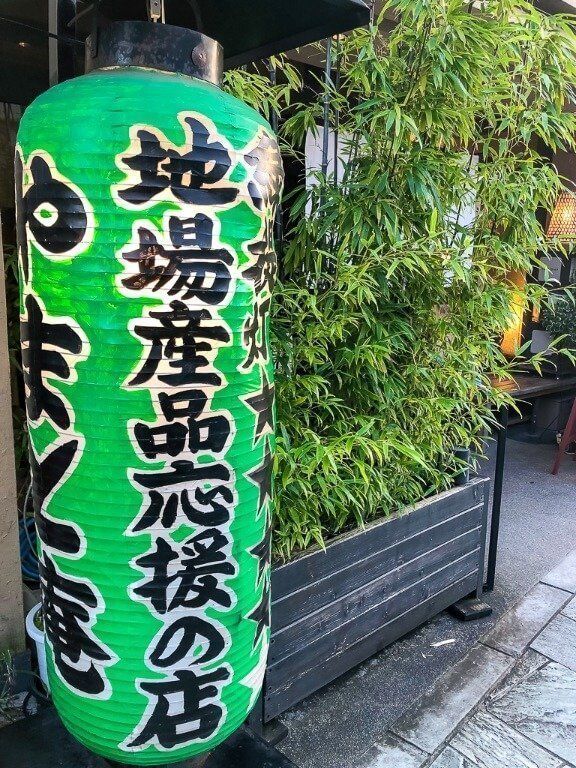 Arcades are the perfect place to keep the kids (and adults!) entertained after a day of temple spotting.
They are certainly not on the scale of Osaka or Tokyo but you can still lose plenty of hours inside an arcade in Nara.
There is also Owl Café Watawata, similar to the popular cat café culture that is springing up worldwide. We never went in but imagine it would be a hoot!
4. Eat at a Michelin Star Restaurant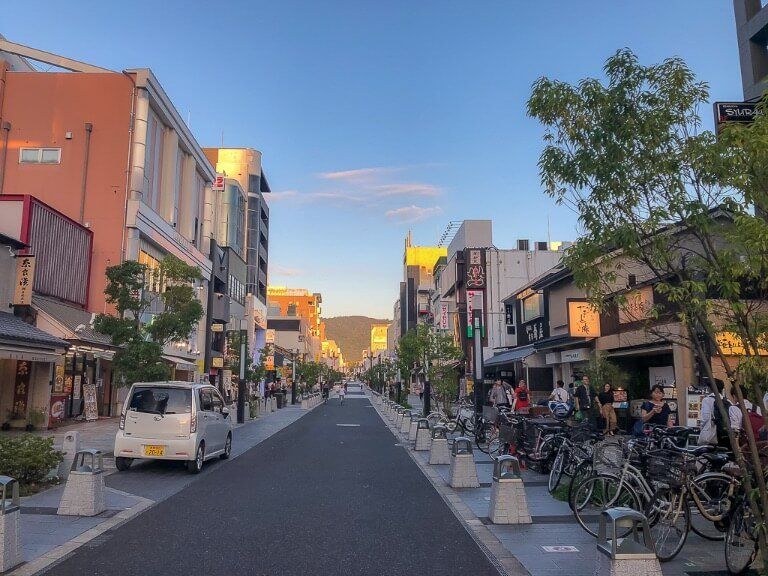 We were surprised by the amount of excellent restaurants in Nara. For such a small city there's certainly no shortage of dining options.
You will find places to eat to suit all budgets. There are plenty of Japanese restaurants to try local food. Interestingly there are Italian places all over Nara. Everyone loves pizza!
Our top tip for trying local food is to try the okonomiyaki at Surugamachi no Okonomiyakiya. Okonomiyako is a cabbage based pancake that can have a variety of toppings and has been dubbed 'the Japanese pizza'.
The best place to find street food for lunch is around the Kintetsu station area. We helped ourselves to some delicious takoyaki. You just have to when in Japan.
If your budget is sky high then you must try Wa Yamamura, Nara's 3 Michelin star restaurant.
Interactive Map Nara Day Trip
Read More About Japan …
---
We hope this guide helps you plan your day trip to Nara!
Please let us know if you have any questions about Nara or traveling in Japan in the comments below.
Happy Travels,
Mark and Kristen
Was This Post Helpful? Pin It For Your Visit!