Surrounded by unimaginably stunning vistas, volcanoes, lagunas and salt flats lies the beating heart of tourism in the Atacama Desert: San Pedro de Atacama. And we have the perfect itinerary for your visit.
Whether you intend to hire a vehicle or book entirely with tours, you will be blown away by unique landscapes you never knew existed on our planet.
No matter how you plan your itinerary (and we will help you in this article), one thing is for sure: the curious adobe village of San Pedro de Atacama will be your base.
Imagine our solar system as the planets orbit the Sun. In the Atacama, San Pedro is the Sun and the planets are all of its attractions (except they're not moving!).
Using an astrology reference here was by design, because as you will discover, the Atacama is famed for its extra-terrestrial topography and has some of the best stargazing on our own planet, Earth.
Are you planning a visit but can't make your mind up about hiring a car and DIYing it? Or do you plan to book a tour to take the stress off? How many days do you actually need in San Pedro?
What about following the Atacama with a legendary Bolivian salt flats tour from San Pedro to Uyuni?
We have all of these answers. In addition, we have crafted some example itineraries for visiting with or without your own vehicle.
Getting To San Pedro De Atacama
Calama Airport
Calama El Loa is the major airport near San Pedro.
If you're traveling North up the continent from Patagonia, you'll need to fly from Punta Arenas to Santiago and change flights there. From Santiago, you can fly directly into Calama airport. If flying South from Lima, Cusco, La Paz, etc., you might have to fly to Santiago first and then back up to Calama.
Chile is a very expensive country to travel in South America when compared to the likes of Bolivia. However, that does not include flying!
There are airlines that offer incredible value on flights (we flew from Santiago to Calama for under US$15 each). Check out SKY, Latam and Jetsmart.
Easier yet, jump on Skyscanner and let the search engine do the hard work.
Top-tip: Check each airlines baggage policy carefully. If you're backpack is borderline too big for the 'carry on' basket, pre-pay to check it and save your money.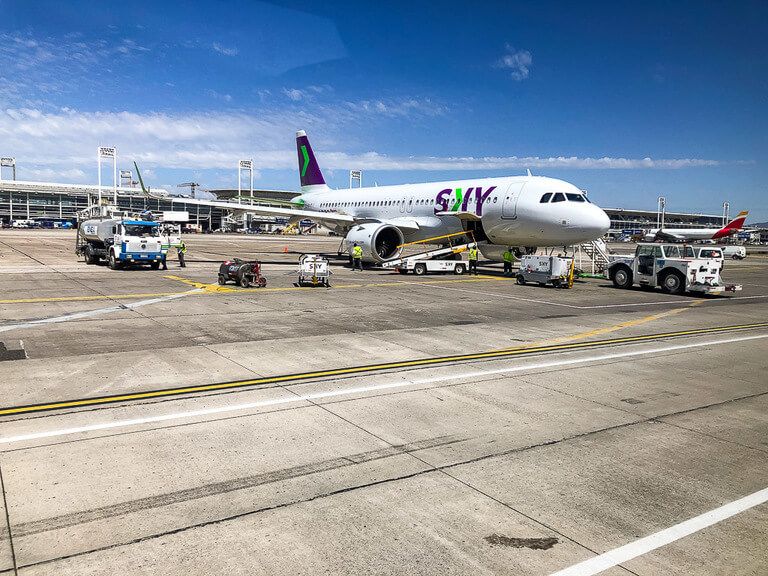 Once you arrive at Calama, you have 3 main options:
1). Pick up a hire car immediately at the airport
2). Take a bus to Calama town then pick up a hire car
3). Take a bus service directly from the airport to San Pedro if you don't intend to hire a car. This was the option we chose. You can buy bus tickets right inside the terminal on arrival. There are a few bus companies so be sure to compare prices.
You can hire a car in San Pedro but we wouldn't recommend it, keep reading to find out why.
Bus/Car
Argentina
A popular route is Salta to Atacama by bus. The journey takes around 12-13 hours and remember you will have to cross a border. Also, the altitude will reach around 4,200m at the Paso de Jama so be aware of altitude sickness.
Here's the Andesmar website to check times/prices.
Bolivia
Already been on your Bolivia salt flats tour as a roundtrip in Uyuni, Bolivia and now want to get down to San Pedro? There's a 12 hour bus you can jump on that leaves twice a day.
This is the Tickets Bolivia website for more info.
Chile
If you really don't like flying (there are some thermals up in the Atacama so it can get a bit rocky) then you could take a 22 hour bus from Santiago instead.
The bus is more expensive than flying and takes a lot longer but it's an option nonetheless. Check out Busbud's website for details.
There are also less painful buses from much closer Antofagasta and Iquique (which may require a change in Calama).
If you're driving around Northern Chile, Antofagasta is a 3h 40m drive and Iquique is 5h 50m from San Pedro de Atacama.
Hire Car San Pedro De Atacama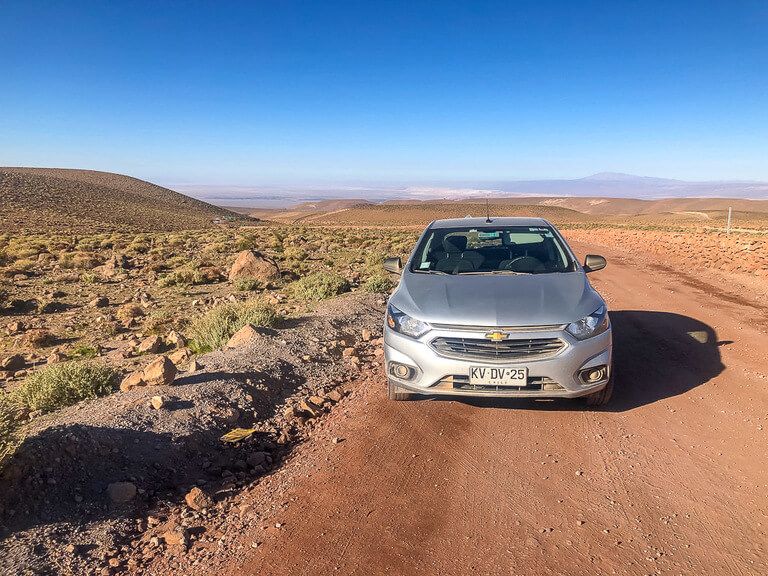 If you are thinking about hiring a car when you visit San Pedro de Atacama, our advice is to decide as early as possible. We know it's not always easy to plan in advance but you will save money if you do.
There are one or two car hire places in San Pedro itself (like Europcar), but your best bet is to hire at Calama airport. There is more availability (ie choice of vehicle) and more competition which keep the prices down.
Alternatively, you could take a short bus from the airport to town and hire a car in Calama. ACE, Econorent, Avis, Hertz and Europcar are some of the car rental companies available between the airport and town.
We would suggest looking online at car rental search engines such as rentalcars.com a month or so before you intend to arrive.
If you leave this decision any later, you risk no 4×4 or 4×2 trucks being left; or worse, no availability at all (especially in high season, December – February). Unfortunately, we know from experience!
We'd been hiking in Patagonia for 2 weeks, then recovering (read: eating and drinking, a lot!) in Santiago for 4 days. Mistakenly, we neglected planning the Atacama as thoroughly as we did Patagonia.
This resulted in hire cars costing in the region of US$ 1000 for a week at Calama airport in February.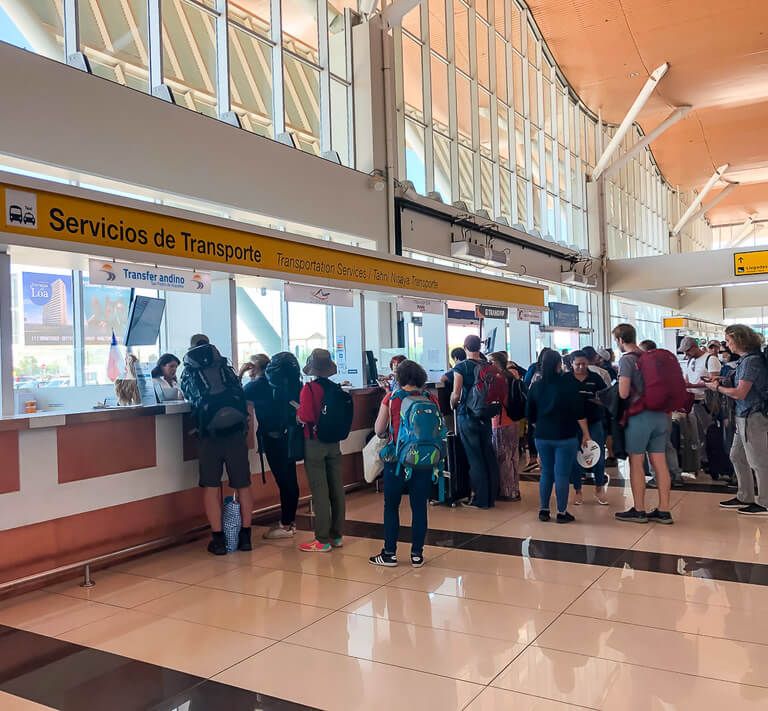 Things to Remember:
1 – You will save money by shopping around and being flexible with your dates.
2 – Only rent a hire car if you are a confident driver. Most roads are fine, but it is a desert after all.
3 – San Pedro town is a pain in the ass to drive around. It's full of one way streets. No one has a clue.
4 – Not a fan of manual/stick? The earlier you book, the more chance you have of picking up an automatic.
5 – If you plan on hiring mountain bikes or sand boards, select a car with enough room for those bad boys!
6 – When you leave Calama and/or San Pedro, make sure you fill the tank up. Extra fuel will never hurt.
Camper Van Hire San Pedro De Atacama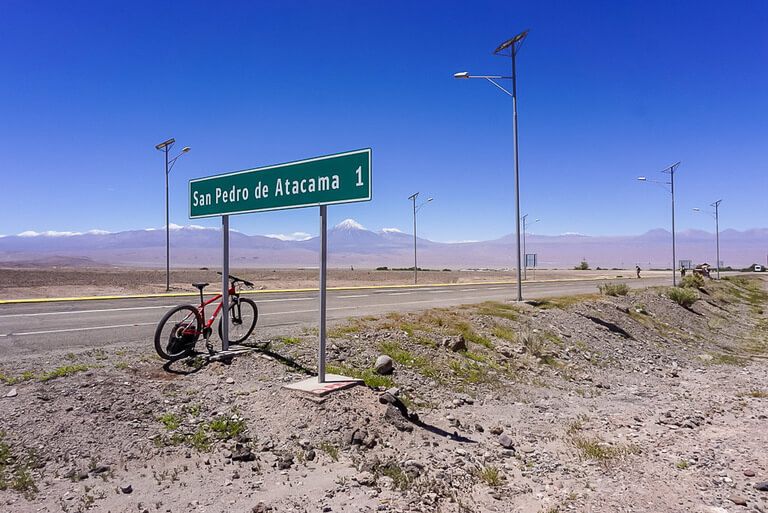 One of the more popular ways to visit the Atacama Desert is to scrap the idea of a hire car and tours altogether. By hiring a camper van, not only do you have your own transportation to see the top sites, but you also have accommodation checked off the list.
And let us tell you, accommodation is not cheap in San Pedro. You will be able to explore the region at your own pace and sleep anywhere you want, underneath one of the best night skies in the world. Pretty damn adventurous!
Wicked campers are the most popular in the region. We saw a few but not as many as we expected. You have the option between 2, 3, 4 and 6 seater campervans with Wicked.
However, there is a bit of stick directed at Wicked for sometimes using profane artwork on the exterior of the campers.
Alternatively, you can ask locals or fellow travelers in other parts of South America for independent companies who run smaller camper rental enterprises.
We met a few people in San Pedro who were offered good deals in Santiago. It pays to ask. It also means supporting local businesses, which is always a winner.
Downsides? They are expensive! Be careful with basic entry level campers, they might not have AC (which would be DEFCON 1 level bad) or they could be in shitty repair.
No one wants to break down in the middle of the driest desert in the world, do they? Think about comfort, do you think you can cope with the heat of day and cold of night for 4 or 5 days?
Honestly. Where will you shower? We toyed with the idea but ultimately plumped for the comfort of a hotel room with AC and bathroom.
San Pedro De Atacama Without Vehicle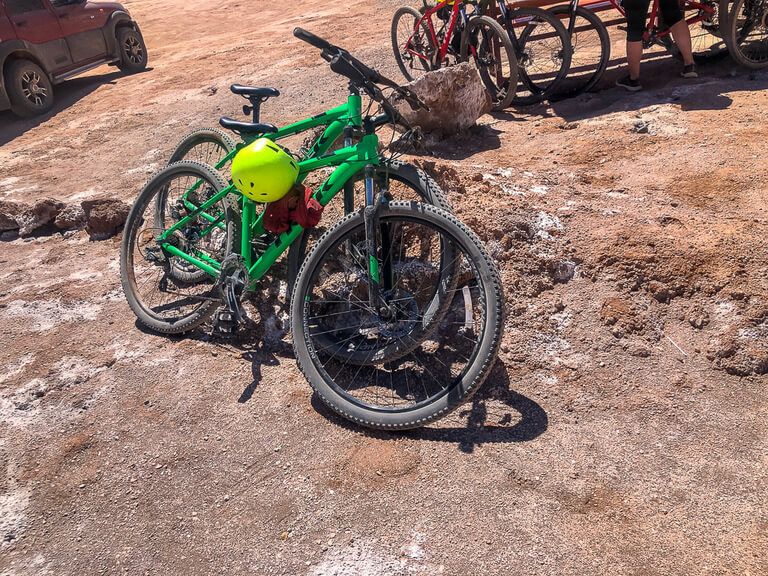 Your third option is to book tours and use the power of your legs. We ended up doing it this way because we were too late trying to rent a hire car and the price was exorbitant.
We also were lucky that we met a great couple at our hotel and toured around in their hire car with them (Hi Sam and Anthony!).
By going this route, you'll need to jump on the bus from Calama Airport to San Pedro. It's 12,000 CLP (US$ 15) one way or if you intend to go back to Calama Airport after San Pedro, they have a return for 20,000 CLP (US$ 25) both ways.
Think about which places you really want to visit in the area and try to be a little organized if possible to make the most of your time.
We were wrecked after hiking in Patagonia for 2 weeks so we dropped the ball a bit, which is very rare for us. San Pedro is expensive. Don't waste money by being unorganized like we were.
Here's one way of looking at things: If you drop US$ 300 on a hire car or (a lot) more on camper, you will feel like you need to make the most of that money, right?
So, you'll be running around on a crazy ticking off spree.
By scrapping the expensive vehicle, you can take it a bit easier and cover all the sites properly. If you would be happier just chilling and jumping on a few tours, this is your option.
San Pedro de Atacama Tours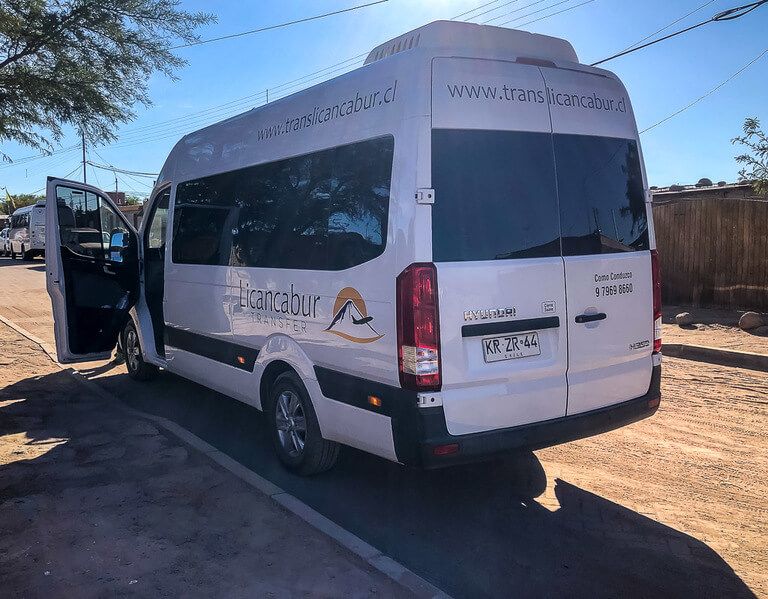 The drawback with this option is you are bound by tour times and schedules. Before you arrive, accept that you will have to book some tours.
As a result, it will make parting with your cash easier (and less begrudging)!
It's impossible to successfully tick off every place on your San Pedro de Atacama itinerary without booking tours if you don't hire a vehicle. There are only a few attractions within cycling distance.
As part of our San Pedro de Atacama itineraries, we will make suggestions for tours that you should consider. You can either book ahead or book when you arrive in town.
Honestly, there's not much difference and it's completely pot luck how a tour turns out.
You could end up with a conscientious responsible driver with other awesome tourists on board. Alternatively, you could look for hours at reviews, pick the best looking one, inevitably pay more and then have a tour from hell.
It's pot luck. Unfortunately, we have experienced both here.
It might feel like we're coming in hot with tours on this itinerary, but they are included for your benefit. Use the tours that we suggest for information. Look through the schedule they provide.
You don't have to book any of them but at least use them to piece together an itinerary for your trip. Our suggested itineraries are suggestions only, but also use them as guides to help build around your preferences.
How Many Days In San Pedro De Atacama?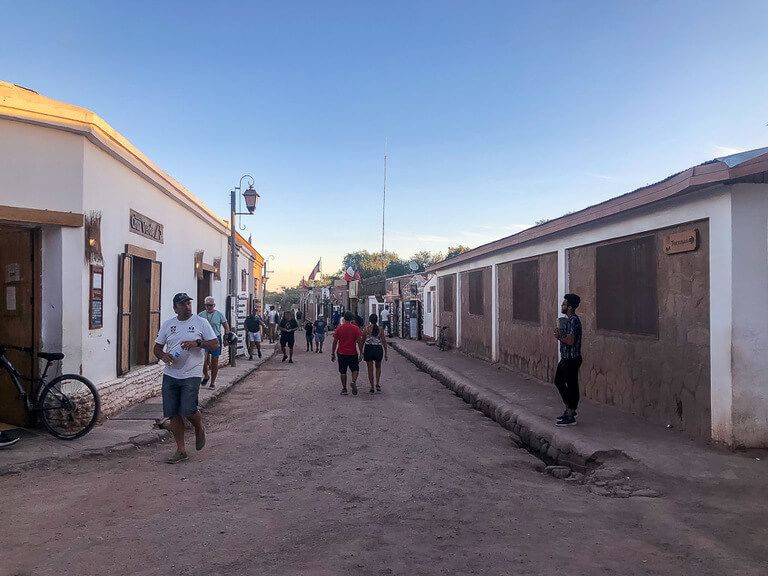 This is a good question with a whole host of answers. It depends on factors such as your budget, how much you want to see, whether you intend to go on a Bolivia salt flats tour (or already have) and whether you have a vehicle.
Taking all things into consideration, we would suggest 3 full days as the optimal amount of time to spend in San Pedro.
Why? Because attractions, accommodation and food are expensive.
Like, almost Patagonia level expensive. We couldn't believe how much of our budget San Pedro crushed. Therefore, the longer you stay, the more money you subtract from your budget.
If you have a vehicle, you can get busy as a bee and nail most of the attractions in 3 days.
Seeing the sites with tours means you'll miss a few things in 3 days, so if you're desperate to see everything, it might be worth stretching to 4 days.
However, if you've already been on (or plan to go on) a Bolivia salt flats tour, you will see / have seen similar salt flats and Altiplanic landscapes (not exactly the same, San Pedro has some unique vistas).
That's not to take anything away from the Atacama, it's just something to bear in mind for those on a budget.
Two days isn't nearly enough time to see much in the area. Only the super efficient people who can function with little sleep would have a chance making it worth the visit.
Spreading your visit to 5 days means you'd get to see more plus slow down and enjoy being in the desert, without being on a ticking off mission. But you'd need a hefty wallet depth.
In addition to the itineraries below we have written a separate article simply to discuss each fantastic thing you can do in the Atacama Desert in far greater detail. Be sure to check out our 20 Best Things To Do In San Pedro De Atacama article.
San Pedro De Atacama Town
What can you expect from the epicenter of activity in the desert? Well, don't expect a stereotypical oasis. San Pedro is far from lush green trees encircling a turquoise pool, surrounded by silky smooth and golden sand dunes.
You will find a once ancient town filled with Atacamenos, transformed to a modern day tourist-centric theme park. It has the feel of Interlaken in Switzerland, except you're surrounded by sand and dust instead of trees and snow.
What do we mean?
Both towns are saturated with an eclectic mix of international tourists who will only be in town for a few days before moving on.
San Pedro's town is based around one Main Street, Caracoles. The terrain is quite rocky, which means the roads are made from mud. The white, dusty, one story buildings often turn to orange and brown as the dust is kicked up by cars and bikes.
You will be amazed by how many tour agencies are on Caracoles. More than your country has names in its phone book.
So why the popularity?
Because visually stunning Altiplanic Lagoons, Salt Flats and Geyser fields all within a short drive of the hub that is San Pedro. Moreover, the town is flanked to the East by towering snow capped volcanoes.
And despite the hordes of tourists, San Pedro has managed to retain some of its charm. There are hidden gems if you look hard enough. An example is Emporio Andino empanada cafe, the best empanadas in South America.
San Pedro's major drawback? It will burn a deep hole in your pants. A very big hole.
Accommodation In San Pedro De Atacama
Budget
On a tight budget? It's tough to find cheap places in San Pedro but here are a few of the lower priced hotels, with private bathroom!
Mid Range
Prefer more comfort without breaking the bank? Here's some of the best mid range hotels in town.
Luxury
Here are the most luxurious hotels in San Pedro de Atacama. Enjoy!
Where Did We Stay?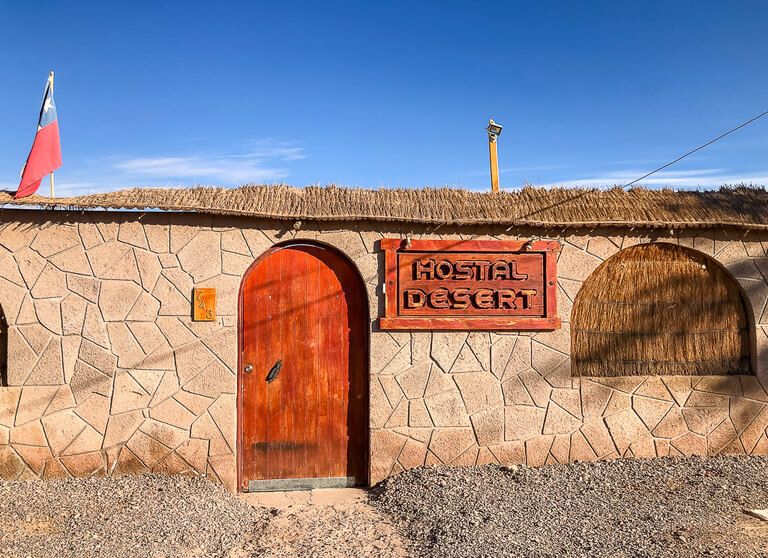 We stayed at Hostal Desert. Like all accommodation in San Pedro, it was expensive!
We were backpacking South America for a few months and couldn't believe how much money we spent here.
The hotel was great, nice bed and private bathroom. It had a lovely outdoor patio / courtyard with benches and hammocks to relax on.
They also had a small kitchen with appliances to cook food, and provided breakfast items like eggs, tea and coffee for guests free of charge.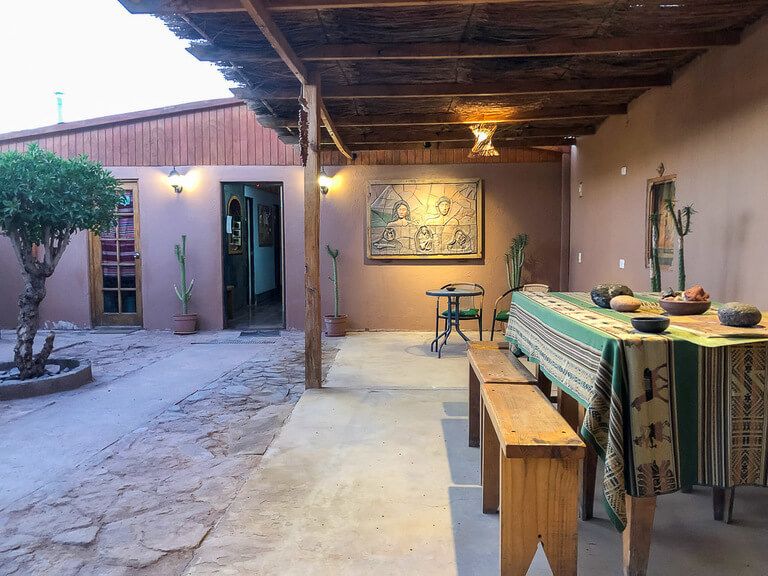 The major downside (other than it not being a luxury hotel with pool & spa!) was that it's a bit of a walk out of town. It probably took us 10 minutes to walk to the East of Caracoles Street.
For a town the size of San Pedro, we found that quite frustrating. Other than that, our stay was brilliant. We booked late and this was the best place we could find with private bathroom along with an 8.8 / 10 rating on booking.com.
Book your stay at Hostal Desert
San Pedro de Atacama Itinerary

With

Hire Car / Camper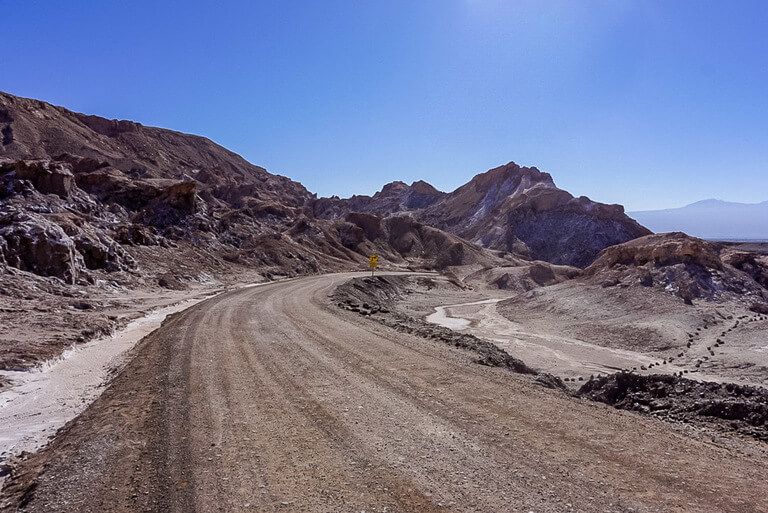 The major benefit to having your own vehicle means you can set off and return when you want. The following is a suggested 3 day itinerary and assumes that you have arrived from Patagonia/Santiago.
Heading straight up into the Altiplano wouldn't be a good idea, give yourself a few days to acclimatize. That's why we will begin the itinerary around San Pedro de Atacama (and at similar altitudes).
Day 1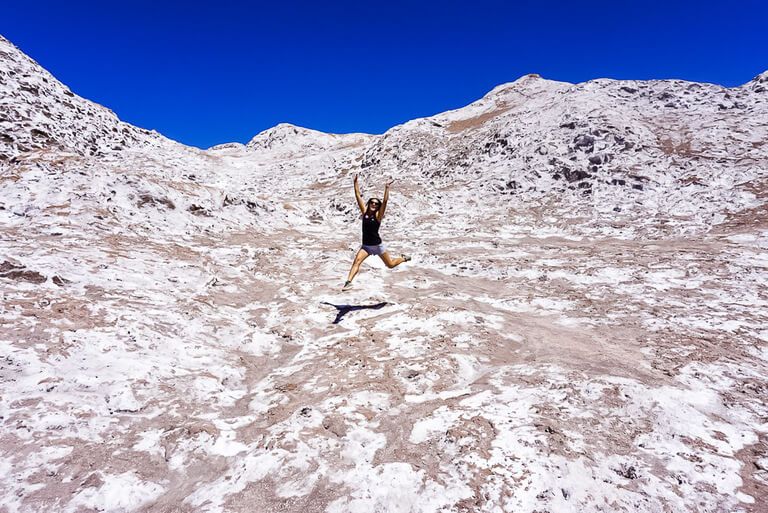 Morning
Ready to start your San Pedro de Atacama itinerary? Let's go! Get an early start, grab a quick breakfast, and be on your way. Drive 1 hour South to Salar de Atacama and Laguna Chaxa.
The early bird catches the worm, right? Wrong. The early bird catches burnt orange hues illuminating the sky over mesmerizing volcanoes and Andes mountain peaks to the East. You'll have clear views with no obstacles. Wow!
But, you're not just there for sunrise. Early morning is the best time to see the various species of Flamingo at Laguna Chaxa feeding on small sea monkeys (shrimp) which gives them their pink color.
Spend some time walking around the area enjoying the views over the Salar before heading back towards San Pedro, taking a left shortly after Los Pantanos.
This will lead you to Lagunas Tebinquiche, Cejar and Baltinache. If you're not planning to do the Bolivia Salt flats AND the ground is completely dry, make the extra effort to reach Tebinquiche.
You'll get chance to see those famous salty hexagons. Otherwise choose between Lagunas Cejar and Baltinache to go for a dip! Cejar is more expensive and will be busier so we would recommend Baltinache.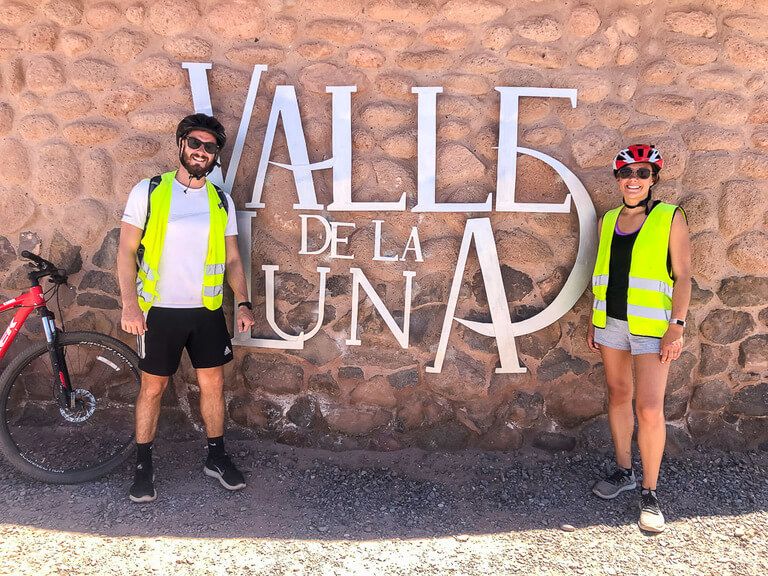 Afternoon / Evening
When you've finished floating in the (extremely) salty water, wash off thoroughly (otherwise you'll turn into a piece of cardboard!) and head back to San Pedro town for a bit of admin.
Pick up an empanada or 10 at Emporio Andino (first building on the West of Caracoles Street) and refresh with a fruit smoothie. Next, make your way East along Caracoles to the Sandboard hire place.
Stick a few of those in the car/camper – they're for Day 2, but you'll have an early start in the morning. One last thing while in town, book your stargazing tour for Day 2 at SPACE (all the way to the East of Caracoles).
It's time to take one small step for man, one giant leap for mankind at Valle de la Luna. Now, even though you do have a vehicle, we would recommend you hire a mountain bike for 6 hours (we rented from Los Alpes, 6 hours for 3,000 CLP / US$4).
It will take you 6 hours to ride in, explore the area, have your mind blown by the landscape, watch one of the best sunsets you'll ever see and then ride back to town.
Not up for cycling? No problem!
Drive over, explore, watch the sunset and head back to town. That's the end of Day 1, time for dinner.
Day 2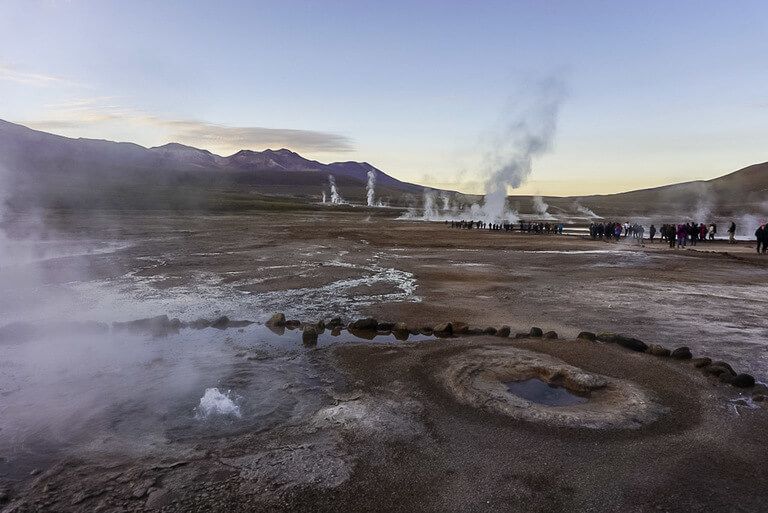 Morning
If you found the early start yesterday tough, today won't be much better! You're making your way up to see the sun rising across the third largest geyser field in the world. It's a 50 mile (80km) drive and will take you around 1h 30m to 1h 45m.
Check sunrise times the night before and set off at least 2 hours before that time. Why 2 hours? Because it's pitch black, the roads are windy and are little more than dirt tracks at times. You also need time to pay at the entrance before making your way onto the geyser field.
Download the route to your phone before you set off. The service isn't great. However, it's hard to get lost, just follow the B-245 (and the tour buses!). Check sunrise times throughout the year.
Make sure you take some extra warm layers, it will be cold up at 4,200m (13,800 feet)! Plus don't forget to drink plenty of water to combat the effects of altitude sickness.
It's worth sticking around for a few hours on the geyser field, wait for the sun to rise fully and warm up. When you're ready to leave, it's time to warm up properly!
Drive slowly back the same way, take in the scenery (it's amazing what you miss when you drive in the darkness!) and when you get to Guatin, take a left turn that's almost like doing a U turn.
The road here gets pretty sketchy so drive slowly and carefully. After about 3.5 miles (6km) you will reach the car park for Termas de Puritama.
Spend the rest of the morning relaxing in 8 Atacama thermal pools of varying temperatures. There are changing rooms on site so don't forget your swimsuits! Find the first pool with a little waterfall, it's the best spot.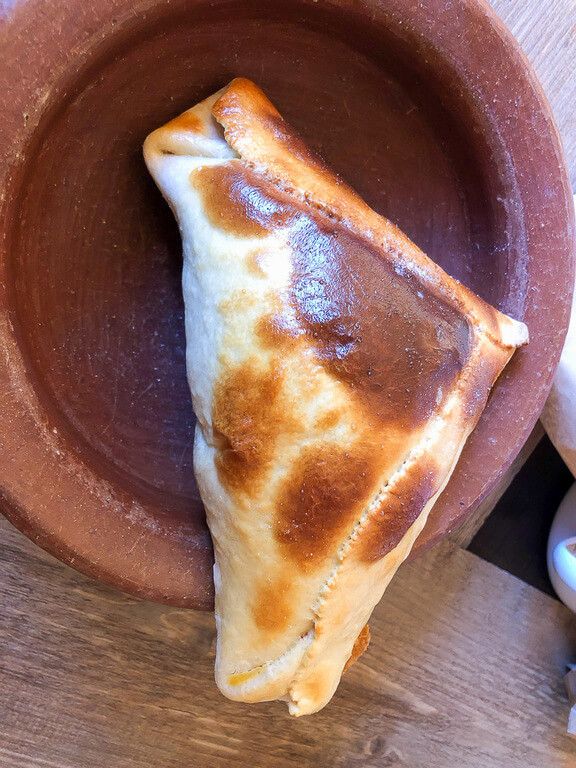 Afternoon / Evening
Replenished and ready for more Day 2 action? Drive back to town, grab lunch (we challenge you not to go back for more empanadas!), then take road 23 West as though heading back to Calama and turn right at B-207.
Half an hour later you will arrive at Valle del Arcoiris, or rainbow valley. There a few hikes here taking you around the display of unusual colors in the rock and ground.
A few miles South you will reach Yerbas Buenas petroglyphs. Reviews of the petroglyphs are fantastic as they are spread over quite a large area and feature a range of animals.
Drive back to towards San Pedro but stop at Valle de la Marte just before town. It's time to put those sandboards to good use (you could go into town to hire them now rather than pay for the extra day, just a bit less convenient).
Walk around Mars Valley, enjoy the colors of the red rocks as the sun becomes low in the sky … and then crush some dune boarding!
If sand boarding is not your cup of tea, quickly walk around Mars Valley (it won't take long) and drive a short distance to Pukara de Quitor for some education and culture.
Grab an early dinner and meet for your stargazing tour on the corner of Caracoles and Ignacio Carrera Pinto. The tour was one of our favorite parts of visiting the Atacama.
You'll see the stars like you've never seen them before (and learn all about the universe!).
Day 3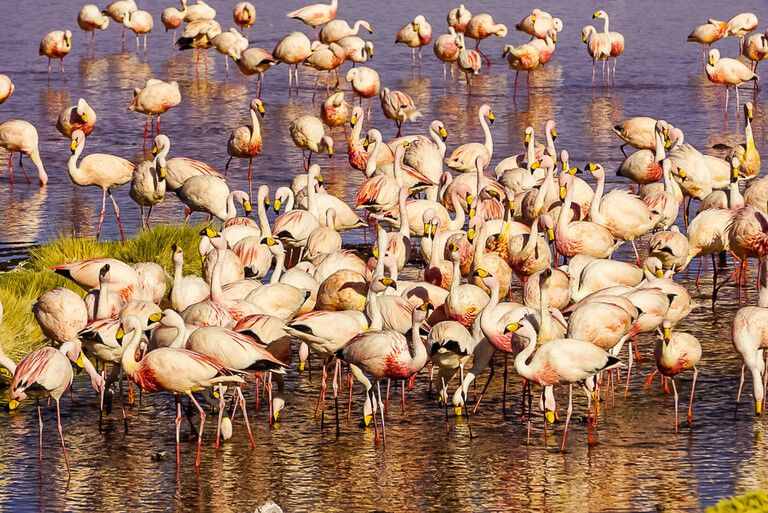 Morning
You're entitled to a sleep in on Day 3. But you're not getting one! You have a 2h 45m drive to get on with! It's going to be another long day. Take road 23 South and don't stop until you reach Piedras Rojas, which is the gateway to Salar de Talar.
Although you can no longer go on the red rocks, it's still worth taking the trip to see the salt flat surrounded by volcanoes at 4,000m (13,000 feet). The colors on the salt flats and surrounding geological formations are special.
A little further on is Laguna Tuyajto, which not many tours go to. It could be a good place to escape the crowds and watch Flamingoes again.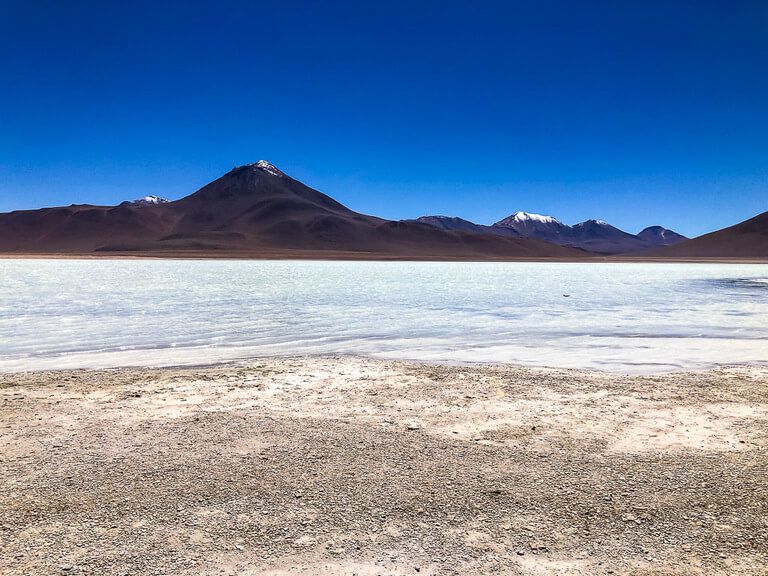 Afternoon / Evening
Start back up 23 North, this time stopping off at the stunning Altiplanic Lagunas Miscanti and Miniques. This is another awe inspiring landscape that fools you into thinking you must be looking at a giant screen with a science fiction movie showing.
This is the last stop on your San Pedro de Atacama itinerary. The drive back should only take an hour, but you'll be exhausted!
Remember these Lagunas are really high and you'll need to take precautions against altitude sickness. It would be a shame to drive all the way up and have to leave early.
An alternative to this day would be to head East on road 27 instead. This will take you to Salar de Tara / Aguas Calientes, which is equally as beautiful as the other places on Day 3.
Research both places before you head out to see which looks more up your street.
San Pedro De Atacama Itinerary

Without

Hire Car / Camper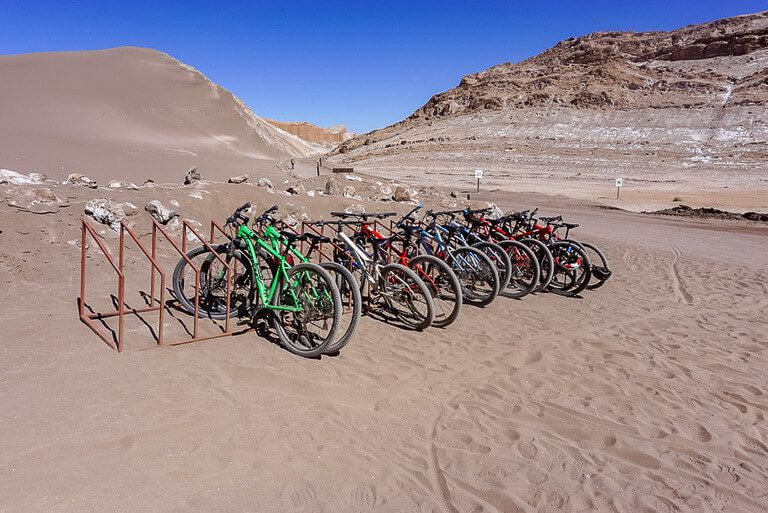 Okay, so what if you don't want to hire a car? It is expensive after all. And maybe you prefer to be selective about exactly what you want to do.
As we mentioned, when you've dropped US$300 on a car for 3 days, you will push yourself to get the most out of your money and that can be exhausting.
Well, you can relax. Only pay for the tours you really want to go on. The downside is that there's not much you can do without taking a tour, unless you meet some awesome people who have a car, like we did!
Take your budget into consideration. San Pedro is one of the most expensive places you will visit in South America. It won't always be this expensive.
If you're concerned about blowing your budget on paying for tours, we suggest you spend fewer days in town but go on more tours with the money you will save. Accommodation and food are expensive, while tour prices are pretty good value.
Here's an example of what you can do in 3 full days around San Pedro.
Remember we will be firing tour suggestions at you, use them for information to sculpt your own San Pedro de Atacama itinerary. You can book none, just a few, or all of them depending on your budget and what you hope to see!
If you're an active and adventurous traveler who likes to keep fit when traveling, hire a bike and cycle around the Valley of the Moon! Check out our extensive guide Valle de la Luna: Orbit by Apollo Mountain Bike!
Day 1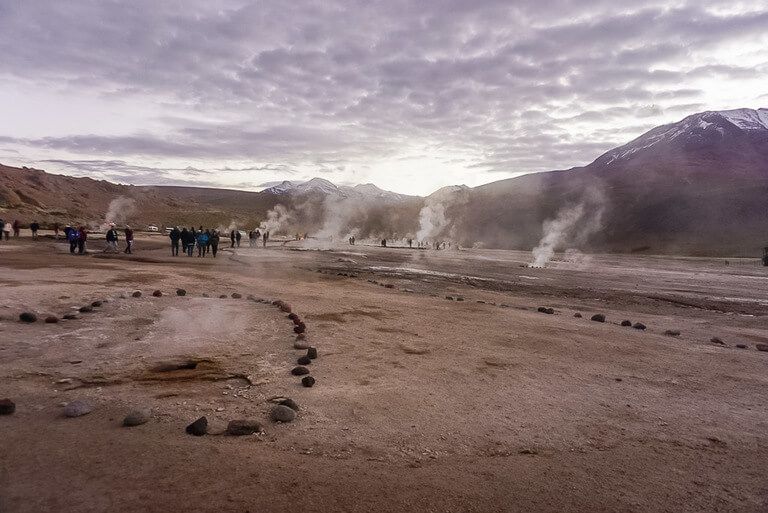 Morning
Rise and shine for a 4.30am pick up! Take the early tour up to El Tatio Geyser field. This would obviously need to be booked in advance online (or in San Pedro if you arrive the night before).
The tour will only cost around US$ 20-25. Keep in mind, you will still have to pay the 10,000 CLP (US$12) entrance fee. In truth, $20 to be picked up from your hotel and dropped back in town is pretty good value.
It saves you driving the hour and a half plus the time back. You'll also see the roads aren't in the best shape.
This 7 hour tour includes hotel pick up and drop off, swimming in a thermal lake on the geyser field, flamingo spotting in a lagoon, a bonus waterfall hike and most importantly – breakfast!
This is the perfect alternative to hiring a car and driving the 2,000m altitude gain. But it means heading up into altitude sickness territory on Day 1. Drink plenty of water and chew on the coca leaves!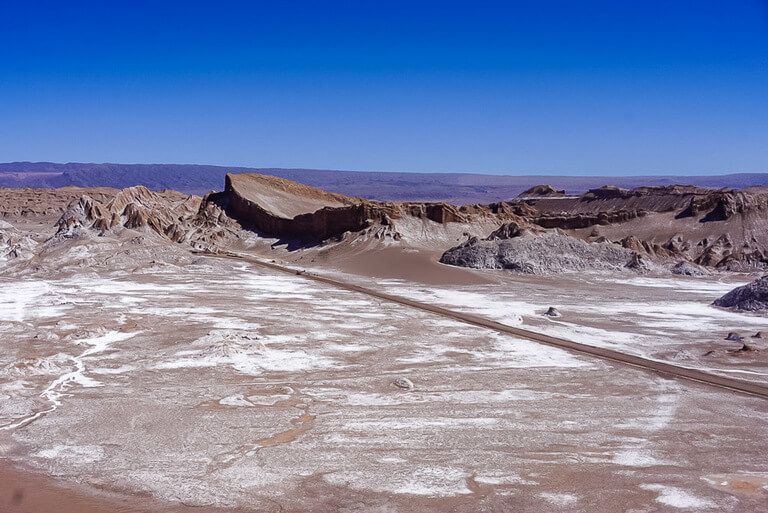 Afternoon / Evening
Once you arrive back to San Pedro, treat yourself to a visit to Emporio Andino and the best empanadas this side of the Sun. Don't worry, you can burn the calories straight off by hiring a mountain bike and cycling over to Valle de la Luna.
You won't have trouble finding bike hire, just make sure you try the bike out first. Check the gears and brakes, listen to the chain. If it it squeaking? Be sure to get another bike!
This is one of the only things you'll be able to do by yourself without a tour. The journey is hard but damn, is it worth the effort.
If you're not a huge fan of that idea (it's probably scorching hot!), go ahead and book this tour to Valle de la Luna for the evening. You'll spend time inside a salt cave (in fairly tight spaces!) and see an old disused mine.
The tour will leave San Pedro around 3pm. Any guesses for the hyped about crescendo here? Watching the sunset atop Duna Mayor.
Views from the top are extraordinary, you just can't miss it. If you're only going to book one tour, make it Valle de la Luna. It's easy to get to and won't cost you an arm and a leg.
Day 2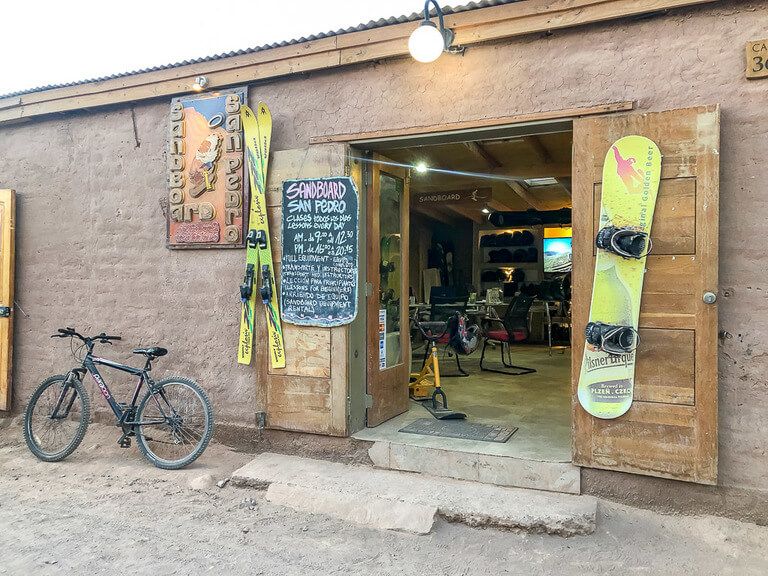 Morning
Day 2 depends on your budget and your interests.
Option 1
Have a more relaxing and budget friendly day. Pick up a Sandboard in town, hire a bike again for 6 hours at 3,000 CLP and cycle over to Valle de la Marte.
You can slide the Sandboard between your backpack straps. You can even walk to Mars Valley in 30 minutes.
Option 2
For the travelers who have FOMO (fear of missing out) like us, your best bet is to take this tour for 7 hours which includes the postcard perfect Altiplanic Lagunas Miscanti and Miniques, Salar de Atacama and Laguna Chaxa.
It does not include Salar de Talar (where the red rocks are – but they were closed at the time of writing) and could (it will be tight) get you back for an afternoon tour.
Option 3
However, if you'd prefer to just book one huge day tour with no worries of missing the afternoon tour, book one leaving early and lasting most of the day.
A 10 hour tour like this one includes the all of the sites on the 7 hour tour, but also includes Salar de Talar (red rocks). Loads ticked off in one hit.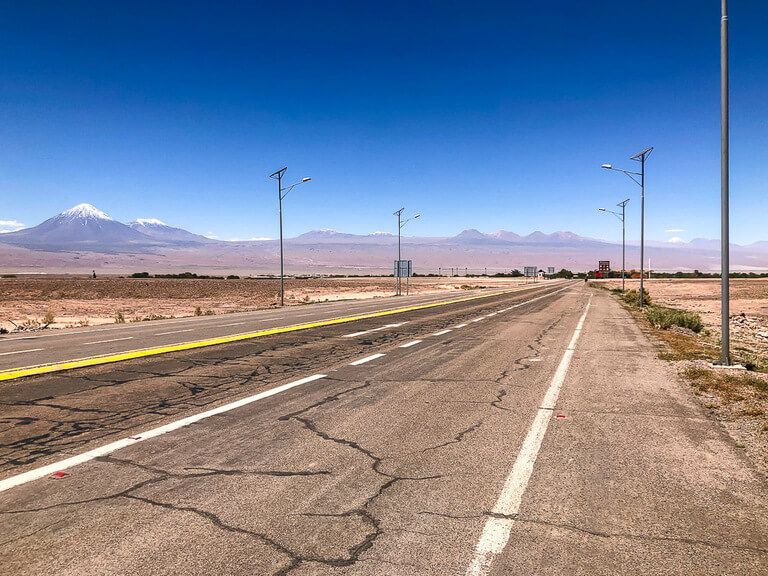 Afternoon / Evening
Option 1
After a chilled and cheap morning, jump on a tour to Lagunas Cejar and Tebinquiche leaving at 2.30pm and lasting 5 hours. The tour takes you to Laguna Cejar, where you float in salt water (be warned, it's cold!).
Your surroundings?
Flat desert land and native vegetation, leading to salt plains then eventually mountains and volcanoes on the horizon. These special views will add even more relaxation to your already relaxed mind as you float about.
You will then be taken 30 minutes further South to Tebinquiche where you will watch bright pink Flamingos feeding in the evening, just in time for one of the best sunsets in the Atacama.
Option 2
If you book the 7 hour Salar and Altiplanic Lagunas tour, your day isn't over yet. You should be back in time to quickly transition onto the Lagunas Cejar and Tebinquiche tour leaving in the afternoon.
Mention that you want to do morning and afternoon tours on the same day when booking. Others will be doing more than one tour a day too.
Option 3
After a 10 tour you'll be wrecked and you've missed the afternoon tours. If you have the energy, this would be the perfect time to hit the sand dunes with a board at Mars Valley. But leave enough time for an early dinner.
However you decide to spend your day, you have some of the best stargazing in the world to attend to tonight. Book at SPACE on Caracoles, or if you'd like to book in advance onto a different stargazing tour, consider this one.
We can't recommend a stargazing tour enough, whichever you do will be fantastic. The sky is unbelievably clear here. The Milky Way looks like someone has just etch-a-sketched it into the sky.
Day 3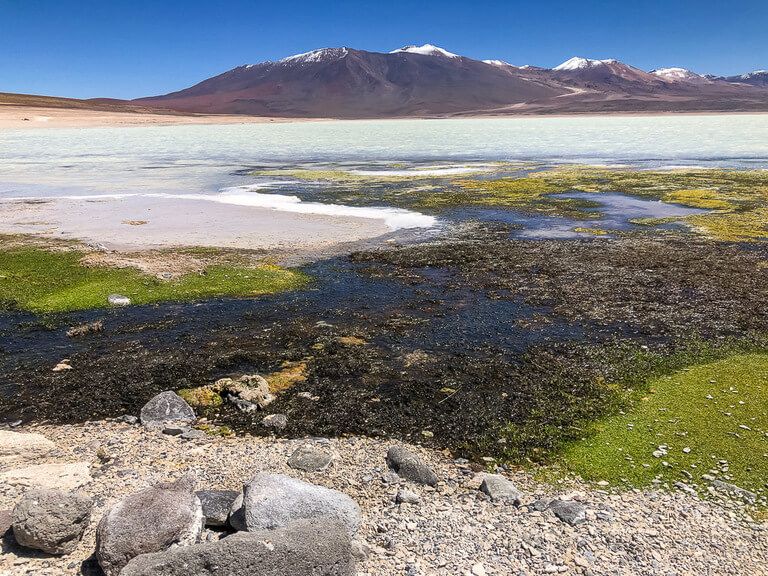 Morning
Go out with a bang on your last day in San Pedro by booking this tour to picturesque Salar de Tara. The tour includes hotel pick up around 7am and lasts a total of 8.5 hours. Salar de Tara is one of the more beautiful landscapes in the whole region.
The salt flat is encircled by towering volcanoes and Andes mountain peaks. If you stay long enough you will see the colors of the mountains and salt flats change as the position of the Sun moves from East to West.
If another long day touring doesn't sound like much fun, an alternative is to go on this tour to Rainbow Valley and the Yerbas Buenas petroglyphs.
The tour only lasts 3.5 hours and leaves San Pedro around 8am so you get a bit more of a sleep in. By taking this option, you leave your afternoon available.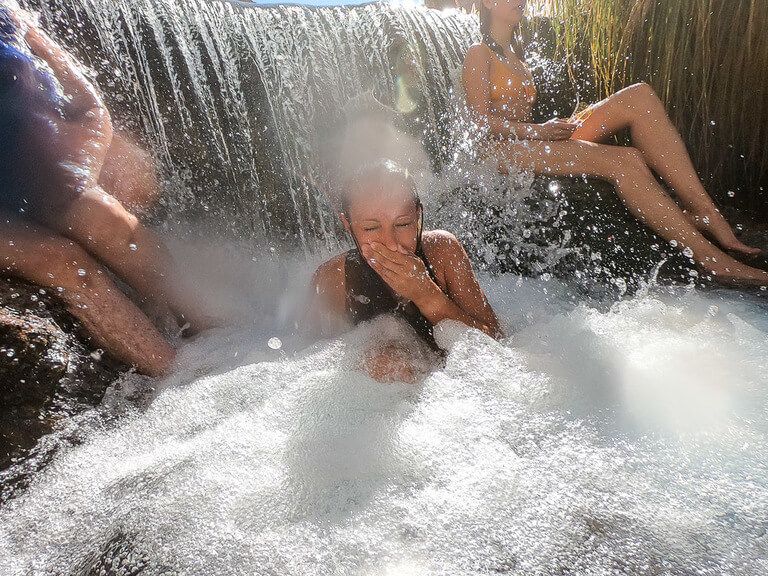 Afternoon / Evening
If you took the Salar de Tara tour, you won't be back to San Pedro until late afternoon / early evening. We can rule out any more activities for Day 3. To be honest, you'll be all toured out by now anyway.
But if you decided to see rainbow valley and the petroglyphs instead, you have options for the afternoon. You could make the Lagunas Cejar and Tebinquiche tour if you haven't already and don't want to miss floating on salt water.
Or you could book onto the afternoon slot for the Puritama hot springs tour. Much like the geysers, this one is just transport and doesn't include entrance fee of 15,000 CLP (US$ 19).
Although a little pricey, we really enjoyed the hot springs. It's quite a surreal feeling to be in hot springs on a hot day in the driest desert (non-polar) in the world, but still be freezing cold when moving between the 8 pools. It's the damn wind!
Alternatives For Your San Pedro de Atacama Itinerary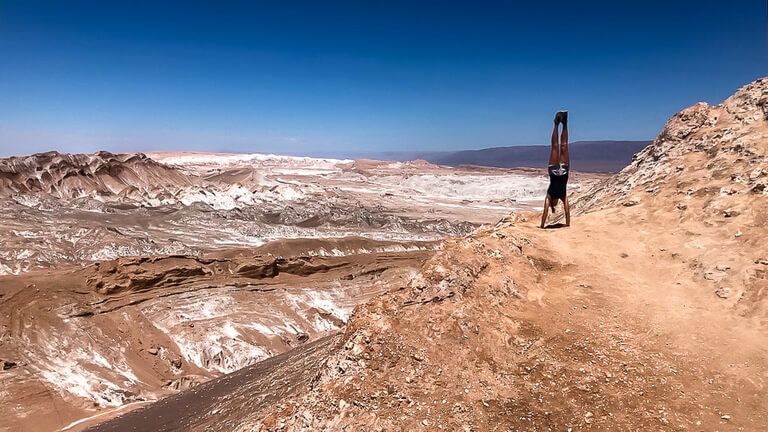 We've made the itineraries as logical and efficient as possible. But you might not like the order, or maybe you prefer to do all of your top places first to guarantee you don't miss out. That's fine!
There are plenty of other activities to consider on a San Pedro de Atacama itinerary.
We didn't include taking a hot air balloon ride over the Atacama Desert. You could add this into your itinerary for one of your mornings in place of what we listed above.
The balloon launches before sunrise so you get an incredible spectacle when the sun eventually rises to the East over the Andes.
Are you a big fan of astrology? Or do you just have more interest than the average person about the stars in the sky? If you are in town on a Saturday or Sunday morning, you could book yourself onto a FREE tour of ALMA observatory.
This is where the largest radio telescope in the world scans our Universe for forming stars and the birth of new planets. How. Cool. Is. That. And it's free!
Read More About Chile …
---
And that's the perfect San Pedro de Atacama itinerary!
Did you visit San Pedro de Atacama? Which itinerary did you go for?
If you need any help planning your trip to San Pedro de Atacama or Chile, please just let us know in the comments below.
Happy Travels,
Mark and Kristen
Like This Post? Pin It For Later!
Note: This article contains affiliate links. When you make a purchase using one of these affiliate links, we may earn a small commission at no extra cost to you.
All Rights Reserved © Where Are Those Morgans, LLC. Republishing this article and/or any of its contents (text, photography, maps, graphics, etc.) in whole or in part is strictly prohibited.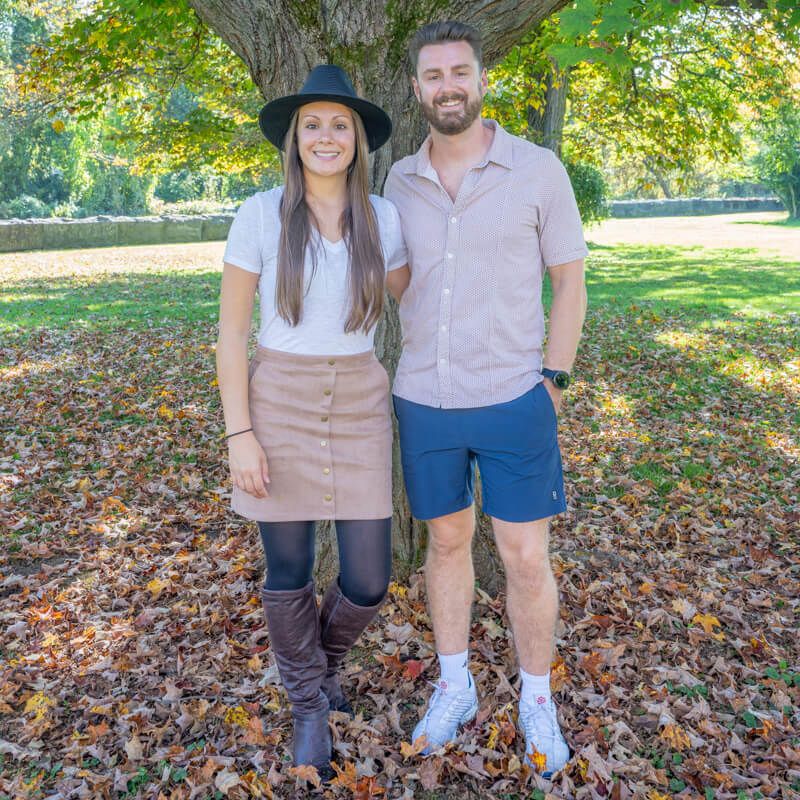 Mark and Kristen Morgan are travel, hiking and photography experts. Over the last 6 years traveling full time, they have explored more than 40 countries and 30 US states.
Their work has been featured in USA Today, Gestalten, Get Your Guide, CityPASS and Condé Nast Traveler along with various other publications.