Paris. The city of light. Famous for romance, arrogance, fashion and food – Paris is one of the most visited cities in the world (in 2017 it was third only to Bangkok and London) and it's not difficult to see why.
Spectacular architecture, world class museums and an array of Michelin star restaurants are at the heart of Paris' tourist epicenter. Here we want to share our 2 days in Paris itinerary to give you some ideas to throw into your own itinerary.
Paris sailed onto our shortlist for favorite European cities. We only spent 2 days there ourselves so this itinerary is tried and tested, we were tired by the end but it was well worth it. We unquestionably will return!
This itinerary is perfect for a first time visitor or return visitor on a low to mid range budget, looking for a guide to spending 2 days in Paris and hitting most of the main sights.
We've included a comfortable amount to cover in 2 days, with extras added for those who are quicker. We'd recommend walking as much as possible in Paris to fully appreciate the astounding architecture.
At the end we'll briefly touch on the Paris Pass and a few essentials for visiting the city.
Use our guide for inspiration to build your own itinerary for 2 days in Paris and have a great trip to France!
2 Days In Paris Itinerary
Day 1
1. Typical Parisian Breakfast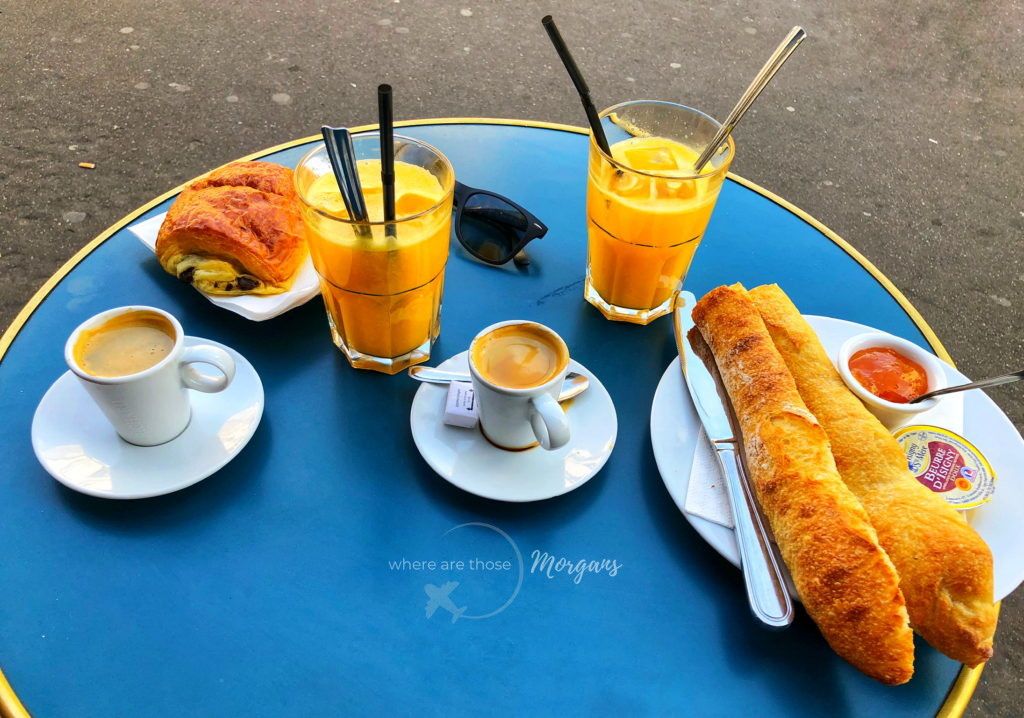 Let's start the right way. You'll need plenty of energy for the day ahead, no time for being hangry!
Paris has a big cafe culture scene and we're confident you'll find a nice spot close to your hotel. Now that we are full on bread and coffee, lets start burning off some of those calories.
2. Cathedral Notre-Dame De Paris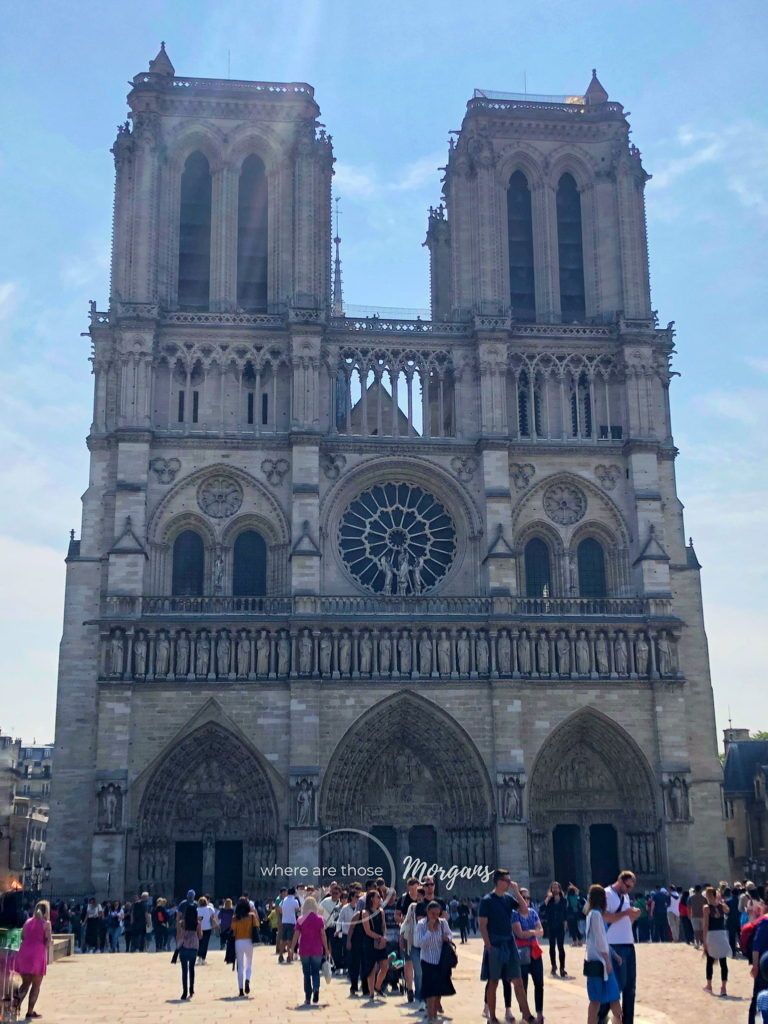 The first attraction on the list for 2 days in Paris is the Cathedrale Notre-Dame De Paris. Arriving early is highly recommended. Having enjoyed breakfast (and people watching) for slightly too long, once we made it to Notre Dame the line was never ending.
A portion of it's fame came from Victor Hugo's novel 'The Hunchback of Notre Dame'. It's real fame however, is down to it being among the finest examples of French Gothic architecture. Even if you don't make it inside, it's definitely worth going to see it from the outside.
Entrance: free but to go to the top you'll need to purchase tickets. They can be found here.
Hours: 8.00am – 6.45pm weekdays and 8.00am – 7:45pm weekends.
Paris Pass? Yes, free entry and skip line for the top.
Pro-Tip: If you don't go inside or want to spend more time in the area, just a 6 minute walk away on the opposite side of Ile De La Cite you can find the stunning stained glass windows of Sainte Chapelle church (open at 9.00am). There's also the Place De La Bastille July monument less than 30 mins walk away.
Metro: Saint-Michel Notre Dame
3. World Famous Louvre Art Museum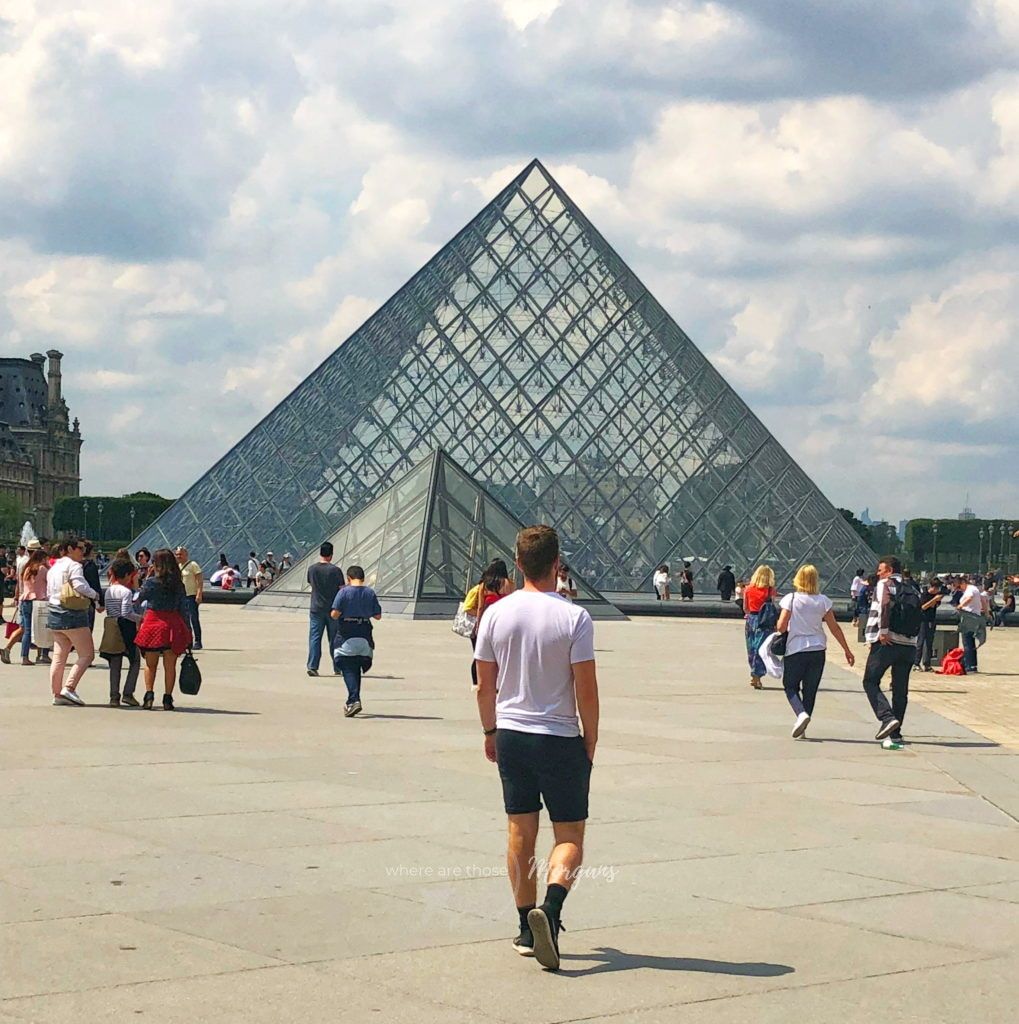 A 15-20 minute walk heading West and over the Ponts Des Arts bridge will lead you to the Louvre.
Established in 1793, the Louvre is the largest art museum in the world. In 2017, it was the world's most visited museum with 8.1 million visitors. The museum is enormous! You could easily spend days inside and we got lost more than once. Some of the major attractions are the Venus de Milo, Winged Victory of Samothrace and of course the piece de resistance, the Mona Lisa.
Try to limit time spent inside to 3 hours if possible; a difficult task but one the rest of your itinerary will be grateful for.
Louvre Information
Did you know? It would take 100 days to see everything in the Louvre if you looked at each item for 30 seconds, all day without a break.
Confession: We were disappointed with the Mona Lisa, we'd recommend you manage your expectations. It's not a huge painting, she's only 77cm x 53 cm. This may sound a reasonable size but when hidden behind walls of excitable tourists, she's nearly impossible to see. Lisa's tucked away in a side gallery, be prepared to have selfie sticks shoved in your face, be pushed out of the way by over enthusiastic tourists and be herded around by security guards.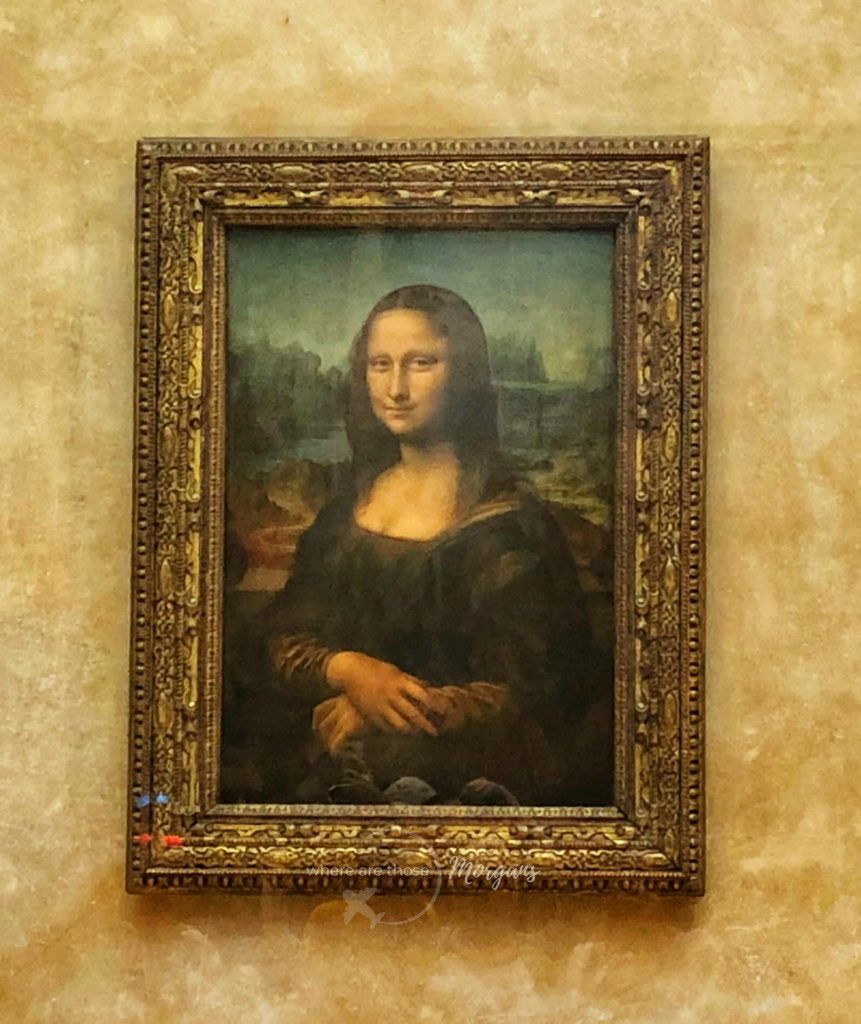 Entrance: 17€ Adult, Free-under 18s, 5€ Audio guides.
Hours: Open daily from 9:00am – 6:00pm. Wednesday & Friday open until 7:45pm, closed Tuesday.
Paris Pass? Yes, includes entrance and skip the line.
Note: The Louvre is free the first Sunday of every month from October to March and on July 14th.
Pro-tip: Book tickets as early as possible for the Louvre (you can pick a specific time slot). You will skip the major line, but there may be a short line for security so plan accordingly. You do not have to print the ticket, an E-ticket will be just fine.
Most descriptions in the Louvre are written in French. Audio guides aren't included in the price of the ticket and need to be purchased separately and again, book these online as early as possible (audio guides were all sold out the day we went). We used Rick Steve's Audio Europe Guide about the Louvre which provided great information and saved us some cash?
You can book your tickets for the Louvre here!
4. Walk Along The Bank Of The River Seine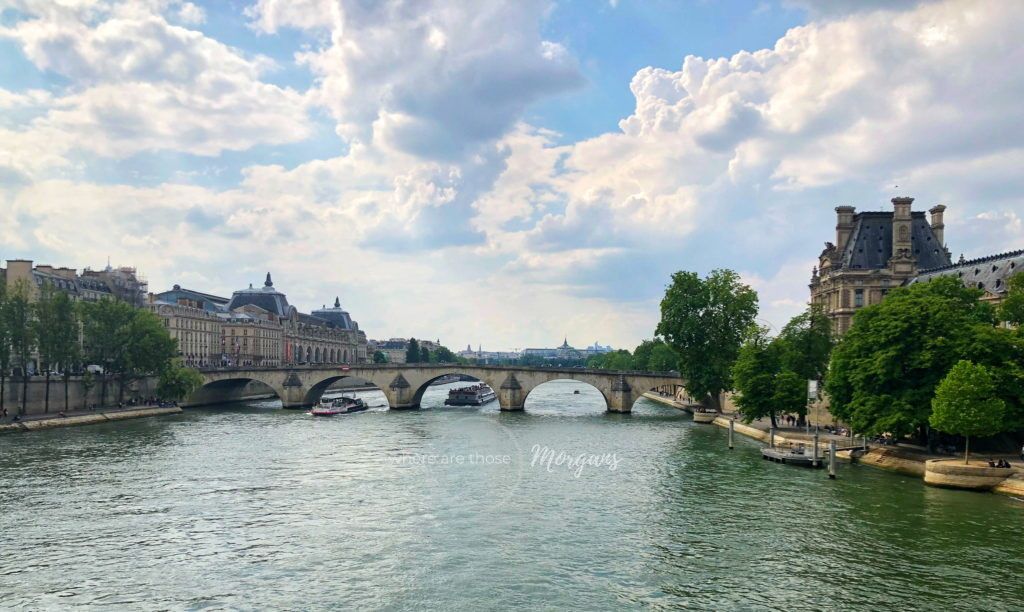 By the time you leave the Louvre it will no doubt be time high time for some sustenance. Luckily for you, you're in Paris and that's where they excel! Find some food (and wine perhaps?!) near the Louvre, heading West close to the river bank. Better yet, grab a french baguette and a bottle of wine to enjoy a picnic down by the river.
Once you've recharged the fuel tanks, take a leisurely stroll down the banks of the Seine, towards the Eiffel Tower. This was one of our favorite aspects of being in Paris.
The architecture is magnificent, walking alongside the river allows you to feast your eyes upon many of the grand buildings of the city while passing landmarks such as the Musee D'Orsay and the Grand Palais.
The best part? It's free and always open!
5. Climb The Eiffel Tower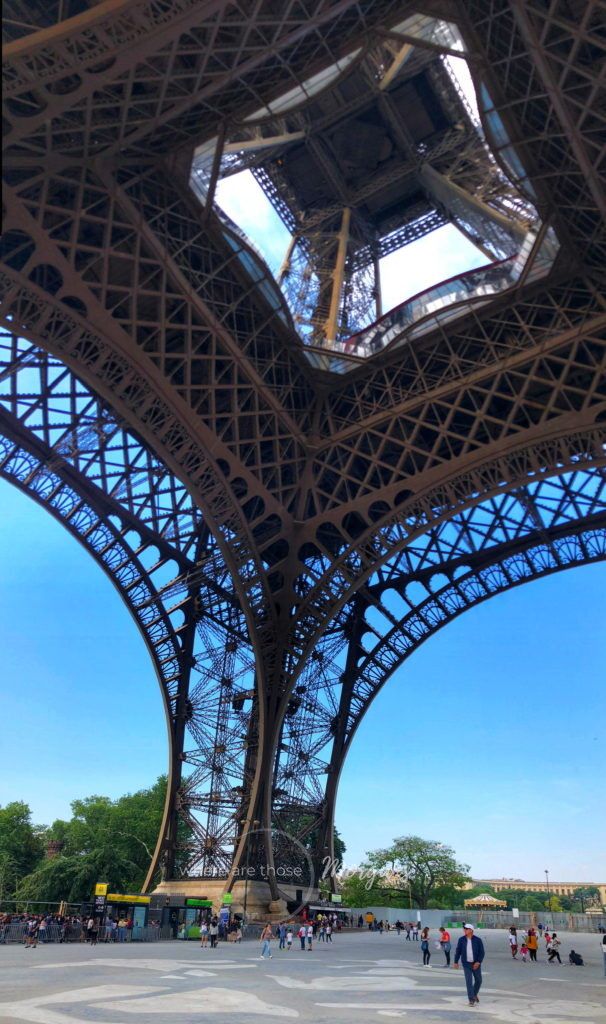 The end of your walk along the riverbank conveniently brings you to the perfect way to end day 1 in Paris. It's iconic centerpiece, the Eiffel Tower.
If it's your first time in Paris you simply have to climb the Eiffel Tower. Even if you've been up before, you're probably planning to go up again. When you think of Paris, the first thing you think of is the Eiffel Tower, right?! The banks of the Seine are the perfect spot for a romantic dinner.
The entrance to the tower is underneath the entire structure. It is a real sight to look up and see the looming steel from below. Whilst ascending the 700 stairs there are information plaques at each floor level to read about the history of the tower and about the man himself, Gustave Eiffel.
Eiffel Tower Information
Entrance: The price differs depending on age as well as the level you want to visit.
Click here to buy tickets from the official website. Note: it is cheaper, but you may have to wait in line.
Alternatively, if you want to get ahead of the game with a skip the line ticket, you can do that here.
Hours: June 21-September 2 9:00am-0:45am. Rest of the year 9:30am-11:45pm lift, 9:30am-6:30pm stairs.
Paris Pass? No, not included.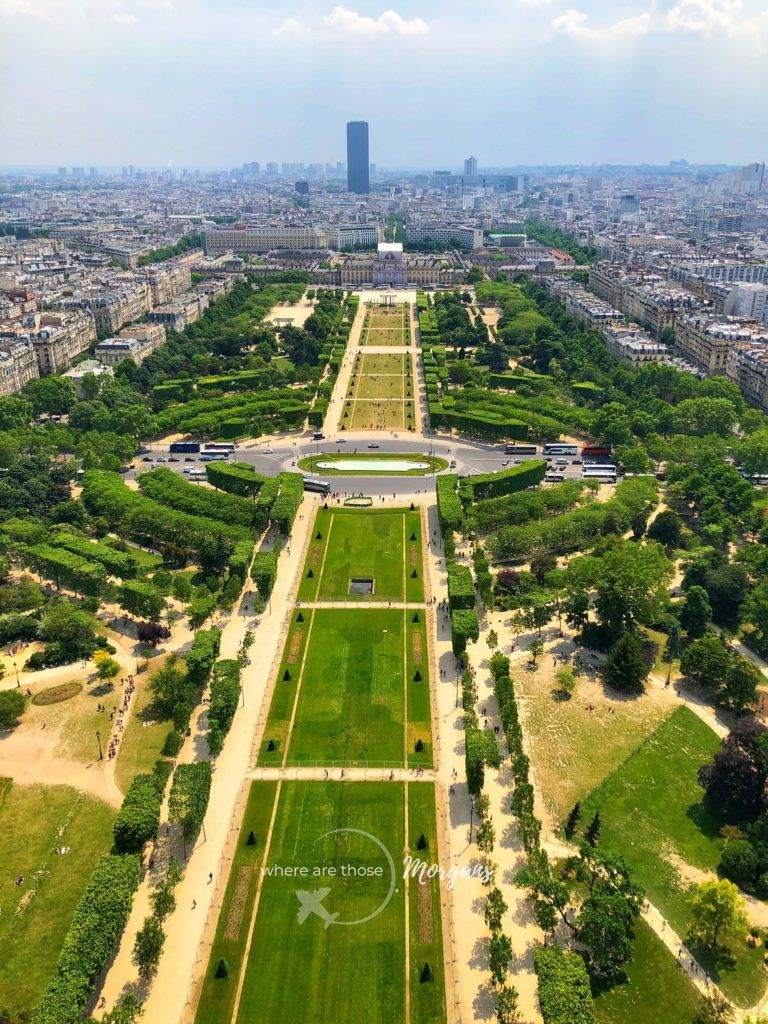 Note: There are second floor views at 116m as well as top floor views at 276m. The top floor can only be reached with a lift. We had read online the second-floor views were better (as in not so high that everything is tiny) so we opted for tickets with stair access to the second floor and were not dissapointed. Adults 10€. For those on a budget, this is the cheapest option and keep in mind children under 4 go free.
Sunset is the busiest period so booking in advance is recommended. For those who have already been up, you may be looking for night time views of the tower lit up from afar instead. Try either Trocadero (just over the river), a rooftop terrace – such as Hotel Raphael or a skyscraper with a view like Tour Montparnasse – which has the highest viewing platform in Paris.
Pro-Tip: The top floor was so busy when we were visiting that they had temporarily suspended access to the top. Be aware of this at busier times of day.
Metro: Closest is Champ de Mars. Also nearby are Bir-Hakeim and Ecole Militaire
Day 2
6. Sacre Coeur
Okay we're onto day 2, hopefully you're not too hungover! After breakfast, head to your local metro station and make your way over to Sacre Coeur Basilica (otherwise known as Basilica of the Sacred Heart of Paris) in the 18th arrondissiment, North West of Gare Du Nord.
The Roman Catholic church is very pleasing on the eye and being located in Montmartre means it doubles as another wonderful viewpoint over Paris.
Unfortunately we never managed to make it to Sacre Coeur as it rained heavily our second morning. It happens and this will be first on our list for next time! We haven't included a picture as we aim to only use our own photos for our website.
Metro: Anvers
7. Shop The Champs-Elysees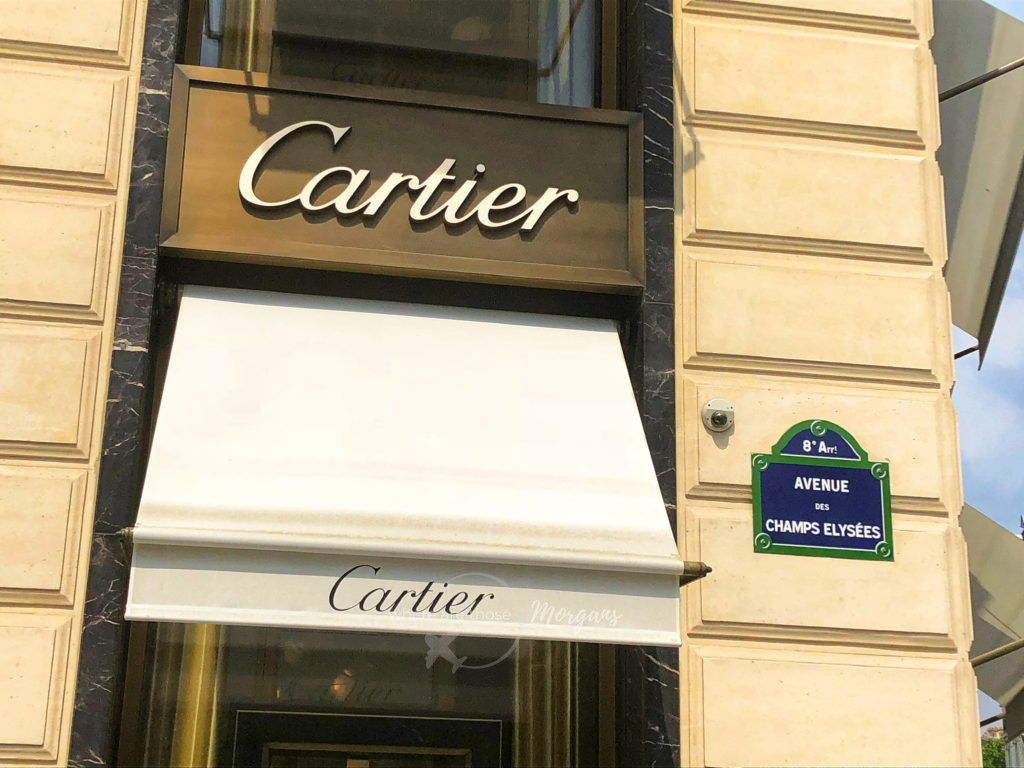 If you have more than 2 days in Paris, enjoy a 45 minute walk to the Champs Elysees, otherwise jump on the metro and save some precious time. On the way continue to marvel at the architecture that makes Paris the magical city it is.
One of the most famous shopping streets in the world, many European cities have a version of their own, but non quite exude the same va va voom!
Although, slightly tourist trap like, this is a good place to grab some lunch and people watch from a restaurant with tables spilling out onto the path.
Pro-tip: be extra vigilant with your belongings around here, there are a few scam artists so try not to be distracted by any of them.
Metro: Alight at Concorde to walk the full length of Champs-Elysees.
8. Arc De Triomphe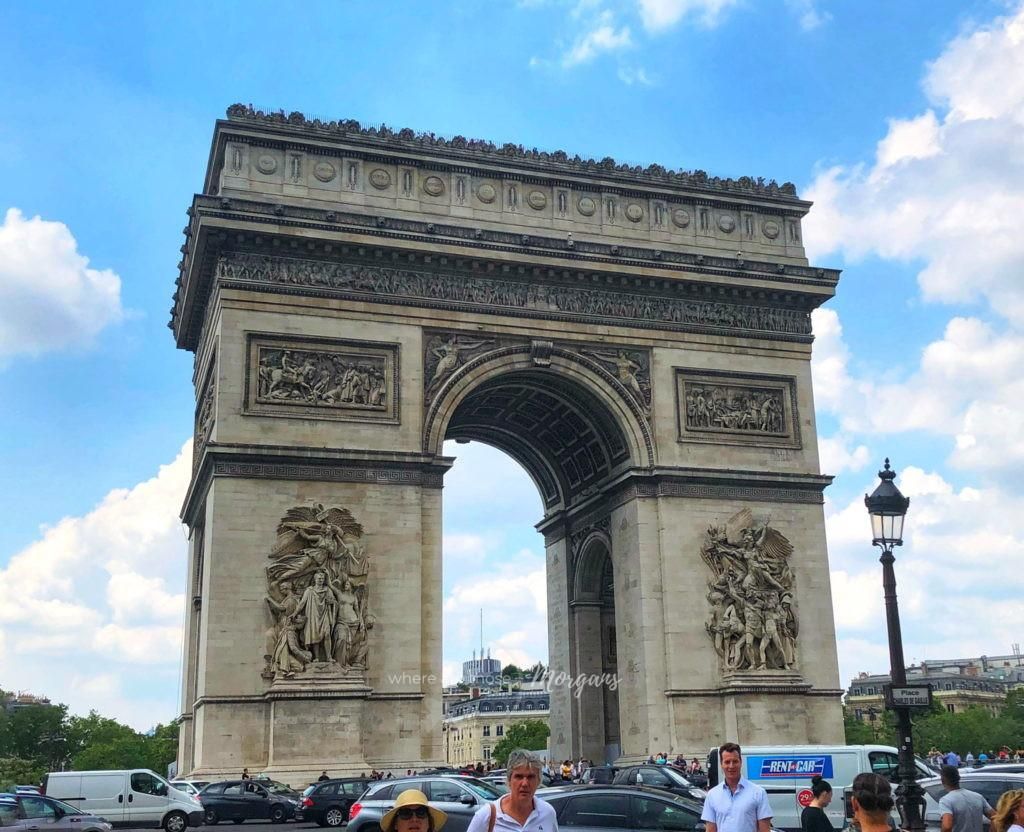 At the end of the Champs-Elysees you will find the Arc De Triomphe. A word of warning once you arrive, the stories are true – traffic is chaotic around the arc so be careful!
It's actually worth taking a few minutes to just sit and watch the carnage unfold. No one has a clue how to navigate the roads and everyone sits on their car horn as though that's going to magically get them through the maze.
Take the underground tunnel walkway for pedestrians to access the Arc safely but please do not try to cross the road!
Construction of the arc took 30 years, from 1806 to 1836. It pays tribute to those who fought and died in the Revolutionary and Napoleonic wars. The tomb of the unknown soldier from WWI lies beneath the Arc.
It was interred in 1920 and every year on armistice day a ceremony is held in honor of all French soldiers who died in WW1.
Stand at 50m high on the viewing platform, having climbed 284 well worth it stairs, enjoy the views over the dozen avenues and the rest of Paris. You can catch a fantastic sunset up here, factor that into your itinerary if that is up your street.
Entrance: €12 standard adult but prices vary, see all ticket prices
Hours: 10.00am – 10.30pm (11pm April 1 – September 30)
Paris Pass? Yes, skip the line and entrance to top
You can book your tickets in advance here!
Metro: Charles De Gaulle – Etoile
9. Marvel At The Architecture
Yes this isn't exactly a material tourist attraction, but it does draw people to Paris from around the world. It's what we remembered the most after we left. There's no denying that it is a very impressive place to walk around.
Throughout time, Paris has been subjected to various architectural influences. We were enamored by the endless rows of 6 story apartment blocks that have become synonymous with the city. This particular style of architecture came about in the 19th century when Baron Haussmann redesigned Paris' urban development under orders from Napoleon III (nephew of Napoleon Bonaparte).
Admire the many impressive bridges spanning the Seine such as the extravagant Pont Alexander III, adorned with gilt-bronze statues or the Pompidou center, Musee de Orsay and the Louvre. We can guarantee that after your 2 days in Paris, you will truly miss the impressive buildings.
10. Seine River Cruise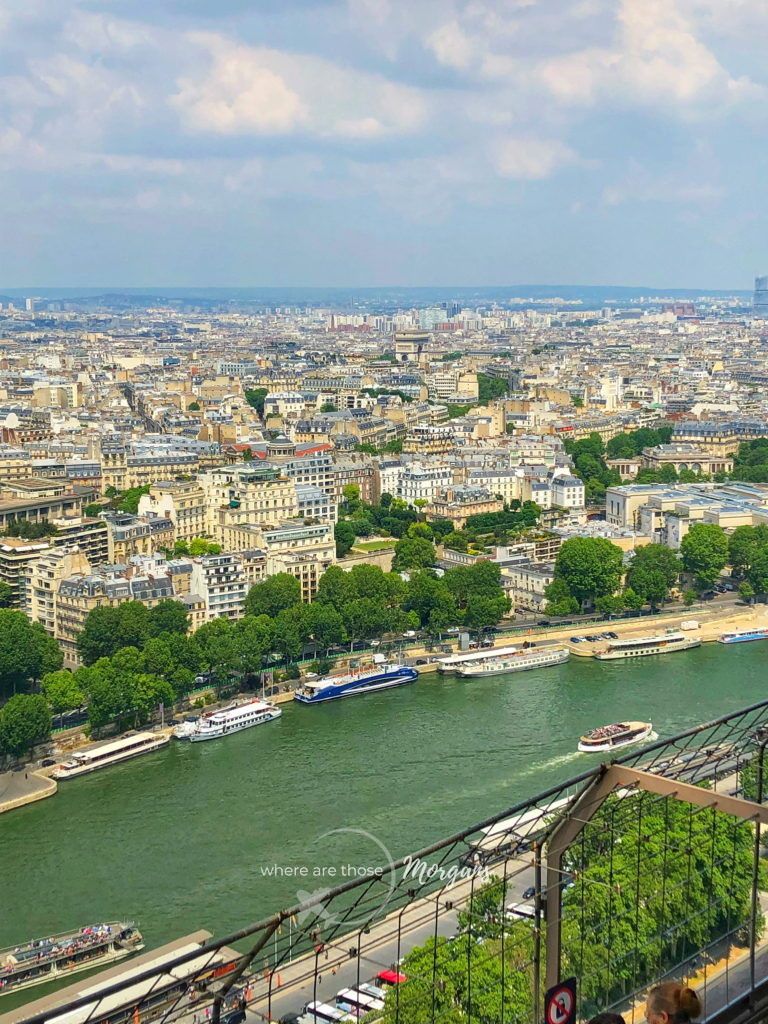 Having spent hours walking and absorbing information what better way to finish your 2 days in Paris than with a sunset river cruise on the Seine. There are plenty of options, including a romantic meal on board. We chose the cruise with commentary which lasted about an hour.
It's the perfect time of day to relax on board the boat. The sun setting and the lights of Paris beginning to sparkle once more. Incredible views of the Eiffel Tower has to be the best way to end your trip!
The cruise departs at the foot of the Eiffel Tower at Pont D'lena. It turns around just past the Ile de la Cite, on which Notre Dame Cathedral sits. It covers the same route as the walk along the banks on day 1 but it's just so picturesque and worth seeing again, this time with no foot power involved!
Entrance: €15 Adult. Buy your ticket before boarding. Look for the Bateaux Parisiens orange signs.
Hours: Tours depart every 30 mins April – September, every hour October – March.
Paris Pass? Yes, included as long as there are spaces available
Metro: Champ de Mars
Have more time?
If you've already completed some of those items or you simply want to crush out as much as possible then check out these further suggestions. Museums are also a great option if you encounter a rainy day like we did! Paris can't really be 'done' in 2 days but if you have longer add some of these in to your itinerary. They will be firmly on our agenda for next time!
Catacombs of Paris in the 14th arrondissement

Palace of Versailles

St. Germaine neighborhood

Watch a PSG Game

Musee D'Orsay

Centre Pompidou

Wine Tasting

Paris Opera House
Paris Pass?
Is it worth getting one? It depends on your budget and the amount of attractions you want to visit.
How much can you accomplish with the time you have in Paris? If you'll be out and about ticking off sites and massively using public transport or the hop on hop off bus then the Paris Pass may well be worth it for you.
However, if you, like us, only went in a few attractions that you can use the pass for, it's probably not worth it. We didn't bother with a pass as we'd have felt under pressure to get our moneys worth and not enjoyed the places we actually went to!
The price for the 2 day Paris Pass at the time we visited was 131€. These passes will increase in price depending on how many days you intent to use it. Check out the official website here.
Remember: Eiffel Tower entrance fee is not included with the Paris Pass.
We saved 95.20€ each by not purchasing the pass.
We did not go into the Notre Dame Cathedral and the Arc de Triomphe (the views from the Eiffel Tower were enough and we were on a budget). However, entrance to both of these would have still saved us (35.80€ + Cathedral 10€ + Arc 12€ = 57.80€) 73.20€!
To get your money out of the Paris Pass, you really need to get around to as many attractions as possible. A benefit to the pass is the skip the line option, which on a 2 day trip in a constantly busy city can be very useful.
If you are not on a tight budget, the pass can be worth it simply to remove all the hassle from the equation. We highly recommend making a list of the attractions and museums you wish to visit to determine if you will break even in cost.
Read About More Travel …
---
We hope this 2 days in Paris itinerary helped you plan your vacation!
Please let us know if you have any questions about your visit.
Happy Travels,
Mark and Kristen
Was This Post Helpful? Pin It For Later!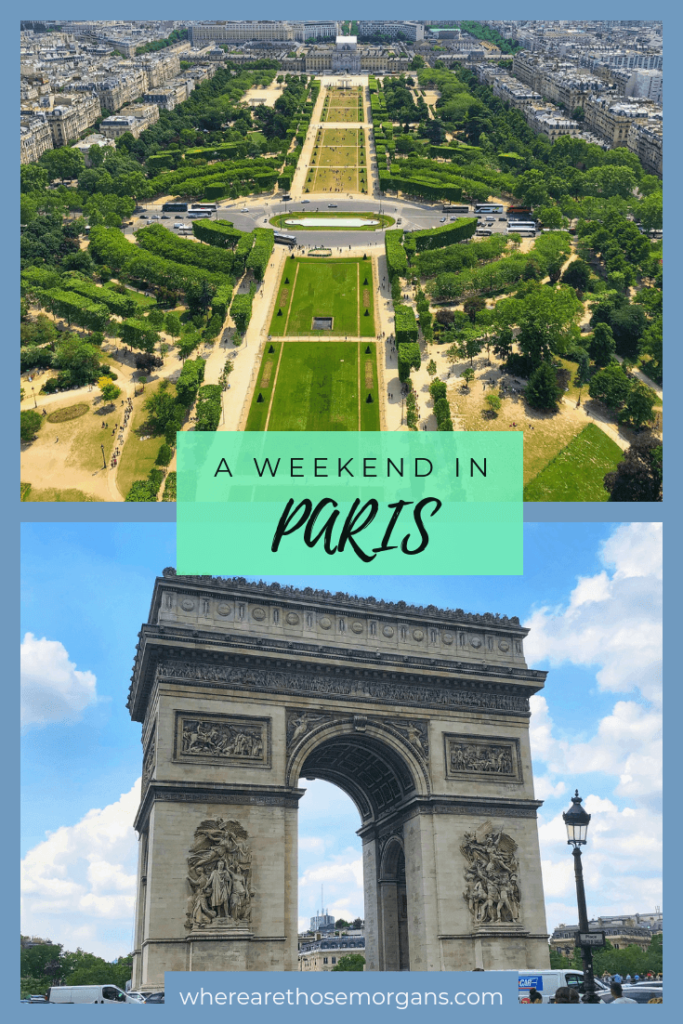 Note: This article contains affiliate links. When you make a purchase using one of these affiliate links, we may earn a small commission at no extra cost to you.
All Rights Reserved © Where Are Those Morgans, LLC. Republishing this article and/or any of its contents (text, photography, maps, graphics, etc.) in whole or in part is strictly prohibited.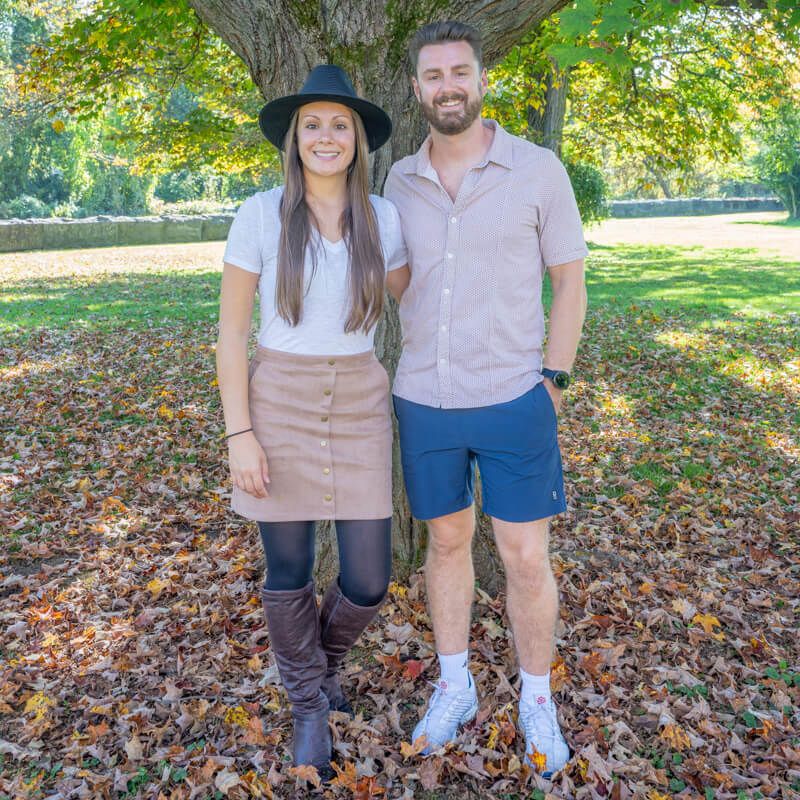 Mark and Kristen Morgan are travel, hiking and photography experts. Over the last 6 years traveling full time, they have explored more than 40 countries and 30 US states.
Their work has been featured in USA Today, Gestalten, Get Your Guide, CityPASS and Condé Nast Traveler along with various other publications.