Travel Health & Fitness. Is there such a thing?! Or is this some fictional nonsense?
This article is aimed primarily at the long term traveler, who we're sure will be able to relate! However, it still applies to anyone who takes regular business trips or spends long periods away from home (and routine!)
There are countless reasons that make long term traveling the experience of a lifetime, but there is no doubting that it also has it's negative effects. One of which, a big one, is personal health & fitness.
The physical effects of putting health & fitness to one side throughout long term travel will be seen visually – wow, I used to have abs! – but in reality it's just as much your mentality that suffers. Routine goes out of the window, regular gym sessions are a thing of the past and eating/sleeping patterns can become so sporadic, you don't even know what time of day it is!
At times, they can all combine to leave you feeling tired, weak and devoid of energy. Psychologically, you become frustrated and question what you're doing, which inevitably leads to bad moods and subsequently, travel experiences being effected. At least this is true in our case.
However, as with most other travelers, we hadn't planned and saved for months, given up jobs and left home to see the world, only to concern ourselves with when we'll fit in a run or head down to the local gym. Not when there's an exciting new place to discover or new friends heading out for a few beers – "no thanks, we're okay, we're not going to come out for a beer tonight, we've planned a 6am run tomorrow" – that's just not how it works!
*Please note this post may contain affiliate links. If you click on one, we may earn a small commission at no extra cost to you!*
Why Is It So Hard To Eat Healthily On The Road?
Eating healthily at home is hard enough. There's the temptation of convenience with fast food and drive thru's. Now factor in the price of eating healthily; fresh produce can be expensive. Even when you finally do commit to the healthy eating regime at home, it's really hard to stick to it!
Now imagine you're traveling for months and months at a time through many countries with different local foods and varying prices. If you're on a 2 week holiday, no worries, you can get back to it 2 weeks later. But for long term travelers like us, we can't say "it's fine, we'll sort it in a year." But, we kind of did. Oops.
Let's take a look at some of the key factors:
Trying Local Foods in New Countries
When you're in a new country you're going to want to try the local food, right? It's one of the main reasons people travel! In Spain, you're going to eat tapas and drink beer or wine. In Thailand you're going to eat pad thai and drink more beer.
Okay, you may be saying, well that one is technically avoidable. But in reality it's part of traveling. No one venturing through Italy is going to say "hold the best pizza in the world back, I've got my turkey breast and veg for dinner tonight."
Conversely, there's also being bored by the same food when in one place for a long time. We love Thai food, but after a week of lunch and dinner being Thai, we were craving things we're more used to … then the price increases dramatically.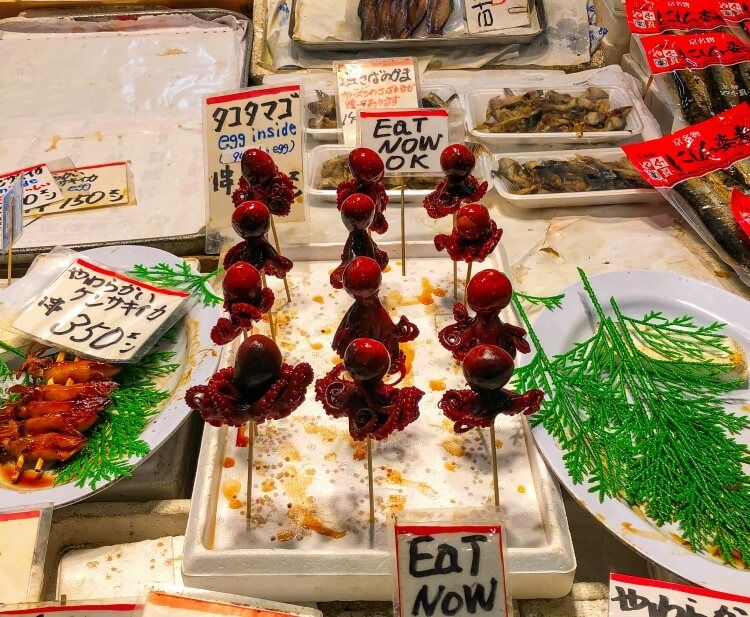 How could you say no to 'Tako Tamago', a baby octopus stuffed with a quails egg and skewered…! The point is that when traveling, you have to try things like these and you don't really give much thought to the diet regime you were once doing so well with!
Price
Ah money, the real king of the world. If money was no object, you could simply take a chef traveling with you, a very adaptable chef with unlimited initiative!
For most of us mere mortals, this one is obviously very circumstantial and dependent on each individuals budget. This can be down to simply how much can I afford per meal? Or even the type of accommodation – does the place have a kitchen? Can I buy food cheaply at the supermarket and cook myself?
Certain foods will have to be imported in many countries making it more expensive. Some countries are more expensive period. You're not going to eat the same meal in Switzerland for the same price as you would in Vietnam.
We never expected to spend as much money on food as we have. It's been our big budget breaker. Every continent we traveled, we surpassed our food budget.
Our top tip for saving money on healthy food when traveling is to use convenience/supermarket stores (like 7Eleven, Walmart) as much as possible, they often sell salads at a decent price, perfect for a light lunch.
Alcohol/Nightlife
Let's face it, you're traveling the world, you're going to meet people and you're going to have a few booze ups. Doesn't matter what budget you're on or where you're going (unless it's the North Pole), the beers will flow from time to time. We meet people from all walks of life when we travel and all agree that alcohol is one of the biggest factors in poor health and fitness when traveling long term.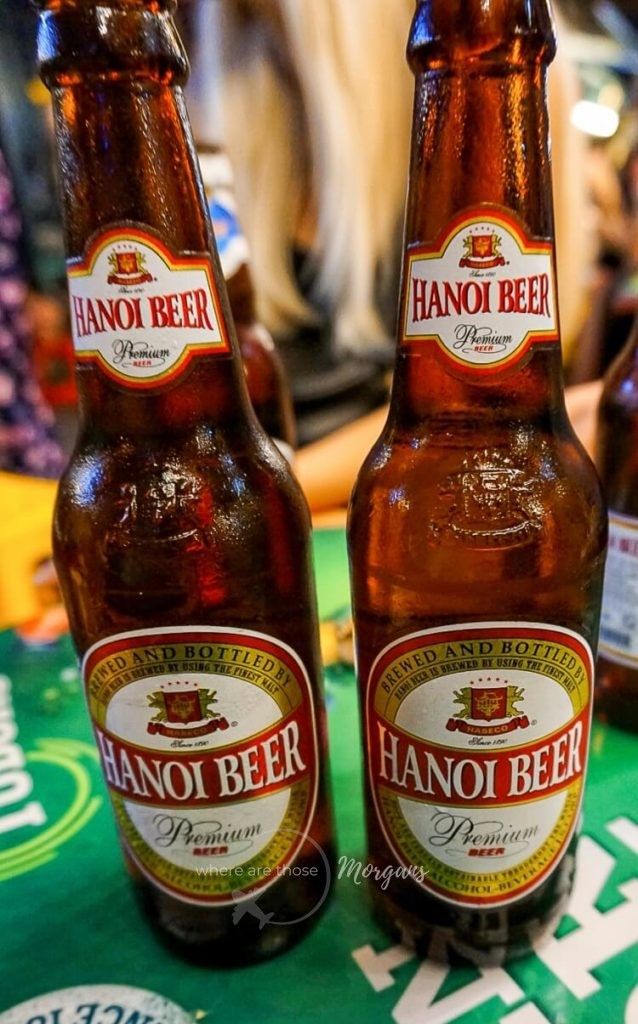 Alcohol is accessible world wide. In countries or cities where it's cheap to drink like Vietnam or Prague, coupled with a holiday vibe and sunshine, alcohol will be consumed and it will lead to further bad health choices like fast food, that day and likely the next. This again is a lifestyle choice, but when traveling, it's part of the experience.
Availability
You're staying in a hostel in Taiwan, they don't have porridge with a protein shake for breakfast ready for you. Or a hotel in Vietnam, good luck finding your usual dose of protein rich cottage cheese to snack on before bed.
It's almost impossible to stick to a healthy eating plan when most of the foods you know aren't available. Any attempt at improvisation will inevitably lead to increased costs which is unsustainable long term.
Routine
The key to it all. Ah routine, how we miss you – but will despise your monotony once we finally get back to you! It is the lack of routine that acts as the catalyst for all the unhealthy eating. The constant moving from place to place, horrible early flights and sleepless sleeper buses.
With eating and sleeping patterns all over the place, the body doesn't function as it should and it's almost a certainty that any snacks to pick you up will be junk food. And once you're in a bad routine, you're stuck in it.
Without routine, it's hard to commit to a healthy eating plan because you know, deep down, that it's not consistent. Granted, there is the age old saying 'everything in moderation' – but that's harder than ever to follow when traveling. It's safer to indulge on the road as you don't know when your next good meal might be!
Why Is It So Hard To Stay Fit On The Road?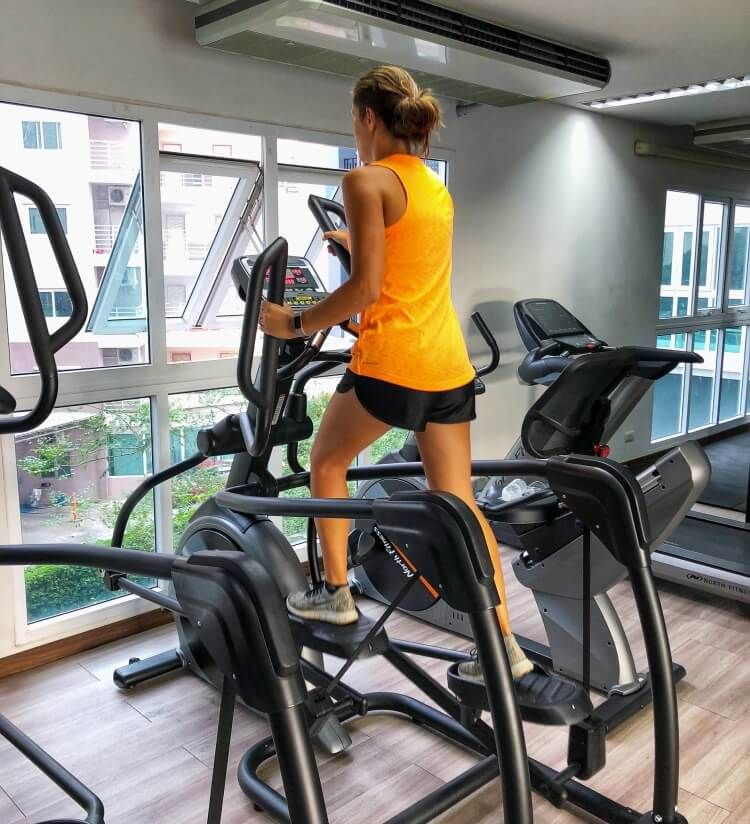 Fitness deterioration on the road is a whole different beast to diet and nutrition. It's less excusable and more within our control. It can be done without money, so that aspect is ruled out. It can be done anywhere, so that aspect can also be ruled out.
Fitness is more a mind over matter thing when traveling. It's a "I'll go for that run tomorrow instead" kind of excuse. Or "I was going to do some push ups but then we went out for dinner and a few beers" – yep, we're speaking from experience.
Staying fit can be dependent on the type of person, we all have different fitness levels and methods. We also have certain levels of fitness we're used to before traveling the world.
Here's what makes it tough to keep fit on the road:
Consistency
Let's start with the most important one this time. Consistency is key to any fitness plan, whether you're home or traveling. Everything depends on this! One gym session every 2 weeks won't be effective. It needs to be part of your daily plan, including rest days.
Without consistency it's tough to motivate yourself, why bother today if you can't guarantee you can back it up over the next few weeks or months? Without routine you can't build and improve times/weights/reps to grow and develop.
It's a vicious cycle and once you're in a rut, it's a tough place to get out from.
Lack of Equipment
This one is open to interpretation. If you're a cardio orientated fitness type, then equipment won't be as much of an issue. But to get a solid all around fitness and strength, weights need to be lifted, pushed and pulled as well.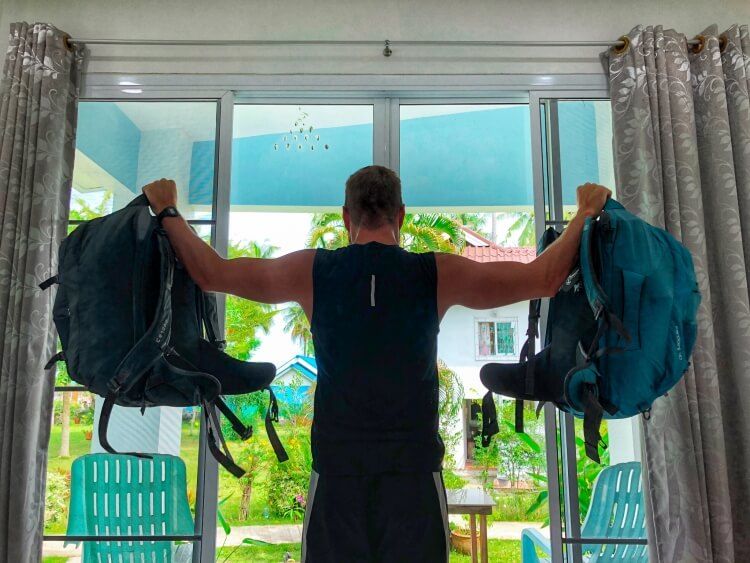 Accommodation with gyms are expensive, gyms in cities are sometimes accessible but you have to find them and pay for them, always at a higher cost for single day entry. If you only have a few days in a new city, time is of the essence.
You're left with body weight exercises only, or improvising curls with full backpacks. Body weight push ups, squats and core are great and can be done in a hotel room, but where's the progression? You're only ever really going to maintain and preserve what you have at best.
Weather
This obviously only applies to certain countries at certain times of year. We traveled Europe in the height of Summer and Asia from September to December where, well, it's just always hot.
Heat not only makes it difficult to exercise outdoors, it also messes with your eating habits as you spend the day sweating and getting dehydrated. Then you have no energy and you're stuck in yet another anti-fitness rut. The amount of times we've said "it's far too hot to try a run here" … even at 6am it's roasting in Asia!
Nutrition/Supplementation
Without the right fuel as we've discussed above, it's hard to find the energy and motivation to get the ball rolling. Post workout when the body is craving protein and carbs to repair, what can you do? There's only so much a whey protein chocolate milkshake from 7-eleven can do!
You don't have constant and direct access to what is required. Half the battle is getting it right in the kitchen and you rarely have one.
Sound Like A Bunch Of Excuses?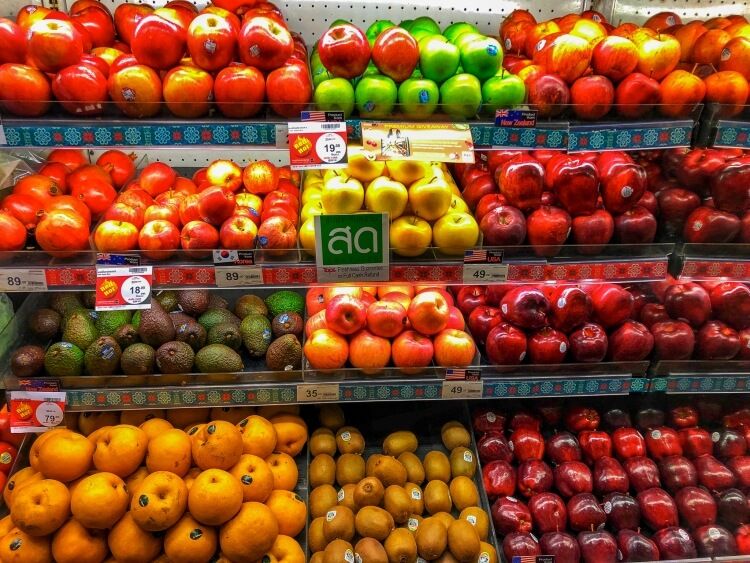 Well, yes it does! That's because it is, as far as we're concerned. But there's more to it than you can imagine, especially to those who haven't traveled long term yet!
For some, it's a chance to leave behind the days of waking up early for the gym and they're embracing this new care-free life. For others it's just too expensive on their budget. Time is another crucial factor to consider. Many backpackers will only have a few days in each place, how important is the time it would take to workout and also find the right fuel pre and post training?
Our conclusion is that with the right level of determination to travel and stay healthy, it can be done.
Where there's a will there's a way. There are options to eliminate many of those problems. Commit and get up before sunrise for a run, no matter how early. Get to 7 eleven and eat fruit for breakfast instead of coffee and a bagel. Strap a backpack on to add weight to squats and push ups. It's not ideal, but it's a start. Cheap and easy.
It really is a conundrum, because there will be arguments for both sides here and it's all subjective. Looking out for your health and fitness can be done, but it's a mammoth task for long term travel.
Read About More Travel …
---
We hope our post about travel health and fitness makes you change some habits on your next trip!
Please let us know if you have any questions in the comments below.
Happy Travels,
Mark and Kristen