Hong Kong is a densely populated city of vibrant residents and soaring skyscrapers. It's a city you have to visit, but what are the best things to do in Hong Kong? We'll cover them in this article.
Hong Kong is a bustling metropolis full of energy and culture. If you're the type who loves to jump head first into an action packed city then this city break is perfect for you.
Our comprehensive travel guide is perfect for both first timers and return visitors. What do you need to know before you arrive? Let's find out.
Hong Kong Background
Hong Kong is a special administrative area in Southern China. It has one of the world's highest population density ratings, with almost 7.5 million residents living in an area of only 405 square miles (1,050 km2).
Following the first of two opium wars, Hong Kong Island was ceded to the British Empire in 1842.
There would be a second opium war which would lead to the Empire obtaining a 99-year lease of ownership for Hong Kong in 1898, this time including Kowloon.
Throughout its time as a colony of the British Empire, Hong Kong developed exponentially and established itself as a major financial center, as well as an important global commercial shipping port.
The city was transferred back to China in 1997. It had been ruled by the British for 156 years.
Hong Kong owns the title of the most skyscrapers in the world. Its not even a close contest. There are 353 in HK and its closest rival New York has 267. It could be described as a vertical city.
Imagine living on the 34th floor of one skyscraper, then commuting to the office on the 63rd floor of one nearby. This is three-dimensional life.
Against the backdrop of the island, the surrounding hills and Victoria harbor, this astonishing skyline is one of the most visually stunning sights in the world to witness.
The way of life is frantic, culture rich and there is a constant hive of activity. Despite this, the city runs like a well-oiled machine.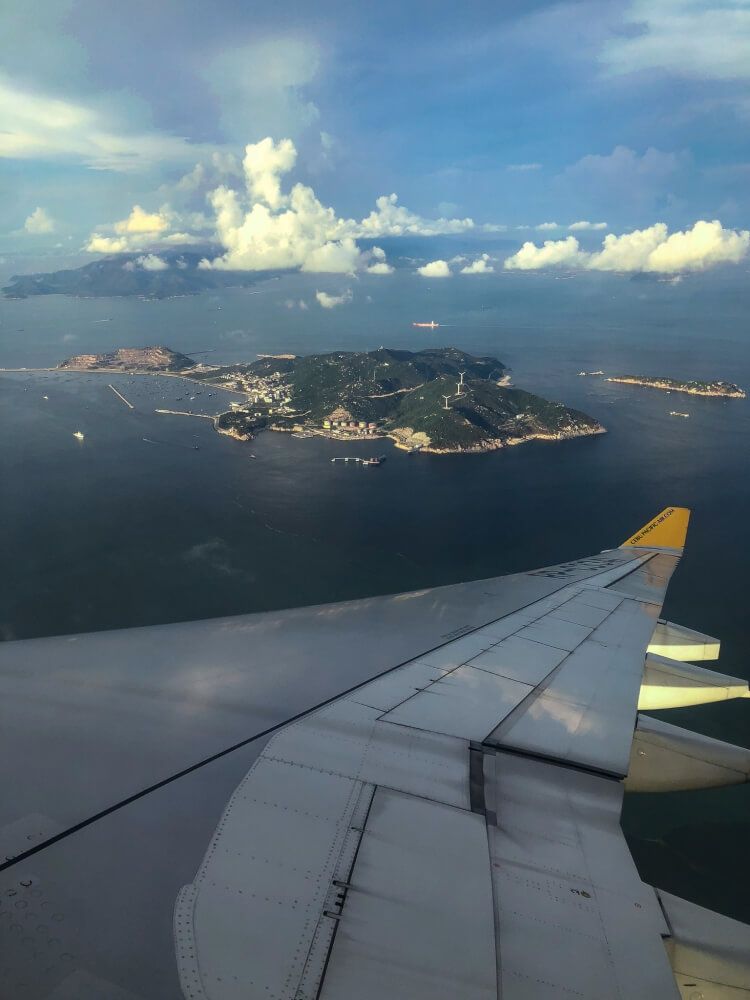 Flying Into Hong Kong
Hong Kong is a popular tourist destination, but it's also a big business center so flying into the city is easily accessible from all over the world.
There are airlines to suit every budget, start by reading our expert tips on finding and booking cheapest flights.
Our top tip for booking flights is simple, be flexible. You seriously limit your ability to find good deals if you have exact dates and times to fly.
For those looking for cheap flights: Jetstar (Singapore), TigerAir (Thailand, Cambodia, SE Asia) and Cebu Pacific (Philippines) could be your best options to fly into or out of Hong Kong.
Search for flights using Skyscanner first, then try to beat the price.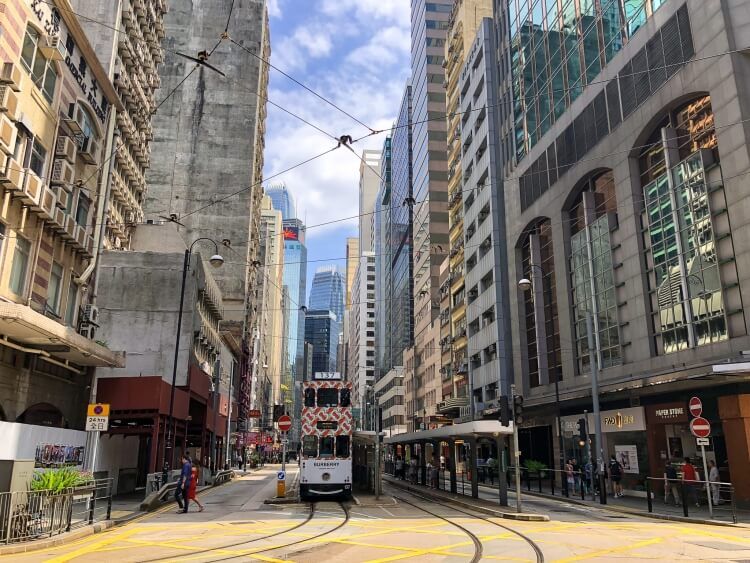 Getting Around Hong Kong
One of the primary cogs in the machine is the MTR (mass transit railway). The MTR allows Hong Kong to be an incredibly easy city to explore.
It has clean and frequent services, easy to use ticket machines (try to have small change on you) and clear signs.
If you plan on staying for a longer period, there's an Octopus card for convenience. With so many stations, the MRT is fantastic at getting you very close to the next place on your Hong Kong itinerary.
At least one time though, you must try the legendary Star ferry crossing of Victoria Harbor. It's the best way to see both sides of the harbor by day or night (do both!).
It costs around 27 pence (US 40 cents) single trip and has to be one of the best value for money modes of transportation in the world. The views both ways are awesome.
Once you're in either Kowloon or on Hong Kong Island, the best way for tourists (especially first time visitors) to get around is by foot. There's so much to see, it would a crime to miss it all on the subway.
Hong Kong Airport To Hong Kong City
For speed and convenience take the airport express which stops only 3 times, the second stop is Kowloon Station (right on the harbor front near TST) and last stop is Hong Kong Station on Hong Kong Island (Central).
It takes just 24 minutes to reach HK Island and will set you back HK$50 (US$6) single trip. There is an option to take a free shuttle bus to a number of hotels, check before you travel.
If you're on a budget, take one of the many buses running day and night with much greater coverage of the city. Check out the airport bus schedule website for more information.
It will take a little longer but is much cheaper and could get you closer to your hotel if not setting up HQ near Kowloon or HK Stations.
Hotels In Hong Kong + Where To Stay
The first thing you need to decide is which side of Victoria Harbor you will base yourself. Either way, Hong Kong isn't overwhelmingly huge and the MTR system is excellent.
If you're a first time visitor, set up HQ either somewhere around Central on HK Island or TST in Kowloon. They encompass the main tourist spots and are in the heart of the action.
Which side you choose depends on which side of the harbor the majority of things to do on your Hong Kong itinerary are located.
If you only have a few days, go for Central because it's got tons going on, it's well connected and has easy access to all the hikes on HK island. It's also near Victoria Peak which will no doubt be your number one priority.
If you're on a budget there are countless hostels offering cheap dorm rooms all over the city.
Accommodation for couples or families on a low-mid range budget looking for a private room, you will find that it's a bit trickier to find a decent place.
There are cheap options, but they often have low review ratings and in Hong Kong you get what you pay for.
If you do your research, you can find a good balance between location, quality and price. Start with our in depth money saving tips for booking the cheapest hotels every time you travel.
Search for hotel options with Booking.com to create a shortlist and try to beat the prices.
If you are lucky enough to find yourself in the higher budget range, stay at the iconic Peninsula Hotel Hong Kong.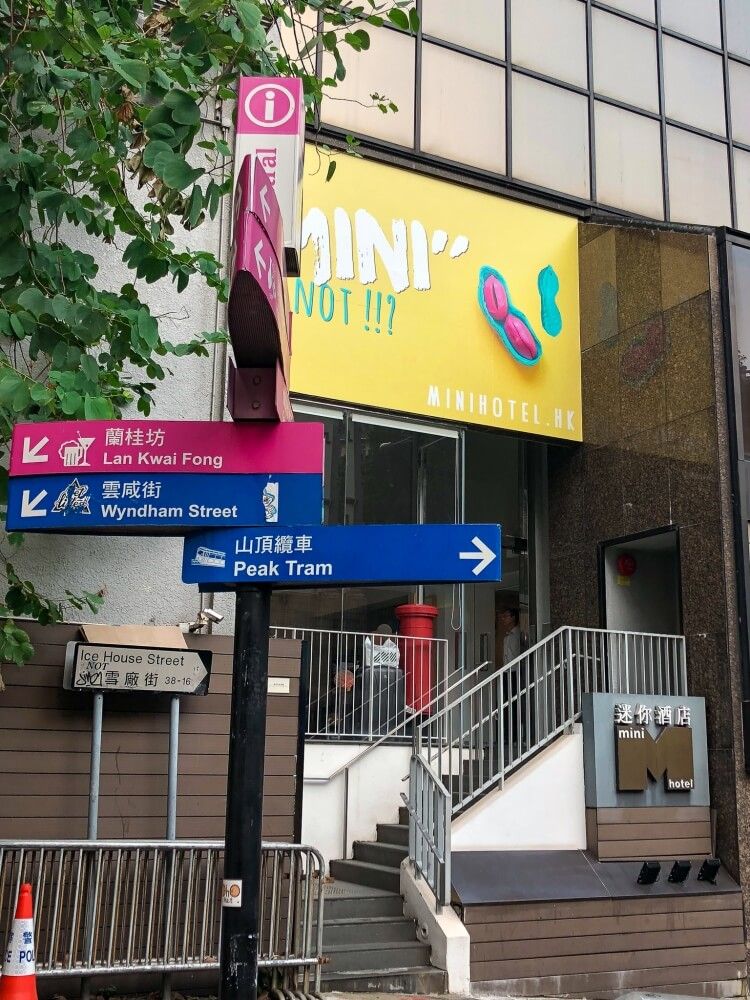 Where Did We Stay?
Ok, it doesn't look like much we know. But it's much better inside and the location is spot on.
We only had a few days in HK and it was our first visit so our primary goal was to be in the thick of it but not too far from the Victoria Peak tram. We were on a low-mid range budget.
After trawling through booking.com and agoda we found Mini Hotel Central. It fit the bill perfectly.
The room was very small and we had to make a mountain out of our backpacks or we were sleeping with them. But it was clean and we left our backpacks at reception after checkout on the last day.
It was a good price considering it's central location (in central, yes!).
Just a 3 minute walk to SoHo and Lan Kwai Fong for some of the best nightlife and dining in the city, 5 minute walk to the Victoria Peak tram, 5 minute walk to Central MTR for travel to all of HK and 10 minute walk to Hong Kong Station for the airport transfers.
We paid US$171 for 3 nights, which is certainly more than we wanted to pay, but HK is expensive. There are definitely cheaper options but we would recommend this hotel if it fits your budget.
12 Best Things To Do In Hong Kong
In no particular order, here are the best things to see in Hong Kong: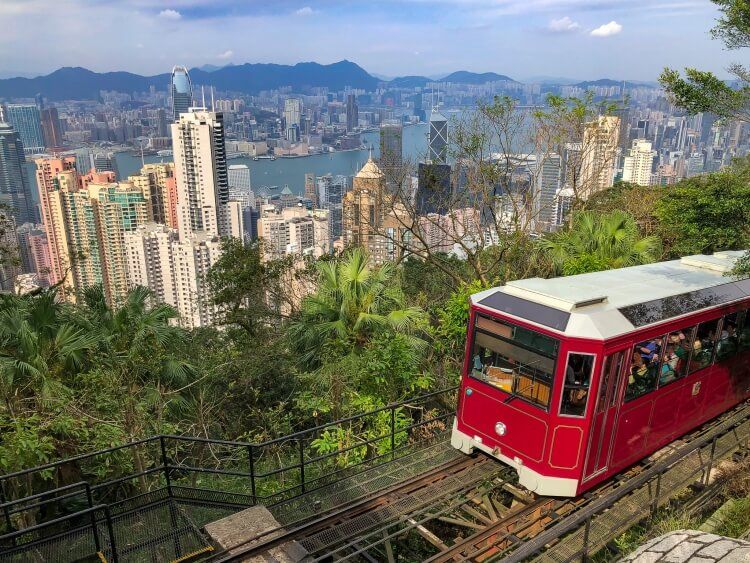 1. Be Blown Away By The View At Victoria Peak
No, this is not an illusion, it's real, unedited and taken on an iPhone! That really is what you see just as you get off the tram.
Top of the list and a dead cert for your itinerary has to be Victoria Peak. It's one of those 'wow' moments. The first thing we said was you don't see that every day.
The view over HK is breathtaking. Up there with the best birds eye view vistas over a city skyline in the world? We think so.
Even if you're transiting and one day in Hong Kong, this is how you should spend that day.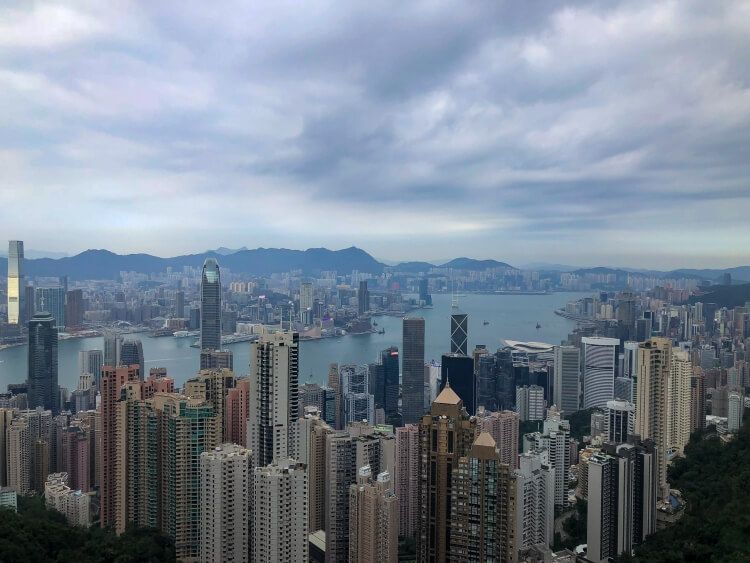 The Peak tram funicular built in 1888 allowed residences to be built atop the peak, specifically for the non-Chinese. Now it's all about how wealthy a person is.
The tram is the most scenic way up, but it can be accessed by bus, minivan, taxi or good old fashioned walking – via the steep Old Peak Road.
Travel Tip: We highly recommend including Sky Terrace 428 in the ticket. If you've seen the famous skyline pictures of Hong Kong, they were taken from the very top of the terrace.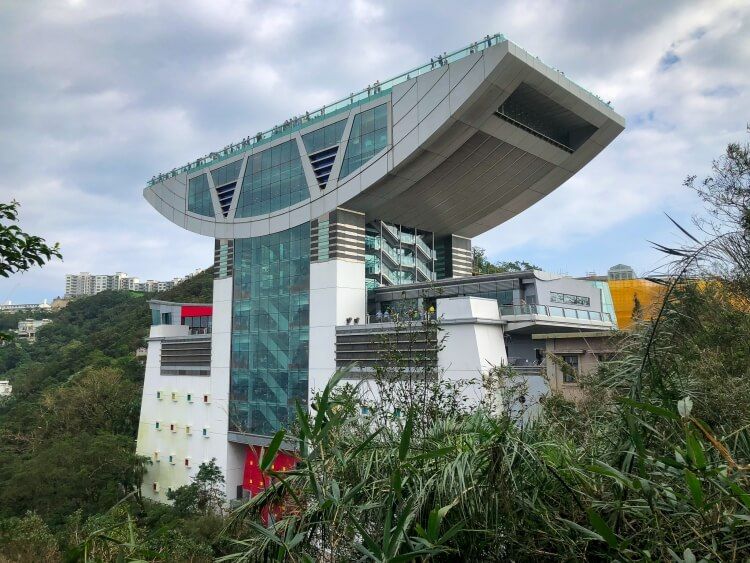 Victoria Peak Info
If you have the flexibility, we'd suggest waiting until the morning of the day you want to go up, to make sure you get clear weather for better views.
The Victoria Peak tram is extremely popular for obvious reasons and there are roughly 7 million visitors per year. Bit of quick math: 7,000,000 / 365 = 19,178 per day.
The line was horrendously long when we did it and a lot of people there don't know what a line is (insert angry red emoji with expletives).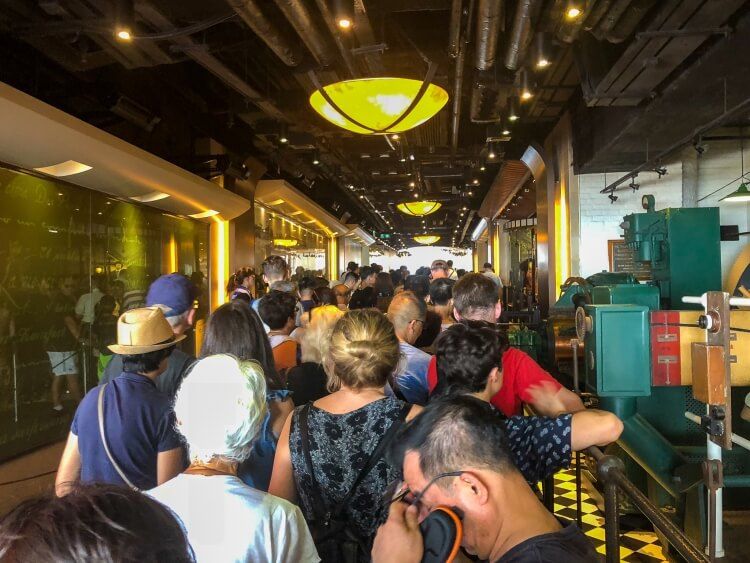 If you plan to head up for sunset, get to the funicular in seriously good time so you don't miss it. It will be packed just before sunset and can get a bit pushy and cramped.
If you suffer from claustrophobia, you should head up by other means.
With your purchased ticket to sky terrace 428, you only have one entrance available to the rooftop viewing platform. So unfortunately when you show your ticket, you must stay in the viewing area.
There are toilets on the platform, but no food available. We weren't aware and ended up on the roof for 3 hours waiting for sunset absolutely starving! Plan accordingly if you want day and night photos.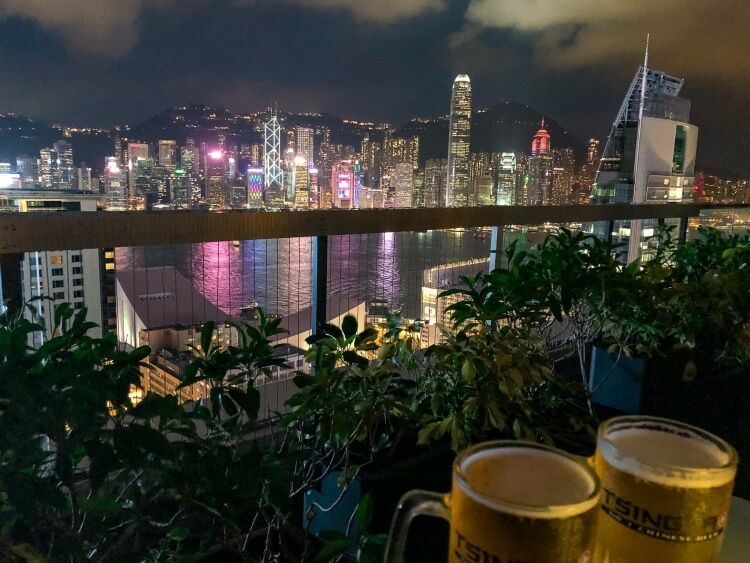 2. Soak Up The Panorama From A Rooftop Bar
Rooftop bars are always a great idea in any city. Who doesn't enjoy a beer or cocktail coupled with the best views over the city?!
Hong Kong may well be one the best cities in the world to do just that, with its incredible skyline on both sides of the river.
There are plenty of options but we chose Eyebar in TST for the views of HK Island during sunset and the nightly symphony of lights show at 8pm.
Get out onto the terrace early to pick up the best seats in the house. Enjoy the show!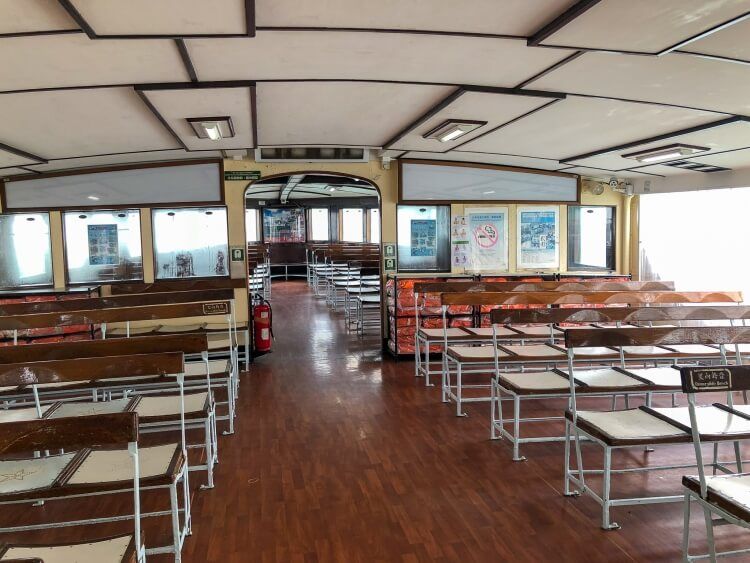 3. Cross The Harbor On The Star Ferry
One of the best short ferry journeys around allows you to take in views of the skyscrapers both sides of the harbor.
The skipper will weave in and out of water borne traffic, plotting a path to cross the harbor while everyone on board gazes out of the windows at the towering skyscrapers.
At a cost of 40 cents a go, it would be ludicrous to miss such an extravaganza for the eyes. It is as much tourist attraction as practical passenger ferry.
You can find it located at TST ferry pier Kowloon and Central Pier 7 HK island.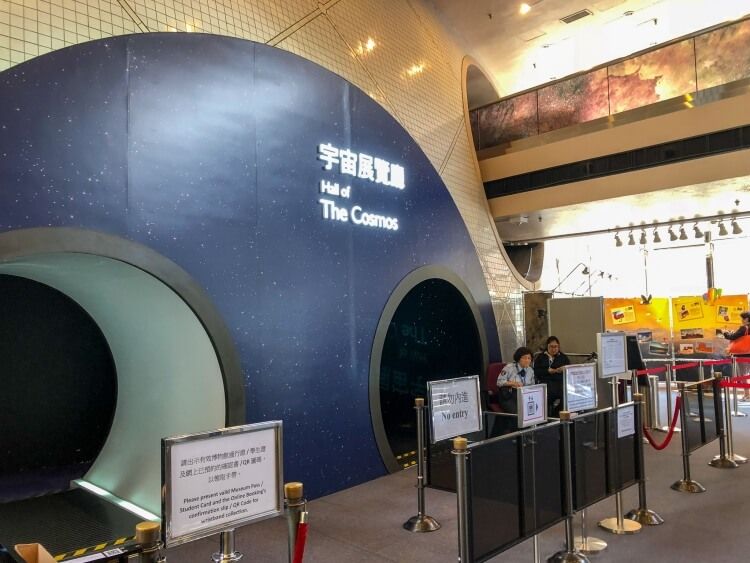 4. Learn Something New At One Of Hong Kong's Museums
Hong Kong's geographic location just South of the Tropic of Cancer boundary means that it suffers from heavy rainfall between May and September.
If you happen to be visiting between these months, it would be wise to factor in rainy day activities.
No better place to start than a museum, ticks all the boxes on a rainy day. Hong Kong has tons to choose between, many of the more popular museums are situated around TST.
The History and Science Museums are located right next to each other, likewise, the Space and Art Museums are next to each other.
We opted for the Science & Space Museums and enjoyed both. Each had interactive user friendly exhibits and were ideal for families. Check the map at the end for locations.
5. Hike One Of Hong Kong's National Parks
Hong Kong is more than just an urban cityscape. Unbeknown to many there is a diverse selection of hikes you can walk off the jet lag with in HK.
Boasting 4 national parks, there's a route for all abilities to escape the city for a day.
Tai Mo Shan is the highest peak in HK with an elevation of 957m, very similar to the Lake District region in the UK.
We're huge into hiking everywhere we go, but it rained unbelievably heavily when we were there and we're still bummed we missed out on experiencing the other side of Hong Kong.
It was like the sea had been picked up and dropped over HK!
The views looked great from some of the hiking routes and it opens up more of HK than just the city. Dragon's Back seemed to be a particularly popular route, next time!
Check the discover Hong Kong site out for more information here.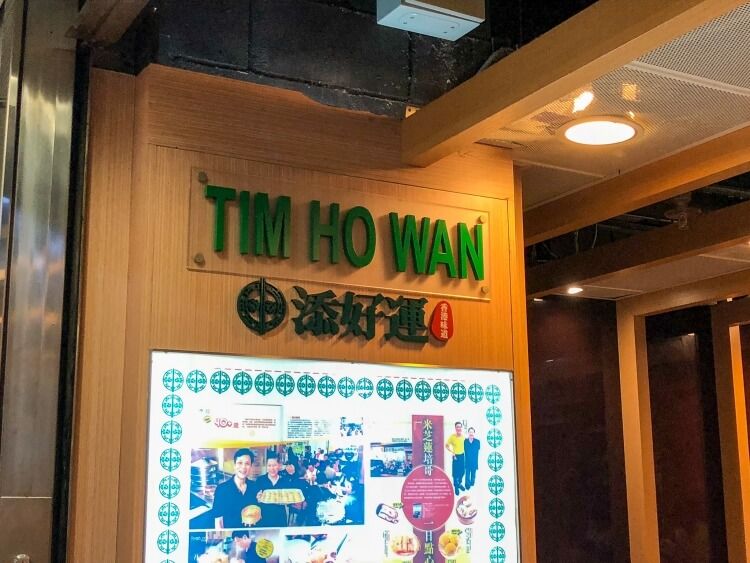 6. Eat Street Food At Michelin Star Tim Ho Wan
The story goes that the chef of a three Michelin star restaurant in Hong Kong opened a 20 seater dim sum restaurant in 2009.
Tim Ho Wan earned its star in 2010 and has since opened 45 branches around the world, including New York City.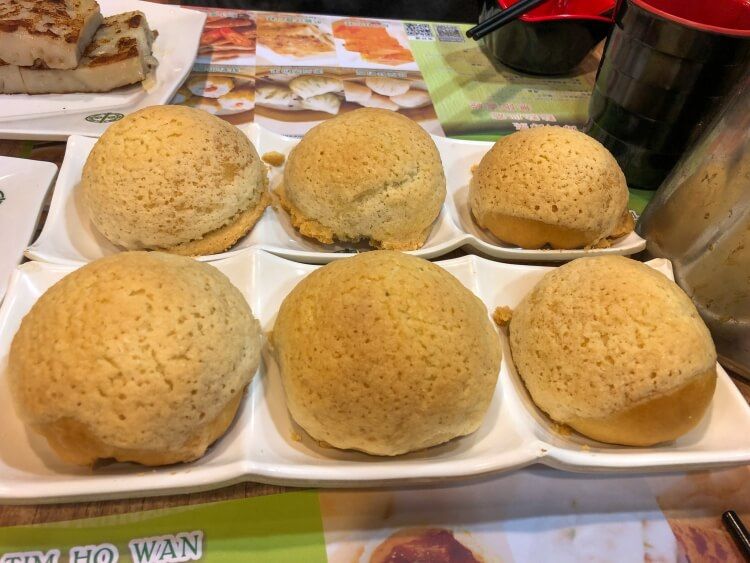 Dim sum traditionally consists of steamed buns, dumplings, rice, cakes and rolls filled with a variety of ingredients.
One of the more popular is cha siu bao, steamed bun filled with barbecue pork (pictured above). It's similar to tapas in that you order lots of small dishes to make up the meal.
As important as the food is the tea to accompany the dishes to make up dim sum. The type of tea will usually be the first selection of the meal. What makes this place special is the price.
You can fill a table for less than $10 between two.
We went to the Central location and for the duration we were in the restaurant there was a line to get in! Check their website out for locations in HK – get me to the pork buns!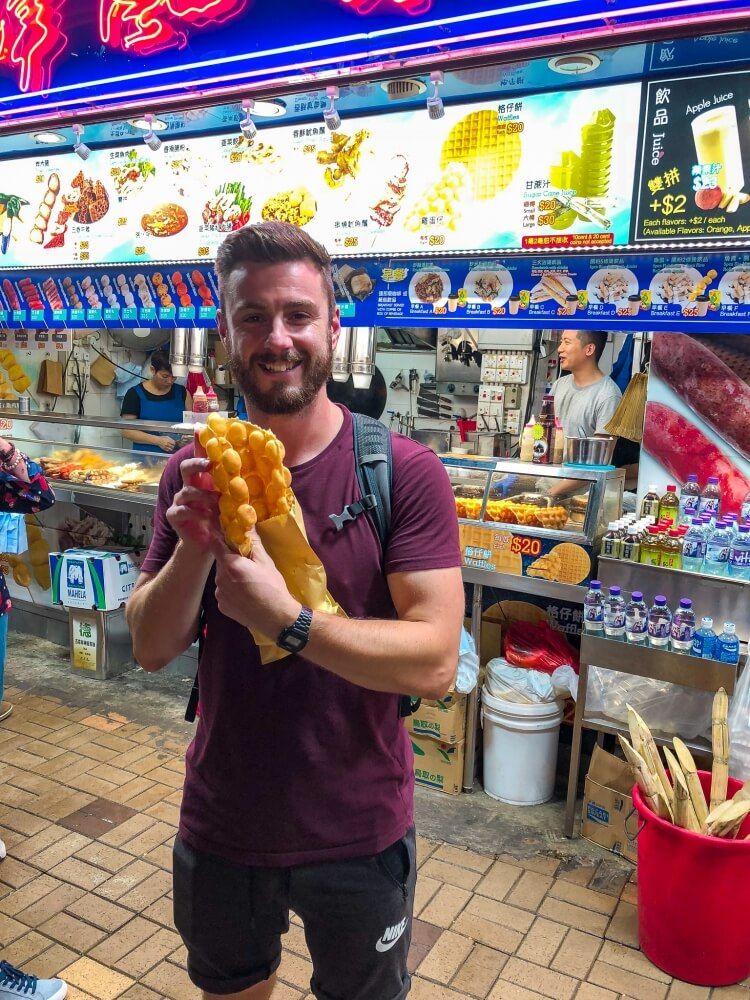 7. Help Yourself To Some Egg Waffles
Mmmmmmmm, just thinking back to these makes us wish we were back in HK! An eggy leavened batter is cooked into small connecting ball shapes to produce an incredibly moreish snack.
We won't lie, we had at least 10 each over the course of 3 days!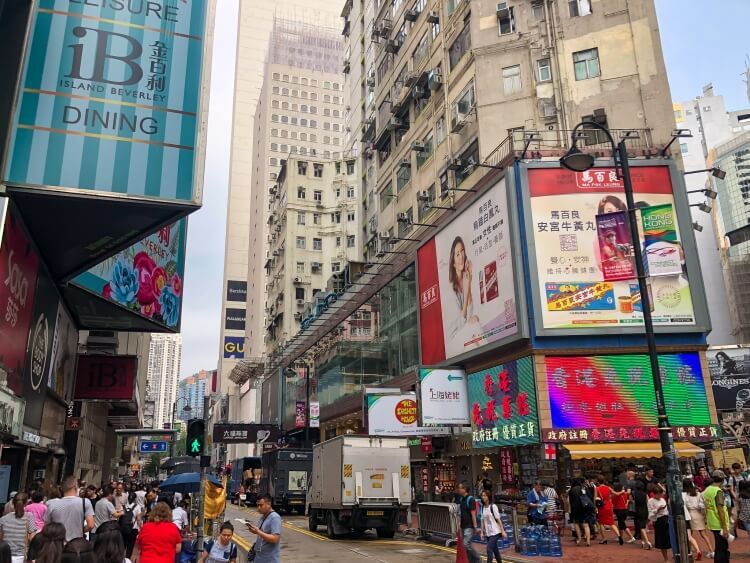 8. Check Out the Shopping at Causeway Bay
Causeway Bay is a shopper's paradise, there are huge malls to spend time and hard earned money at. Sogo, Times Square and Hysan Place are some of the bigger and more popular hangouts for the young and trendy folk of HK.
Causeway bay is also one of the most crowded areas of HK, so bear that in mind when heading down to check it out.
Don't miss the daily cannon shot at noon, the tradition comes from using the cannon shot as a time signal for the older generations.
Did you know? After New York's Fifth Avenue, Causeway Bay is the second most expensive shopping street for renting shop space in the world.
9. Hit Lan Kwai Fong With Your Dancing Shoes
If partying is your thing, look no further than Lan Kwai Fong. The area encompasses over 90 restaurants and bars, ranging from classy to … not so classy.
Lan Kwai Fong's signpost itself is probably one of the most photographed things in HK, such is its renown.
Full of expats and locals alike, the area is considered upmarket in price and we can vouch for that! It has a real energy to it, the bars and clubs stay open late and the restaurants mostly have spillover tables onto the sidewalks.
There was a HUGE party one night we stayed, we're not sure what is was but staying in Mini Hotel near by we could hear it into the early hours.
10. Take A Free Walking Tour Of HK Island
Walking tours always go down well. The guide will give an insight into HK from a locals' perspective and serves as a brilliant opportunity to walk around some areas you wouldn't otherwise.
Ours was a very interesting and educational walking tour that included Central, Mid-Level, SoHo, Man Mo Temple and Sheung Wan on Hong Kong Island. Very highly recommended.
Look online and reserve a spot with one of the companies. Pay what you deem the tour was worth at the end. This is the time to field any questions you have about Hong Kong.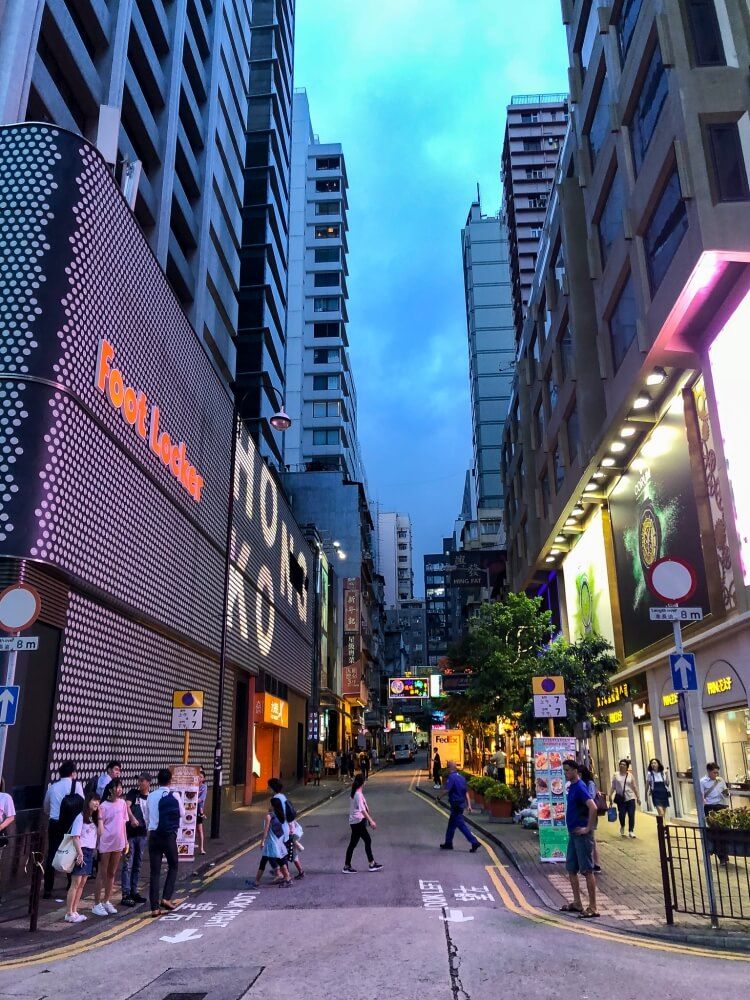 11. Explore The Streets Of TST
TST covers some ground and there are plenty of reasons to explore, trust us, it's more fun that it sounds. With its bustling narrow streets bursting with activity, there's always something that turns your head.
Packed full of energy and chaos, TST is not only a neighborhood, it's also a tourist hotspot. We spent hours walking around and didn't feel like we'd seen even half.
The area is full of museums, restaurants, shopping and the best part is that it's lit up in neon lights at night. This is where you really feel like you're in China.
There's a nice balance between authenticity and development.
But if you look hard enough you'll find some areas to be poverty stricken and there can be dirty, smelly alleyways. There's a clear distinction between the rich and poor.
Why not check out a walking tour that shows the dark side to Hong Kong?
Travel Tip: Don't forget to check out the avenue of the stars on the promenade.
12. Release Your Inner Child At Disneyland
Ok, so the picture isn't at Disneyland, it's Mark releasing his inner child with his best karate kid Daniel son impression. The two 'tekken' statues are close to Central metro station.
We didn't go to Disneyland in Hong Kong because we couldn't afford to! If you're traveling with the kids, this one is a banker. No kids? Who cares! Everyone loves a day at the theme park.
This one was opened in 2005 and welcomes thousands of visitors each day. Interestingly, it has the lowest daily admission rate of all Disneyland resorts around the world.
The resort is split up into 7 themed areas: Main Street, USA; Fantasyland; Adventureland; Tomorrowland; Grizzly Gulch; Mystic Point and Toy Story Land.
You will find Disneyland on Lantau Island near the airport. Check the map at the end.
Here's the official website for prices, opening times and all other information you may need.
Did you know? There is another theme park in Hong Kong called Ocean World! It's situated at the Southern tip of HK Island in Aberdeen.
This might be a better option for adults with bigger roller coasters, live shows, aquatic zone and animal interaction zone.
Hong Kong Itinerary
Hingsight is a winderful thing! If we were to go back in time and re-visit Hong Kong, we would have done things a little differently.
Here's a brief summary itinerary to give you an idea about how to make your trip as efficient as possible.
Day 1
Choose one of the many Museums to spend the morning in (Science and Space both recommended).
After lunch explore TST, there is so much to see and soak in.
Then take the STAR ferry.
Head up to Victoria Peak by tram and enjoy the view! Get there before sunset.
Day 2
Check out the shopping and crowds at Causeway Bay.
Take a few walking tour of Hong Kong Island and explore Central.
Take the STAR ferry.
Head up to a rooftop bar in TST for sunset and stay to watch the light show at 8:00pm. We recommend Eyebar.
Day 3
Blow the cobwebs off with a long hike.
Once you've worked up an appetite, head down to LKF for dinner and drinks.
Interactive Map Of The Best Things To Do In Hong Kong
Our Popular Travel Guides
Want more Asia Content? Head to our Asia Travel Guides to explore popular tourist destinations on the world's largest continent.
---
We hope this guides featuring the best things to do in Hong Kong helps you plan your trip!
Please let us know if you have any questions about Hong Kong or need help planning your trip in the comments below.
Happy travels,
Mark and Kristen
Enjoy This Hong Kong Activity Guide? Pin It For Later!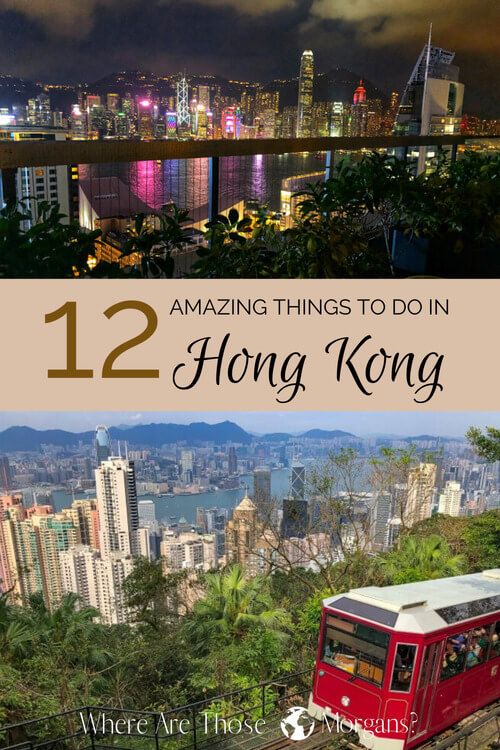 Note: This article contains affiliate links. When you make a purchase using one of these affiliate links, we may earn a small commission at no extra cost to you.
All Rights Reserved © Where Are Those Morgans, LLC. Republishing this article and/or any of its contents (text, photography, maps, graphics, etc.) in whole or in part is strictly prohibited.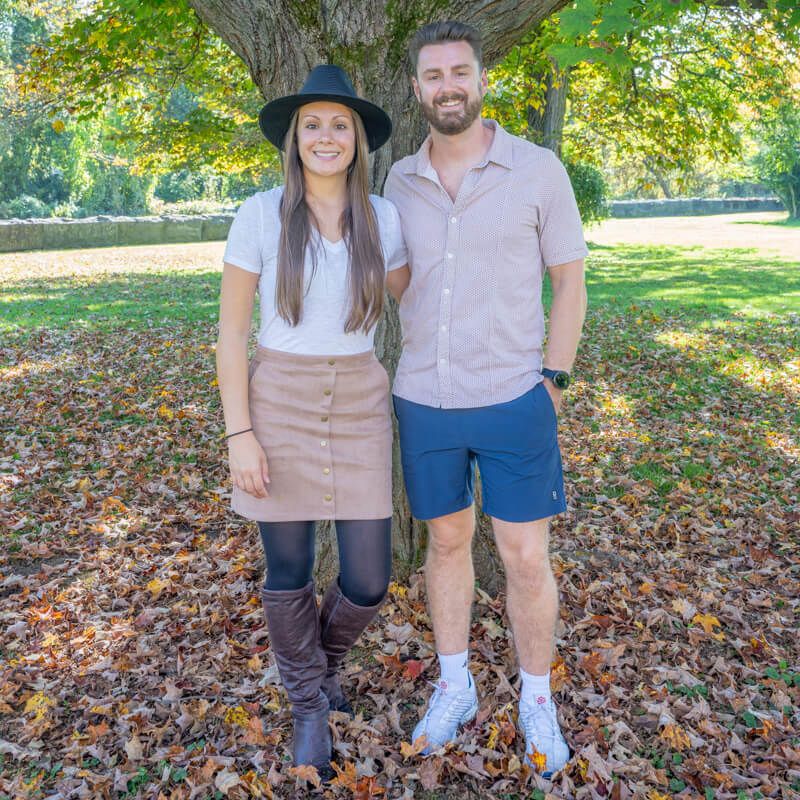 Mark and Kristen Morgan are travel, hiking and photography experts. Over the last 6 years traveling full time, they have explored more than 40 countries and 30 US states.
Their work has been featured in USA Today, Gestalten, Get Your Guide, CityPASS and Condé Nast Traveler along with various other publications.